THE JLT Community Series gave players, coaches and fans their first look at the new rule changes for 2019, including the mandatory 6-6-6 setup for centre bounces.
Our reporters give their verdict on what they saw from each club ahead of the start of the home and away season on Thursday, March 21.  
RULES EXPLAINER 6-6-6, kick-ins, 50m advantage and more

Midfield: The Crows started their wingers on the defensive side of centre, allowing them to drop back and help their defenders if they lost the centre clearance. It made sense they did that given last year the Crows often started one or two extra players in defence at the centre bounce.
Rucks: The Crows played two ruckmen, Sam Jacobs and Reilly O'Brien, in their first JLT Community Series game, but went back to their usual model of having Jacobs as their one specialist ruck in their second match against GWS. Jacobs played 77 per cent game time, with forward Josh Jenkins pinch-hitting when Jacobs was off the ground. With the new set-position rules, the Crows are at a disadvantage when Jenkins contests a centre bounce.
Back six at the bounce: The Crows' defenders stood close to their direct opponent at the centre bounce, but weren't afraid to zone off and help a teammate if the ball came in quickly. The return of experienced key defender Daniel Talia in last weekend's game against GWS helped with the Crows' structure and organisation.
Forwards at the bounce: Key forward Josh Jenkins started from the goalsquare most of the time, while they also tried having goalsneak Eddie Betts as the deep forward at times. The other five forwards were generally 40m out from goal.
Kick-ins: Defender Brodie Smith took the majority of the kick-ins. Smith is a booming kick, but didn't always go long. He was more than happy to pick out a teammate with a 30-40m pass and find holes in the opposition's zone coming out of the defensive 50.
Other observations: The Crows have such an experienced side that they didn't seem to be overly disrupted by the new restrictions on runners. - Lee Gaskin
Sam Jacobs took over most of the Crows' ruck responsibilities in JLT2. Picture: AFL Photos

Midfield: A few new faces and some developing youngsters has given the Lions plenty of versatility here. Lachie Neale, Jarryd Lyons and Rhys Mathieson were all regular targets from centre bounces, but Hugh McCluggage, Jarrod Berry and Daniel Rich were also used. Brisbane usually had its wingers set up in a traditional manner but if there was a hint of opposition momentum, would push one winger to the defensive end of the square.
Rucks: Much like last year they went with two specialists and would seem keen on carrying that into the premiership matches. It was Archie Smith and Oscar McInerney in the first game and Smith and Stefan Martin in the second. The resting ruck would play as a third tall forward.
Back six at the bounce: Nothing out of the ordinary here. Man-on-man usually with the occasional help from the winger who started towards the back of the square.
Forwards at the bounce: The player in the goalsquare usually had a little space to work in with the remainder of the forwards between 30m and 50m from goal. Aside from Eric Hipwood and Dan McStay, Cam Rayner was also used one-out in the goalsquare from the centre bounce.
Kick-ins: No discernible change here from Brisbane with Alex Witherden or Rich taking most – if not all – kick-ins. Both have always been big exponents of playing on and the new rules just made that easier. Rich had success with finding longer targets on the wing.
Other observations: Like most teams they were warned for 6-6-6 infringements but grasped it quickly. Using quick wingers like McCluggage, Mitch Robinson and Jarrod Berry seemed to help clean centre clearances. - Michael Whiting
KICK-IN KINGS Who takes the responsibility at your club?

Midfield: Patrick Cripps was ever-present in the Blues midfield, but he was surrounded by a host of promising young faces. Sam Petrevski-Seton spent a lot of time in the centre square, while Paddy Dow, Will Setterfield and Zac Fisher joined him. Sam Walsh and Marc Murphy spent the majority of their game time on a wing, staying wide of the contest.
Rucks: With Matthew Kreuzer absent, Andrew Phillips took on the majority of the ruck duties and performed admirably in both matches. Matthew Lobbe played only a half of JLT1, but looks unlikely to compete for a spot come round one. Expect Harry McKay to be the chop-out ruckman, with Kreuzer and Phillips competing for the main gig.
Back six at the bounce: Although they used a pretty conventional man-on-man structure at centre bounces, it will be interesting to see whether this tactic changes throughout the year given the amount of interceptors at the Blues' disposal. Jacob Weitering, Caleb Marchbank, Lachie Plowman and Liam Jones all like to drift from their opponent.
Forwards at the bounce: Mitch McGovern's arrival gave the Blues a new dimension in their forward line, though the trio of big men were frequently drawn to the same footy. That's a work in progress. All three shared getting higher up the field, as well as staying deep, while the new look group of small forwards looked dangerous.
Kick-ins: Nic Newman was the main man for the Blues, often playing out quickly from the square. Kade Simpson, Plowman and Dale Thomas were also handed the responsibility at times.
Other observations: The Blues tried to push the limits with their wings at times, particularly in JLT1. When the Bombers were making a comeback, Jack Silvagni lined up virtually on the point of the defensive side of the square. As soon as the footy was bounced, he sprinted back to give his side a seventh defender. Simpson then did it at times throughout JLT2. This tactic could become commonplace this year. - Riley Beveridge

Midfield: The Pies weren't at full strength given Adam Treloar was rested for the first game against Fremantle while Taylor Adams (finger), Brayden Sier and Daniel Wells (foot) were no-shows, but the old firm of Scott Pendlebury, Steele Sidebottom and the returned Dayne Beams proved formidable beneath gun ruckman Brodie Grundy. Given more space at centre bounces the Pies loom as one of the more dangerous midfield units.
Rucks: As usual, Grundy assumed the bulk of the responsibility, using the two games to regain fitness lost while sidelined with a broken toe. He received a breather from swingman Ben Reid in the first game and from tall forward Mason Cox in the second game against Carlton, while ex-Bulldog Jordan Roughead was kept in reserve as he held down a key defensive post.
Back six at the bounce: The inclusion of Darcy Moore proved pivotal because, given his marking ability, anticipation, speed and precise kicking, it enabled the Pies to quickly turn defence into attack. With Roughead also proving capable, Nathan Buckley has a backline that appears well equipped to handle the 6-6-6 change given their competence in one-on-one contests and their willingness to cover for one another.
Forwards at the bounce: The Woods' attack is nightmarishly unpredictable for opponents, with high-flying little man Jamie Elliott making an eye-catching return and being one of several Pies of different dimensions to start out of the goalsquare. Difficult to get a full read on how they will structure up given they were without their two leading goalkickers from last year, Jordan De Goey (foot) and Will Hoskin-Elliott (knee), while both Cox and Jaidyn Stephenson missed a game each.
Kick-ins: Moore assumed the role with relish, often running out of the square to go long or picking off shorter targets.
Other observations: There were teething issues with the Pies being penalised a few times in their series opener for not having a 6-6-6 formation, but they didn't suffer any such lapses in their next outing. - Ben Collins
BEST FORWARDS We rank every club's attack

Midfield: The Bombers trialled a new-look centre square partnership in their first outing, experimenting with youngsters Andrew McGrath, Darcy Parish and Kyle Langford. However, more senior bodies were thrown in down the line – including new recruit Dylan Shiel. A pretty orthodox approach was taken with the wings, with captain Dyson Heppell barely straying from that position.
Rucks: Despite suggestions that Essendon may flirt with dual ruckmen, they went with one each throughout their two games. Zac Clarke rucked the entirety of their first match, before Tom Bellchambers was put in charge for the second clash. Shaun McKernan was used as the chop-out ruckman in JLT1, before Joe Daniher assumed that role for JLT2. 
Back six at the bounce: It was normally pretty conventional. The Dons went man-on-man from the bounce, but still allowed interceptors like Michael Hurley and Aaron Francis to drift from their opponent once play had started. 
Forwards at the bounce: Daniher was the deepest forward throughout JLT1, but was allowed to get higher up the field throughout the second outing. The Dons also trialled explosive players like Jake Stringer and Anthony McDonald-Tipungwuti out of the goalsquare. Shiel spent a bit of time across half-forward, but expect him to play midfield in round one, while David Myers also rested forward for large periods of JLT2.
Kick-ins: Hurley took a fair portion of Essendon's kick-ins throughout JLT. Interestingly, speedsters like Adam Saad and Conor McKenna were regularly the link player. They would receive the kick-in, normally from a short pass, before exploding out of defensive 50.
Other observations: Prepare for slingshot footy in 2019. While the Bombers might have gone 0-2 throughout JLT, what was most noticeable was their ability to move the ball from one end of the field to the other with lightning speed. Often, it was as simple as two kicks out of defence before an Essendon forward was marking running back to goal. Turn the ball over at your peril against this Bombers side throughout the year. - Riley Beveridge
Conor McKenna is likely to be a crucial link player for the Bombers. Picture: AFL Photos


Midfield: The Dockers were competitive against Collingwood's gun midfield, tying centre clearances 12-all, but were then obliterated 18-5 by West Coast on Sunday. It was a wake-up call before round one, with the Eagles' clean takeaways putting Freo's backline under serious pressure, although Nat Fyfe's return to bolster a young midfield will change plenty. In both games, Fremantle generally stationed one winger in line with the ruck contest, and another – usually Bradley Hill – slightly to the defensive side.
Rucks: The Sean Darcy-Rory Lobb combination was seen for the first time against West Coast, giving an insight into the Dockers' expected ruck set up in 2019 with Lobb supporting either Darcy or Sandilands. When Darcy was rucking, Lobb was usually stationed inside 50 and occasionally in the goalsquare at centre bounces.
Back six at the bounce: It was difficult to notice any subtle tactics in either JLT match, with Fremantle's defenders generally going one-on-one and remaining slightly goalside of their opponents.
Forwards at the bounce: Jesse Hogan often started in the goalsquare, but the Dockers' talls generally rotated through full-forward. Fremantle's forwards spread down the centre of the 50m arc at most restarts, giving themselves space for one-on-ones in the event of a clean takeaway from the middle.
Kick-ins: Nathan Wilson and Luke Ryan were again entrusted with kick-in duties and regularly took territory by leaving the goalsquare. There wasn't a noticeable bump in their statistics. Expect both players to share kick-in duties again in 2019.
Other observations: Apart from a couple of occasions when players sprinted off the bench to get to position in time, the Dockers – as you would expect of a Ross Lyon-coached side – were organised and didn't have much trouble adjusting. - Travis King
STRONGEST MIDFIELDS Every club's engine room ranked

Midfield: Joel Selwood forecast he would play a number of different roles in 2019 and spent large parts of last week on the wing. Charlie Constable was a mainstay at centre bounces alongside Patrick Dangerfield, Tim Kelly and Cameron Guthrie as Brandan Parfitt enjoyed increased minutes through the midfield. Given GMHBA Stadium is the longest regularly used ground in the AFL, the greater distance between the centre square and arcs allowed for more clean entries direct from centre bounces.
Rucks: It appears the Cats will go with Rhys Stanley in round one with assistance from Esava Ratugolea. Stanley did the bulk of the ruck work against the Eagles and Bombers and also pushed forward, with Darcy Fort used sparingly. Zac Smith is injured, while Ryan Abbott was used in the VFL.
Back six at the bounce: Often played with five players over 190cm in the defensive 50m on Thursday night with one of Jordan Clark or Mark O'Connor the sixth. Nigel Lappin conceded it would work against some opponents and not others. Hard to see it working against Collingwood's smalls in round one.
Forwards at the bounce: Thursday night was the first chance to see the Cats' full forward set-up and it delivered in spades. Tom Hawkins and Gary Ablett played their first games of the pre-season in a forward six that featured Esava Ratugolea, Luke Dahlhaus, Tom Atkins, Sam Menegola and Gary Rohan, who was preferred for the goalsquare starting position.
From one Gaz to another #JLTSeries pic.twitter.com/eHM6RGJnI8

— AFL (@AFL) March 7, 2019
Kick-ins: With Zach Tuohy to miss at least round one, the Cats threw around the kick-in duties – six players shared seven kick-ins. The Cats were less inclined to play on from the square than other clubs.
Other observations: Where Hawkins has previously been the forward manning the mark, the Cats opted for Rohan and Dahlhaus' speed on a number of occasions against the Bombers. - Mitch Cleary

Midfield: A slight area of concern for the Suns, particularly after Sydney cleaned them up at centre bounces. Touk Miller, David Swallow and Jack Bowes were popular 'hit-to' men for Gold Coast, but even with a winger set up defensively on occasions, the Swans walked away with some easy clearances that led directly to shots at goal.
Rucks: Jarrod Witts will carry a huge workload again this season as the primary ruckman. Peter Wright took some centre bounces for relief, but Witts did the bulk of the work. Gold Coast needs to figure out a way of taking advantage of his tap work.
Back six at the bounce: Went with a standard man-on-man. Sydney moved a second player back near the goalsquare on occasions and Gold Coast countered by putting someone straight on him rather than zoning.
Forwards at the bounce: With a predominantly small forward line around a couple of talls, it was either Wright or Chris Burgess often starting in the goalsquare.
Kick-ins: The Suns don't have a 'specialist' like other teams, but are happy for Jarrod Harbrow, Pearce Hanley, Jesse Joyce or even Jordan Murdoch to take the responsibility. Joyce usually hits short targets whereas the other three are happy to play on and take some metres before looking long.
Other observations: Once losing centre clearances Gold Coast had trouble slowing down the opposing midfield from turning it directly into a scoring shot. They struggled to close down the space at the back of the centre square. - Michael Whiting
CASE FOR THE DEFENCE We rank every club's backline

Midfield: Tim Taranto looks to be the main beneficiary of more midfield time following Dylan Shiel's departure to Essendon. Taranto is expected to join Stephen Coniglio and Josh Kelly in a star-studded Giants midfield. GWS tended to adopt a traditional wing setup, with the wingman largely keeping their width from centre bounces.
Rucks: With Shane Mumford suspended for rounds one and two, Dawson Simpson will be the Giants' starting ruckman. Simpson is a good tap ruckman, but can be found out in his around the ground coverage. Matthew Flynn, yet to play an AFL game, was given an opportunity as Simpson's back-up. 
Back six at the bounce: The Giants largely played one-on-one from bounces, although Nick Haynes could be given more of a licence to drop off his man once he returns from a back injury. 
Forwards at the bounce: Toby Greene is just about the perfect player to start in a one-out situation from the goalsquare and it's likely the Giants will try to implement that setup in games this year. Jeremy Cameron appeared to play high up the ground at stages across the JLT.
Kick-ins: The Giants practiced kick-in drills in the pre-season trying to maximise the depth Jeremy Finlayson can get from his left leg. But Heath Shaw took a number of the Giants' kick-ins in the JLT and may do so in the season proper.
Other observations: The Giants aren't afraid to throw their youngsters into the centre bounce, with Aiden Bonar and Jye Caldwell spending time at the coalface in both games. - Ben Guthrie
Toby Greene is almost the perfect player for the one-on-one goalsquare tussles. Picture: AFL Photos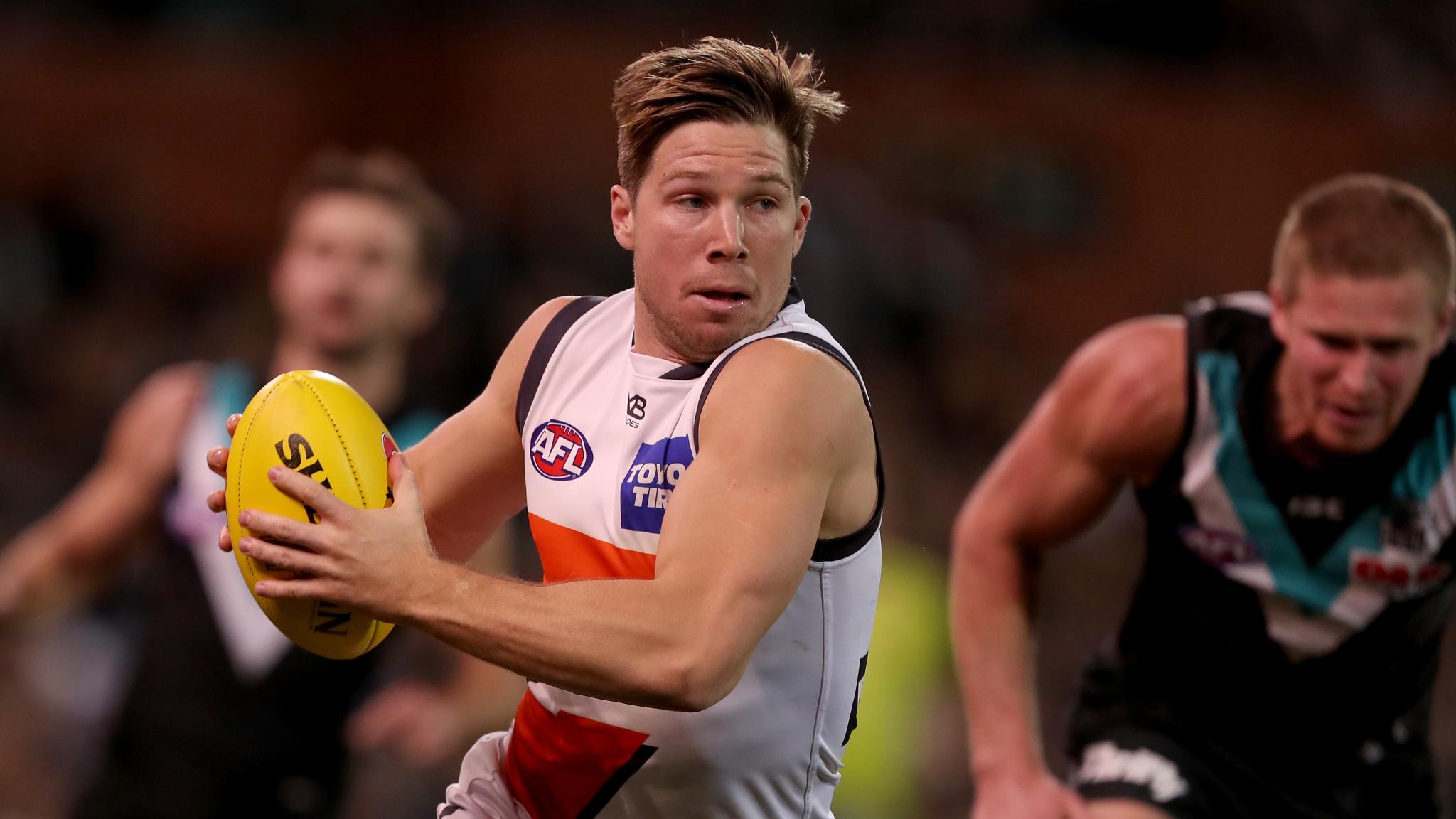 Midfield: Jaeger O'Meara and James Worpel are establishing a great bond with Ben McEvoy. Liam Shiels, James Cousins, Shaun Burgoyne and even Paul Puopolo rotated through the centre. Isaac Smith, Ricky Henderson and Harry Morrison are typically the wingmen and set up traditionally, even when the Tigers placed one of theirs in a defensive position. 
Rucks: McEvoy and Jon Ceglar are working well together. McEvoy tended to push into defence early against Richmond, whereas Ceglar more commonly went forward. But they both also played as the deepest forward. 
Back six at the bounce: Jarman Impey's speed, strength and ability to break tackles make him a weapon. He regularly charged off the back of the square against the Tigers, who were forced to make stopping him a priority. James Frawley usually played on the deepest Richmond forward out of the goalsquare, with Ben Stratton, Kaiden Brand, Blake Hardwick, Jack Scrimshaw, David Mirra and Tim O'Brien also used down back. 
Forwards at the bounce: Shaun Burgoyne started in the goalsquare on Tigers great Alex Rance, with Jarryd Roughead, McEvoy and Ceglar also filling this role. Conor Nash also played quite deep and kicked two goals in JLT1 against Brisbane, but struggled against Richmond. 
Kick-ins: James Sicily is still the top choice to kick the ball in. The Hawks make a habit of getting the ball in his hands, even away from kick-ins. Hardwick and Frawley also take some kick-ins, although the latter tends to take the shortest option.
Other observations: Frawley was one of the culprits who gave up back-to-back 50m penalties. Hawthorn experimented defending kick-ins. At one stage they had three players in a row – one in line with the goalsquare and two in the pockets – while on another occasion they used two players, forcing the Tigers to go long or kick to the undefended pocket. - Marc McGowan
CASE FOR THE DEFENCE We rank every club's backline

Midfield: With Nathan Jones and Jack Viney not playing any time in the JLT Community Series due to injury, Angus Brayshaw and Clayton Oliver made the most of their added responsibility and thrived with more space at centre bounces. Youngster Bayley Fritsch spent time on a wing after a strong summer, while the finger injury to James Harmes will be worth monitoring leading into round one.
Rucks: The Max Gawn-Braydon Preuss combination is unlikely to occur in round one after the former North big man hurt his groin in a VFL practice match. Gawn is set to become a main beneficiary of the increased space at centre bounces, with Melbourne looking to maximise his skillset in those situations. 
Back six at the bounce: Melbourne decided to go largely one-on-one from centre bounces against Richmond and Brisbane. In general play, the Demons used their aggressive press to squeeze the ground. They would have been disappointed to give up 100 points in each of their games.
Forwards at the bounce: Joel Smith kicked six goals across two games in a new role as the 'third tall' alongside Tom McDonald and Sam Weideman. All three found themselves flying at the same football too often, so that's something they'll have to refine before the season.
Kick-ins: Potential debutant Marty Hore took most of the kick-ins against Richmond, but Jordan Lewis returned to the senior side against Brisbane and reassumed those duties. The Demons have also got left-footed Christian Salem who could take some kick-ins as well. 
Other observations: The Demons used Jayden Hunt in a role up forward in the second JLT game against Brisbane, with his speed an important asset across half-forward on his way to two goals. - Ben Guthrie
Max Gawn is set to start the season without twin tower Braydon Preuss as his deputy. Picture: AFL Photos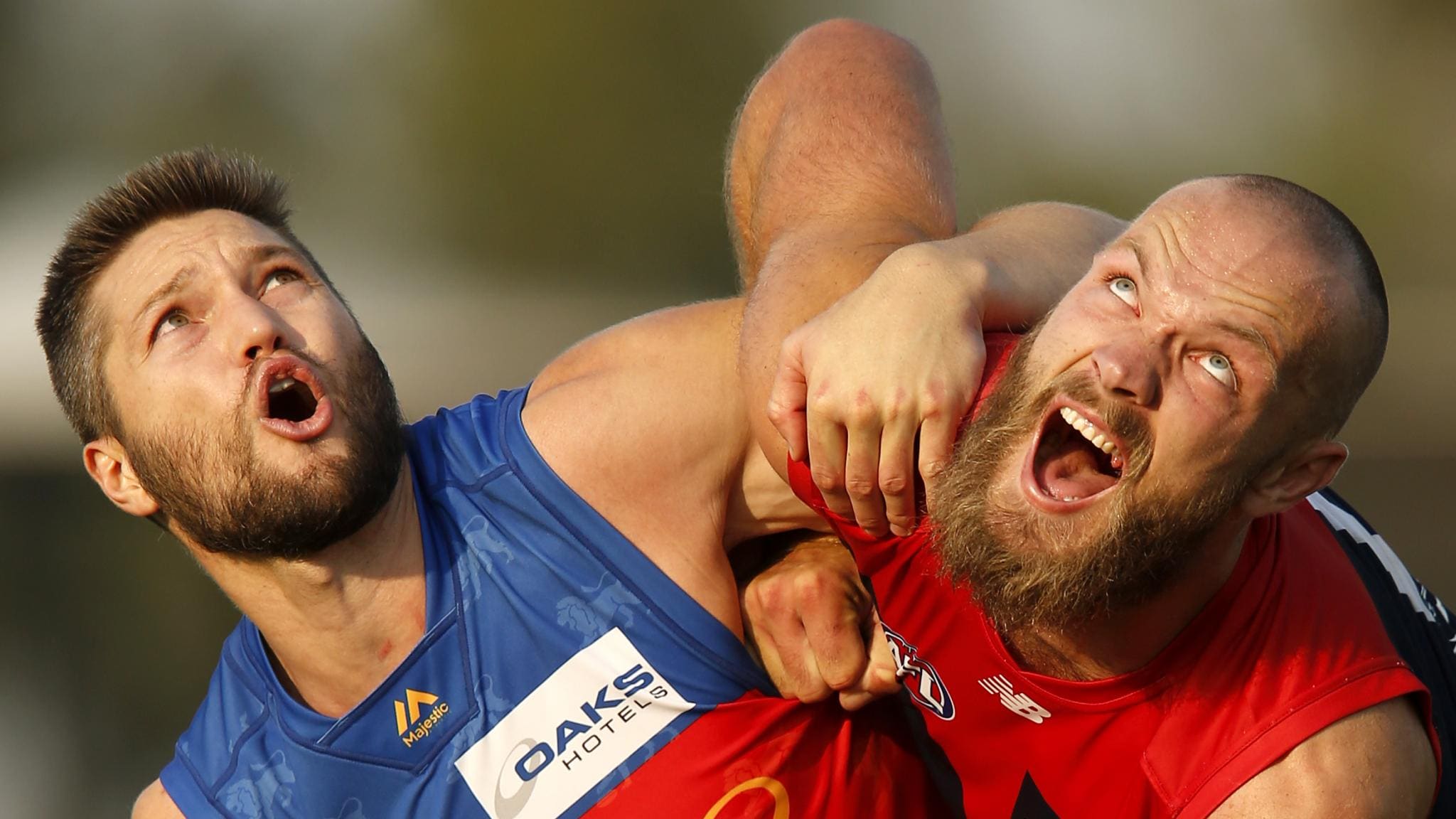 Midfield: There was a scintillating first-quarter passage on Saturday when North kicked five goals from centre clearances, taking advantage of the new 6-6-6 starting positions. Ben Cunnington (thigh) didn't play as Brad Scott figures out his crowded midfield rotation. Dom Tyson, Paul Ahern and Luke Davies-Uniacke impressed in the centre, while Jared Polec, Trent Dumont and Bailey Scott shone on the wing. Shaun Higgins will undoubtedly be in the centre more in the season proper, but Jy Simpkin has work to do.
Rucks: The Roos paired Todd Goldstein with ex-Bulldog Tom Campbell against St Kilda, but rested Goldstein against Port Adelaide. Nick Larkey supported Campbell at the weekend. They didn't play two ruckmen last year.
Back six at the bounce: This is an area in flux because of injury, and the lack of defensive pressure further afield on Saturday made life difficult. Scott Thompson, Sam Wright and Luke McDonald were the most familiar faces once Marley Williams exited early against Port. Ed Vickers-Willis and Ben McKay have increased responsibility, while recruit Jasper Pittard has slotted in at half-back.
Forwards at the bounce: Aaron Hall sometimes started just inside 50, on top of stints in the middle and even taking a kick-in. Ben Brown typically positioned himself about 30m out, with Jack Ziebell in the square.
Kick-ins: Thompson has long been this man for the Kangas and his return for JLT2 saw him resume this role. However, he will miss round one through suspension. The men most likely to pick up the slack – Jamie Macmillan (calf), Williams (calf) and Robbie Tarrant (AC joint) – are in doubt for the season opener. McDonald might step up. 
Other observations: The contentious 50m penalty advancement rule went both ways for the Roos. They placed two players either side of the goalsquare when defending kick-ins. - Marc McGowan
FUTURE PICKS Who you should barrack against in 2019

Midfield: The Power didn't experiment with the position of their wingers at centre bounce, starting on the centre wing most of the time. Travis Boak, Tom Rockliff and Sam Powell-Pepper got heavily involved at centre bounces to move the ball quickly into attack.
Rucks: Pairing Scott Lycett with Paddy Ryder looks like a winner. Lycett played the bulk of the time in the ruck and was very handy around the ground. Ryder's athleticism helped get his hands on the ball when he moved into the ruck, especially with the 6-6-6 rules.
Back six at the bounce: The Power generally went man-on-man defensively from the centre bounce, but weren't afraid to zone off if the ball was in the vicinity. The defenders had a tough time against North Melbourne as the ball moved quickly out of the centre bounce numerous times.
Forwards at the bounce: With key forward Charlie Dixon sidelined with a leg injury, Paddy Ryder started as the deepest forward. Justin Westhoff and Todd Marshall were also tried at times.
Kick-ins: Ryan Burton took the majority of the Power's kick-ins. It was a role he was used to at Hawthorn last year. Hamish Hartlett will be the favoured option once he returns from a knee injury early in the season.
Other observations: The Power took advantage of the set starting positions with an avalanche of goals against North Melbourne. However, they will be concerned about their defenders being unable to stop the momentum of the Kangaroos. - Lee Gaskin
Paddy Ryder's new partnership with Scott Lycett will be important for the Power. Picture: AFL Photos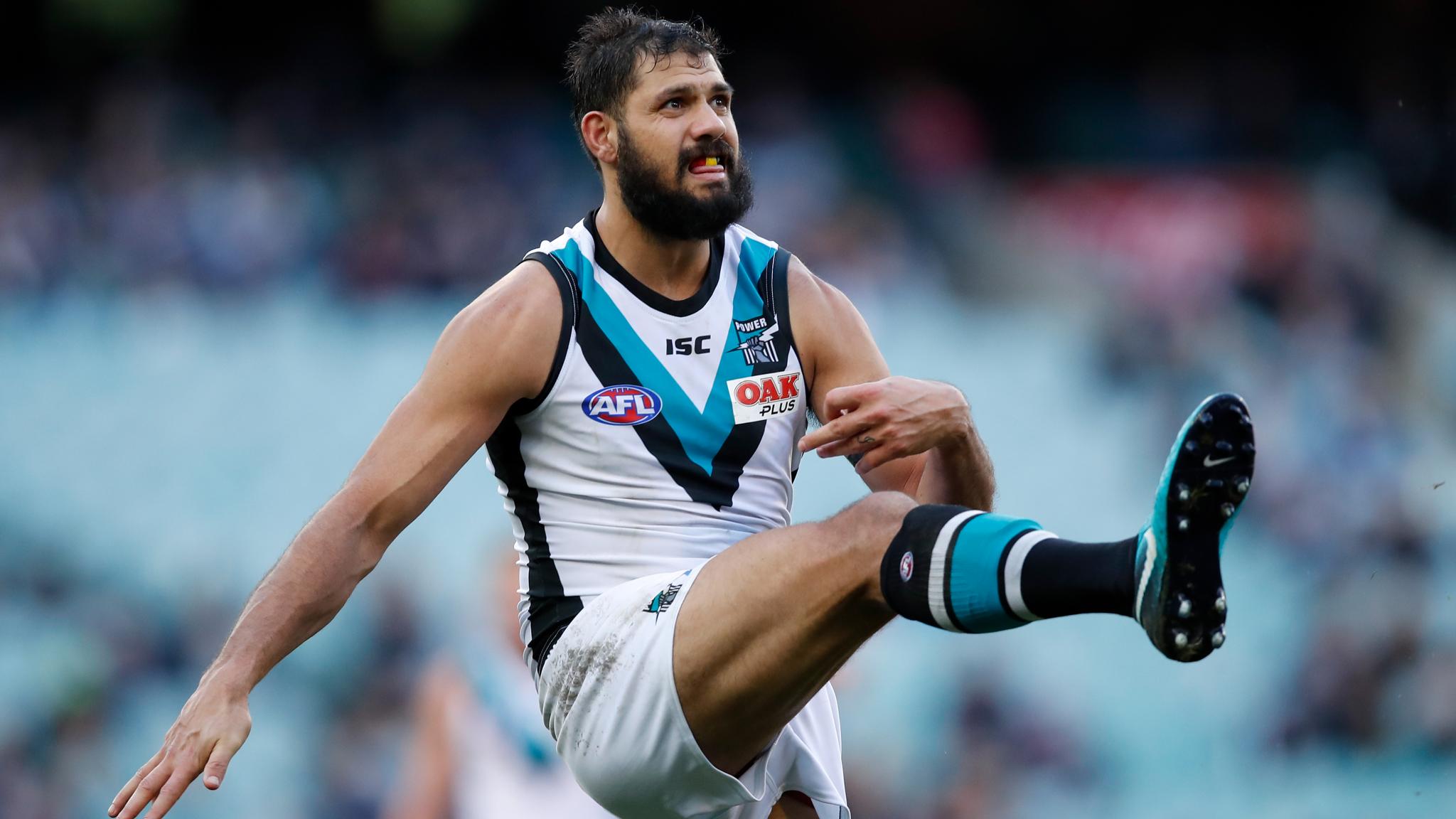 Midfield: Richmond's wingers (including Brandon Ellis and Kamdyn McIntosh) spent time in "traditional" positions at centre bounces but weren't afraid to leave their opponent and start more towards the corner of the square. Richmond has traditionally struggled in clearances, but dynamic players Dustin Martin and Trent Cotchin look well suited to the 6-6-6 rule, with the skipper instrumental out of the middle in the dying minutes of the match against Hawthorn. 
TRENT COTCHIN IS ON FIRE!#JLTSeries pic.twitter.com/fOVv8oHCxd

— AFL (@AFL) March 9, 2019
Rucks: Still appears to be a work in progress. Usual No.1 Toby Nankervis spent quite a bit of time at full-forward, leaving ruck duties to Ivan Soldo and new kid on the block Noah Balta. The Tigers looked stronger with Nankervis in the middle, but Balta more than held his own around the ground, particularly in the first match. His versatility means he may get the nod over Soldo. 
Back six at the bounce: Bachar Houli looks likely to take midfielder Kane Lambert's role running off the back of the square, given the Tigers are no longer allowed to start seven back. Alex Rance and Nick Vlastuin are strong intercept marks, but like most teams the Tigers did look vulnerable to a quick breakaway from the middle. Oleg Markov is much more composed and dangerous than his last AFL appearance in 2017.
Forwards at the bounce: Still without star recruit Tom Lynch (knee), the Tigers generally rotated Jack Riewoldt and ruckman Toby Nankervis as the deepest forward. They were also without Josh Caddy (ankle), who has performed the role in the past, with rookie recruit Mav Weller playing as the bigger-bodied small forward. Daniel Rioli and Jack Higgins also spent time in the middle. 
Kick-ins: The new kick-in rule seems tailor-made for superboot Jayden Short, who in 2018 was comfortably clearing 50 even without having the extra space he will be afforded this year. 
Other observations: Without injured duo Lynch and Caddy, the Tigers are still a marking target short to take full advantage of quick centre clearances; the class of their mosquito fleet is wasted if the ball is intercepted rather than brought to ground. - Sarah Black
WHO'S LEFT YOUR CLUB? All the latest retirements and delistings

Midfield: Jack Billings impressed in both games on a wing, while Jade Gresham's ball-winning and toughness have been added to the centre square set-up. Dan Hannebery is nursing a hamstring complaint but will join that group as well, as will Jack Steven (mental health).
Rucks: This situation has been made more interesting with Billy Longer's hamstring injury. He was probably set to take the round one spot but has been limited this pre-season. That's opened an opportunity for Lewis Pierce, who was concussed early in the Saints' clash with North Melbourne, and Rowan Marshall, who impressed against the Western Bulldogs on Sunday. Pierce is more combative but Marshall is a better runner and contested mark. Josh Bruce will likely resume his role offering relief for the primary big man after injuries ruined his 2018.
Back six at the bounce: After shifting to a more one-on-one system last year, the Saints have reverted to their zone defence set-up. Dylan Roberton's return from an irregular heartbeat has brought intercept marking and a calming presence to the backline, although further issues against the Dogs have clouded the 27-year-old's immediate playing future with uncertainty. Nick Hind has blinding pace and it's tough to see him missing round one.
Forwards at the bounce: Whether the Saints go with two or three talls has long been a topic of debate, although Paddy McCartin's latest concussion might force coach Alan Richardson's hand. Matthew Parker and Dean Kent are set to bring speed to the best 22 and will help ramp up the side's forward pressure.
Kick-ins: Shane Savage has been doing the bulk of the work. His thumping right boot will help St Kilda advance the ball up the field, while Jimmy Webster has helped out as well.
Other observations: Roberton's voice and direction have been particularly noticeable. Hannebery will offer plenty of that as well. - Dinny Navaratnam

Midfield: Many have pondered whether the 6-6-6 rule makes speed more important for centre bounces and the Swans have added that asset through Tom Papley, who played further up the ground in the pre-season. His burst running was particularly evident against Gold Coast, racking up an impressive 663m gained. Ryan Clarke, formerly at North Melbourne, has shown he can win the football. Distributing it well will be his focus.
Rucks: Callum Sinclair didn't face the Suns, putting the responsibility on Aliir Aliir's shoulders, and he responded in stunning fashion. Jarrod Witts dominated the hit-outs for Gold Coast as expected, but Aliir was huge around the ground and led all-comers for inside-50s (eight) and centre clearances (four).
Back six at the bounce: It had been mooted Callum Mills would become a full-time onballer but the JLT Community Series showed he'll still spend plenty of time down back. Jackson Thurlow has come over from Geelong and will add rebound, while Colin O'Riordan will likely add to his three career matches. Those two, along with Zak Jones, should give the Swans plenty of zip.
Forwards at the bounce: Sydney needs forward targets and Sam Reid fills that void, assuming he stays fit. Jordan Dawson is also a nice mark and his left boot can certainly be counted upon. Isaac Heeney, Luke Parker and Josh Kennedy will all roll through the attack.
Kick-ins: Dane Rampe and Thurlow will provide distance, while Jarrad McVeigh is a cool head who can handle pressure situations.
Other observations: The new rules might give Sydney's coaching group some concern. Greater Western Sydney's blistering start in JLT1 (three goals in 90 seconds) opened up the backline, which is used to having a loose man. With no dominant ruckman on its list, opposing midfields could be potent with their centre clearances.  - Dinny Navaratnam
Aliir Aliir was a revelation in the ruck in JLT2. Picture: AFL Photos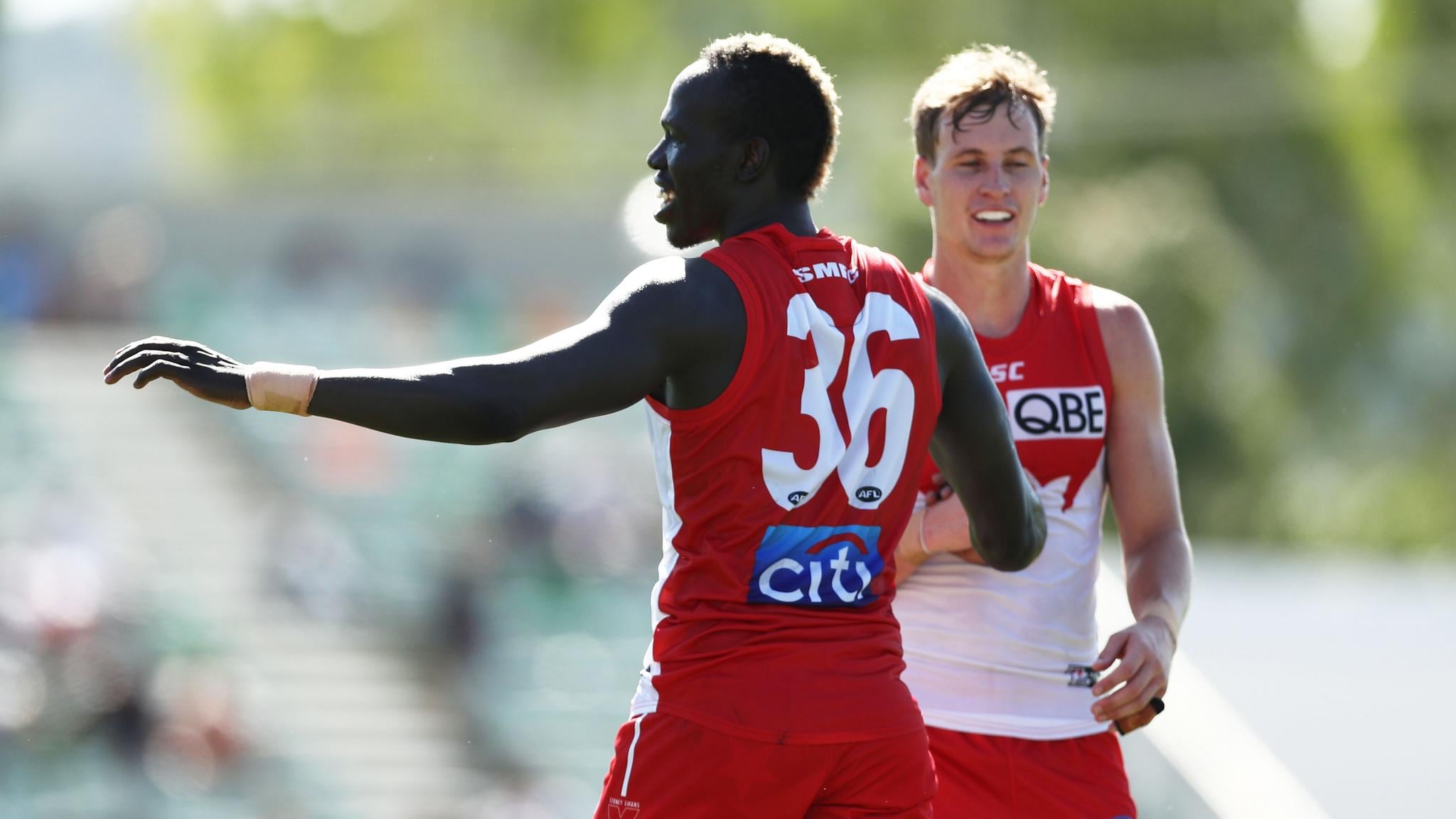 FULL FIXTURE Every round, every game

Midfield: There wasn't anything funky about West Coast's midfield setup, with main quartet Luke Shuey, Jack Redden, Elliot Yeo and Andrew Gaff attending the majority of centre bounces. The Eagles held their own against Geelong's gun engine room and belted Freo's inexperienced midfield. Adam Simpson must be licking his lips at the prospect of Nic Naitanui coming back to feed Shuey and co. after seeing the impact of a dominant centre-square quartet.
Rucks: The Eagles look set to stick with their two-ruck policy and will be hoping Tom Hickey can shoulder the majority of the ruck load given Nathan Vardy's proven ability to fit into the forward line.
Back six at the bounce: There was nothing out of the box in terms of positioning and the biggest talking point heading into the season is whether starting positions will impact Jeremy McGovern's intercept marking prowess. While he has started on an opponent at centre bounces in the past, the Eagles star has been quiet during the JLT, although you would expect that is mainly due to working back from rib surgery.
Forwards at the bounce: The Eagles rotated their big men Jack Darling, Nathan Vardy and Oscar Allen through the goalsquare and usually sent their smalls to the edge of the 50m arc, providing more space behind for one-on-one marking contests for their talls after clean centre bounce takeaways.
Kick-ins: Superboot Shannon Hurn took the majority of kick-ins in the Eagles' win over Fremantle and his disposal stats were slightly higher than last year's season average of 21.2, with the skipper taking metreage from the goalsquare on a number of occasions.
Other observations: The Eagles struggled to adapt to the starting position changes in their first JLT clash with Geelong and players coming onto the ground after a goal were rushed several times getting into position. It became clear that umpires weren't giving players the usual allotted time, rather than a club issue, and it wasn't a problem in West Coast's second hitout against Fremantle. - Travis King

Midfield: With the Dogs' stronger midfield depth this season, Toby McLean appears to be one player who may be squeezed out from centre bounces. He attended just three against the Saints on Sunday, with Josh Dunkley, Jackson Macrae, Mitch Wallis and Tom Liberatore preferred. Despite losing to the Saints, the Dogs won the centre clearance count 17-8.
Rucks: Used two completely different set-ups in their pre-season encounters. Jackson Trengove and Tim English both played big minutes against the Suns in week one, switching between ruck and attack. Against the Saints, Trengove played the first half before he was replaced by English, with some assistance from Zaine Cordy. Luke Beveridge remains torn on the setup heading into round one.
Back six at the bounce: Given Aaron Naughton was swung forward against St Kilda, the Dogs played undersized in defence against St Kilda's three talls. Cordy played in a key defensive post with Dale Morris, while Bailey Williams may be asked to play taller in the early rounds.
Forwards at the bounce: With the Bulldogs lacking firepower in the front half, medium types Wallis, Sam Lloyd and Billy Gowers often started in the goalsquare. Naughton, who played in defence last week, will start as a forward in round one after impressing against the Saints alongside Josh Schache. Matt Suckling was used in a forward tag against Dylan Roberton, who was everywhere in the first half. It hurt Suckling's stats, as he finished with just six touches from 74 per cent game time.
Kick-ins: As Jason Johannisen remains sidelined with an ankle setback, the Dogs used Hayden Crozier, Taylor Duryea and Caleb Daniel as their main kick-in options.
Other observations: With Beveridge voicing his concerns over the lack of runners, the Dogs reverted to different boards featuring dice rolls from 1-6 on the bench to communicate to players. - Mitch Cleary
WHO MAKES FINALS? Do the 2019 Ladder Predictor