FOR THE Magpies, so much of 2018 has been about focusing on what they do right instead of worrying about what they do wrong.
But captain Scott Pendlebury believes the gut-wrenching hurt of Saturday's five-point Grand Final loss to West Coast is something that will – and should - haunt them over the summer months.
TRAV'S TRIBUTE Varcoe looks to the skies
It's up to them to make sure they turn it into a positive.

PIES JUST FALL SHORT Full match details and stats
"It will burn guys, naturally," Pendlebury said afterwards.
"Anytime you get that close and it falls away from you in the last few minutes of the game, it will burn.
"We'll use that to drive us over summer."
DE GOEY COMES OF AGE Every Magpie Grand Finalist rated
The Collingwood rooms were, unsurprisingly, eerily silent in the immediate aftermath of Saturday's loss.
For a club with a passionate membership base of over 75,000 and that's deliberately become more family orientated and inclusive this year, it was an unusual atmosphere.
The players, football department and support staff took their hurt straight off the field and behind closed doors, where coach Nathan Buckley bluntly told them there was nothing he could say to make them feel any better.

DE GOEY'S STAR RISES Things we learned
Slowly, players emerged into the arms of their families, with Will Hoskin-Elliott greeted by his wife Kirsten and baby Flynn.
Mason Cox's family was there; his visiting parents Phil and Jeanette, who did more media this week than their son after landing in Australia before the preliminary final.
Fringe Pie Alex Fasolo was there in a moon boot, and Sam Murray, who is still awaiting the return of his 'B' sample from ASADA, was among his teammates in his club suit for what could be the last time.
WOODY'S SHATTERED Buckley comforts Magpie runner
Jeremy Howe limped around barefoot, having overcome what Pendlebury described as a "pretty bad" ankle issue just to play, and was met by family including his cousin and Australian cricketer Matthew Wade.

Jeremy Howe gets some comfort from cousin Matthew Wade. Picture: AFL Photos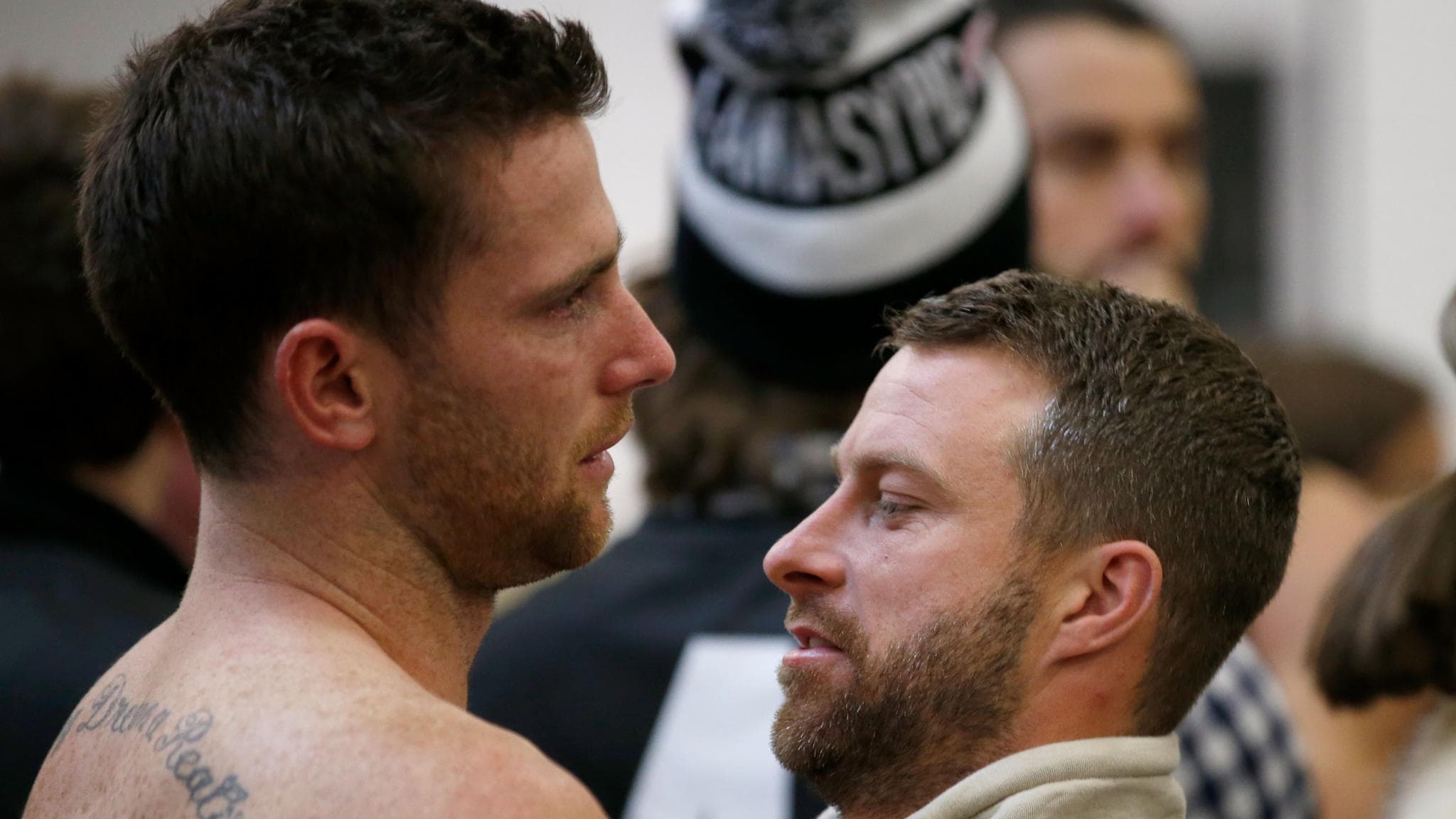 Brayden Maynard emerged from the showers and changed into his suit, ready for the post-match function, no doubt with a bruised and sore left shoulder after a second quarter tackle-gone-wrong.
Runner Alex Woodward, who had an unfortunate moment in the third quarter when he inadvertently blocked Jaidyn Stephenson while he was running to spoil Elliott Yeo – who ended up marking and kicking a goal that put the Eagles in front – was inconsolable.
Collingwood coach Nathan Buckley is consoled in the rooms after the Grand Final. Picture: AFL Photos

Pendlebury and Taylor Adams took the brunt of the media commitments, trying their best to summarise their pain for reporters.
Adams, playing in his first Grand Final, could barely speak.

MOMENTS WILL HAUNT US Nathan Buckley's media conference
"There are no words that will make us feel any better," Adams said.
"The only way we were going to be happy after this game was if we'd won.
"We didn't win so … there's more to life than footy, but for the next couple of days or however long, it's going to be tough to feel good."

Taylor Adams was visibly upset after the siren. Picture: AFL Photos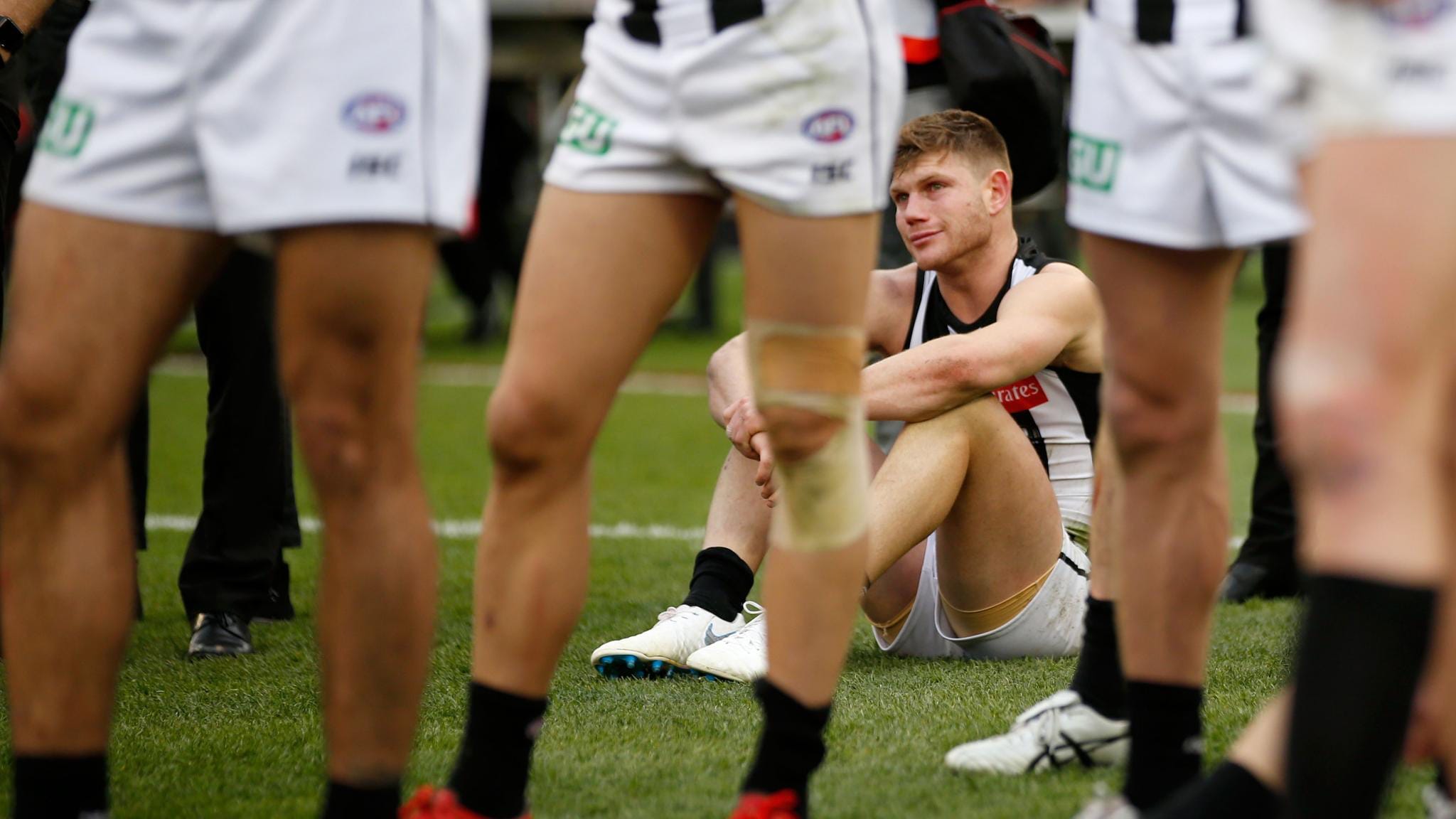 Adams polled seven votes in the Norm Smith medal judging, four behind the winner, West Coast's Luke Shuey. He would have conceivably won it had the Pies emerged as victors.
"I don't know what I feel right now about my performance. I haven't given it too much thought," he said.
"We didn't win so I'm not happy."
As the Eagles celebrated after the final siren, Pendlebury gathered his players into a huddle on the other side of the centre square.
His message was simple; it was the time to stick together if this loss was going to galvinise them even more in the aftermath of their confronting club-wide review.
Collingwood skipper Scott Pendlebury (standing, right) rues a sensational season that ended cruelly. Picture: AFL Photos

He also told them – and the media – it was only the beginning of what they could achieve.
"Now is the test of what our club has been building, to stay together and get around each other because we're going to need each other more than anything in the next 24 to 48 hours," Pendlebury said.

WATCH Full match highlights
"I know we have the players, we have the game style … I know this group will bounce back because it's what we do.
"I feel like this group is just scratching the surface on how good it can be.
"We started the year with not much belief and not much confidence and we got to within a kick of winning it all.
"We got so close, it's going to hurt. Guys are shattered … it just sucks to be on the wrong end of the result."