MATTHEW Scarlett was a six-time All-Australian and triple-premiership star who revolutionised the game as an ultra-attacking full-back, and whose induction into the Australian Football Hall of Fame seemed a mere formality.
But when the Geelong great received a voice message from AFL Commission chairman Richard Goyder, his immediate thought was, 'Why the hell are the AFL ringing me?'
When Scarlett returned the call he got a pleasant surprise.
HALL OF FAME Click to see all the 2018 inductees
"I was shocked. It feels nice," Scarlett, the now 38-year-old Geelong assistant coach, told the AFL Record.
Always a reluctant interviewee, the Cats champion was more comfortable talking about the influence of his significant others than himself.
"It's more a reflection of the people I've had around me than anything I've done," Scarlett said.
"Footy is hard on your family, and my wife (Milla) and (four) children have been amazing.
"And I've been blessed to play for a great club with great leaders, great coaches and great teammates who made my job very easy at times."
The rock of Geelong's champion backline, Matthew Scarlett struck fear into full-forwards. All pictures: AFL Photos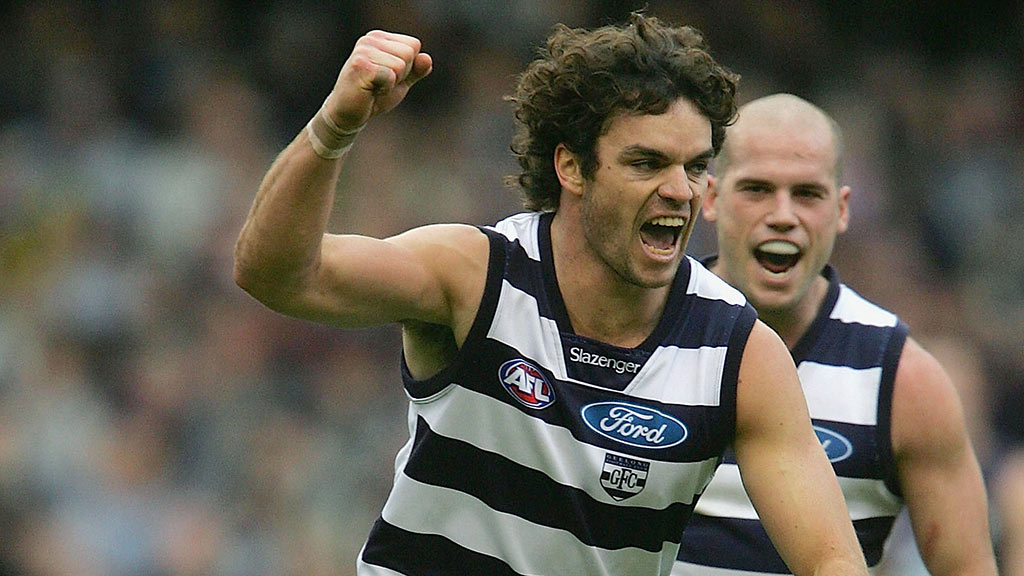 Geelong born and bred Scarlett, whose father John played 212 games for the Cats and South Melbourne, said one of his best character traits was that he never lapsed into complacency.
"I was competitive, didn't like to be beaten, and I was never satisfied with what we'd achieved or with my standing in the game," he said.
"I always wanted to get better and it helped my consistency.
"And I was lucky to play in such a wonderful backline. It was a great brotherhood - a team within a team. We were best mates off the field and it transferred on to the field. We'd do anything for each other."
He believes "quite a few" of his former teammates will join him in the Hall of Fame and would also make a re-imagined best-ever Geelong team.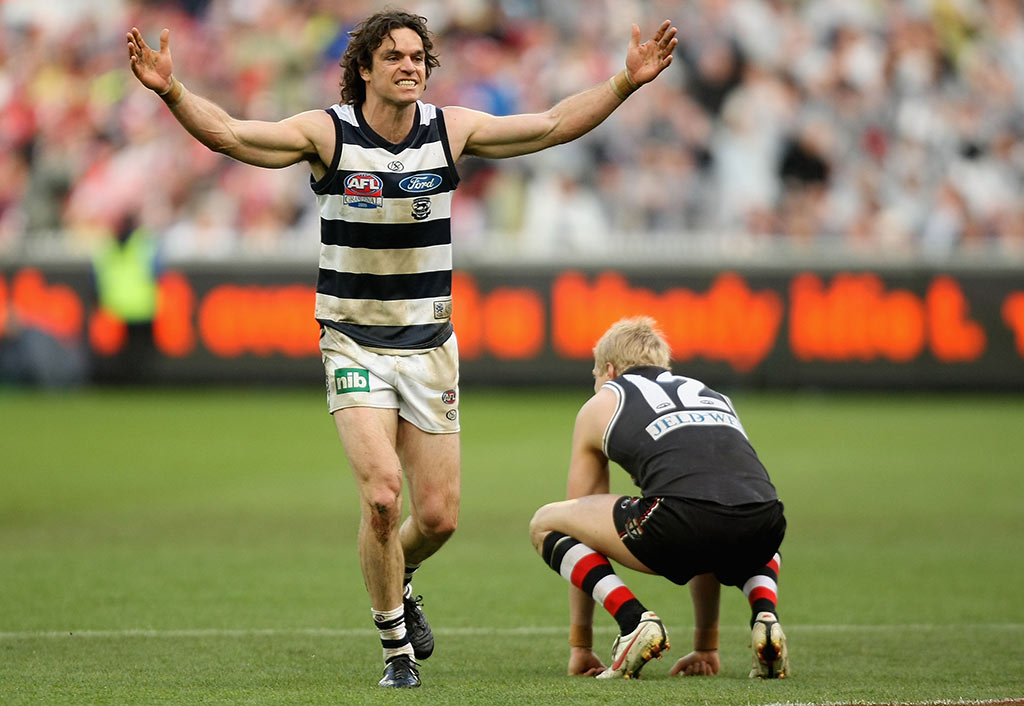 Such prestige is a far cry from Scarlett's brutal initiation when in his first two AFL games he conceded bags of six and five respectively to Essendon champion Matthew Lloyd.
"That was unbelievably beneficial just to see how far off I was and where I needed to improve if I wanted to eventually beat these amazing footballers," Scarlett said. "I had a lot of work to do."
Lloyd agreed.
"He was raw and as skinny as a toothpick, and I certainly didn't think he'd become a champion, but he was a real competitor and he was lightning quick off the mark," Lloyd recalled. "It wasn't long, though, before I thought, 'This guy can really play.'"
Scarlett was initially a self-confessed "dour" defender but, buoyed by the encouragement of coach Mark Thompson and backline coach Brendan McCartney (whom Scarlett reveres as the greatest influence on his career and life), he gradually developed into an offensive weapon.
"Again, I wouldn't have been able to do it without having great teammates who'd cover for me," he said.
An Essendon fan in his youth, Scarlett started indulging his boyhood fantasy of turning defence into attack like his idol Gavin Wanganeen.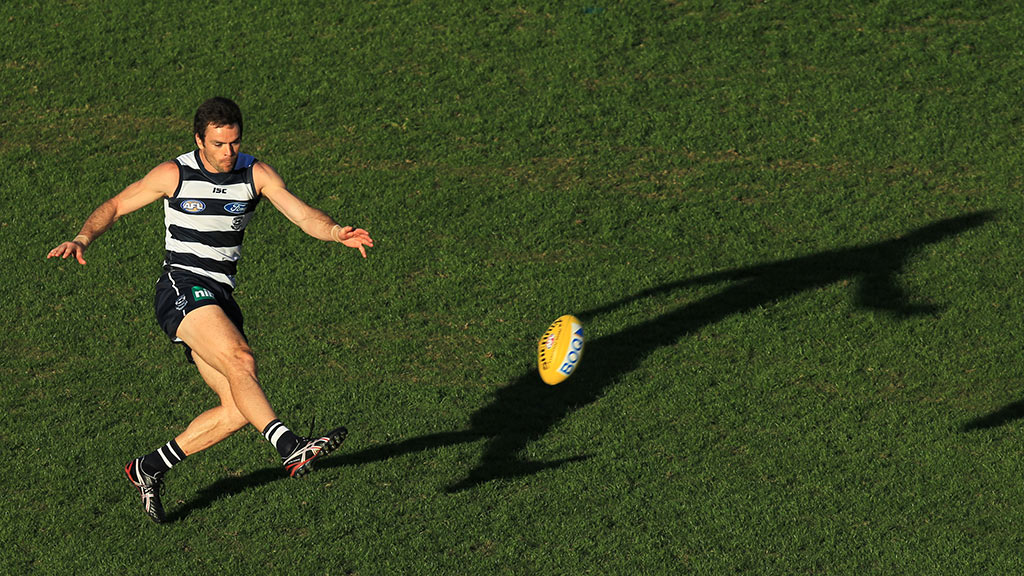 Wanganeen's one-time teammate Lloyd rated Scarlett as his best opponent (Scarlett returned the compliment) and says the crafty Cat became a nightmare match-up.
"He was the total package and the first backman who gave me a sleepless night. I'd think, 'Oh no, I've got Scarlett tomorrow,'" Lloyd said.
"He changed the way I viewed backs. I'd never worried about any full-back before him.
"He'd mop up, take a bounce, give it off and follow up. He'd make me go on 150-metre runs and I'd look silly if I didn't go with him.
"If I missed a shot at goal I'd curse myself because instead of waiting with him in the goalsquare for the centre bounce, I'd be chasing him to our half-backline.
"It was a game of cat-and-mouse."
Matthew Scarlett

| | |
| --- | --- |
| Club | Geelong |
| Born | June 5, 1979 |
| Recruited from | St Joseph's |
| Playing career | 1998-2012 |
| Games | 284 |
| Goals | 17 |
| Player honours | Best and fairest 2003; All-Australian 2003, 2004, 2007, 2008, 2009, 2011; premiership team 2007, 2009, 2011; Victorian representative (1 game, 0 goals); International Rules representative (3 games, 0 goals); AFL life member |
WHO'S IN THE HALL OF FAME? Find every legend and inductee