DAYNE Beams is his own man, but the Brisbane Lions captain took particular note of some advice from Neale Daniher upon taking over as skipper 12 months ago.
Under new coach Chris Fagan, Beams beat out Tom Rockliff and Dayne Zorko for the top job, and flourished as last season wore on.
Not only did he return to his best playing form, but the 27-year-old blossomed as a leader, guiding the young Lions to a much more competitive second half of 2017.
"I like to think I do what I say, lead by example," Beams told AFL.com.au.
"There was a clip we watched a lot last year with Neale Daniher, and he said it's not about what you say, it's about what you do, and that stuck with me.
"I think it's the way to go about things, but there's going to be other captains with their own styles."
Allen Christensen said Beams was a player you wanted to follow.
After missing the end of 2015 and most of 2016 with shoulder and knee problems, Beams got stuck into his rehab, and it didn't go unnoticed.
"On-field, everyone sees what he's like, he's a machine," Christensen said.
"Off-field he's had a lot of injuries and problems and the way he's gone to get himself right, you look at the size of him, he's a big boy, he pushes himself in the gym.
"If you watch him in the gym as a young player, you think "that's what I've got to be like".
"He's very professional in what he does, what he eats.
"He's very approachable as well. His outside façade is very different to how he is inside the club."
That outside façade Christensen speaks of is the quietly-spoken, almost mystery man that is happy to avoid the limelight.
When Beams speaks to the media, he's engaging, funny and thoughtful – he'd just be happier if he did it less and could concentrate solely on his teammates and making the Lions a better club.
Less limelight in Brisbane was a nice byproduct of leaving Collingwood, the most scrutinised club in the country, at the end of 2014 to return home and be closer to his then-ill father.
Lions run laps during their pre-season training camp in Launceston. Picture: Michael Willson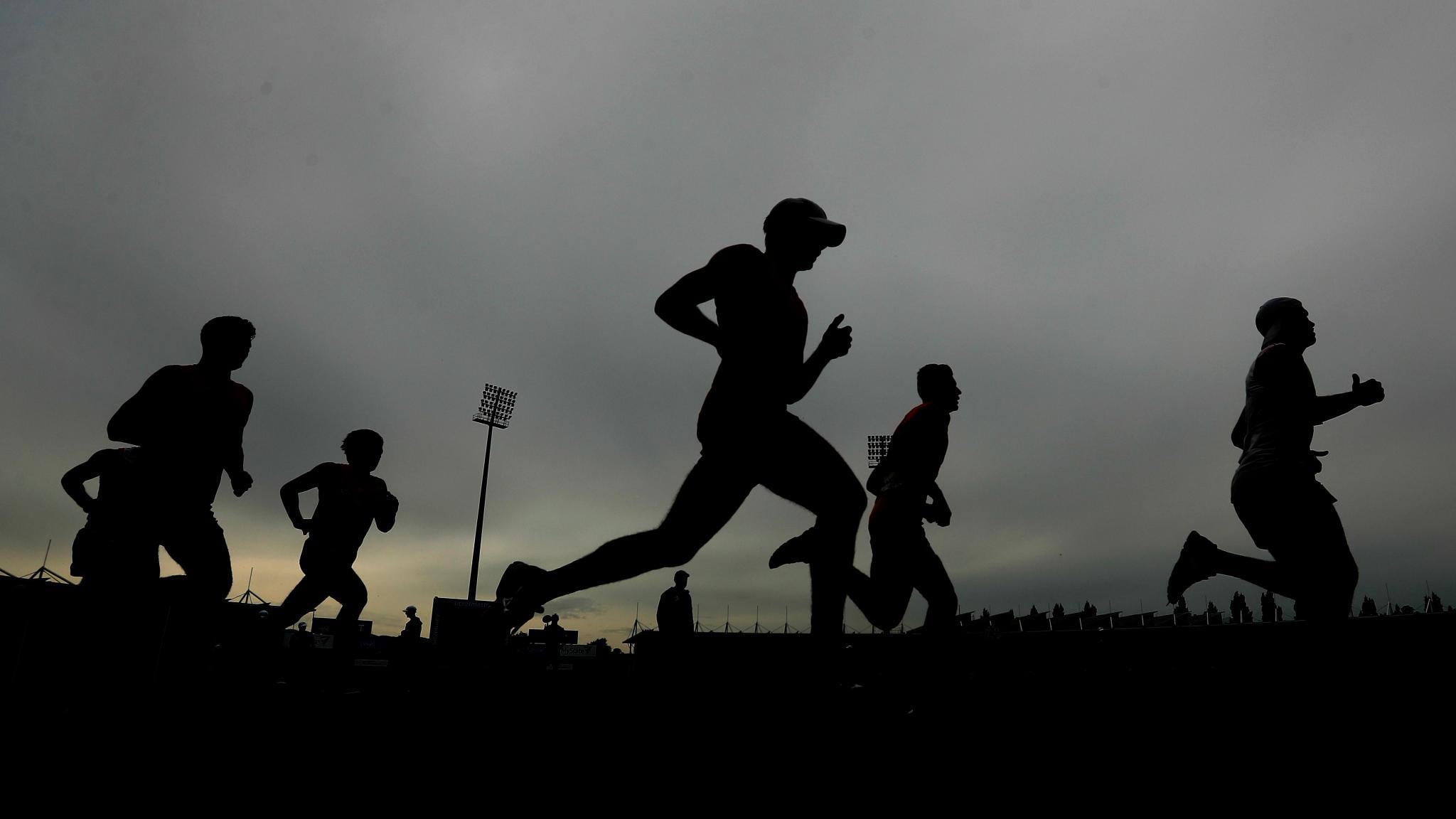 Away from the cameras, Beams is a self-confessed chatterbox.
On the eve of his first training session with his new club in November, Luke Hodge went to Beams' house for a chat. He made an excuse to leave 90 minutes later after Beams got on a roll talking about everything Lions.
Beams said the combination of getting out of the "footy bubble" and having a baby daughter had both helped to open him up and also keep things in perspective.
"When you hear footy so much you get drained by it," he said.
"When it's not spoken about that much, it's easier to talk about and you want to talk about it a bit more.
"I've had some troubles over the last two years with my own body.
"Having a kid has been really really good for that. I walk in the door and put my bag in the same spot every day, and I go inside and Ruby my daughter doesn't give a s--t about the day I've had, she's just happy to see me and that's the best thing in the world.
"It takes my mind off footy.
"It's still a work in progress, I talk to Fages about it constantly.
"Fages and I have a really good relationship. We chat more about life than about footy.
"I feel really comfortable being able to go and express personal problems I have.
"Obviously we still talk about footy, but he's been a really good mentor to me."
It's a trait Beams hopes to pass on to his young teammates.
Once taking over the captaincy, he said his main focus was to invest time in the other players.
"I really enjoy it. It makes me feel younger," he said.
"I've formed some really good relationships with our younger guys and hopefully they can see we're headed in the right direction.
"That's Fages' biggest strength … he builds relationships with players and gets to know them on a deeper level."
Although the Lions finished with the wooden spoon in 2017, for the first time in many years they have a coach under no pressure, and in Beams, a captain that is not only one of the best players in the AFL, but a man that is comfortable leading on and off the field.