THE FINAL round of the JLT Community Series is behind us. The light is starting to shine at the end of the pre-season tunnel as we focus towards the first AFL Fantasy lock-out, which is only a matter of days away.
This is the business end of the Fantasy season, and we have analysed every game in the final round of the JLT Community Series, highlighting three important points and things we have learnt. This will only assist you in building your team for a successful year ahead.
Got an AFL Fantasy team yet? Pick your side now
Richmond v North Melbourne
1. Todd Goldstein (RUC, $610,000) is back! Goldstein only played 42 per cent of the game and looked back to his 2015 best, when he averaged 114. He scored 65 and when he's playing like this, they won't need Braydon Preuss to support him this year.
2. Ben Jacobs (MID, $243,000) will be in the Kangaroo's best 22 and will be tagging our star players. He scored 60 after being busy early with 30 points in the first term. Unlike Luke Davies-Uniacke (MID, $264,000). Although the future star found the ball 17 times, he only managed 46 points. With his inflated price tag, many Fantasy coaches will now be looking for a cheaper option.
3. Dustin Martin (MID, $800,000) will be ready to go for round one. He didn't break a sweat in this game, cruising in second gear and handing off goals at every chance. He only managed 61 points, however, the 24 per cent of coaches on board should not be concerned.
Click here to subscribe on iTunes.
Melbourne v St Kilda
1. Popular rookies Nick Coffield (DEF/MID, $256,000) and Bayley Fritsch (FWD, $210,000) are red-hot chances to debut in round one. Coffield found the ball 17 times for his 60 points and Fritsch, who sits in 22 per cent of teams, scored 52.
2. Jack Billings (FWD, $666,000) came out blazing, scoring 58 in the first half, shutting down any speculation that his recent hamstring scare will cause him any problems. He finished the day with 82.
3. Max Gawn (RUC, $605,000) proved why he is in the top five most selected players as he dominated all over the ground to score a game-high 118. Gawn is clearly one of the biggest bargains in 2018 and could get back to his 2016 form that saw him average 107.
Max Gawn is one of the bargains of the 2018 Fantasy season. Picture: AFL Photos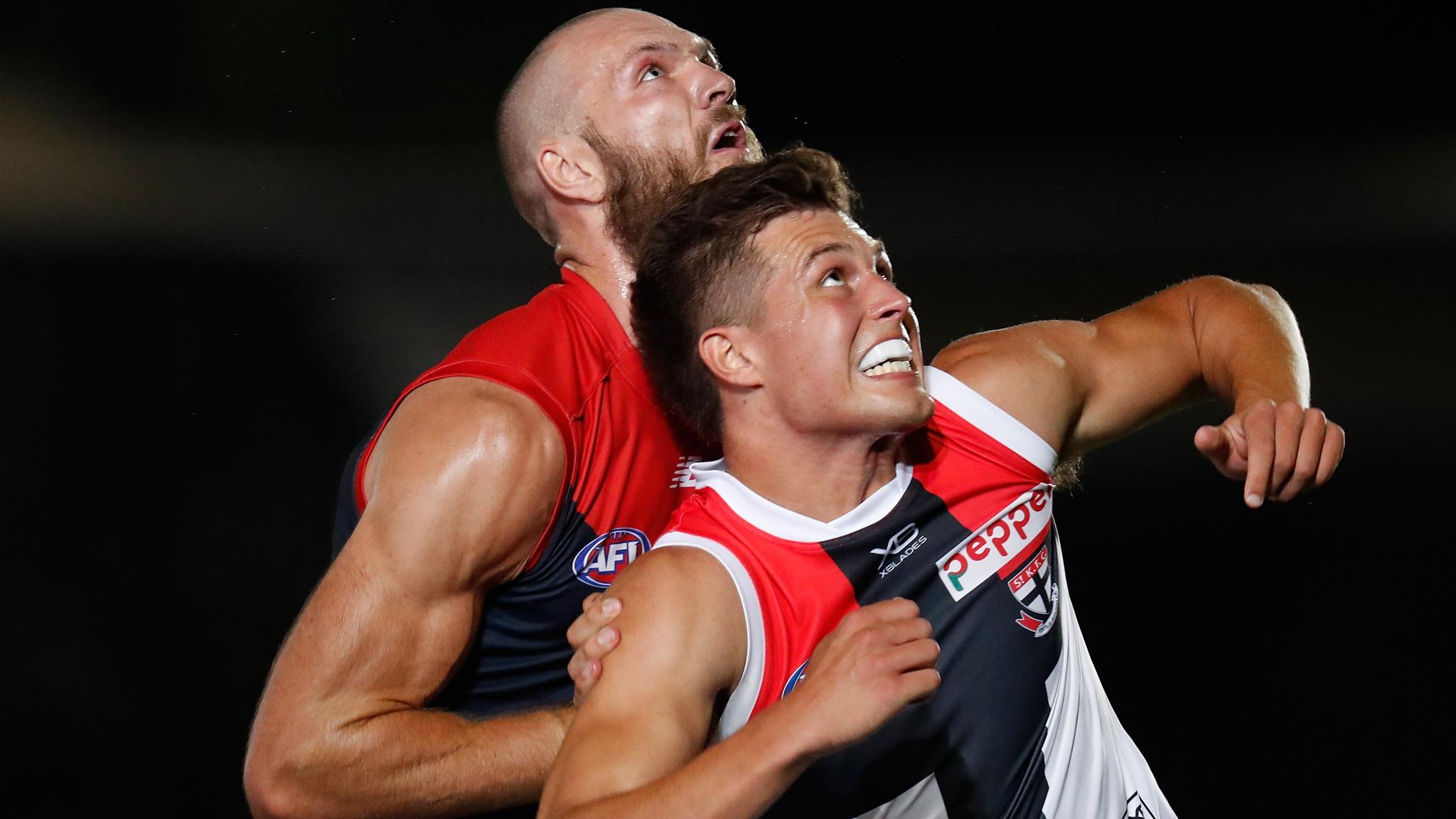 Sydney v Greater Western Sydney
1. After a slow start last year, Luke Parker (MID, $693,000) has benefited from a full pre-season and scored a game-high 132. He attended a 17 centre bounces, the most for the Swans.
2. Robbie Fox (MID, $284,000) is being overlooked by the Fantasy community, and at his price he deserves to be in more teams than the 2 per cent he sits in. Fox scored 75, backing up his 87 from last weekend. Where he sits in their best-22 though is the biggest question, but if he's named for round one, he must be considered.
3. A new Fantasy-friendly role should see Lachie Whitfield (MID, $690,000) pick up defender status in round six. He scored 132 and joined Tom Mitchell to be the only two players who scored back to back 100-plus scores in the JLT.
Collingwood v Western Bulldogs
1. As Nick Maxwell pointed out in our recent Draft podcast, Sam Murray (DEF, $170,000) was playing for his spot in the team this week and cemented it in style. He took nine uncontested marks to score 93, and after this performance, he should be sitting on your ground.
2. Although Brodie Grundy (RUC, $748,000) scored 89, he still shared rucking duties with Mason Cox (RUC/FWD, $418,000) where he had 37 hit-outs to Cox's 19. This is not a positive sign of things to come. Grundy's numbers plummeted last year when they played side by side and therefore Grundy should be adjusted in all Draft rankings.
3. Is Tom Liberatore (MID, $507,000) finally back? He attended the most centre bounces for the Bulldogs and led his team with 28 disposals, finishing the day with 96 points. Liberatore averaged 72 last year, a long way short of the 99 he has averaged in the past.
Port Adelaide v Adelaide
1. Tom Rockliff (MID, $725,000) will now enter round one with his new team having no pre-season games under his belt. This is a huge concern for one of our favourites who sat out once again with knee soreness.
2. Bryce Gibbs (MID, $790,000) and Rory Sloane (MID, $754,000) were managed throughout the game, each playing less than 65 per cent game time. They still managed to score 97 and 82 respectively.
3. Port Adelaide recruit Jack Watts (FWD, $531,000) kicked a career-high six goals for 103 while Adelaide recruit Sam Gibson (MID, $582,000) pushed for a round-one appearance with a team-high 27 disposals and 104 points.
Rory Sloane scored 82 points against Port in less than 65 per cent game time. Picture: AFL Photos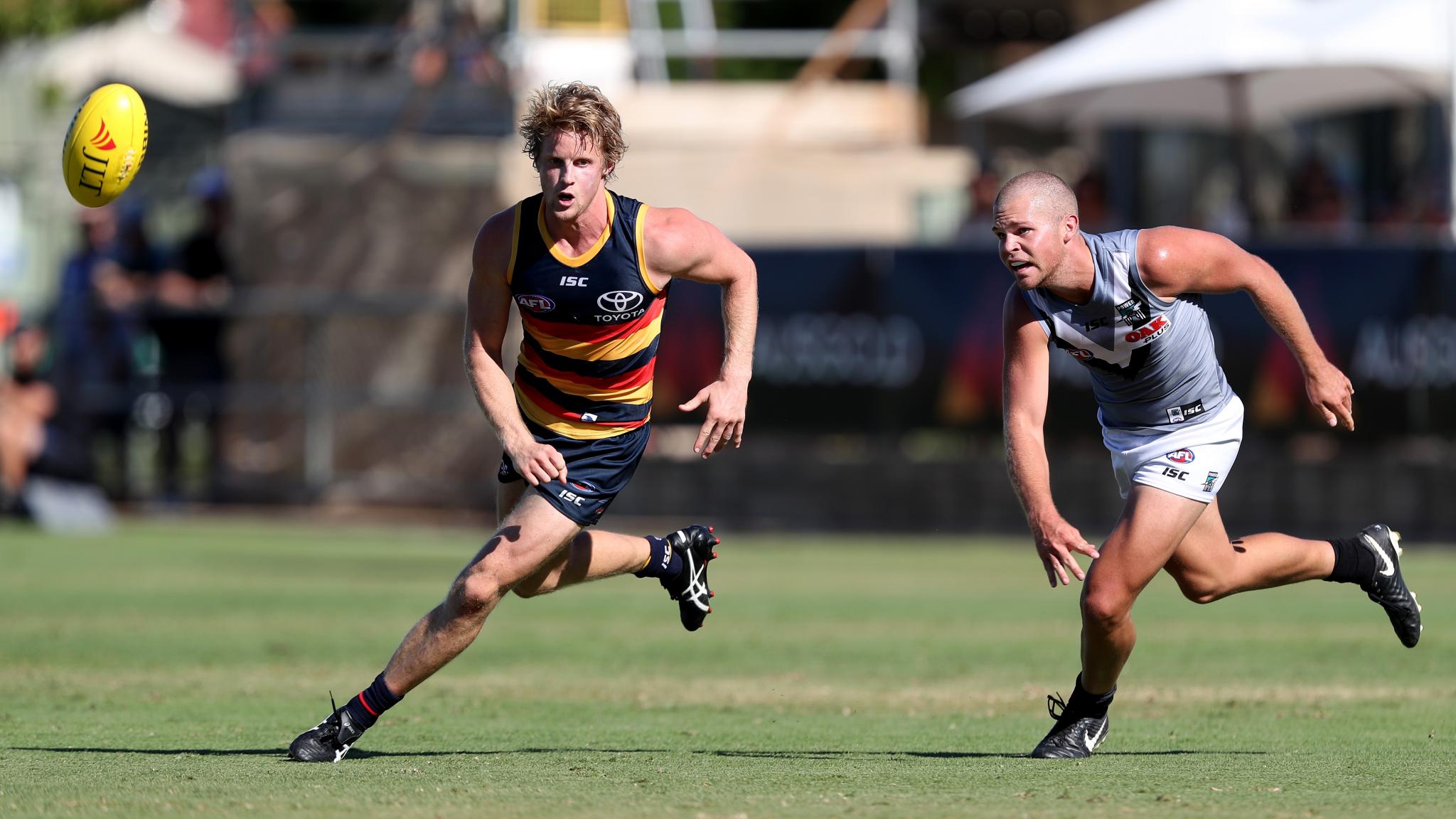 Hawthorn v Carlton
1. Fantasy's No.1 ruckman Matthew Kreuzer (RUC, $740,000) will be racing the clock to be fit for the opening Thursday night game against the Tigers. Kreuzer rolled his ankle in the first quarter, sending Draft coaches into a frenzy. With less than two weeks until the opening bounce, Draft and Classic coaches will need to brace for the worst and have a plan B.
2. Jaeger O'Meara (MID, $438,000) claimed eight tackles on his way to 85. After a poor first performance in the JLT where he scored 61, O'Meara was impressive with 23 disposals.
3. James Sicily (DEF/FWD, $523,000) will be a rollercoaster. Although he scored 71, he only managed 19 in the second half after he was silenced by Jed Lamb. Sicily is vulnerable to any niggly attention and if opposition coaches target this weakness, then Fantasy owners will be in for an up and down season.
Geelong v Essendon
1. Twang … and just like that everything changed. Patrick Dangerfield (MID, $849,000) started the game with 34 points in the opening term before jogging into the rooms with a hamstring strain. He sits in 33 per cent of Classic teams and would have been drafted as one of the top three selections in every Draft in Australia. The last home and away game he missed through injury was in 2013, but just like Kreuzer, he will be racing the clock to be ready for round one.
2. Youngsters Charlie Constable (MID, $200,000) and Tim Kelly (MID, $224,000) staked their claims for a round one debut with scores of 69 and 54 respectively. Constable racked up 18 touches and a game-high eight marks from only 63 per cent game time. He also attended 20 centre bounces, the third highest of everyone on the ground.
3. Joel Selwood (MID, $670,000) was very impressive with 117, however he was overshadowed by a 38-possession game from Mitch Duncan (MID, $793,000). Duncan scored 132 and is every chance to extend his stellar average of 113 from last year.
Gold Coast v Brisbane
1. Rucking solo, Stef Martin (RUC, $703,000) had a day out, scoring 96 from 31 hit outs. Where Archie Smith sits in the plans of the Brisbane Lions is yet to be seen though. He played six games last year, and when he did, Martin only averaged 86.
2. We all have our fingers crossed that Nick Holman (MID, $170,000) can hold his spot for round one after his 61 points. He had 13 disposals but once again applied good defensive pressure with five tackles. He should be safe.
3. Popular mid-priced bargain Allen Christensen (FWD, $331,000) only scored 46 from 75 per cent game time. The 30 per cent of coaches who are currently backing him in need to hold their nerve here and stay loyal. Cam Rayner (FWD/MID, $270,000) had his best game over the JLT Series, scoring 84 from a huge 10 tackles.
Coaches with Allen Christensen need to hold their nerve and keep him in. Picture: AFL Photos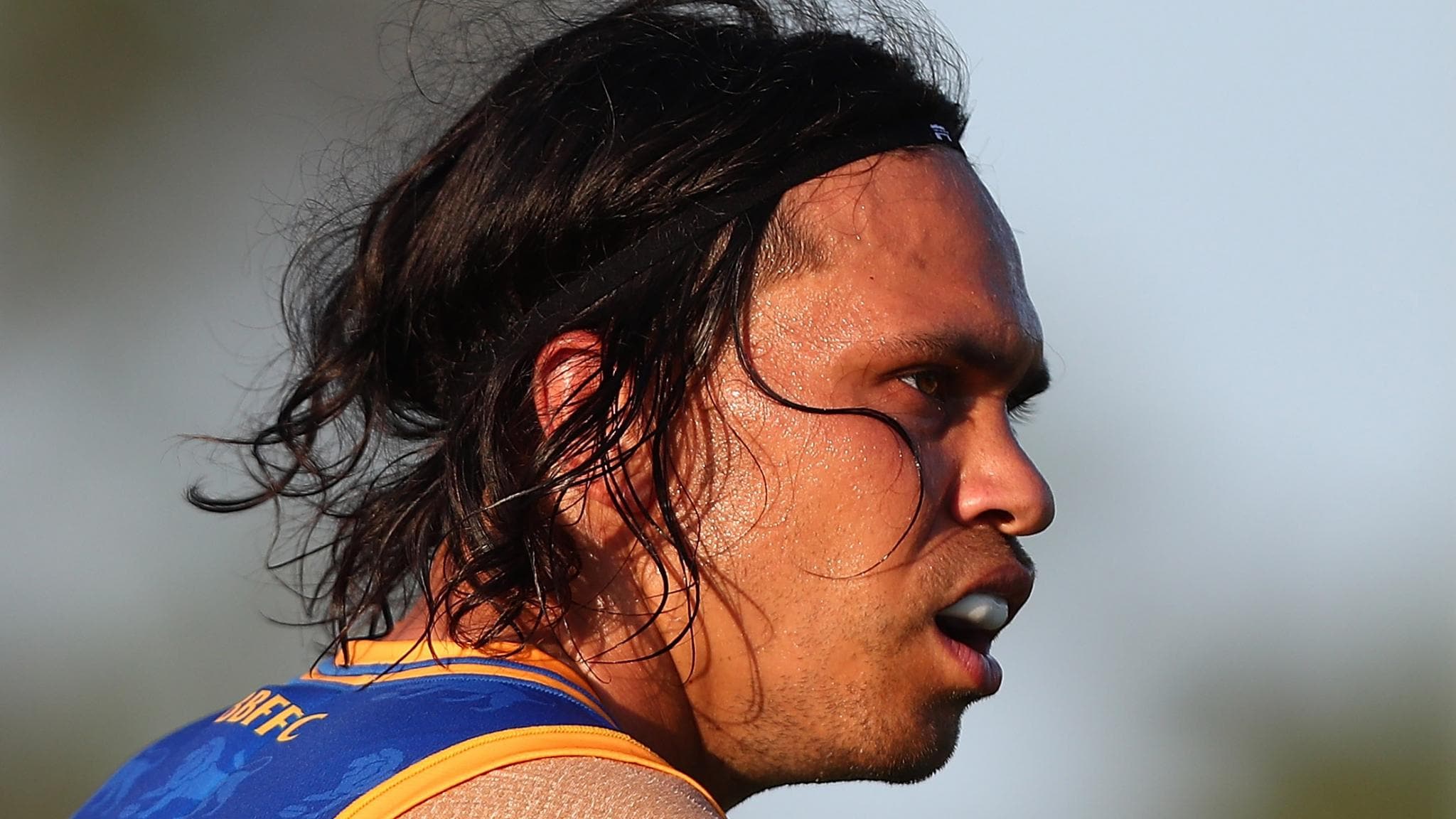 Fremantle v West Coast
1. This game was a one-sided affair and Lachie Neale (MID, $706,000) cashed in with the highest score for the JLT Community Series scoring 154 points. He currently has low ownership and after a performance like this, his coaches will be furious that his name is up there in lights.
2. The West Coast rookies were solid in the 10-goal loss, with Liam Ryan (FWD, $220,000) scoring 55 and Daniel Venables (FWD, $170,000) having 10 disposals for his score of 43. Jake Waterman (FWD, $170,000) pulled down four marks and kicked one goal for 54. Which rookies will be named for round one is still anyone's guess, but Ryan is possibly the front runner.
3. Bailey Banfield (MID, $170,000) and Andrew Brayshaw (MID, $268,000) were outstanding for the Dockers and should make their debuts against Port Adelaide on March 24th. Banfield scored 81 and Brayshaw scored 82 from 19 disposals in just 67 per cent time on ground.