FACT: the average senior AFL coach in 2018 is 46 years old and white.
Their underlings in coaching's exclusive club are only a slight variation on those demographics, too.
With the dust barely settled on the AFL's annual Sir Doug Nicholls Round – dedicated to indigenous peoples' contribution to Australian football – there remains a gaping hole in the landscape.
Andy Lovell (Gold Coast), Roger Hayden (Fremantle) and Xavier Clarke (Richmond) are the only active Aboriginal or Torres Strait Islander coaches in the AFL.
That is three out of roughly 180 coaches overall, despite about 10 per cent of the playing population being indigenous for more than a decade.
There are 83 indigenous footballers on AFL lists this season and another 10 in AFL Women's ranks, a huge increase from 1993, when only one per cent of players were indigenous.
The introduction in 1995 of the AFL's racial vilification policy, which now includes religious vilification, is credited for much of that spike.
But the dial has barely moved on the number of indigenous coaches.
"There are different reasons and excuses why there aren't more," AFL indigenous engagement and programs manager Mathew Stokes told AFL.com.au.
"But no-one's coming up with solutions or changing it – and that's probably the most damning part.
"We all understand there are (not many) coaches and that there are two sides to the story, but instead of worrying about whose fault or problem it is, why can't we move on and come up with a solution?"
The possible explanations for the paltry coaching figure are many and varied, and the search for a solution has, perhaps, not been rigorous enough.
But the AFL is not an isolated case in Australian sport.
An Australian Bureau of Statistics survey in 2012 revealed that Aboriginals and Torres Strait Islanders filled a staggeringly-low 173 of the 21,333 full-time coaching positions in the nation.
A Western Sydney University-led research article, released last year by Andrew Bennie, Nicholas Apoifis and Demelza Marlin, suggested racialised representations of Aboriginal athletes impeded their professional coaching opportunities.
"Negative cultural stereotypes about laziness may also intersect with cultural stereotypes about Aboriginal 'natural' sporting ability," the article says.
"It builds the idea that where Aboriginal athletes have achieved great success it is through innate abilities … rather than hard work."
WHAT'S BEING DONE?
The AFL considered the situation concerning enough to employ Port Adelaide's 2004 premiership coach Mark Williams as a consultant, after his stint at Richmond ended 21 months ago.
Williams, of Afro-Caribbean descent, looked into indigenous, multicultural and women's coaching pathways in American basketball, baseball and football, as well as the English Premier League, then wrote a proposal.

Mark Williams knows what it takes to get to the top. Picture: AFL Photos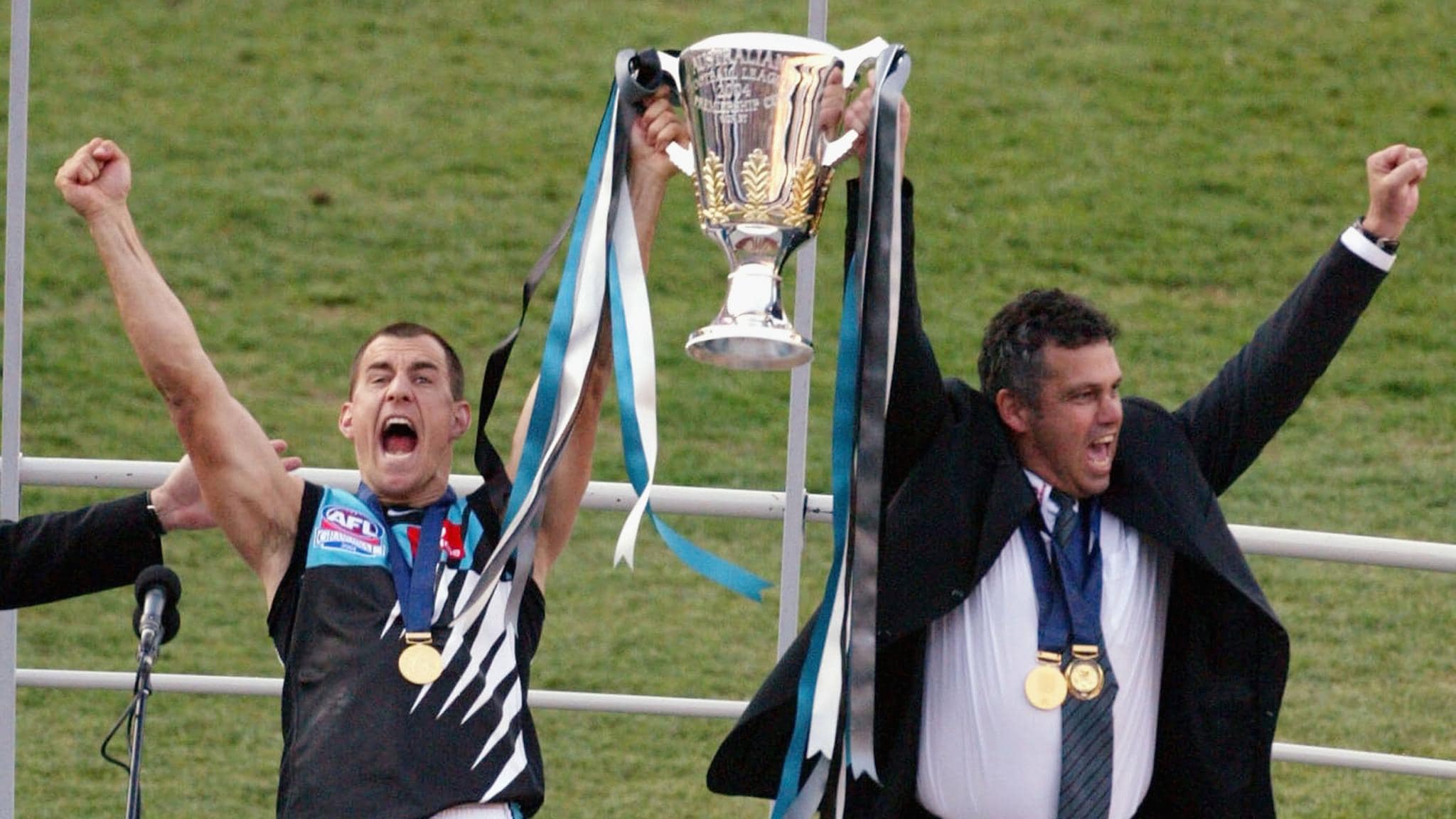 He also manages the AFL's Diversity Coaching Academy and presented on coaching at last year's AFL/AFL Players' Association Indigenous All-Stars camp in Broome.
"I'm making sure they know, if they can upskill themselves to be credible; there's no reason why, similar to picking them to play, they can't be a coach as well," Williams said.
"In fact, with the continual growth in Aboriginal players in teams and the need for understanding cultural stuff; having an Aboriginal coach amongst you is a must.
"My view is it should be mandated that there's an Aboriginal on every coaching staff in the AFL."
AFL spokesman Patrick Keane confirmed that the League's executive and commission had yet to tick off a formal action plan from Williams' findings.
But discussions are ongoing about the best way to "fast-track" indigenous footballers into coaching programs and jobs.
No decision has been made on adopting an NFL-like 'Rooney Rule'.
The hotly-debated rule requires NFL clubs to interview ethnic-minority candidates for head coaching and senior operational roles.
There was a wide-ranging response from the people AFL.com.au spoke to about whether such a rule would benefit the AFL.
Melbourne's indigenous project officer Matthew Whelan vigorously opposed it, saying the coaching selection process should be about finding the best candidate without bias.
However, the AFL's former head of diversity, Jason Mifsud, an Aboriginal who worked as an assistant coach at St Kilda and the Western Bulldogs, is adamant something must be done.
"If we leave the game to just unearth a generation of indigenous coaches, well, I think the evidence would dictate that it's going to be so incremental," Mifsud said.
"It's not a favourable response or reflection that anybody should be proud of, either currently or into the future, and something's wrong when you consider it's been over 30 years since Barry Cable coached North Melbourne.

It's a long time since Barry Cable took the Kangaroos to the finals. Picture: AFL Photos

"In 1993, one per cent of AFL lists were made up of Aboriginal players and today we have 10 per cent.
"You can trace the success of that to a very deliberate cultural shift within the industry, by way of policy changes, and a direct investment in clear, dedicated and tangible pathways."
The AFL's general manager of inclusion and social policy, Tanya Hosch, who effectively replaced Mifsud when he resigned at the start of 2016, is torn on the topic.
Hosch finds it "interesting" more progress hasn't been made on the coaching front, but her feedback is that many indigenous footballers don't want to be coaches.
"It definitely is something I'd love to see change," she said.
"I meet a lot of these Aboriginal and Torres Strait Islander players and they've got great visions and great lived experience in the game and they've obviously been real legends in the game.
"But I also think that until a large number of Aboriginal and Torres Strait Islander people indicate that coaching is something they want, it's not going to be one of my highest priorities."
Therein lies some of the complexity in this discussion.
Lovell and Hayden, who both moved into coaching immediately after their playing career, agreed with Hosch that coaching was a "personal choice".
But Mifsud argued that until the AFL showed a strong intent in this area it was no wonder more indigenous players weren't pursuing coaching.
NO-ONE TO LOOK UP TO
Stokes thinks the problem is the lack of a "hero", with none of Lovell, Hayden or Clarke – other than him being rolled out publicly once a year for Sir Doug Nicholls Round – "up in lights".
Lovell, who played 164 matches for Melbourne and West Coast, is the Suns' backline coach and into his 20th year as a coach, but has never interviewed for a senior role.
His coaching break came when then-Eagles coach Mick Malthouse approached him in mid-1998 – his last season as a player – to see if he wanted a more active role with the Eagles' young footballers.
"It's an enormously rewarding job and a great career, and I'm not sure that's expressed to players enough," Lovell told AFL.com.au.
"There are opportunities there if you choose to explore that pathway."
Hayden has served as a development coach and indigenous liaison officer at the Dockers for seven years, while Clarke scored the same role at the Tigers ahead of last season.
Clarke, who coached NT Thunder to the 2015 NEAFL premiership, is seen as the great hope to become the first Aboriginal VFL/AFL head coach since Cable.
It is a cross to bear the 34-year-old former Saint and Lion has somewhat embraced, relaying his ambition to eventually be a senior AFL coach in media interviews across the years.
Richmond premiership coach Damien Hardwick called Clarke a "star" on the eve of this year's Dreamtime at the 'G match: "He gives us great insight, he's a terrific coach in his own right, and he's very driven and very knowledgeable about what he presents."
Clarke's return to the AFL scene as 'only' a development coach, despite his NEAFL success, raised eyebrows in some sections of the indigenous football community.
It wasn't so long ago that the AFL Northern Territory board mulled over whether Clarke, who had extremely limited coaching experience at the time, was the right man to lead Thunder.
Clarke quickly proved himself more than up to the task.

Premiership assistant coach Xavier Clarke has had senior success in the NEAFL. Picture: AFL Photos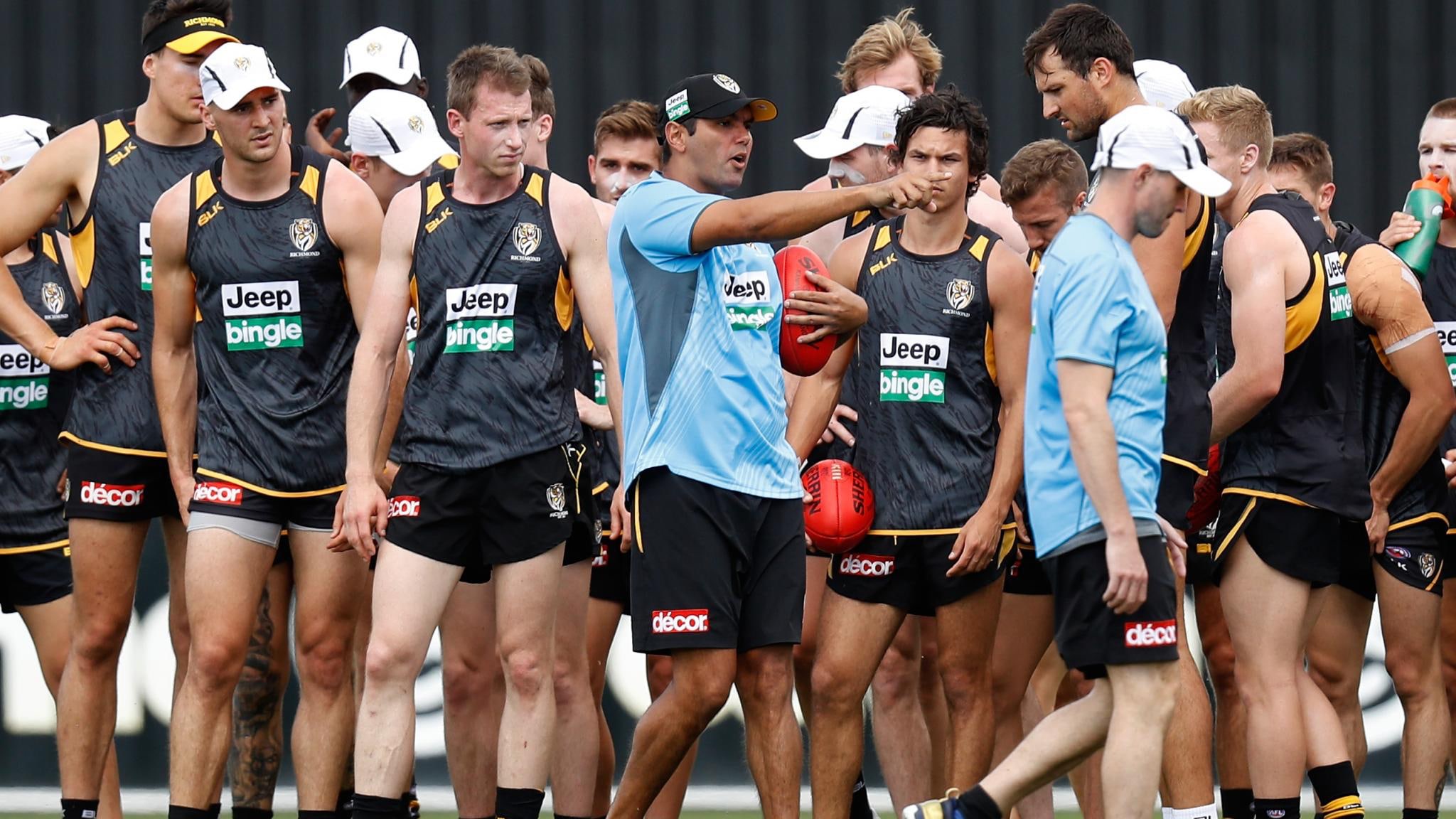 Mifsud doesn't share the disappointment about Clarke's initial AFL coaching role, but said there would have to be "something dramatically wrong" if Clarke doesn't coach an AFL team one day.
"If he does not coach AFL in his own right, the people picking the coaches will one day look themselves in the mirror and have to ask themselves some hard questions," Mifsud said.
"He's an exceptional coach and different people have different views, but I think all the characteristics I would want to see in a senior coach, he has them in spades.
"Now he just needs the exposure as a line coach and a senior assistant coach."
AFL Victoria's diversity talent manager Chris Johnson, who spent two years as a development coach at Brisbane where he played in three flags, urged clubs to offer indigenous coaches "significant roles".
The 42-year-old postponed his own AFL coaching goals to focus on his family and admits he might be too old by the time he tries again.
But Johnson is still involved in the under-16 Victoria Metro and Calder Cannons programs and was in charge of the division one AFL Academy for three years.
"We're doing as much as we can at state level to expose indigenous coaches to the elite pathway," Johnson told AFL.com.au.
"We run a Diversity Coaching Academy here at AFL Victoria and we've done that since I started the role here two years ago.
"We have a coach at TAC Cup level, Peter Mongta, who's come through our pathways and is really pushing the boundaries and developing himself at Gippsland Power, under Peter Francis."
ARE THERE INDIGENOUS COACHES OUT THERE?
Ex-Kangaroos forward Matt Campbell is in charge at NT Football League club Darwin, as well as being the AFLNT's development coach.
Campbell became increasingly emotional as he discussed with AFL.com.au the "stigma" associated with Aboriginals, including athletes.
"Maybe the AFL needs to spend $1 million to run an indigenous coach program, where every club has to not employ, but have a scholarship (for an Aboriginal)," he said.
"The Adelaide Crows could maybe go and get Graham Johncock and fly him up (from Port Lincoln), say, three times a year to upskill him.
"Someone took a chance on a female umpire … things are changing because people are taking chances, regardless of how it looks."
Johncock is coaching his original club Mallee Park, and is far from the only former indigenous AFL player coaching at various levels or within certain programs.
Among them are Tony Armstrong – the Geelong Football League's first Aboriginal senior coach at Lara – Aaron and Alwyn Davey, Des Headland, Antoni Grover, Ash McGrath, Dean Rioli and Harry Miller.
Troy Cook is also the director of football at WAFL club Perth, while Andrew McLeod was an assistant coach with the Crows' AFLW side.
Fellow retired AFL footballers Courtenay Dempsey, Josh Hill and Andrew Krakouer, as well as Matthew Coops, coached in the Rio Tinto Footy Means Business curtain-raiser to the Dreamtime at the 'G match.
Krakouer, who is living in Western Australian city Karratha, hasn't had much to do with the AFL since playing the last of his 137 games in 2013.
"(Mark) 'Choco' Williams came and had a chat to us about coaching," Krakouer said.
"He spoke about the 10 characteristics to be a good head coach and they resonated fairly strongly with me and it planted a little seed that there may be an opportunity for me."
Fremantle's Hayden noted the "big discrepancy" in the AFL between indigenous players and coaches, but said the most important part of the transition was beginning it before stopping playing.
Hayden has already earmarked veteran Dockers Michael Johnson and Danyle Pearce as viable AFL coaching options if they show an interest in that path in retirement.
For him, it is up to the individual to "drive his own career".
"There are a lot of positives around indigenous coaching, because in the end we love the game and still want to be part of it, but it's a personal choice whether we want to go to the next level," Hayden said.
"It always comes back to whether that person really wants to be a coach."

Fremantle veteran Michael Johnson could make it into coaching ranks when he retires. Picture: AFL Photos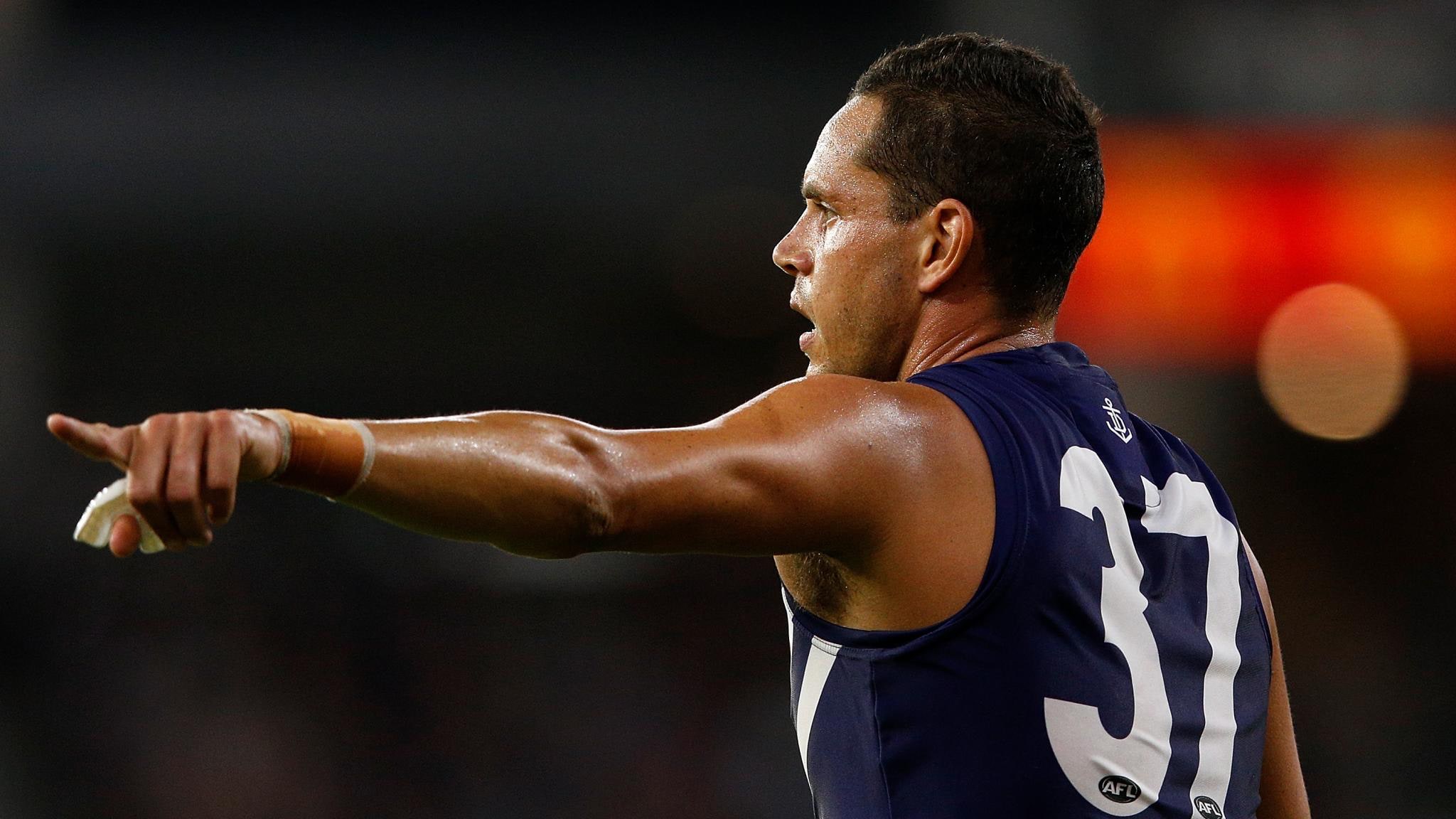 MENTORING PROGRAM IN THE WORKS
There is momentum at the Demons, where game analyst Craig Jennings – Simon Goodwin's right-hand man – and Whelan are trying to make a difference.
They organised a coaching seminar as part of their vision in February this year for AFL Cairns, where former Melbourne player Aaron Davey is football development manager.
The seminar wasn't exclusively targeted at indigenous coaches, but many of the attendees were.
Davey, who is also Cairns City's playing coach, tried to break into AFL coaching after his career ended and he completed a level two coaching course, but wasn't able to score a job.
"Craig Jennings was awesome and the feedback from our coaches was it was a phenomenal night – and it inspired the local coaches to want to progress," Davey said.
Another workshop is planned for Darwin ahead of the Demons' round 16 clash with Fremantle.
The NTFL season runs outside the AFL calendar, with Jennings and Whelan keen to eventually develop a mentoring program where Jennings sits in the box on game day with coaches in the Darwin competition.
"It's a bit of a pilot program," Whelan said.
"They're relying on indigenous players who played in the AFL to step into coaching roles … but this might be a way of getting to know some that haven't been through the system."
The search for a solution is ongoing.
No two people who spoke to AFL.com.au agreed on the way forward, but they shared a want to increase the indigenous presence in AFL coaching and post-playing opportunities in general.
The last word goes to the man, David Rath, tasked with overseeing a restructure of the AFL coaching scene, who also has a key stake in the direction the game is headed.
At a time when the AFL is looking for ways to improve the sport's spectacle, Rath thinks the flair and excitement in which Aboriginals and Torres Strait Islanders play could translate to coaching.
"We're looking at the game and trying to see how we can embrace its creativity and instinctiveness a bit more," Rath said.
"We see that in spades when we look at indigenous footballers … so, perhaps, there's an opportunity there for some of our indigenous coaches to become champions of that."