COLLINGWOOD star ruckman Brodie Grundy says all the talk about the prospect of him spending more time forward next year prompted him to seek out his coach for an answer.
Grundy and Mason Cox impressed as a ruck/forward combination in the Magpies' final-round upset of Melbourne, sparking much discussion about whether the pair should play together more often.
At a fan forum on Tuesday night, Magpies coach Nathan Buckley confirmed the duo would be given the opportunity to do just that next year.
The Pies have invested heavily in Cox, the 25-year-old 'American Pie', rewarding his development with a new three-year deal after playing 20 games, predominantly as a forward, in his past two years.
Grundy said that as soon as the season finished he went on an overseas holiday and consequently hadn't heard much of the ruck/forward speculation.
"You (media) guys are talking about it so much that I thought, 'My God, I'm going to be a forward next year," Grundy said on Wednesday.
"Literally, I haven't even thought about it until really this week.
"I actually spoke to Bucks and was like, 'Mate, am I a forward now?' He said some longwinded thing. He said, 'Look, the last game of the year went really well with you and Mason and we think we get a really different look with both of you (playing)'."
The 23-year-old, who would have been in the conversation this year for a berth in the Virgin Australia AFL All Australian squad, believes his best position is the ruck but will gladly play wherever he is asked.
Collingwood male and female players enjoy a joint session on Wednesday. Picture: Getty Images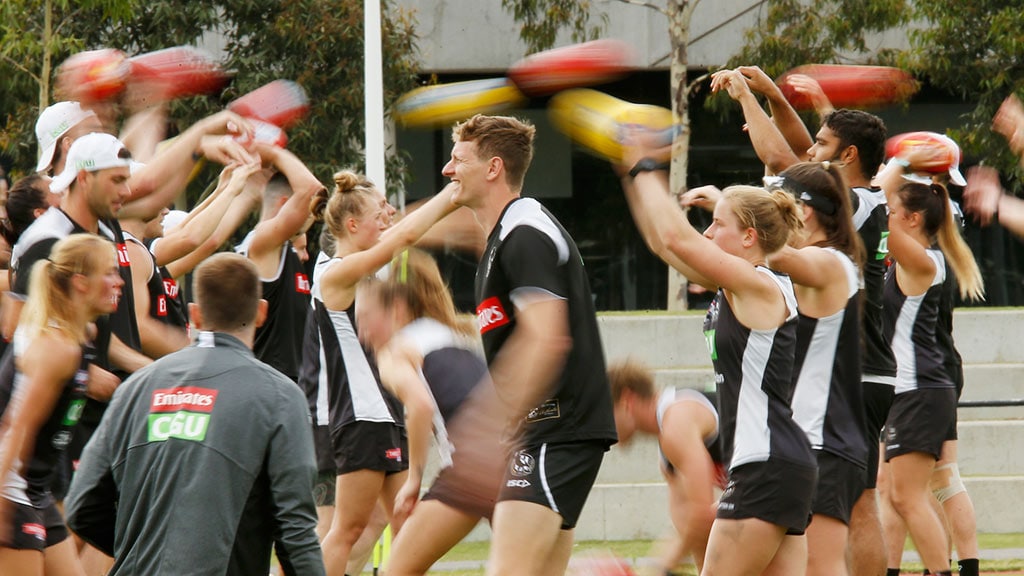 He said he finds Cox a difficult ruck opponent at training with his height and his 'go-go gadget' arms.
"We both bring really different looks to the team. Mason's a really good mark, I think I'm OK (and) I've got some room to grow in terms of my aerial stuff and my body positioning," Grundy said.
"I provide most of my strengths in the ruck. I've shown over the last couple of years I can win the ball in there. Having said that, I think there's some upside for me playing forward and I just need to develop that …
"I think I have the capability to be able to add those strings to my bow … but, at the end of the day, we've seen plans put into place (and) at the drop of a hat things can all change.
"I just take it as it is and if I play there, I hope I do well and kick some goals."