NATHAN Buckley sounded like he was reading a resignation letter when he spoke to the media after Collingwood's 37-point loss to Essendon on Saturday.
Out of contract, out of the finals race and out of answers, the coach admitted the team had reached a tipping point.
After five years and 15 rounds, the Magpies sit fourth last on the ladder late in a season where a finals appearance had been set as the pass mark by Buckley himself.
Hope, the currency every coach trades on, had all but disappeared.
'Horrendous' Pie declares his adoration of Buckley
"It was a day today where I reckon they lost a little bit of hope about where they were and where they are going," Buckley said.
The fight so present in almost every game this season was missing.
And Buckley seemed resigned to what was potentially coming his way, speaking in a manner reminiscent of then Lions coach Justin Leppitsch last season when he said he'd run out of answers after losing to Collingwood mid-season.
"I'm pragmatic, but I'm not defeatist, so I will have that short-term focus to prepare the players as best I can to have them enjoy their footy a little bit more," Buckley said.
The change in language indicated Collingwood could no longer avoid the Buckley decision, a call framing every conversation about the club since the coach put the pressure on himself by declaring in August last year that it was finals or bust.
When Eddie McGuire returns from overseas this week, he will have a binary choice to consider on Buckley, the man he anointed as Mick Malthouse's successor in 2009: sack him or back him.
The other scenario is that Buckley will resign, an option he flagged on Footy Classified last month when he said he also "had a decision to make".
Under Buckley, Collingwood has not made the finals for four years in succession.
It was most recently 5-10 after 15 games in 2005.
After the Magpies won 31 of his first 48 games as coach, Buckley has 35 wins from 81 games since 2014.
With the list overhaul in his time leaving just five of the 2011 Grand Final team at the Magpies in 2017, Buckley entered the year confident, hopeful that his improvement as coach and the development of the young players would translate into consistent, winning football.
But it didn't happen, the problems not so much who was on the park but how Collingwood played.
Its skill level was below par, most evident in its inaccurate goalkicking and poor use of the ball going forward.
It played with heart but without finesse, and sometimes it looked to be playing safe football.
This season the Magpies have appeared to give away winnable games with skill errors.
Nathan Buckley has coached the Magpies since the 2012 season. Picture: AFL Photos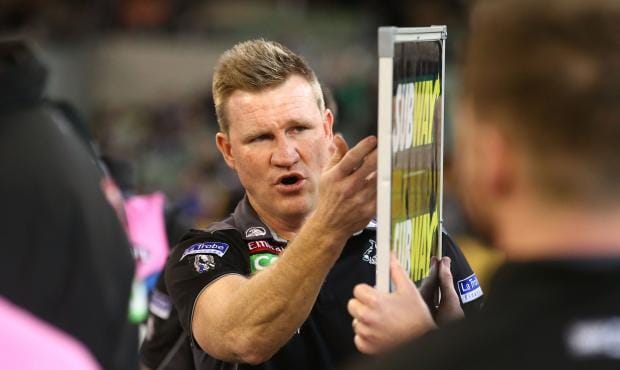 Now nine years after the 'Kirribilli Agreement' that saw Malthouse agree to hand over the coaching position to Buckley after 2011, the club not only has a huge decision to make but one with wide implications.
This decision involves the same players as were around in 2009: McGuire and CEO Gary Pert who drove the succession decision, and football manager Geoff Walsh.
A club review being conducted by experienced businessman and board member Peter Murphy will buy some time, but if Buckley is to go – as seems likely – an exit strategy is required to ensure the shambles that occurred at the end of last season when Graeme Allan was temporarily appointed football manager is not repeated.
This is a massive test for McGuire, who has handpicked the Magpies past two coaches, Malthouse and Buckley, after respectfully moving on Tony Shaw at the end of 1999.
If there is to be a change in coach, the decision on the next leader requires a process rather than a captain's pick.
Buckley can hold his head high for refusing to shirk the issue.
"No-one is feeling particularly great about themselves, players or coaches alike," he said.
The club can no longer shirk the issue, either.