GOLD Coast's unprecedented move to sign top-10 draftees Ben Ainsworth, Jack Scrimshaw, Will Brodie and Jack Bowes for two extra years before playing a game is still having repercussions.
Industry-wide that is, not just at the Suns or Greater Western Sydney.
The talented quartet from the 2016 draft are with the same powerhouse management company, Paul Connors' Connors Sports, and are believed to have signed contracts of about $400,000 for seasons three and four.
Ben Ainsworth celebrates a goal against Melbourne earlier this year.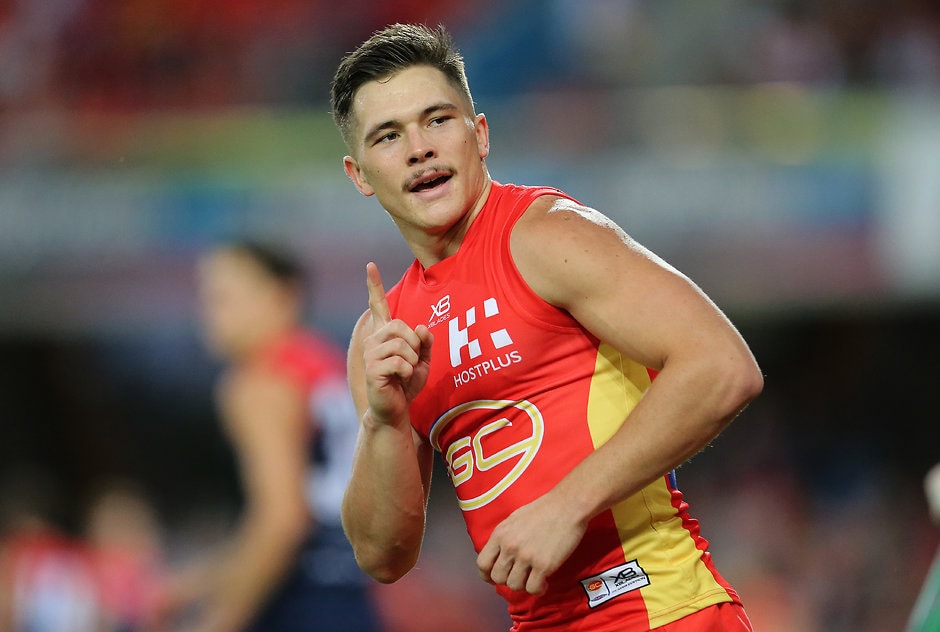 What that figure means is in the eye of the beholder: some think it's too much for unproven kids regardless of their promise, and some say it's just right for potential future stars.
The other prevailing view is that it's just the reality since the salary cap soared 20 per cent in 2017 in the new collective bargaining agreement.
That perspective is these top-end teenagers were always going to benefit as much as, if not more than, anyone in that scenario but the middle-tier crop have somewhat suffered.
INDICATIVE DRAFT ORDER Your club's latest picks
Clubs tend to spend more of their salary cap on their top-liners and high draft picks, with several sources saying about 80 per cent of the cap goes to the top 15 or so most valued players.
That doesn't leave much for the 30-odd other footballers, some of whom are playing regularly at senior level, but the above percentage differs depending on the developmental stage of the list.
Experienced players are often left accepting base payments between $125,000 to $150,000, while the kids leapfrog them.
AFL.com.au understands those landmark Gold Coast deals – momentous in that they were in one hit at the same club – were loosely agreed upon pre-draft, with the Suns placing a premium on those who were willing to stay.
None was a left-field selection, but all of them being with the same management group and open to extending immediately helped swing any 50-50 calls.
Three of those four players remain at Gold Coast and have re-signed again until 2022 or beyond, with Scrimshaw the exception and now beginning to realise his potential at Hawthorn.
Find Road to the Draft on Apple Podcasts, Google Podcasts and Spotify.
The Connors stranglehold
Between Connors and fellow high-profile player agent and business partner Robbie D'Orazio, they look after 27 of the 107 footballers – more than a quarter – chosen in the first round between 2014 and 2018.
Also on their books are likely top-five picks this year in Noah Anderson, Tom Green and Hayden Young, and potential top-10 selection Fischer McAsey.
Depending on your interpretation of the Stride Sports-TLA Australia association, Connors Sports' stranglehold over elite draft talent is evidenced in them having 10 more than any other company in the same period.
Stride has signed up 17 such players; Hemisphere 14; TLA Australia nine; Phoenix eight; Corporate Sports Australia seven – and so on.
Paul Connors and Gold Coast CEO Mark Evans at the 2018 NAB AFL Trade Period.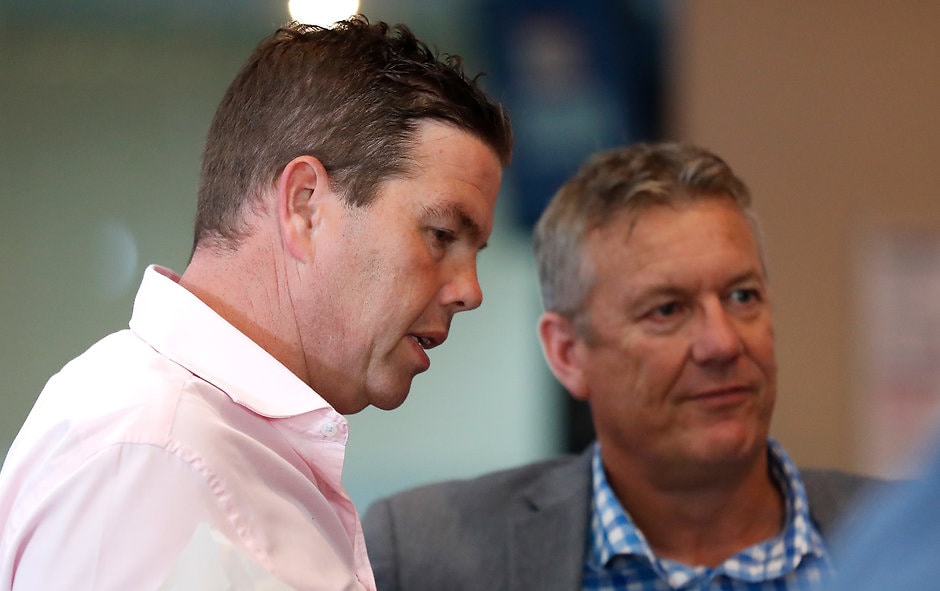 Second contracts for first-round selections, after their initial two-year deal, were already on the rise before the Suns' Ainsworth, Scrimshaw, Brodie and Bowes decision.
West Australian Callum Ah Chee, for example, scored a similarly lucrative deal months earlier at Gold Coast, shortly after completing his debut season.
However, a series of list and football bosses, recruiters and player agents this week referenced those extensions as a tipping point for the AFL industry.
Callum Ah Chee in action for Gold Coast in 2018.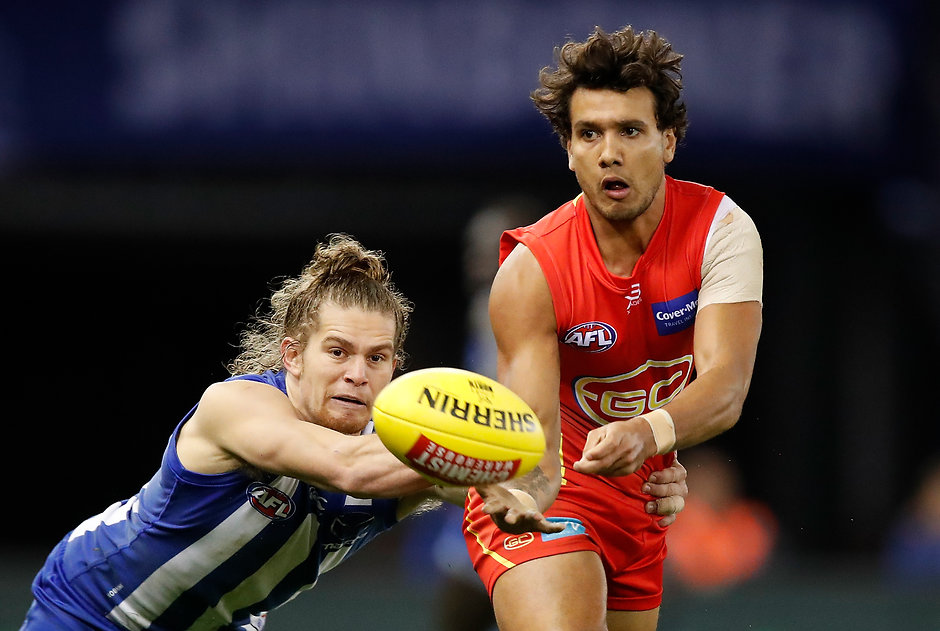 What are they paid?
It is now commonplace for first-round draft picks to re-sign on lucrative deals – often within their first season – with sources saying the going rate starts at $350,000 and typically goes up to $500,000.
Giant-turned-Kangaroo and D'Orazio client Aiden Bonar, the No.11 pick in the 2017 draft, remarked on this phenomenon to AFL.com.au this week.
BONAR'S CHANCE Shedding dreads, late trades and Photoshop fail
Bonar, like the Suns boys, added two seasons to his deal before playing a senior game but has restructured his contract in joining North Melbourne.
"It's different, because you come straight out of high school and you're used to just getting pocket money from your mum," Bonar said.
"I probably didn't take into account how big the money is … It's a real big change. You're not dealing with $100 now.
"But the managers are really good these days and set you up with allowances and stuff like that to protect you, so you're not wasting it.
"It's a real business these days and if you get a good education around it, you can really save up and do well for yourself."
Former Giant Aiden Bonar in his new North Melbourne colours. Picture: North Melbourne FC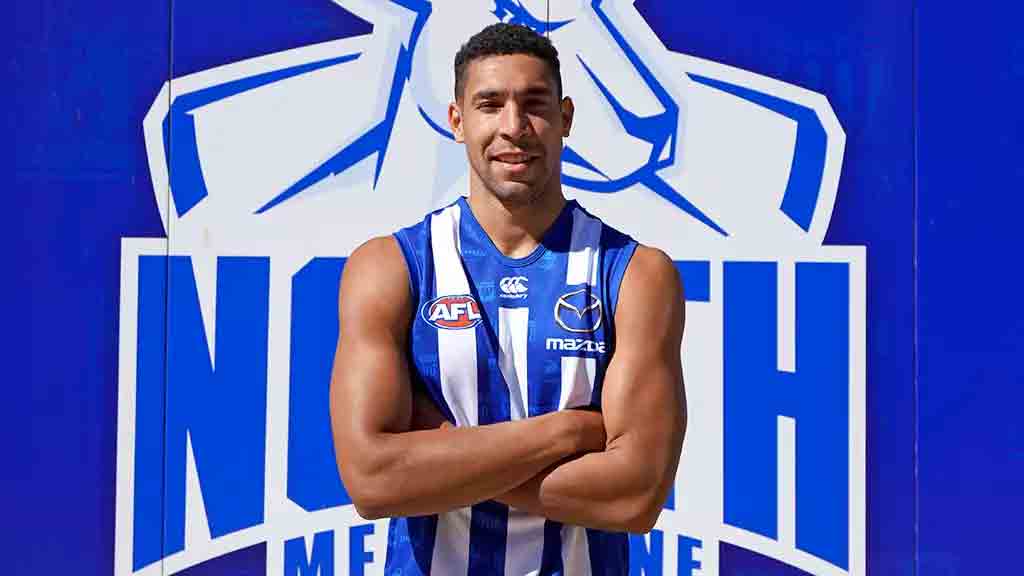 Ben King, also from the Connors Sports stable, just turned his back on significant rival interest to re-commit to Gold Coast on a big-money deal after being impressed with the internal changes.
One list boss told AFL.com.au of first-round draft picks: "They are the most overpaid cohort in the competition."
Another spoke of how handing over so much to kids in that bracket of the draft went against every other facet of life, where people were rewarded for performance rather than potential.
Alternatively, a player agent pointed to Brisbane's tumultuous 2013 Trade Period and the 'Go-Home Five'.
Sam Docherty (Carlton), Elliot Yeo (West Coast), Jared Polec (Port Adelaide, and now North Melbourne), Billy Longer (St Kilda) and Patrick Karnezis (ex-Collingwood) all left the Lions that year.
Elliot Yeo in action for Brisbane before leaving for West Coast at the end of 2013.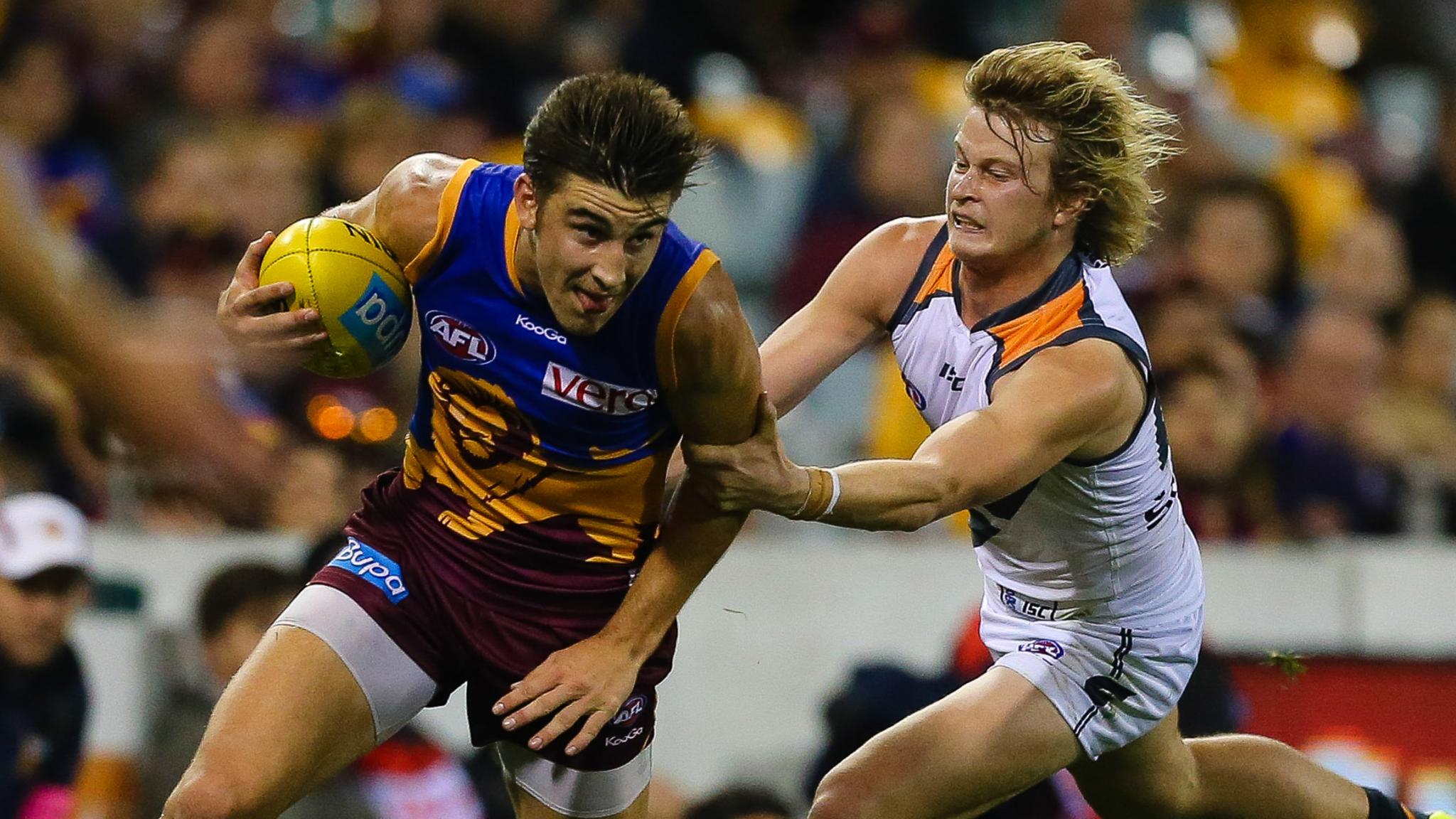 The club's 'environment' is often a bigger issue than the monetary side in situations such as that, but the latter can be a factor.
"Are you prepared to lose players like that for the sake of $50,000?" the agent said.
"Would Carlton be upset with whatever they paid Sam Walsh, or GWS with Tim Taranto? You put so much time and effort into top-10 picks and not many clubs can afford to lose players like that.
"Clubs want their cake and to eat it, too. They complain about this stuff but then go and offer big money to get players out of other clubs. You can't have it both ways."
The flow-on effects
What began as the "Gold Coast tax", as one recruiter dubbed it, has filtered to every club.
A regular comment among the industry sources who spoke to AFL.com.au was that players talk more about their wage these days and "they all seem to know what everyone is on".
That's effectively led to 'If he's making that, why aren't I?' and has played a role in the other clubs being left footing the bill for the new standard rate for young guns.
>> The 2019 NAB AFL Draft runs from November 27-28. Follow all the latest news in the draft hub
Tied in with the trend is teams having to develop a strategy to still remain under the salary cap.
Most clubs allocate a sliding scale of guaranteed money to those they expect to be in and around the best 22 – between 15 and 25 players – and the rest are on a base salary plus match payments.
List management is savvier than ever, with front- and back-ended contracts, clubs banking extra cash in one season to spend more in later ones, and the delisting and redrafting of contracted players as a rookie.
The logic in that last scenario is obvious but comes with the risk a rival might swoop and steal their footballer.
Teams effectively slash $85,000 off what they have to spend on the player's contract, in that the rookie-list wage won't count towards the salary cap and can be paid outside of it.
Brisbane is doing exactly this with ruckman Archie Smith, who is contracted for two more years but has interest elsewhere, and there are increasing cases of this.
Archie Smith does battle with Carlton's Matthew Kreuzer.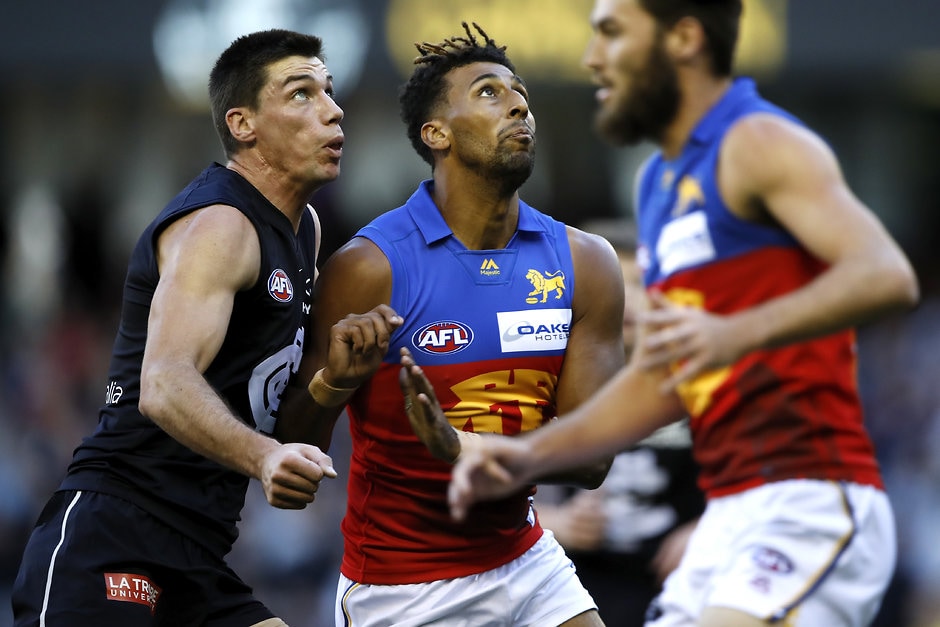 This process is another one the last CBA impacted upon, given previously even Category A rookies couldn't play at AFL level unless they were promoted in place of a long-term injured teammate.
Clubs can have as few as 38 primary-listed players and up to six Category A rookies for a combined total of 44.
The next CBA
If the current collective bargaining agreement – running from 2017 to 2022 – heralded a new player payment scale of haves and have-nots, there could be more changes in the next one.
The biggest could be a three-year rather than two-year initial national draftee contract, even if only for first-round draft picks.
The topic is certain to be discussed in the next CBA negotiations between the AFL and the AFL Players' Association, but that doesn't mean it will be signed off on and some believe it is unlikely.
AFLPA CEO Paul Marsh.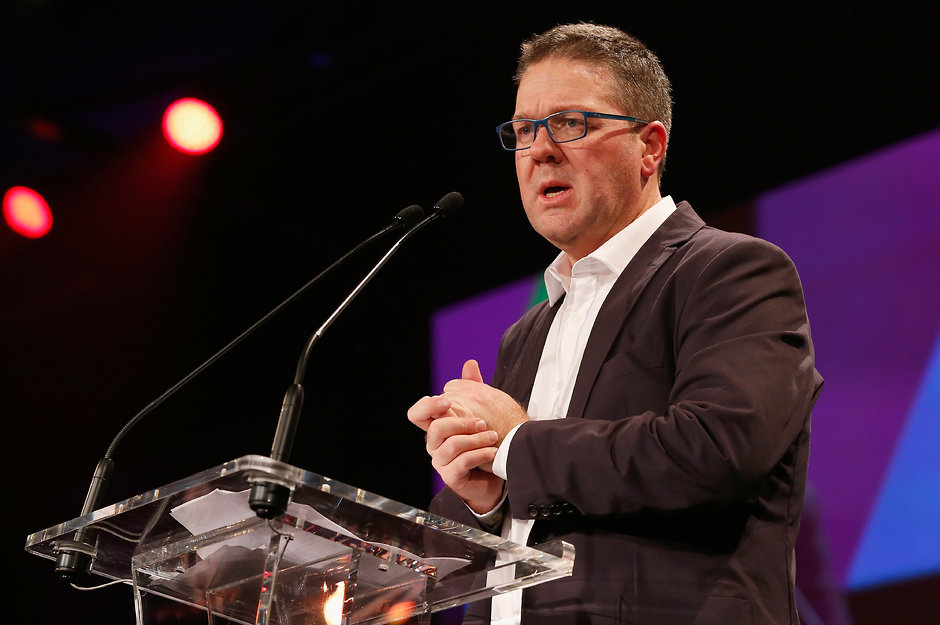 What a contract structure like that would do is have set payments and increases in place and delay a huge payday until at least season four.
It would also give teams longer to convince a player to stay, with many industry people of the belief the homesick factor dissipates within 12 to 18 months.
Most clubs are in favour of a three-year contract, but some aren't as strong as others.
One football boss suggested there could be "review blocks" in place to cater for and reward exceptional early performers such as Tim Kelly.
Another complication is the suspicion the overall financial pie won't be as large. But all of this is for later.
Whatever eventuates in the upcoming CBA will be different again to what players and officials were accustomed to – and that just means more challenges.
Tim Kelly is all smiles after landing at West Coast in the Trade Period.