AFTER a Telstra AFL Trade Period deadline day that was as much about who missed out on a trade as it was about the big moves, we asked for your verdict on your team's deal-making.
Did Fremantle get the right price for wantaway wingmen Bradley Hill and Ed Langdon? Were the Dons justified in standing firm on Joe Daniher? Has Carlton made a blue in missing out on Tom Papley and Jack Martin?
Here we present the fans' average ratings out of 10 for each team, and a selection of the best responses. Plus, we've collated the average ratings for each club at the bottom of the article and ranked them from highest to lowest. Where does your club sit?

Onwards and upwards
It was the clear-out that had to happen. We didn't lose a player under 25 or a player who played every game last season. Would have liked to have seen better value for the trades, but with picks and now hopefully salary cap space, we can transition smoothly over the next few years.
- Greg Wiseman, Dublin, Ireland
Time for veterans to go
The amount of players we lost is not a major issue. As soon as the 2020 season starts we would have Tom Doedee back so he replaces Keath, Eddie was getting old and now Tyson Stengle or Shane McAdam get a chance, losing Jenkins allows us to expose Darcy Fogarty to more AFL games, Reilly O'Brien is ready to take the ruck duties and Greenwood and Ellis-Yolmen can be replaced with speed that our team needs.
- Rylee Broadstock, Adelaide SA
AFL.com.au's rating: 3/10
Fans' rating: 4.8/10
Eddie Betts and Josh Jenkins' departures will leave Adelaide's forward line with a new look.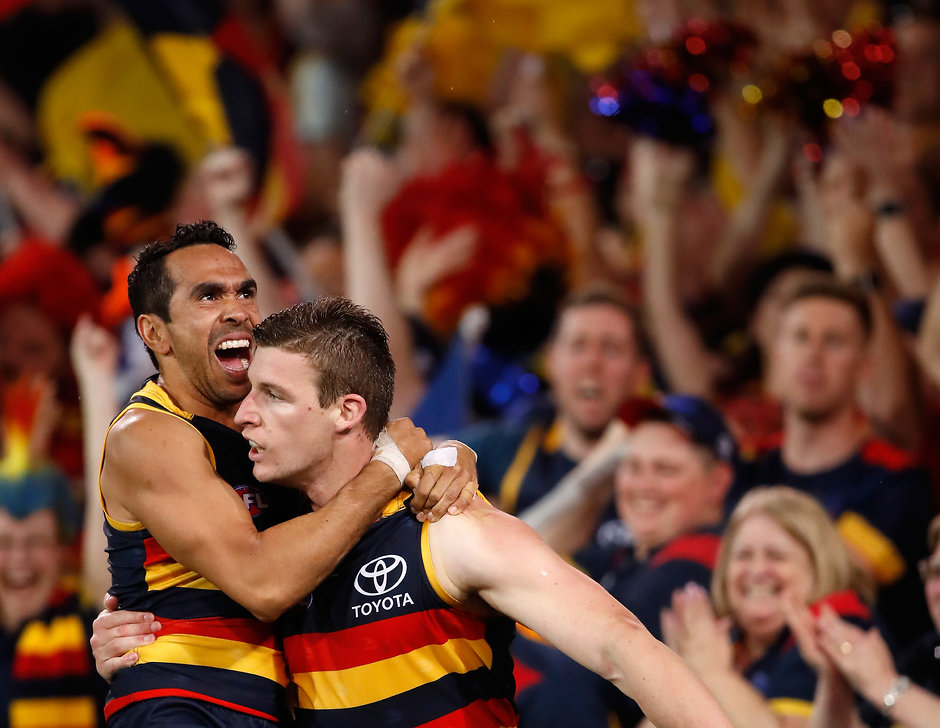 Bargains aplenty
We brought in a former top-10 pick in Ah Chee and gave away a future 2nd round. We brought in Birchall - a four-time premiership player - and Ellis-Yolmen for nothing. Traded out Taylor and Cutler to free up cap space to attract another elite player in 2020 and kept our first-round pick at No.16 and early second-round at No.21 to bring in young talent this year. Clever and smart trading!
- Robby Lovetti, Doncaster VIC
Could Lewy be Rich pickings?
Missing out on Jamie Elliott was a blow but a quiet trade period was expected this year. Lewis Taylor going for nothing is a minus for the club as they should have persisted with a rising star, look at Daniel Rich years later. Not a disaster but more was expected.
- Terry Johnson, Caboolture QLD
AFL.com.au's rating: 6/10
Fans' rating: 6.8/10
Hawks veteran Grant Birchall will finish his playing career as a Lion.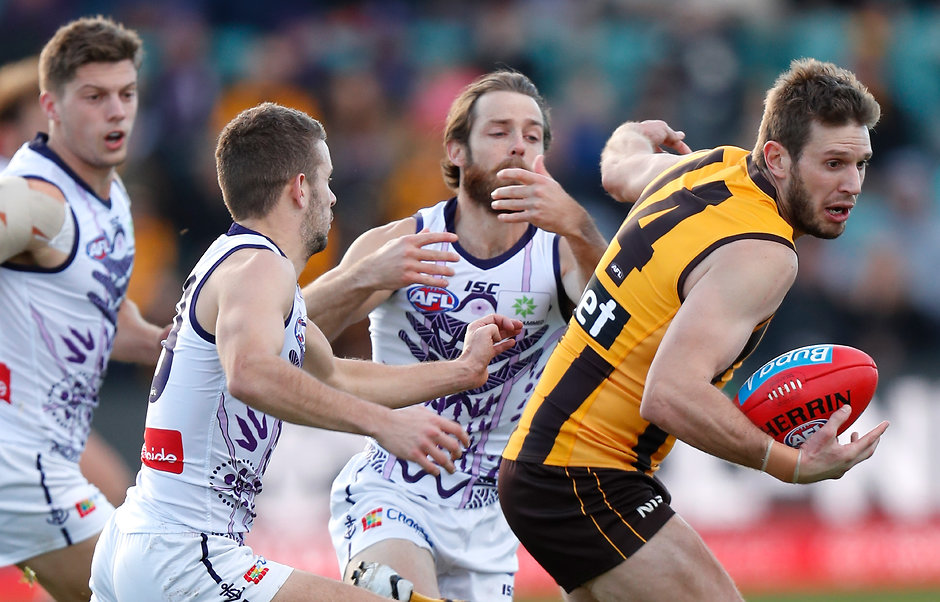 Not happy, SOS
We could have had a kid and Jack Martin, now we just have a kid. We may get him in the pre-season draft, but why take the risk? Did we offer pick nine for Papley or did we want something back - if the latter then we messed up. Disappointing is an understatement.
- Nguyen Van Fok, Boronia, VIC
Pick nine over Papley, any day
No back up plan. Why come out heavily and say we will be major players in the trade period when clearly we were not? The positive is they haven't given much up for what they got and in the long term I think pick nine has more potential to be better than a Papley. Fingers crossed they get Martin in preseason draft for nix, which would silence SOS's critics.
- Mark Williams, South Yarra VIC
AFL.com.au's rating: 2/10
Fans' rating: 3.8/10

Get Grundy done, now
I would have liked them to have got a forward in but I'm glad they got a ruckman to support Grundy. They now must sign him up ASAP. Overall, we have a good list. Also, being able to keep Elliott was good. Sad to see Aish go but we have a lot of those types of players on our list.
- Nancy Goegan, Werribee VIC
Opportunities lost
Pies should've targeted Jenkins for a forward role; he was dirt cheap. They shouldn't have offloaded Aish; he is young and had much to give. Instead, they should have cut Dunn, Varcoe, Reid and Crocker to ease pressure on the salary cap. Rupert Wills and Cox should've been traded to improve out 2019 draft picks.
- Michael Hardess, Logan QLD
AFL.com.au's rating: 5/10
Fans' rating: 4.8/10
One fan felt Mason Cox should have made way to free up the salary cap.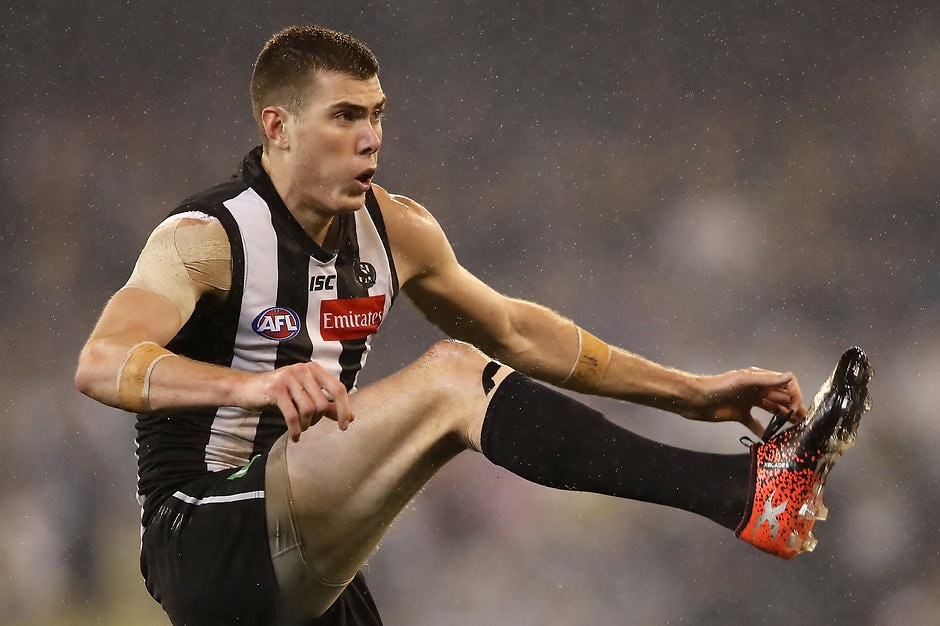 Tick for Raz and Joe, cross for Cutler
Managed to hold Fantasia and Daniher who are critical to the short-term structure of club. I would have thought Bonar is a better prospect and would be a better fit than Cutler though. Cutler is a good ordinary player whereas Bonar has the potential to be a real X-factor player. Phillips is another stab at a back-up ruckman with big doubts on him. Jacobs would have been a better stand-up start even with Bellchambers playing, who again failed to deliver his dubious promise.
- Sven McDougall, Moonee Ponds VIC
Disaster averted
It looked at one stage that both Daniher and Fantasia would be playing somewhere else next year. This would have been a disaster as last time they were both fit they kicked 104 goals between them. Both of them will be wearing red and black in 2020, Phillips should provide backup for Bellchambers and Cutler is the size of player we need around the midfield. Overall a good result.
- John Watson, Beaconsfield Upper VIC
AFL.com.au's rating: 7.5/10
Fans' rating: 7.2/10
Orazio Fantasia and Joe Daniher will join forces again at Essendon in 2020.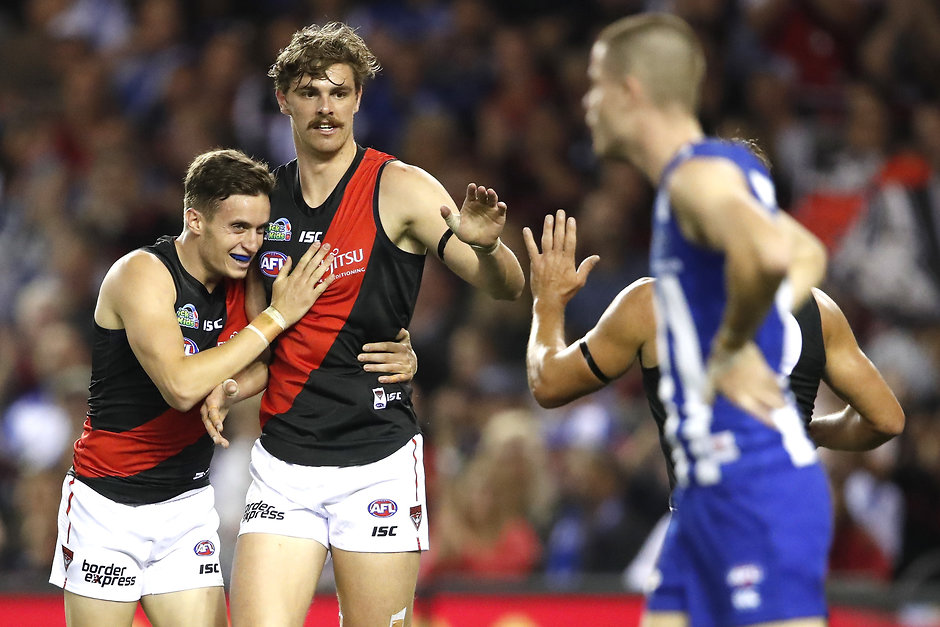 Where's the run going to come from?
Losing 2 elite wingmen & clubmen in Langdon and Hill is very disappointing and I was hopeful of extracting a little more. I hope Aish and Acres arrive with the same drive as our young playing list to prove the trade period a win. Trading out 2020 picks to nab another elite WA kid after Liam Henry would be a great result.
- David Graham, Joondanna WA
TRADE TRACKER Check out all the moves as they happened
Time to fill the need for speed
Made the absolute best out of another bad situation of a contracted gun wanting to leave. Two top-10 picks plus Liam Henry to add to our forward line will see Freo finally playing some fast exciting footy in 2020.
- Tommy Gunther, Fremantle WA
AFL.com.au's rating: 7/10
Fans' rating: 7.5/10
James Aish has moved west to continue his career at Fremantle.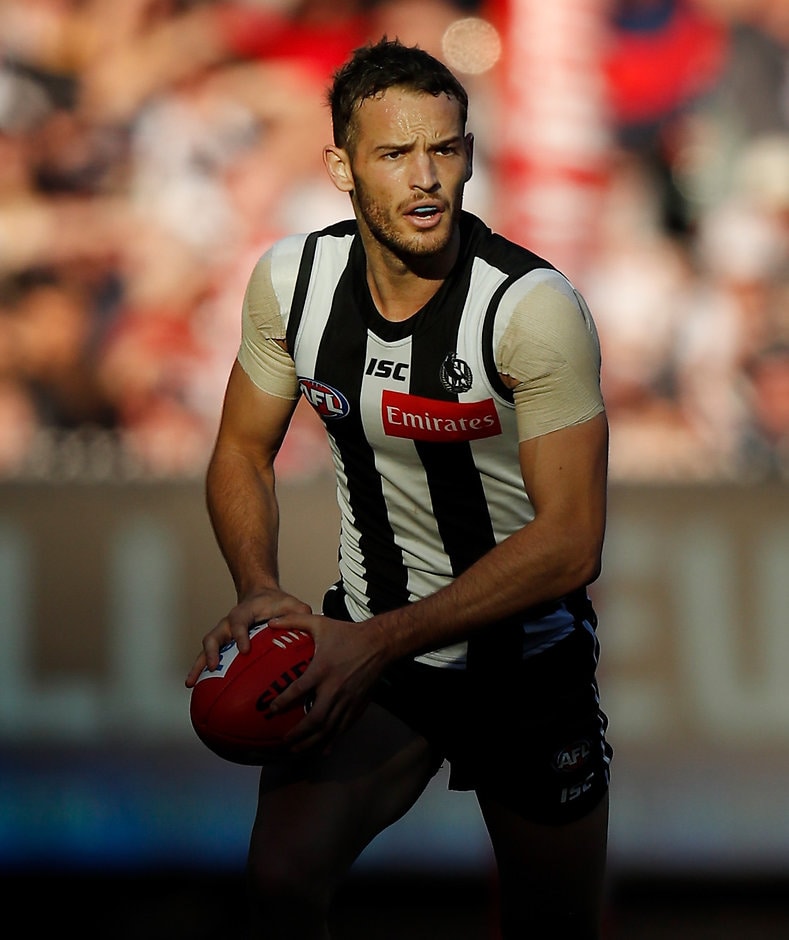 Star vets worth the punt
Turned pick 24 from 2017 (Kelly) into 14 and a first-round next year, plus got 24 back. If Steven and Jenkins work out we are contending. If not, they didn't sell the farm for them.
- Greg Brady, Kerang VIC
Classy Cats do it again
With Tim Kelly demanding a trade to West Coast for the second year in a row, rather than play the circus for a week Geelong just got it done. Cleaned West Coast out of draft picks and then wished Kelly all the best in true Geelong style and focused on bettering our list going forward. Complete class, Geelong. Who won the trade will be a great discussion in six years' time.
- Craig Shore, Pinjar WA
AFL.com.au's rating: 7.5/10
Fans' rating: 7.9/10
Four-time Saints club champion Jack Steven is a Cat.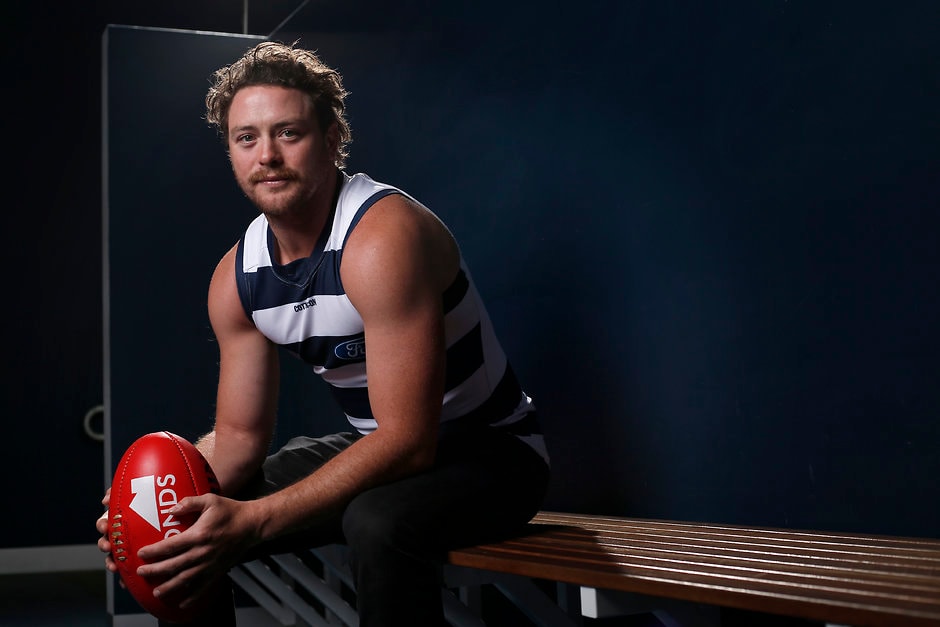 Suns' line in the sand
Very proud they didn't cave on Jack Martin. Sends a message to other talent they can't just walk to their club of choice and assume the club will take whatever they can get in deadline-day desperation.
- Andrew Thurtell, Southport QLD
That'll show the bullies
The Suns held firm and showed they wouldn't be bullied by other clubs, whilst also getting in best-22 additions in Ellis and Greenwood, whilst also a back-up ruck in Smith, all while only losing one player. One of our best trade periods yet.
- Harry Krzyska, Gilson QLD
AFL.com.au's rating: 6.5/10
Fans' rating: 7.8/10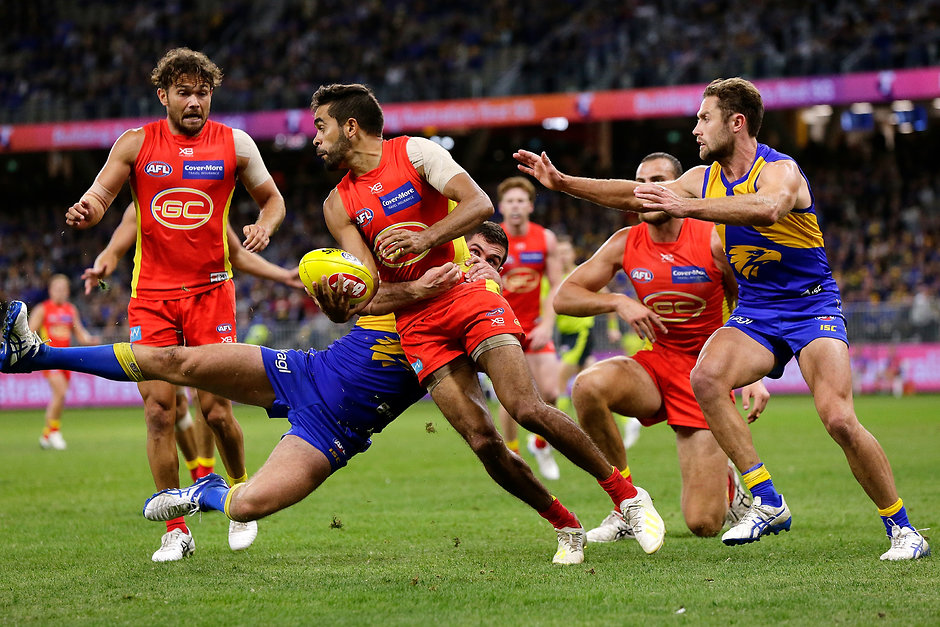 Ins are good, outs are a worry
Picking up Sam Jacobs is a win. Patton going is a relief but to lose Bonar wasn't clever. If Mumford plays on that's OK but losing Simpson means another ruckman is required. It's not an overly successful trade period when you lose Tomlinson as well.
- Lee Gardener, Maitland NSW
Forget the trades, we got Cogs
GWS won the trade period before it began by re-signing Stephen Coniglio. After that, the losses of two foundation Giants - while sad on a personal note - do not impact GWS' best 22 in 2020. Nor does the loss of Aiden Bonar, who was stuck behind a logjam of other talented youngsters - his departure freeing up cash to be used to re-sign superstars Jeremy Cameron and Lachie Whitfield. Meanwhile, the addition of Crows ruckman Sam Jacobs fixes a glaring hole in the GWS best 22. Overall, positive for the club and solid, without any spectacular pluses or minuses.
- Jim Lindsay, Ngunnawal ACT
AFL.com.au's rating: 6.5/10
Fans' rating: 6.4/10
Sam Jacobs will add some much-needed ruck support at the Giants.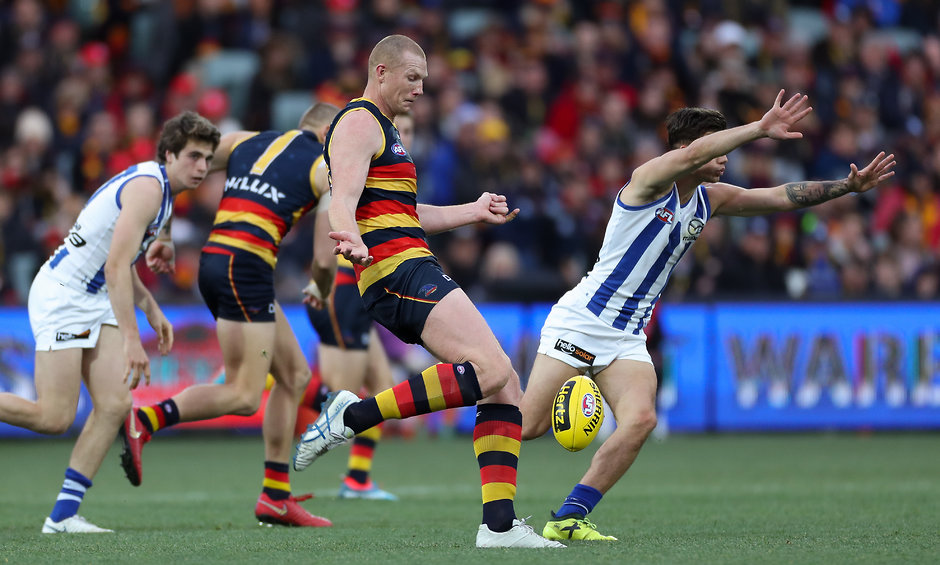 Remember that guy?
So, we've effectively traded Pittonet and Birchall and a 50th pick for Frost, Patton, and a 42nd pick? I'll take it. Let's also not forget that if Tom Mitchell returns with anything close to his usual form, that will be better than almost any trade or FA pickup in the league.
- Daniel Lyddy, Colorado USA
Hawks in dreamland
If someone told me that the Hawks would get a genuine star FF (Patton) and a solid CHB (Frost) while retaining their 2019 first-round draft pick, 2020 first-round pick and still likely have access to another 2019 first-rounder (Maginness), I would have told them, 'You're dreaming, mate.'
- Rohan Doe, Lara VIC
AFL.com.au's rating: 6.5/10
Fans' rating: 7.7/10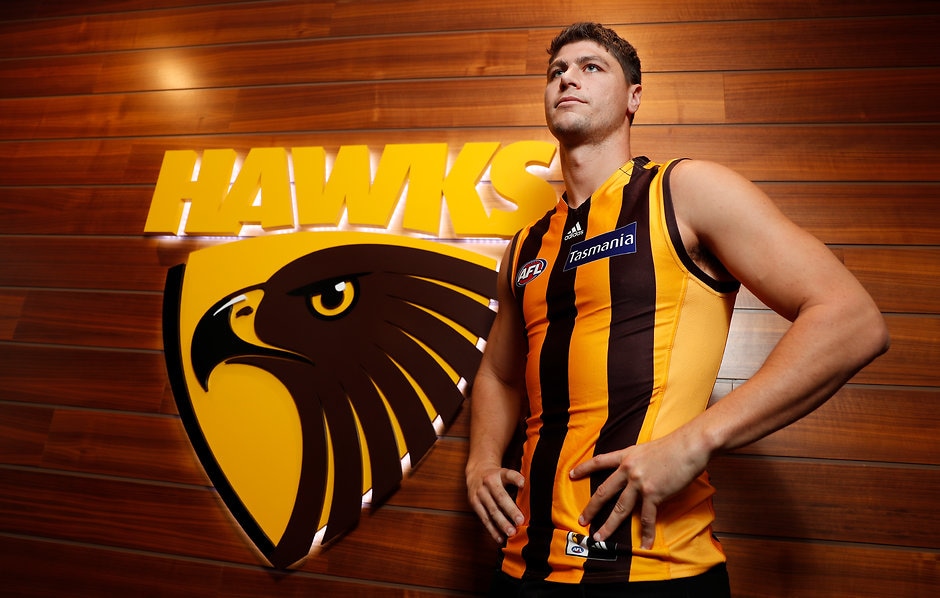 What about a key forward?
Great to bring in outside speed in Langdon, and the versatility of Tomlinson will provide flexibility in the back half. A shame to lose Frost, but acquiring pick eight could open the door for a small forward in the upcoming draft. Overall very happy, although would've been very keen to see Jenkins in the forward line, did anyone ask the question?
- Harry Eason, Brunswick East VIC
We'll never forget Frost-ball
I was disappointed that Sam Frost was traded to Hawthorn. He has been an improving player every year since he arrived at the Dees. However I do understand we are pretty well off for defenders, epecially with Neville Jetta to return after a long period out with injury and Marty Hore proving he is definitely AFL standard. Delighted we have Langdon and Tomlinson added to our list. Overall the icing on the cake is having two top 10 picks.
- Tom Wise, Hobart TAS
AFL.com.au's rating: 7.5/10
Fans' rating: 7.4/10
Versatile Giant Adam Tomlinson moved as a free agent to Melbourne.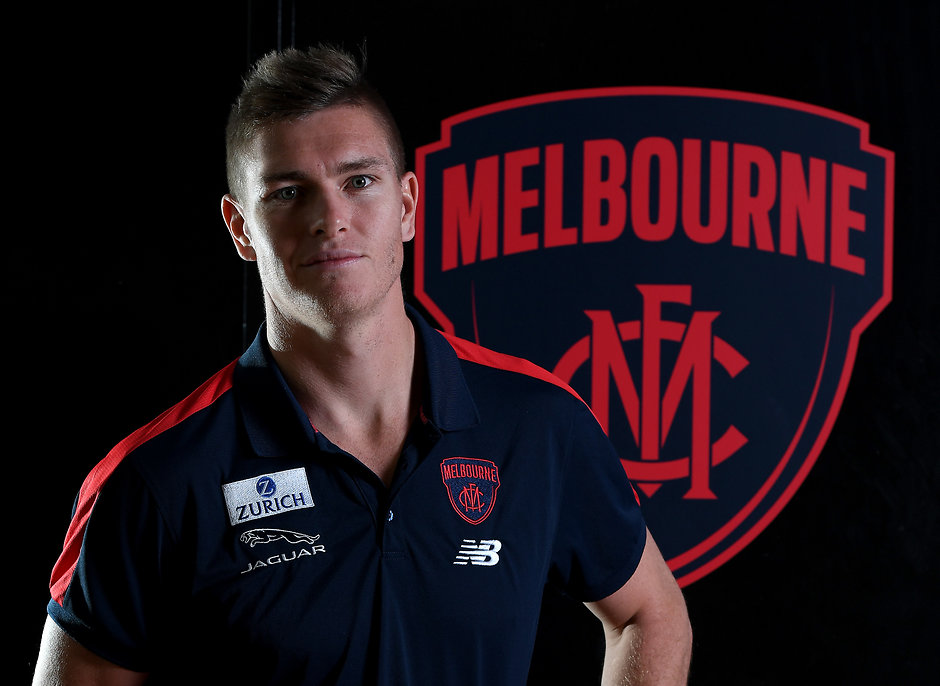 Spend now, worry later
Really happy with the Aidan Bonar pick up. Might as well use the cash if we have it and lost nothing in return. Still screaming for that big name pick-up but wasn't the year for it.
- Matt Geyle, Carina QLD
Love the ex-Giant's X-factor
Most good work done prior in keeping Goldstein and Higgins. Bonar's potential is well worth what was given up. Still have ability to pick up good youngsters this year and even better ones next year while the current cohort develop further under the new regime.
- Keith Payne, Clyde North VIC
AFL.com.au's rating: 6/10
Fans' rating: 6.4/10
Aiden Bonar's potential has Kanga fans excited.


Are we the biggest losers?
Not entirely sold on the Howard, Ryder and pick 10 trade with St Kilda. Downgrading pick 10 to pick 12 and receiving pick 18 for Howard and Ryder could quite easily blow up in Port's face. The team really needed to keep Howard as in my opinion he has the potential to become one of the best swingmen in the competition, with his combination of speed and athleticism. Players like this can be hard to come by, and in coming years he would have been the perfect player to take over from the role Westhoff has been performing for the last few years. Will wait to see what Port can pull off at the draft, but at this stage they seem to be pretty big losers in this trade period.
- Matthew Beard, Windsor Gardens SA
KEY DATES What's coming up next in the off-season?
You can't trade a future captain
Very poor to trade out a talented 23-year-old player and use the excuse that we dropped him a couple of times during the year. Does that mean we should have traded out every player who got dropped through the season? No, it is a weak excuse because Dougal Howard also captained the team when the co-captains were out injured.
- Dianne Dolman, Port Adelaide SA
AFL.com.au's rating: 4.5/10
Fans' rating: 3.3/10
Dougal Howard's departure has Port fans furious.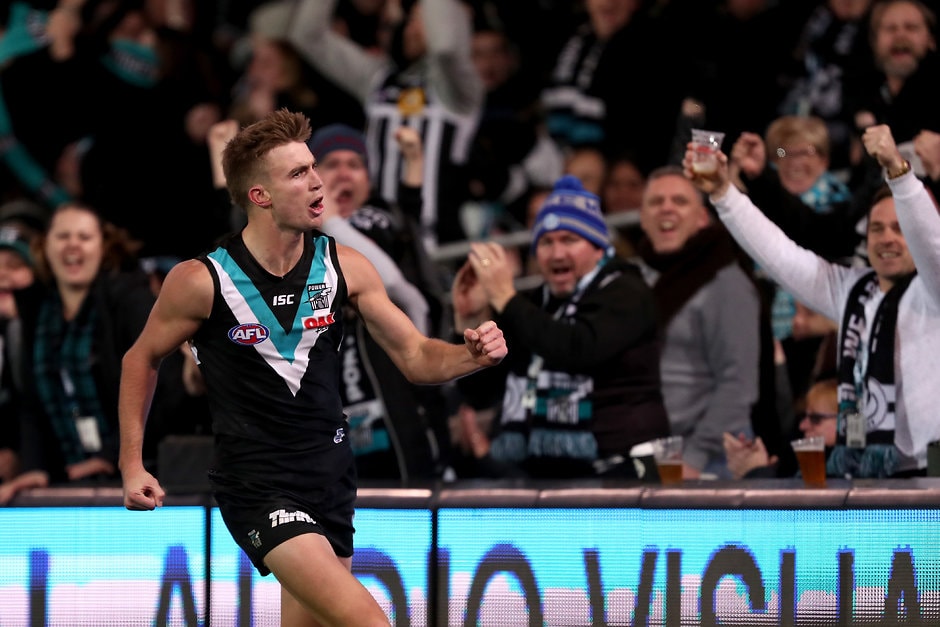 Fond farewell to flag Tigers
I didn't think that the Tigers needed to boost their stocks. We have a lot of good players that just won us the flag, and we have a few more injured ones to come back. It was sad to see Ellis and Butler leave, but I couldn't see them getting too many games in our team next year.
- Ryan Farrar, Melbourne VIC
It's all business at Punt Rd
Made room for others to progress. Unselfishly allowed good players to seek senior opportunities elsewhere. Not letting the grass grow beneath their feet. Professional.
- John McKenna, Yarraville VIC
AFL.com.au's rating: 5/10
Fans' rating: 6.3/10
Brandon Ellis left Punt Rd on a high note.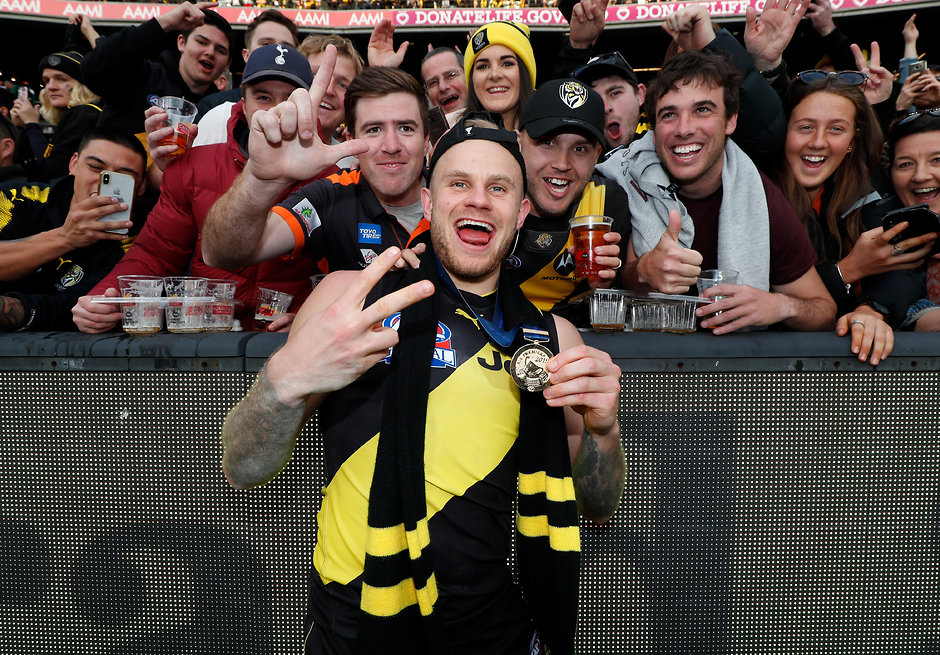 Short-changed on Steven
Hit and miss. Shattered to let Steven go for well below value considering what was spent on Hill. Understand he needed to go for mental health but disappointing we didn't stand up for ourselves more to get fair value. Love the Jones signing. Will miss Bruce and Acres.
- Chris Black, Bayswater VIC
A long-awaited cleanout
Out with the old, in with the new. The Saints can comfortably justify every player they traded out, and in. Injecting speed was the main goal, which they received in spades. The Jack Steven deal was a minor hiccup (due to a lowball offer from Geelong) but didn't matter significantly in the end.
- Luke Kemelfield, Aspendale VIC
AFL.com.au's rating: 8.5/10
Fans' rating: 8.8/10
Bradley Hill will add plenty of run to St Kilda's midfield in 2020 and beyond.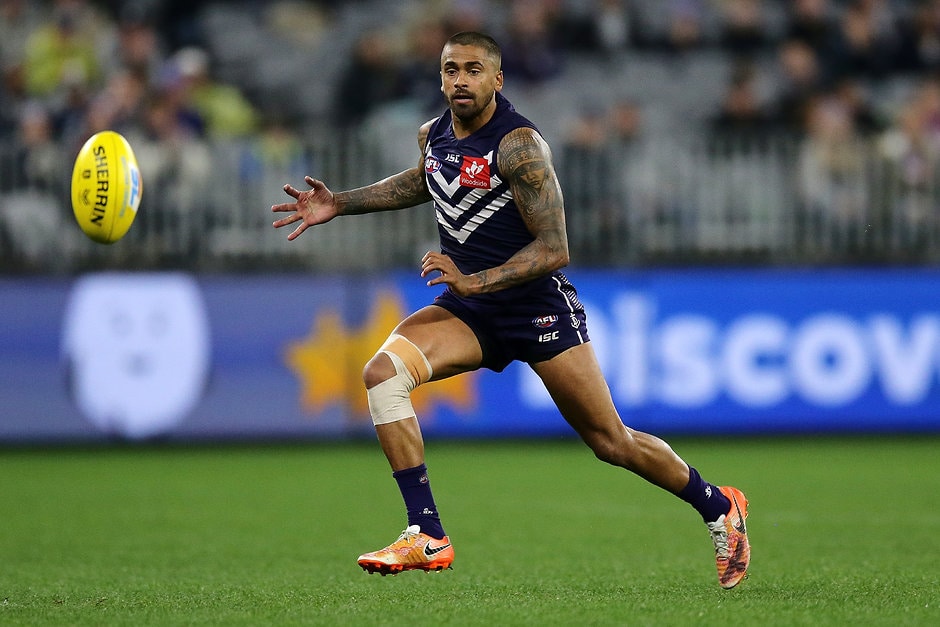 We'll get you, Daniher
Lost very little in Jones and Cameron, the Swans get a bonus in Daniher in that they get a season to assess his form, removing the unknown factor. They rightfully retained Papley and gained a possible back-up in Taylor from Brisbane should they decide to let Papley go earlier than his contract is up. Pick five was never up for trade as the football world shall see why post-draft. Well played Sydney!
- Denis Smith, Melbourne VIC
Pull your socks up, Paps
I think that the club did what was necessary. The club can't be seen as 'soft' touch for other clubs as was sometimes the case many years ago. Tom Papley needs to demonstrate that he is a professional and get on with being an important player and leader at the club.
- Geoffrey Whittaker, Emerald VIC
AFL.com.au's rating: 3.5/10
Fans' rating: 5.9/10

One and done is fine by us
No doubt when the TK deal was done, thankfully very early in the piece, there was nothing much else to be done. Be nice to see them get an earlier pick or two, but hard to do that without giving more of the future up!
- Kevin Baker, West Perth VIC
But what about the future?
Very happy to have Kelly, but concerned about not having any worthwhile picks this year and only later picks next year. There will be a gap in the squad. I hope the recruiters know what they are doing.
- Chris Williams, Atwell WA
AFL.com.au's rating: 8/10
Fans' rating: 8.4/10
Tim Kelly is finally an Eagle.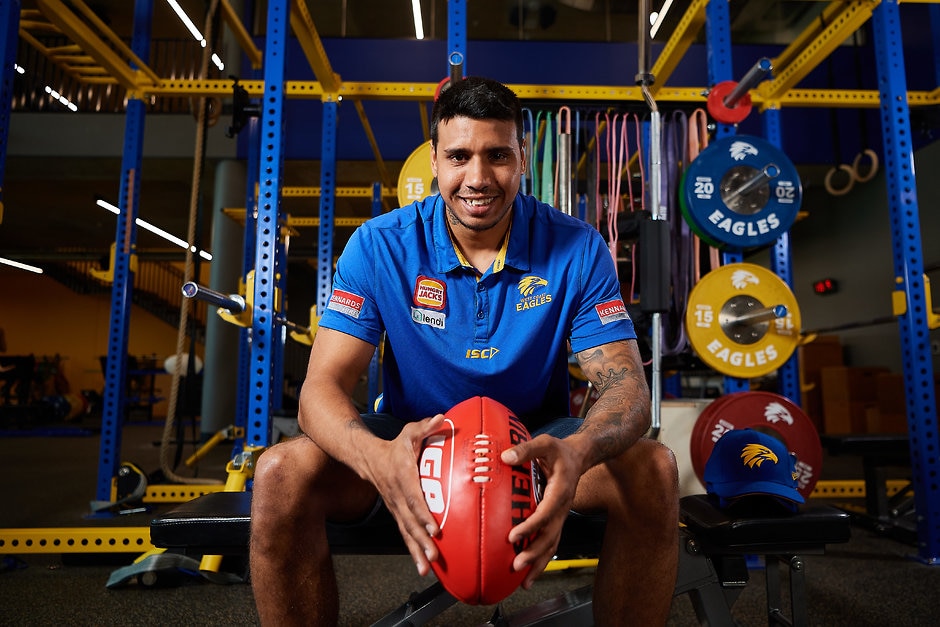 Locked and loaded
Really well done by Sam Power and the team. Bruce will help Schache and Naughton immensely. Keath can plug in at full-back for the next five years. Only thing stopping a perfect 10 was no small/crafty forward. I really like Jack Martin or even Sam Gray would be a cheap option. Really happy with the team, top four or bust.
- Joe McGrath, Canberra ACT
The AFL's newest destination club
I liked that the Dogs played hardball with their pick 13, I believe that Josh Bruce is worth around a pick 30 due to his age and injury concerns of 2018. Alex Keath is in the same ball park as Bruce and again it was good to see the dogs play hardball, they have turned into quite a destination club and their recruitment is among the best in the league.
- Rhylie de Graaff, Greensborough VIC
AFL.com.au's rating: 7.5/10
Fans' rating: 8.8/10
Josh Bruce has boosted the Bulldogs' forward stocks.