CODY Hirst isn't necessarily a household name.
However, he is about to become one of the League's most interesting case studies.
Recruited to Sydney with the final pick in May's NAB AFL Mid-Season Rookie Draft, Hirst was delisted without a senior appearance to his name by the Swans after hours on Friday evening.
Find Road to the Draft on Apple Podcasts, Google Podcasts and Spotify.
His axing barely raised a ripple on news bulletins around the country, but in the coming weeks it is bound to become a major talking point both at AFL headquarters and among clubs.
The 19-year-old's start to the season with NAB League outfit the Eastern Ranges – where he averaged close to 24 disposals per game throughout its first five matches – had put the diminutive midfielder firmly at the forefront of the minds of AFL recruiters.
Many of those same recruiters believe Hirst subsequently would have been a top-50 draft prospect by season's end, had he seen out his overage year at the Ranges.
>> The 2019 NAB AFL Draft runs from November 27-28. Follow all the latest news in the draft hub
Indeed, should he have taken this route – or, had he come through the system in any other year – it's a near-certainty Hirst would have been selected to an AFL club this November and subsequently earned the standard two-year contract for a new draftee.
Instead, he nominated for the mid-season draft and received the newly introduced six-month contract until the end of the year.
His decision to nominate was justified, given he was one of just 13 players selected by an AFL club on the night and therefore given his chance to make his name on a list.
PHANTOM FORM GUIDE Cal Twomey's October update
However, from there, Hirst's journey has taken a different path to the one that both he – and perhaps even the AFL when it introduced the mid-season draft – thought it would.
The lively mid-forward played 12 NEAFL games for the Swans, kicking nine goals in a serviceable role inside 50. However, he didn't do enough to eventually crack the senior team.
His six-month contract as a mid-season rookie meant that throughout that period, there was a constant unease as to whether his deal would ultimately be extended beyond 2019.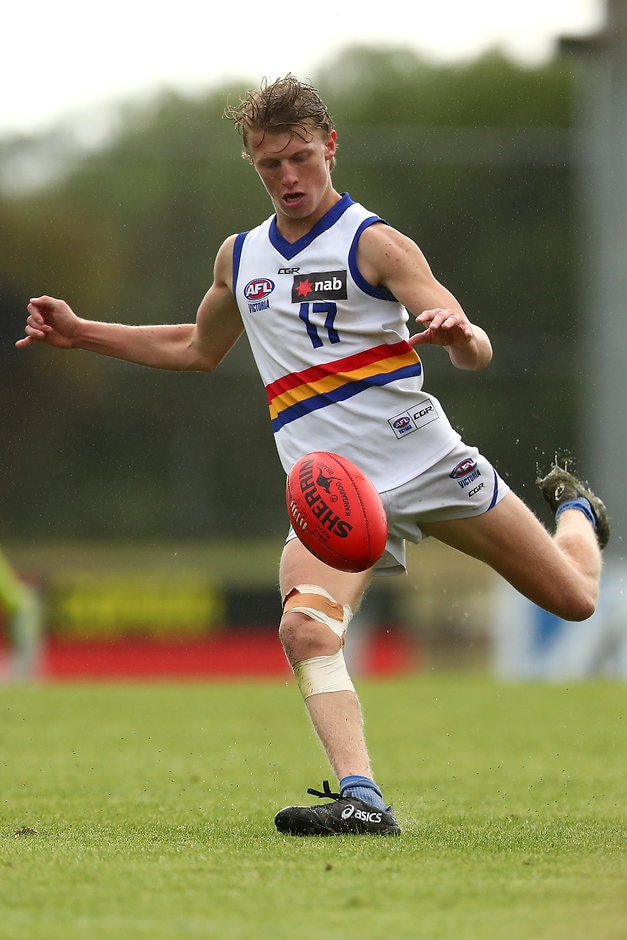 Hirst's subsequent delisting late last week now leaves him firmly in limbo, with the player currently unaware whether he will be given a second opportunity at another club next season.
Hirst wasn't the only mid-season draftee left unnerved by the six-month contract. While nine of the 13 players recruited back in May have earned new deals, Josh Deluca was last week delisted by Carlton.
Collingwood's John Noble and Ryan Gardner of the Western Bulldogs are also currently without deals for next year, though both are tipped to re-sign imminently.
INDICATIVE DRAFT ORDER Your club's latest picks
However, the situation involving Hirst – and to a certain extent Deluca – has left both clubs and multiple management groups considering how they handle the mid-season draft going forward.
Some have already begun considering a push to the AFL for immediate 18-month contracts, while others are even talking about possibly withdrawing all hopefuls from the mid-season draft altogether.
As for Hirst, his future remains uncertain.
RETIREMENTS, DELISTINGS AND TRADES Your club's list changes
The youngster was another victim of Sydney's controversial Telstra AFL Trade Period, where its inability to lure Joe Daniher meant that forward Tom Papley stayed put.
Papley's failure to get to Carlton, combined with Lewis Taylor's arrival, meant there was simply no room for Hirst in the Sydney forward line.
Now, he will have to wait throughout the delisted free agency period, and then perhaps the national and rookie draft period, and then perhaps the pre-season supplemental selection period, before finding out if his AFL career will continue elsewhere in 2020.