THIS is a hypothetical – at least for now.
It's draft night in three weeks and we're up to pick No.9. Carlton is on the clock and has placed a bid on Fremantle Next Generation Academy forward Liam Henry.
The Blues are interested in Henry (not a hypothetical) and the West Australian teenager has been invited to the opening night of the draft (also not a hypothetical).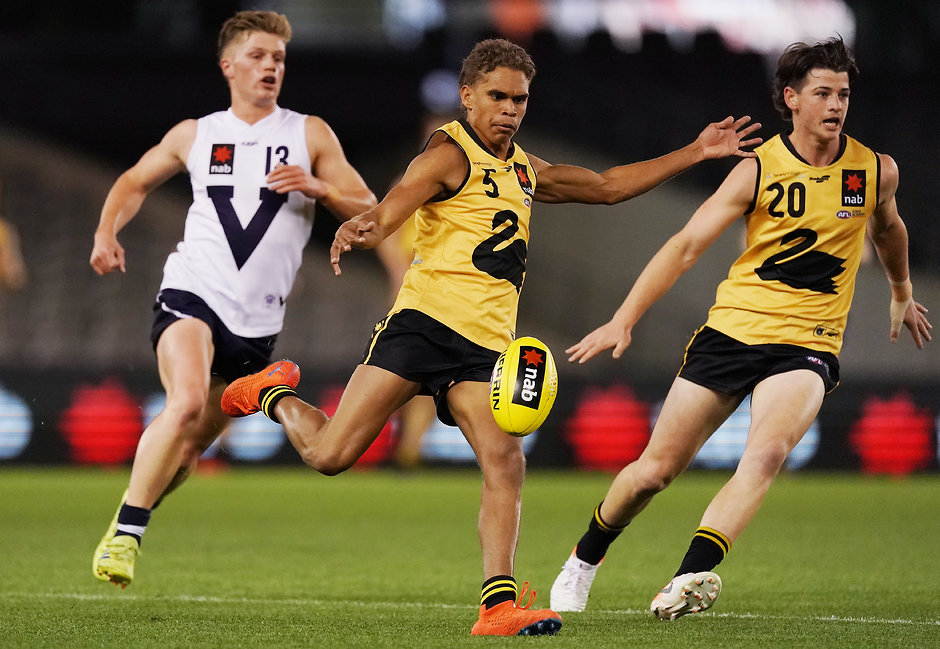 Fremantle, with pick No.10, can match the bid with its next selection and Henry will be theirs. Or it can be nimble, flexible and canny, all things the new-age AFL trade and draft system demands.
CLASS OF 2019 How footy ties helped a draft prospect's growing business
The AFL has confirmed that under its rules, a club in Fremantle's situation would be able to use its five minutes on the clock to trade picks with another club, move down the order, and then match the Academy bid with a later selection/s.
It is possible, in that case, that a club such as Gold Coast (with pick 15 and 20) could swap picks with Fremantle and move up to pick 10. Then the Dockers would be allowed to match the bid with pick 15.
Under this scenario, after the 20 per cent discount afforded to the Academy clubs, the Dockers would have to pay 1175.2 points under the draft value index to take Henry, a talented indigenous goalkicker.
Pick 15 is worth 1112 points, so if they had done that deal with the Suns, their pick 20 would shift to become pick 22 to pay for the remaining 63.2 points to land Henry.
INDICATIVE DRAFT ORDER Your club's latest picks
Although the Dockers would prefer a bid coming after pick 10, this option would allow them to match with one pick but generate another selection from the trade. They would have to complete the deal, and then match the bid, within their allotted time on the clock.
This is complex. But this is also why we are unlikely to see clubs doing major pick swaps before the draft starts on November 27, because some will want to wait and know for certain where a bid has come for Academy or father-son choices before committing to a deal.
Clubs are expected to have 'in case of emergency' deals ready to go, though, as would likely be the case in this hypothetical.
However, some clubs are reluctant to do deals on the night, saying they would prefer to have their trades already done before the draft and to not have to make the calls during the helter-skelter nature of the event.
The Blues traded up to pick No.19 in 2018 to secure Liam Stocker. Picture: AFL Photos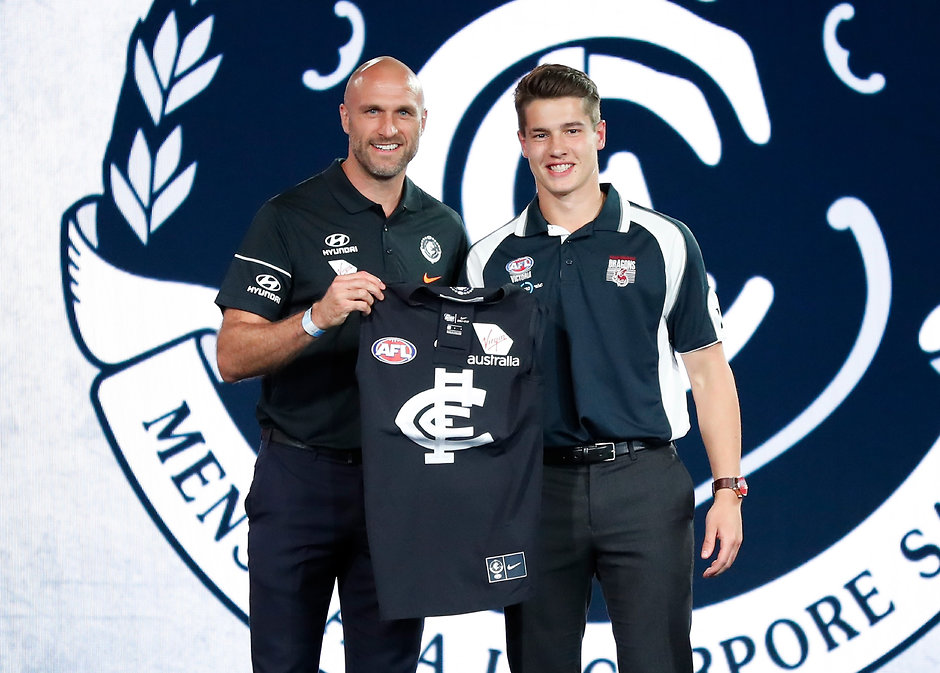 The bid situation has other clubs watching on with interest. Like Gold Coast, others such as Brisbane (picks 16 and 21) and Geelong (picks 14 and 17) are looking to move up the table by packaging selections.
As Cats list manager Stephen Wells said on this week's Road to the Draft podcast, brought to you by Hostplus, whether they change picks could rely on where bids come.
"It depends a bit on where Academy or father-son players may be bid on, and also we'd obviously need another club to want to do it and [go] the other way," he said.
Find Road to the Draft on Apple Podcasts, Google Podcasts and Spotify.
Henry's draft position is an intriguing topic among clubs as the draft grows nearer. Melbourne and the Blues will contemplate bids inside the top-10 and are the teams most likely to call his name.
He is likely to be the second player who attracts a bid on the night behind Greater Western Sydney Academy star Tom Green.
CLASS OF 2019 The text that changed everything for Cripps-like prospect
The Giants have been proactive in getting ahead of the bid, but will also have the option of trading back down the order depending where a rival calls Green's name.
GWS Academy prospect Tom Green is a top-five talent. Picture: AFL Photos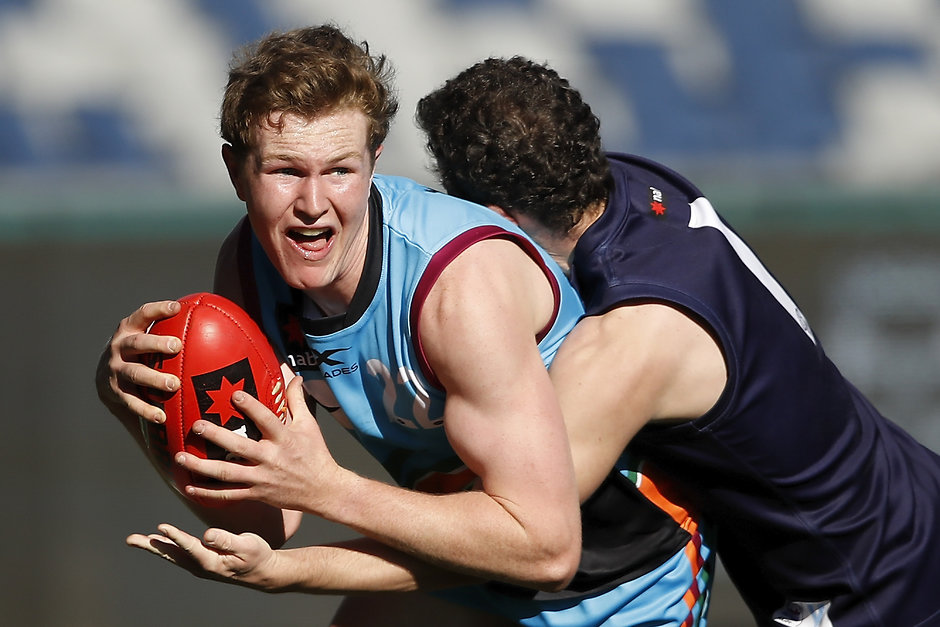 There is not expected to be as many early bids as last season, when there were five players who attracted rival bids in the first 25 selections.
Hawthorn father-son Finn Maginness will likely receive a bid late in the first round or early in the second, while Port Adelaide father-son Jackson Mead could get past the Power's pick 29, which would be the ideal result for the club.