LYING in the emergency ward of the Bendigo hospital, a bundle of thoughts, concerns and feelings frantically raced through the mind of Cooper Stephens.
He was devastated, but optimistic. He was fearful, but hopeful.
Stephens, who entered the season as one of the best midfield prospects in this year's NAB AFL Draft pool, had earlier in the day arrived at a contest fractionally before his Bendigo Pioneers opponent. It was typical of his appetite and desire to win the footy.
>> The 2019 NAB AFL Draft runs from November 27-28. Follow all the latest news in the draft hub
The Geelong Falcons youngster scooped up the loose ball, was tackled almost instantaneously and noticed his feet becoming tangled into an awkward position as his opponent's body weight slipped from his waist and collapsed across his legs.
He heard the crack and felt the pain. But while that clearly indicated that something wasn't quite right, he almost instantly allayed the immense worry filling his mind and turned the unease into positive thoughts.
"It was very painful at the time, but I was also optimistic," Stephens told AFL.com.au.
"By the time I got to the hospital, the pain had really settled down. I thought I might have only sprained it, but the X-ray came back and it was evident straightaway that there was a pretty big crack through it."
Find Road to the Draft on Apple Podcasts, Google Podcasts and Spotify.
Stephens had fractured his fibula. It would put an end to his final year of junior footy, just three games into the season.
Yet reminiscent of the manner in which his first thoughts post-injury turned to the best-case scenario, the diagnosis left him wondering how he could make the most of an otherwise disappointing situation.
Stephens had set aside two major goals for the year – playing on the MCG with the NAB AFL Australian under-18 team and representing Vic Country at the NAB AFL Under-18 Championships shortly after.
Stephens in action during the 2018 Under-17 All Stars match.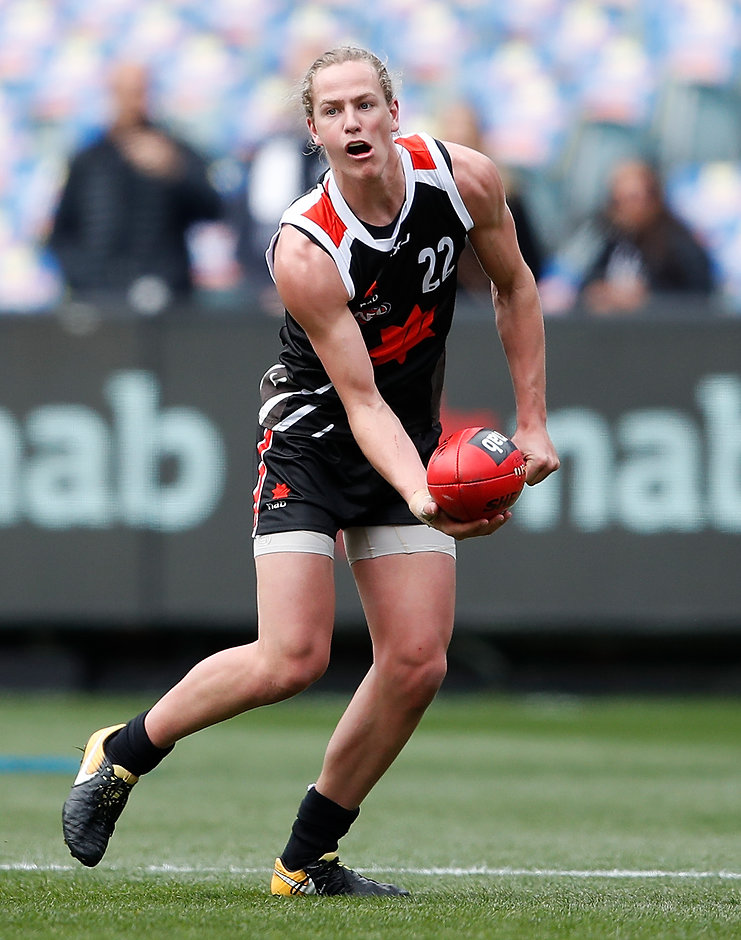 His injury meant he would miss both.
But rather than wallow in the frustration of being sidelined, Stephens searched for other ways of staying involved. He began taking line meetings, offering advice at training sessions and fixing the whiteboard for the intervals between quarters on match days.
During some games, he would relay messages to his Vic Country teammates from the bench. During others, he would sit in the box alongside midfield coach Jayden Pitt with the headset on.
It ensured the big-bodied onballer still eked the most out of a defining year in his football journey.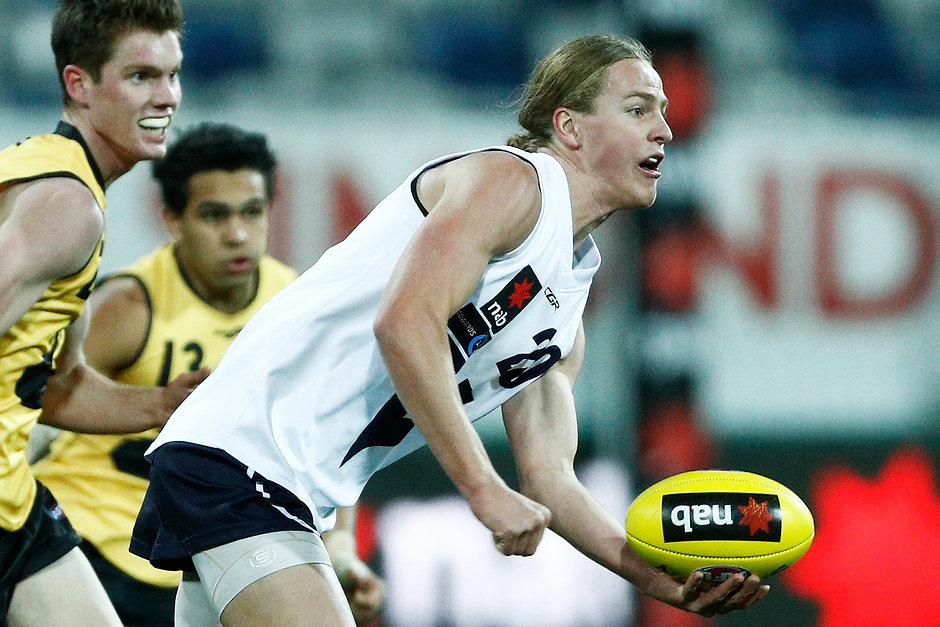 "My off-field work with my leadership has never been my strength, speaking in front of the group and stuff," Stephens said.
"Getting the opportunity to do that a bit more and explain a few more things in front of the group – taking a few coaches meetings and stuff like that – I think it's really improved my game and improved my leadership.
"I absolutely loved it in the coaches' box. You see it from a completely different perspective, from that higher ground. You see the running patterns of the better players and I learnt heaps.
"Hopefully I can translate that to my footy next year and use that in the future. Then (the injury) definitely would have helped me in the long run."
It's impossible to say where Stephens might currently sit in the draft's pecking order, had his season not ended abruptly in April. However, even despite that setback, the tough 188cm midfielder is still seen by a number of recruiters as a top-25 prospect.
That standing was enhanced at the recent NAB AFL Draft Combine, where Stephens returned from his long-term injury to reach level 21.8 on the Yo-Yo test – the joint-highest score of any prospect.
He also finished the 2km time trial in an impressive six minutes and 17 seconds the very next day.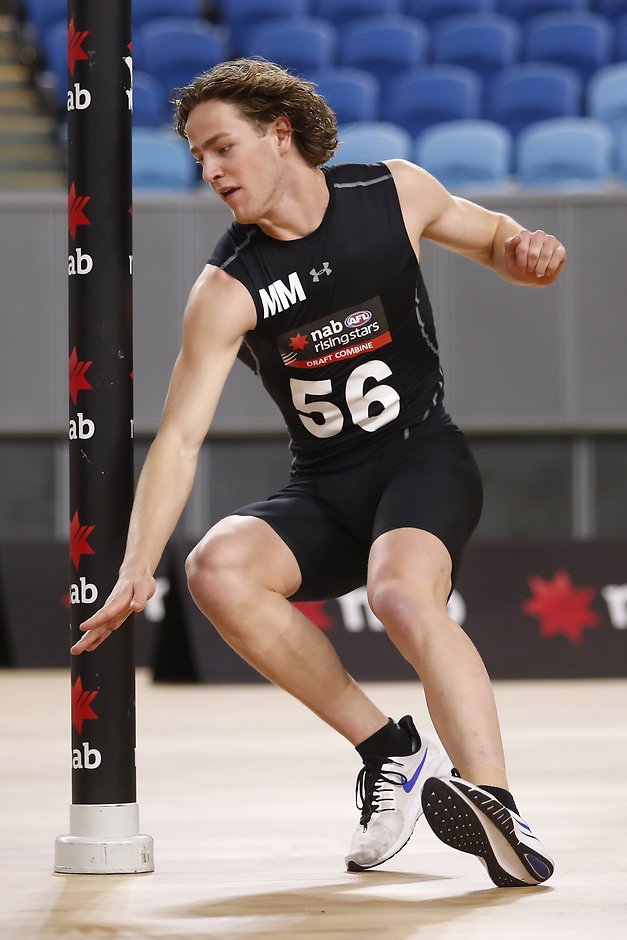 The assessment that Stephens may subsequently be taken within the first 25 picks on draft night is therefore one that Leigh Brown, his coach at Vic Country, strongly agrees with.
"He's suited to be an inside midfielder," Brown told AFL.com.au.
"He's got a strong body, he wins the contested ball and that's obviously a real strength in his game. He can also sneak forward. It was actually what he was going to work on this year, having that impact as a resting midfielder that can go forward.
"But, in saying that, he also played some really good footy off half-back last year – particularly against South Australia as a bottom-ager in the champs – so he's actually got some real versatility in his game."
PHANTOM FORM GUIDE Cal Twomey's October update
Still, despite the constant reassurances and the positive messages that have flooded in via friends, family and coaches, Stephens concedes it has been hard not to sometimes let the doubts creep in this year.
However, even so, the youngster finds a way to put a typically positive slant on things.
"It definitely goes through your mind that you're going to be that forgotten man," Stephens said.
"But talking through it with the staff at Vic Country and the Falcons, they give you that reassurance that you've done enough with your bottom-age year.
"Plus, there's always that other pathway if you don't get drafted as an 18-year-old. There's the VFL, the under 19s, going back to the Falcons … all of those are different pathways where hopefully I can achieve my goal in the end."