CALLUM Jamieson wasn't disappointed when he was overlooked at last year's NAB AFL Draft.
No club had spoken to him during the season, and he had no expectations of getting picked up. When his name wasn't called by any AFL club in either the national or rookie draft, Jamieson barely let out a sigh.
>> The 2019 NAB AFL Draft runs from November 27-28. Follow all the latest news in the draft hub
He was always playing the longer draft game, with his focus on 2019 well before 2018 had ended.
But that's not the only thing that makes the West Australian ruckman an interesting draft hopeful this time around (we'll get to the aviation studies and his years working as a checkout attendant at the local supermarket).
"I didn't even think about the draft last year. I felt my season was OK, and there were games where I thought I had really good glimpses but I'd fade in and out. I knew this year was the year I had to show my stuff," he told AFL.com.au.
Jamieson projects as a later pick at the national draft, but has gathered interest because of his skillset: he's a 199cm big man who shifted into the ruck this season after growing four centimetres and putting on eight kilos in the past 12 months.
Previously, he had been a tall forward. But this year has thrust him into a new role.
"I got thrown into the ruck down at Claremont and I've loved playing through the middle of the ground and going both ways. I feel a lot more confident in myself," he said.
"Everyone always told me I'd develop a bit later and that's what happened."
Jamieson gets a kick away during the NAB AFL U18 Championships. Picture: AFL Photos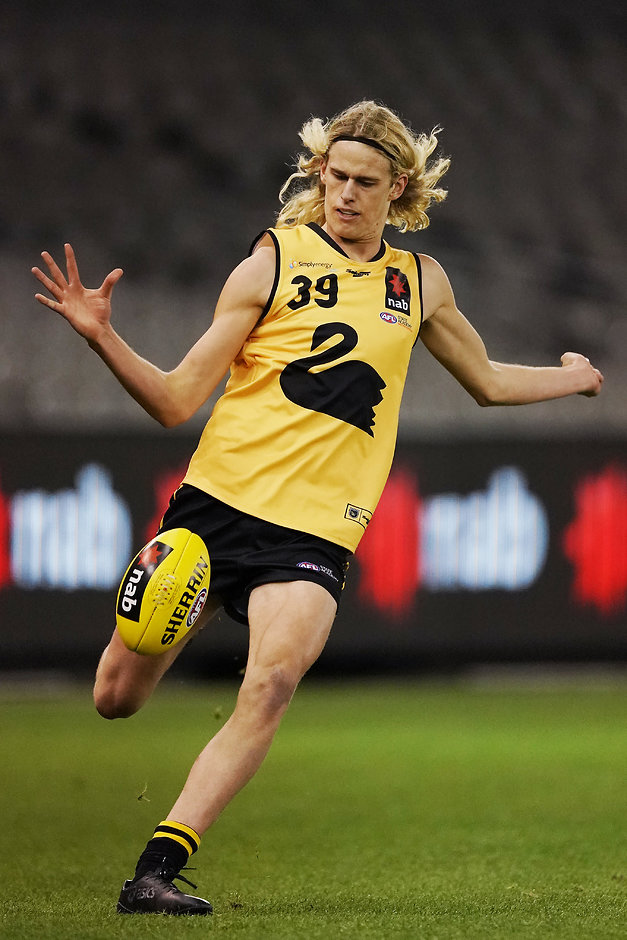 Rucking alongside likely top-five pick Luke Jackson for three games of Western Australia's under-18 carnival, and working closely with former Eagle and Swans ruck Mark Seaby as part of the program got Jamieson up to speed with the demands of the role.
He averaged 24 hitouts a game in 12 Colts performances for Claremont and now, having spoken to all clubs, feels he has shown as much as he could have.
"It's a pretty weird feeling now, because the whole year you're trying to do your best for the clubs and yourself," he said.
"Then you get to the end of the season after the NAB AFL Draft Combine and now you're kind of just sitting around and the ball's in the recruiters' court."
Jamieson has had things keeping his mind busy, though. As his football has started to take flight this year, he has been completing the first year of his aviation course.
He sees similarities in the path to the cockpit and the journey to football's top level.
"It's a long road, as footy is, and you start at the bottom and try to work your way up to the top and hopefully be a pilot one day," he said.
"I've got a family friend who's a pilot and one who's an engineer at Qantas so they gave me an insight into the aviation industry and I've always wanted to be a pilot since a young age."
INDICATIVE DRAFT ORDER Your club's latest picks
Jamieson started in the workforce at a young age.
At 14, after his parents had grown tired of his requests for new surfboards and more surf trips, he took up a job at the local Farmer Jack's supermarket.
"You get kids come through to adults and some old fellas so it was really helpful to be able to talk to people. I learnt that from a young age," he said.
Jamieson isn't the only sportsperson in his family. His older sister, Shakira, has been a member of the No Limits Netball pathway in WA in recent years, which gives opportunities to netballers with intellectual disabilities.
Shakira, 20, has played for the state side, but is also a keen football fan, regularly giving her brother some feedback on his performances.
"She has a few learning issues and movement issues but we're really close. She plays state netball for the state disabled team and she actually said to me a few years ago 'Cal, when are you ever going to make a state team?'" Jamieson said, laughing.
"She gives me advice on my games and definitely lets me know if I have a shocker. It's honest feedback and always straight to the point.
"She loves her footy. She knows who's playing each week, I don't even need to look at the AFL Live app, I just go to her and she'll tell me what's going on. She loves watching me play and I go to her netball games as well."
Find Road to the Draft on Apple Podcasts, Google Podcasts and Spotify.