HOW DID your club perform in the 2014 NAB AFL Draft?

Our reporters look at who you added to your list and, with five years now gone and the benefit of hindsight, give your draft period a score out of 10.
>> The 2019 NAB AFL Draft runs from November 27-28. Follow all the latest news in the draft hub
Our verdict also takes into consideration rookie picks, rookie upgrades, and players traded in.
So did your club nail it, or did it have a stinker? Check it out.
The top 10 picks from the 2014 NAB AFL Draft.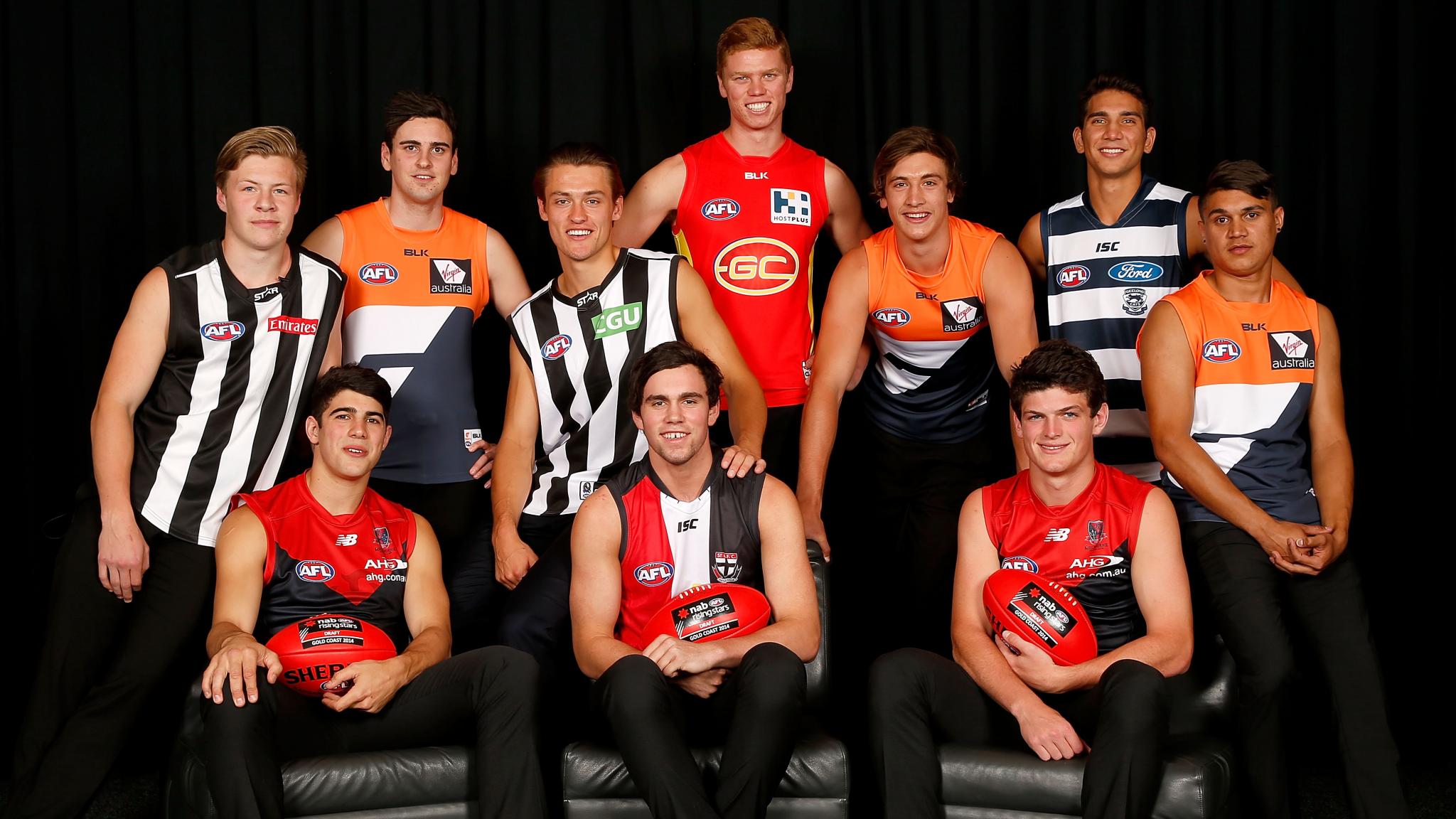 COLLINGWOOD
2014 NAB AFL Draft: Jordan De Goey (pick No.5), Darcy Moore (9 – father-son), Brayden Maynard (30), Matthew Goodyear (48)
2015 AFL Pre-Season and Rookie Drafts: Michael Manteit (pick No.8, rookie), Brenden Abbott (26), Tony Armstrong (43), Mason Cox (60 – international)
Rookie upgrades: Nil
Trade and free agency: Jack Crisp (Brisbane), Levi Greenwood (North Melbourne), Travis Varcoe (Geelong)
Collingwood coach Nathan Buckley and draftee Jordan De Goey.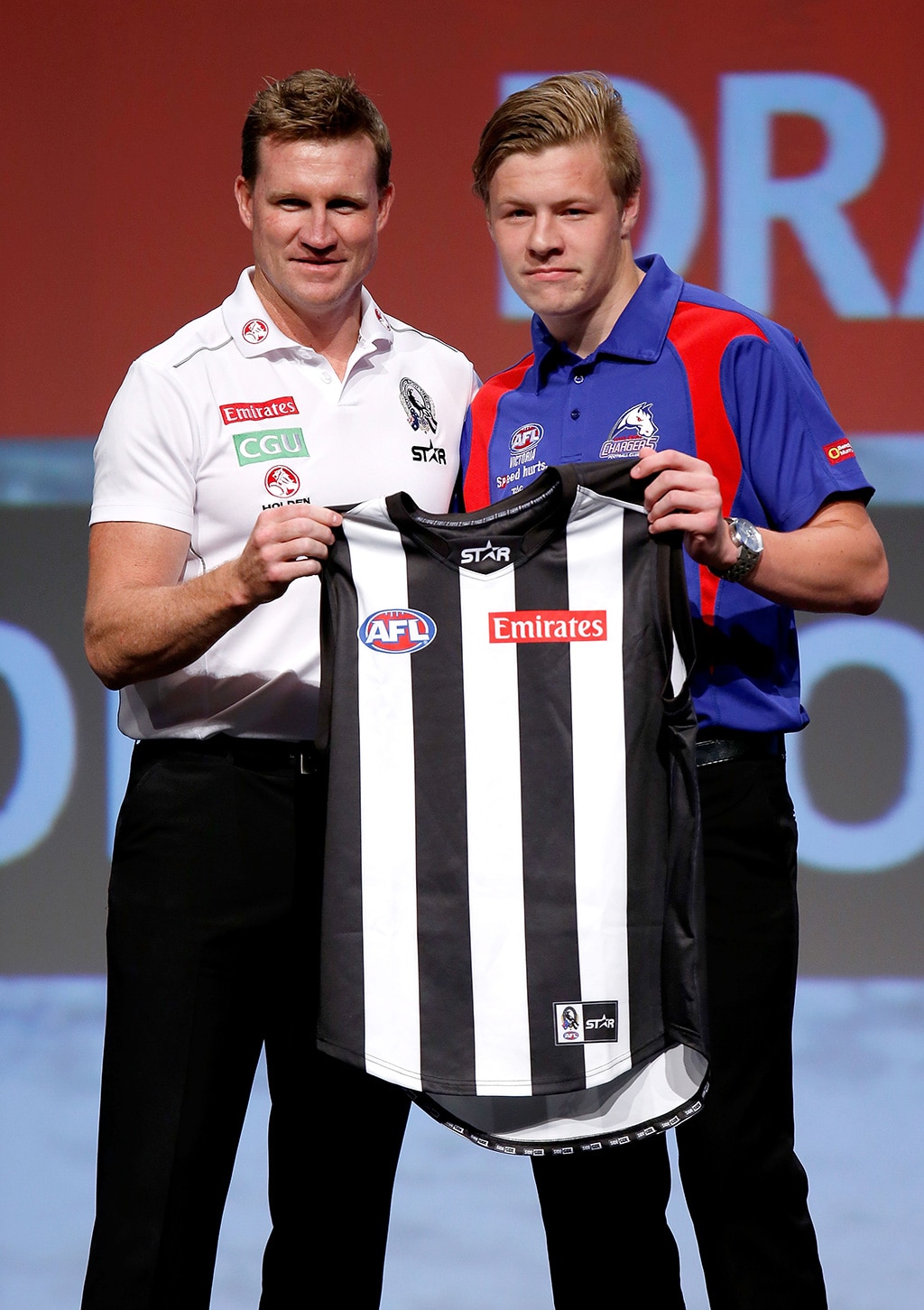 Biggest hit: Jordan De Goey
Verdict: Both at the time and particularly on reflection, the Pies could scarcely have been happier. They lost premiership players Dayne Beams to Brisbane and Heritier Lumumba to Melbourne, while warriors Nick Maxwell and Luke Ball retired, but the Woods snared potential superstars in De Goey and father-son prospect Moore, a brutish backman in Maynard, a line-breaking playmaker in Crisp (who'd been regarded as the set of steak knives thrown into the Beams trade), hardened duo Varcoe and Greenwood, along with American giant Mason Cox, the hero of the 2018 preliminary final upset win over Richmond. There was still the odd fizzer, with Matthew Goodyear playing just two games and three rookies unable to grasp their opportunities, but it was an overwhelmingly prosperous period.
What the club said: "We feel it is a good mix for us. Along with Darcy Moore we have three really tough inside mids that can play in all areas of the ground … (De Goey) plays 360 degrees, makes really good decisions and plays forward, back and midfield. He can play forward in his own right. His exposure to the elite pathway system has also been light so (there's) plenty of scope."  – Derek Hine, Collingwood recruiting manager
Trade and draft period rating: 9/10
Rank: 1st
- Ben Collins
WESTERN BULLDOGS 
2014 NAB AFL Draft: Toby McLean (pick No.26), Lukas Webb (27), Declan Hamilton (39), Bailey Dale (45), Caleb Daniel (46), Zaine Cordy (62)
2015 AFL Pre-Season and Rookie Drafts: Roarke Smith, Jordan Kelly, Daniel Pearce, Brett Goodes
Rookie upgrades:  Lin Jong, Jack Redpath
Trade and free agency: Shane Biggs, Tom Boyd, Joel Hamling
Biggest hit: Caleb Daniel
Verdict: This draft period was set to define the Western Bulldogs as a club. The Dogs traded Ryan Griffen and pick six (Caleb Marchbank) and brought in Boyd. Two years later, Boyd and five other players from this crop became premiership heroes. The Dogs found huge value in the middle parts of the draft, with McLean, Dale, Daniel and Cordy clearly best 22 players. Hamling and Biggs were quality scrapheap signings too. Hamilton was arguably the only miss of the national draft, but the Dogs won't be sweating over that.
What the club said:"It's been a focus area of need for a while at this football club. For our club to be able to attract someone of that quality and a player that's so young and will have a long future at our footy club in an area of need, it was a really important acquisition." – Western Bulldogs list manager Jason McCartney said of Tom Boyd following the Trade Period.
Tom Boyd and Toby McLean celebrate the former's premiership-sealing goal.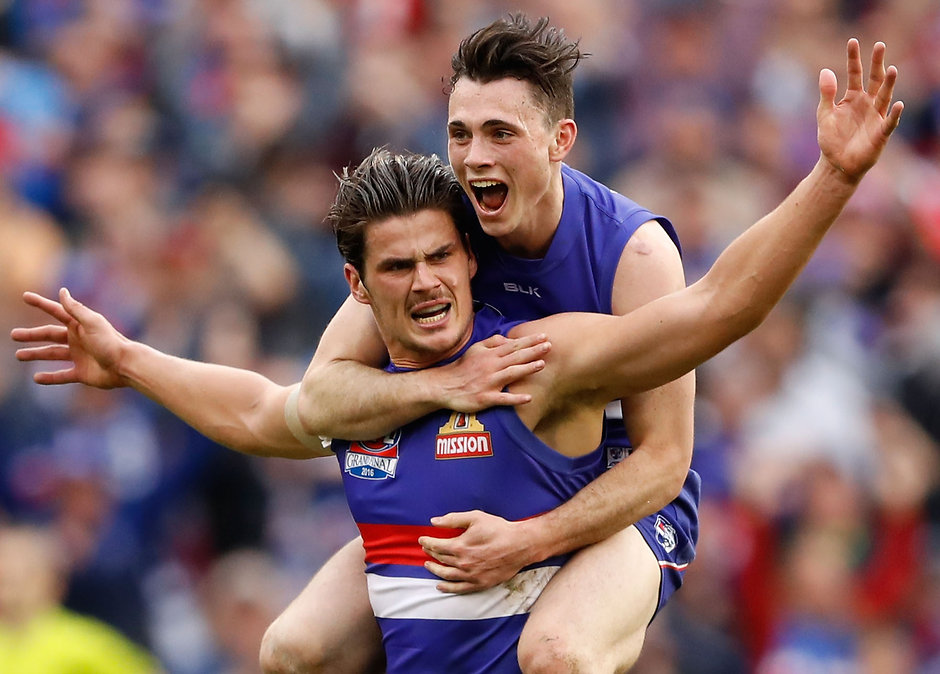 Trade and draft period rating: 7.5/10
Rank: 2nd
- Jourdan Canil
MELBOURNE 
2014 NAB AFL Draft: Christian Petracca (pick No.2), Angus Brayshaw (3), Alex Neal-Bullen (40), Billy Stretch (42), Oscar McDonald (53)
2015 AFL Pre-Season and Rookie Drafts: Aaron vandenBerg, Mitch White
Rookie upgrades: Neville Jetta
Trade and free agency: Sam Frost, Jeff Garlett, Heritier Lumumba, Ben Newton
Biggest hit: Christian Petracca
There's plenty to like about CP5.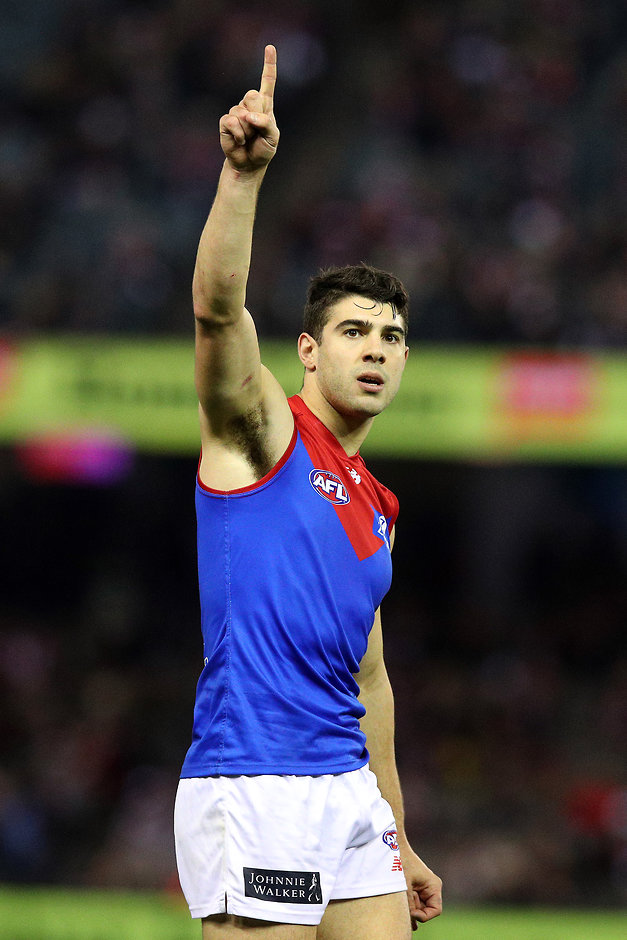 Verdict: It was a draft that went some way to revitalising Melbourne, particularly throughout its successful 2018 season. Petracca and Brayshaw have turned into good footballers, while Neal-Bullen, McDonald and vandenBerg remain serviceable role players having been taken further down the draft. The exciting part is that there remains room for Petracca and Brayshaw, both top-three picks, to grow. They have shown glimpses of their talent, but it's foreseeable to see them flourish into genuine A-graders. Frost and Garlett, brought in via trades, enjoyed a couple of good years with the club – but now find themselves off the list.
What the club said: "Christian is a power athlete. He's very good overhead. As a forward/mid, we asked him at the start of the year what he wanted to improve on and he wanted to improve his endurance, so he could play in the midfield. He ticked that box, but he's got a long way to go in that area, as all young players do. The standout feature of Angus' game is his absolute combativeness. He never takes a backward step – he's just a ferocious tackler for his age. He has a unique ability either side of his body and craftiness in how he finds the footy." – Jason Taylor, Melbourne's national recruiting manager
Trade and draft period rating: 7/10
Rank: 3rd
- Riley Beveridge
PHANTOM FORM GUIDE Cal Twomey's October update
RICHMOND 
2014 NAB AFL Draft: Corey Ellis (pick No.12), Connor Menadue (33), Nathan Drummond (52), Dan Butler (67), Reece McKenzie (77)
2015 AFL Pre-Season and Rookie Drafts: Jayden Short (11), Jason Castagna (29), Kane Lambert (46), Matthew Arnot (61), Ivan Soldo (68)
Rookie upgrades: Anthony Miles
Trade and free agency: Taylor Hunt
Biggest hit: Kane Lambert 
Verdict: It was a tale of two drafts for the Tigers, absolutely nailing the rookie portion but struggling with their national picks, none of whom are still at the club. Richmond was coming off an eighth-place finish, winning nine in a row before crashing out in an elimination final against Port Adelaide, and had a serious need for speed. Lambert has become a genuine star of Richmond's line-up, with Short, Castagna and Soldo all playing important roles across the Tigers' recent two flags. Butler was a 2017 premiership player but struggled to hold his spot in 2019, while Ellis and Menadue never really forced themselves into the side for long stretches. Drummond played five AFL games but tore his ACL twice and key forward McKenzie (mental health) was a promising speculative pick but chose to retire after 18 months.
Kane Lambert is a two-time premiership player.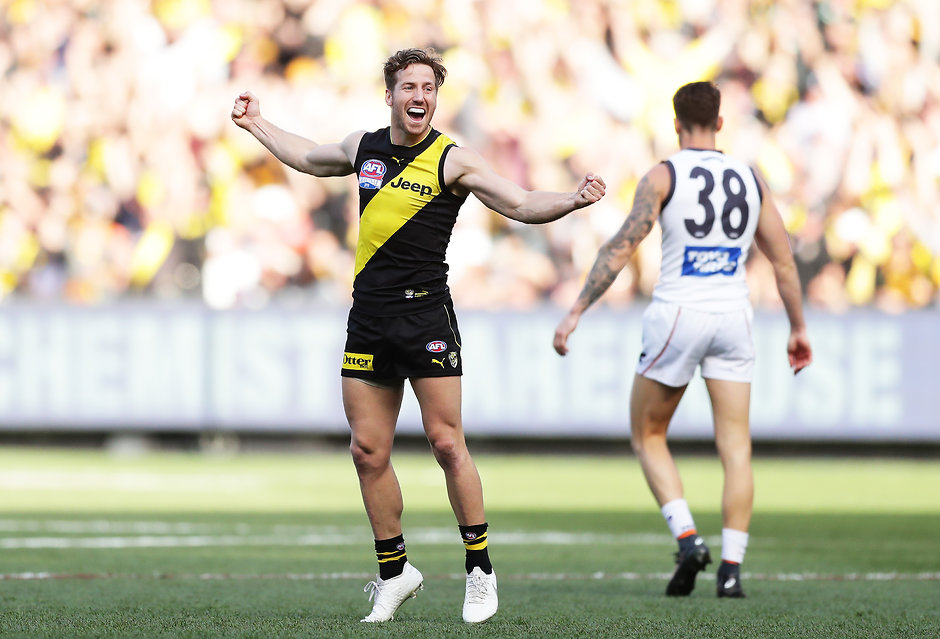 What the club said: "The coach was really keen to add some midfield depth to enable some players to play some different roles, and we feel we've addressed that. They're all a little bit different in their own right. We're delighted with the combination. We're generally really pleased with the outcome and look forward to these boys coming to Tigerland." – Francis Jackson, Richmond's recruiting manager, after the national draft
Trade and draft period rating: 7/10
Rank: 4th
- Sarah Black
BRISBANE 
2014 NAB AFL Draft: Liam Dawson (pick No.44), Harris Andrews (61), Josh Watts (65), Jaden McGrath (73), Josh McGuinness (81), Josh Clayton (86)
2015 AFL Pre-Season and Rookie Drafts: Billy Evans (4), Hugh Beasley (22), Cian Hanley (56), Matthew Hammelmann (75)
Rookie upgrades: Nil
Trade and free agency: Dayne Beams, Allen Christensen, Mitch Robinson
Biggest hit: Harris Andrews 
Verdict: Gave up their first two picks in the draft (and Jack Crisp) to acquire Dayne Beams, but that was well and truly worth it, getting a future captain, best and fairest winner and someone that helped right the ship of a wobbling club. Harris Andrews turned out to be one of the draft steals of the decade, and thrown in with the recruitment of Allen Christensen and Mitch Robinson – both still crucial players on the list – it was an excellent period.
A young Harris Andrews during his draft year. 

What the club said: "It's a great result for the club. We're really happy for Dayne. I think when you put him in on top of getting Allen Christensen earlier in the week, we've got two premiership players, one is 23 and one is 24, they've got their best footy ahead of them. It's hard to get that sort of quality into your football club. To get two players of that ilk in, especially with Dayne because he's a Queensland boy, so that's another benefit to us because he's coming home, he's a star of the competition." – Greg Swann, Brisbane CEO
Trade and draft period rating: 7/10
Rank: 5th
- Michael Whiting
Find Road to the Draft on Apple Podcasts, Google Podcasts and Spotify.
FREMANTLE 
2014 NAB AFL Draft: Lachie Weller (pick No.13), Connor Blakely (34), Ed Langdon (54), Josh Deluca (68).
2015 AFL Pre-Season and Rookie Drafts: Ethan Hughes (rookie draft, pick No.13), Tanner Smith (31), Sean Hurley (48).
Rookie upgrades: None.
Trade and free agency: None.
Biggest hit: Connor Blakely
Blakely's ball-winning ability has been valuable at the Dockers.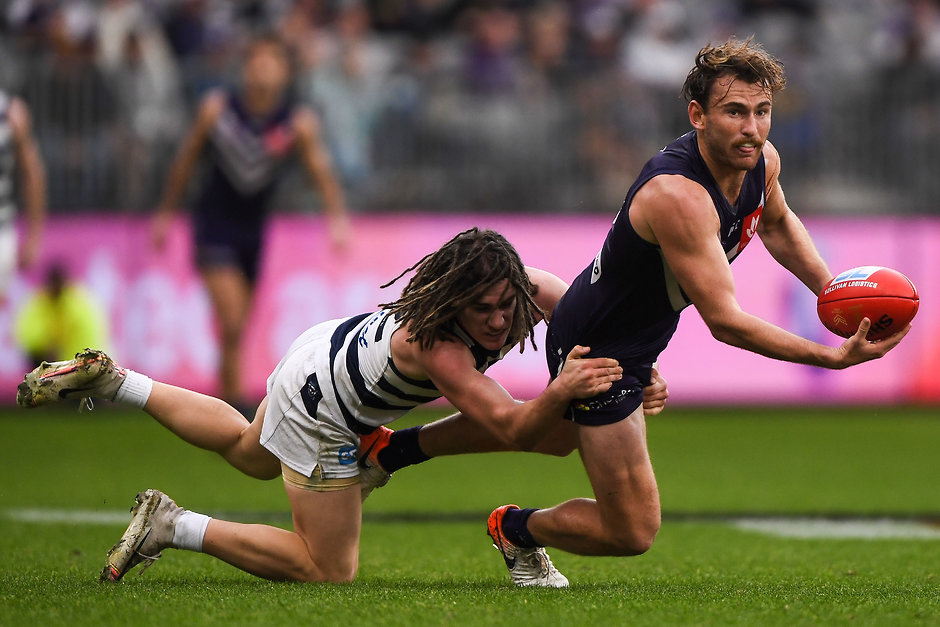 Verdict: Blakely and Hughes have turned out to be solid players for the Dockers, having played 60 and 50 games respectively. Weller (47 games from 2015-17) was on the way to justifying why the Dockers overlooked key defenders Jake Lever and Sam Durdin to take him with the 13th overall pick, before he was traded to Gold Coast at the end of 2017. The Dockers were the big winners in that deal, securing pick two, which they used on Andrew Brayshaw. Langdon (68 games from 2015-19) was a shrewd third-round selection before the wingman joined Melbourne in the recent trade period. Deluca (four games), Smith (four games) and Irishman Hurley (zero games) didn't pan out.
What the club said: "We thought this year there was going to be a couple of really good quality midfielders around our first pick and we just thought it was time to top our midfield up. The talls did dry up late in the draft, but we just wanted to really add some run to the group." – Brad Lloyd, Fremantle's general manager of player management.
Trade and draft period rating: 6.5/10
Rank: 6th
- Lee Gaskin
ADELAIDE
2014 NAB AFL Draft: Jake Lever (pick No.14), Harrison Wigg (35), Mitch McGovern (43), Harry Dear (58).
2015 AFL Pre-Season and Rookie Drafts: Reilly O'Brien (rookie draft, pick No.9), Keenan Ramsey (27), Anthony Wilson (44).
Rookie upgrades: Charlie Cameron.
Trade and free agency: Kyle Cheney, Luke Lowden.
Biggest hit: Jake Lever
Verdict: Judging purely on the players the Crows selected in this draft, Lever and McGovern were astute choices while O'Brien is a promising ruckman who played 18 games last season. Retention has been the Crows' biggest issue. O'Brien is the only one of the nine players still on their list. Lever filled the Crows' need for a tall defender, but after 56 games in three seasons, he joined Melbourne at the end of 2017. McGovern departed to Carlton the following season after 48 games in four years. Wigg, Dear, Ramsey, Wilson and Lowden were all either traded or delisted without playing a game. Cheney was a solid addition in defence for 44 games before being delisted at the end of 2018.
Reilly O'Brien has assumed Adelaide's No.1 ruck mantle.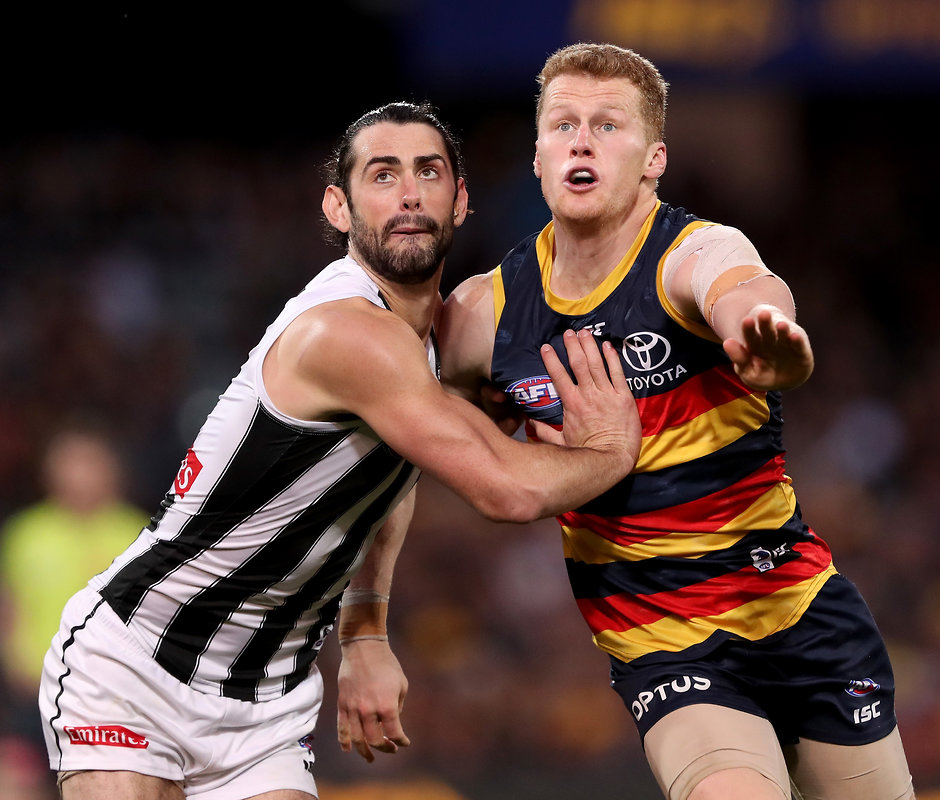 What the club said: "With the talls that we've lost in the last three or four years, we just need to keep replenishing those stocks. We thought that this draft allows that opportunity to fulfil needs as well as taking the top-end talent. We've been really pleased with what we've brought in." – David Noble, Adelaide list manager.
Trade and draft period rating: 6.5/10
Rank: 7th
- Lee Gaskin
NORTH MELBOURNE 
2014 NAB AFL Draft: Sam Durdin (No.16), Daniel Nielson (25), Ed Vickers-Willis (36)
2015 AFL Pre-Season and Rookie Drafts: Braydon Preuss (15), Will Fordham (33), Max Warren (50), Robin Nahas (63)
Rookie upgrades: Joel Tippett, Kayne Turner
Trade and free agency: Shaun Higgins (restricted free agent), Jarrad Waite (unrestricted free agent)
Biggest hit: Shaun Higgins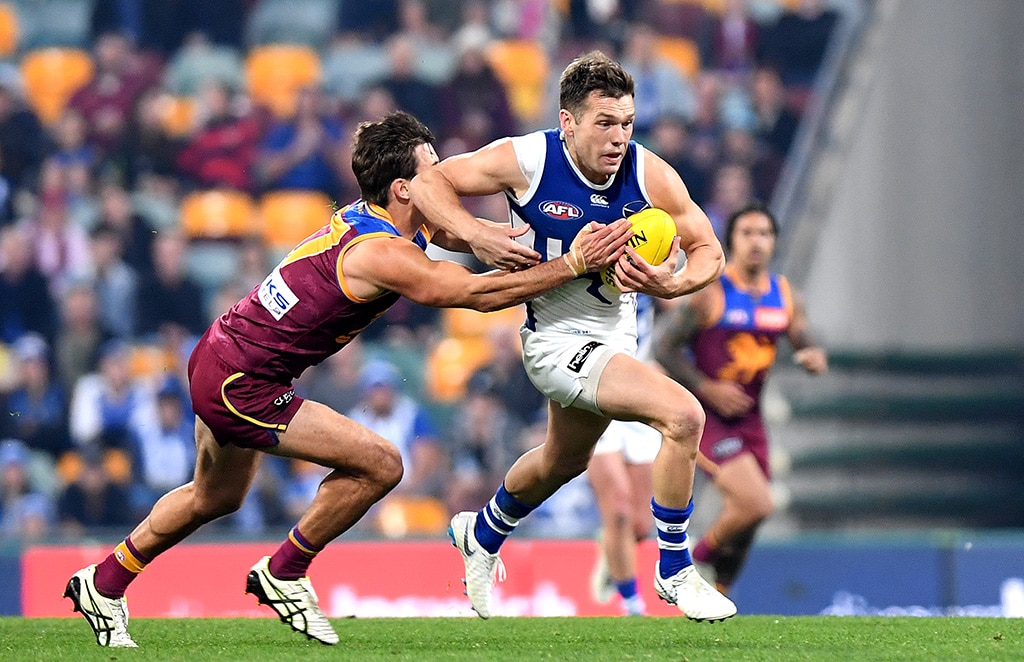 Verdict: The Kangaroos' biggest success was in free agency, where they scored veterans Higgins and Waite, who proved genuine bargains. Waite kicked 125 goals in 60 matches, while Higgins is now a dual Syd Barker medallist and All Australian who is contracted for two more seasons. Durdin's made only 19 senior appearances, although nine of those came under new coach Rhyce Shaw this year. Nielson was delisted last year after seven matches, while Vickers-Willis looks good when he plays but injury has limited him to just 15 games. Preuss was a pretty good rookie punt but requested a trade to Melbourne last year in exchange for Dom Tyson, who struggled with calf injuries in the 2019 season.
What the club said: "Sam Durdin was the best available player according to our order. Having said that, he was a 198cm tall who can play forward and back and we do need a couple of those. With Drew (Petrie) getting towards the end of his career – even though Jarrad's come in to play a role for us – we need to plan for the future. We see Daniel as a last-line defender … we think (Vickers-Willis) brings some flexibility." – Bryce Lewis, North Melbourne's national recruiting manager
Trade and draft period rating: 6/10
Rank: 8th
- Marc McGowan
SYDNEY 
2014 NAB AFL Draft: Isaac Heeney (pick No.18), James Rose (37), Jack Hiscox (38), Abe Davis (70).
2015 AFL Pre-Season and Rookie Drafts: Sean McLaren (17), Nic Newman (35), Lewis Melican (52), Jordan Foote (76).
Rookie upgrades: Jake Lloyd, Xavier Richards, Daniel Robinson.
Trade and free agency: N/A
Biggest hit: Isaac Heeney 
Verdict: The AFL's decision to ban Sydney from recruiting players via trade or free agency unless it gave up its Cost of Living Allowance stymied the Swans' flexibility this year and next. Losing Nick Malceski (free agent) didn't hurt too much, but delisting Tim Membrey, who has forged an excellent career with St Kilda, has proven to be a mistake. Heeney was a slam dunk Academy selection and Melican has been an astute pick-up in the rookie draft, but the Swans missed out with almost every other selection.
What the club said: "As you'd expect, the club is very disappointed and we don't understand why the AFL has made this rule specifically for us considering we've complied with their rules. While we wholeheartedly believe players should receive the Cost of Living Allowance due to the higher cost of living in Sydney, it was ultimately the AFL's rule, it wasn't optional and therefore we included it in every player's contract. It doesn't make any sense that we're being punished for something that we've been told to do." – Andrew Ireland, Sydney chief executive
Trade and draft period rating: 6/10
Rank: 9th
- Michael Whiting
INDICATIVE DRAFT ORDER Your club's latest picks
ESSENDON
2014 NAB AFL Draft: Kyle Langford (pick No.17), Jayden Laverde (20)
2015 AFL Pre-Season and Rookie Drafts: Shaun McKernan (No.11), Kurt Aylett (No.30), Jake Long (No.47), Conor McKenna (No.62)
Rookie upgrades: Patrick Ambrose
Trade and free agency: Adam Cooney, Jonathon Giles, James Gwilt
Biggest hit: Conor McKenna
Conor McKenna has been a massive success for the Bombers.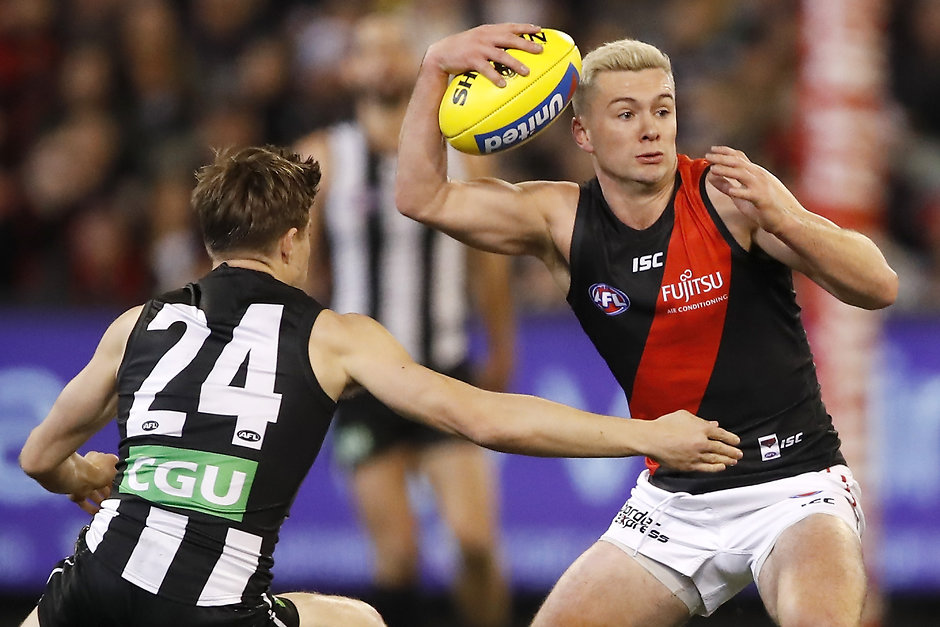 Verdict: It hasn't come through as a very good period for the Bombers, who had been stripped of a first-round pick as a result of the drugs saga that engulfed the club. They received pick No.17 and No.37 in return for Paddy Ryder, who left the club while under contract, but then moved No.37 to the Western Bulldogs for Cooney. Langford and Laverde are fringe players and face crunch career-shaping seasons in 2020, while Cooney's impact was minimal. Hard defender Ambrose was a good find out of the VFL and the most regular senior player of their 2014 group. The saving grace for Essendon is finding McKenna as an international rookie from Ireland. The now star half-back has become a crucial player for the Bombers with his speed and run.
What the club said: "We were pleasantly surprised that Jayden was available. We took a little bit of a punt. We probably went into the draft wanting Kyle Langford. We wanted to bank him because we have a very high opinion of the young man. We knew there was one pick between our pick 17 and 20 because Isaac Heeney was already at the Swans. So we took a gamble and this time it paid off." – Adrian Dodoro, Essendon list manager
Trade and draft period rating: 5.5/10
Rank: 10th
- Callum Twomey
GOLD COAST
2014 NAB AFL Draft: Peter Wright (pick No.8), Jarrod Garlett (15), Touk Miller (29)
2015 AFL Pre-Season and Rookie Drafts: Josh Glenn (7), Adam Saad (25), Keegan Brooksby (42), Tyrone Downie (59), Greg Broughton (67), Andrew Raines (71).
Rookie upgrades: Andrew Boston, Josh Hall
Trade and free agency: Mitch Hallahan, Nick Malceski
Biggest hit: Touk Miller
Jarrod Garlett and Peter Wright after being drafted to the Suns.

Verdict: A so-so period for the Suns on the back of Rodney Eade's appointment as coach. Malceski – fresh off an All Australian season with the Swans – played two seasons of his three-year deal and was hampered by a knee injury, while hardened midfielder Hallahan didn't quite work out after dominating at VFL level. Both were free agents and cost the Suns nothing (aside from salary, obviously). Wright was a good selection although is yet to reach his peak, while Miller has out-performed what anyone could expect from a mid-second round selection. Saad was a brilliant pick-up, and although played just three seasons before returning to Melbourne, the Suns should be applauded for this selection.
What the club said: "He's (Miller) got leadership, he was Vic Metro captain, he can play in every zone on the ground – defence, midfield, forward – he's a manic trainer, he's a great competitor and he tackles maniacally. They're all characteristics that make you play a lot of AFL footy. He's very strong-willed." – Scott Clayton, Gold Coast head of recruiting
Trade and draft period rating: 5/10
Rank: 11th
- Michael Whiting
PORT ADELAIDE
2014 NAB AFL Draft: Dougal Howard (pick No.56), Logan Austin (69), Jesse Palmer (78), Billy Frampton (84).
2015 AFL Pre-Season and Rookie Drafts: Nathan Krakouer (rookie draft, pick No.16), Tom Logan (34), Johann Wagner (51).
Rookie upgrades: Kane Mitchell
Trade and free agency: Paddy Ryder
Biggest hit: Paddy Ryder
Paddy Ryder celebrates a goal during 2019.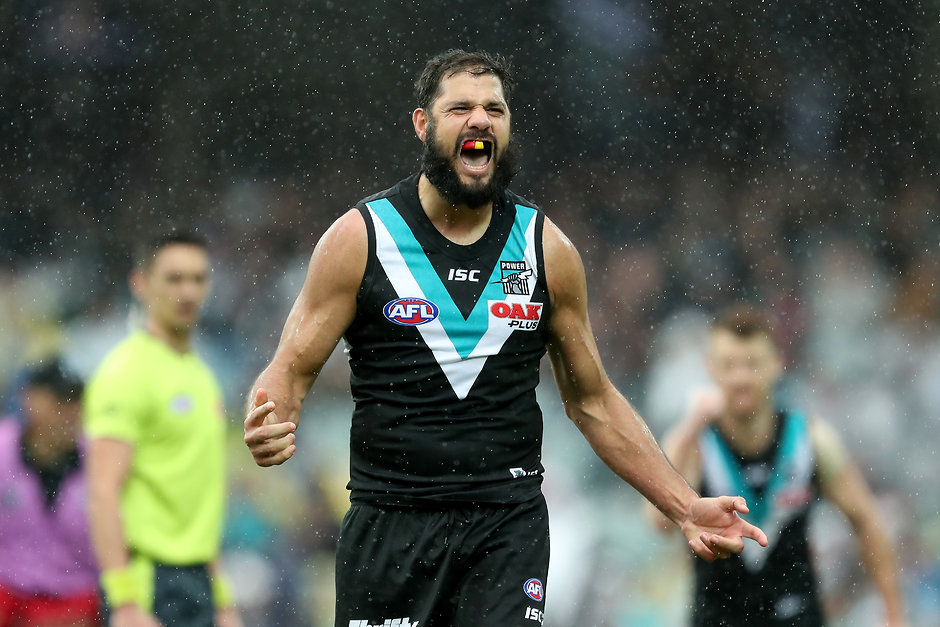 Verdict: Trading their first two draft picks (No. 17 and 37 overall) to Essendon in exchange for Paddy Ryder was always going to be risky. The Power weren't banking on Ryder being suspended for the entire 2016 season as part of the Essendon supplements saga, but he returned to win their best and fairest and claim All-Australian honours in 2017. Ryder played 73 games for the Power before moving to St Kilda at the end of last season. Howard was just blossoming into a promising swingman until he requested a trade, also moving to the Saints. Austin, Palmer and Frampton barely featured for the club before being traded or delisted, but it's hard to expect much else with late picks.
What the club said: "We came into the draft being able to pick a few talls and add some depth to all parts of the ground, so we're pretty happy with that. We need to be patient with all of them, but you really just don't know how soon they will play in the AFL." – Geoff Parker, Port Adelaide recruiting manager.
Trade and draft period rating: 4.5/10
Rank: 12th
- Lee Gaskin
WEST COAST 
2014 NAB AFL Draft: Liam Duggan (pick No.11), Tom Lamb (32), Jackson Nelson (51), Damien Cavka (66), Alec Waterman (76).
2015 AFL Pre-Season and Rookie Drafts: Kane Lucas (rookie draft, pick No.10), Corey Adamson (28), Patrick Brophy (45).
Rookie upgrades: Callum Sinclair.
Trade and free agency: None.
Biggest hit: Liam Duggan
Silky-skilled mid Liam Duggan has become a best-22 regular at the Eagles.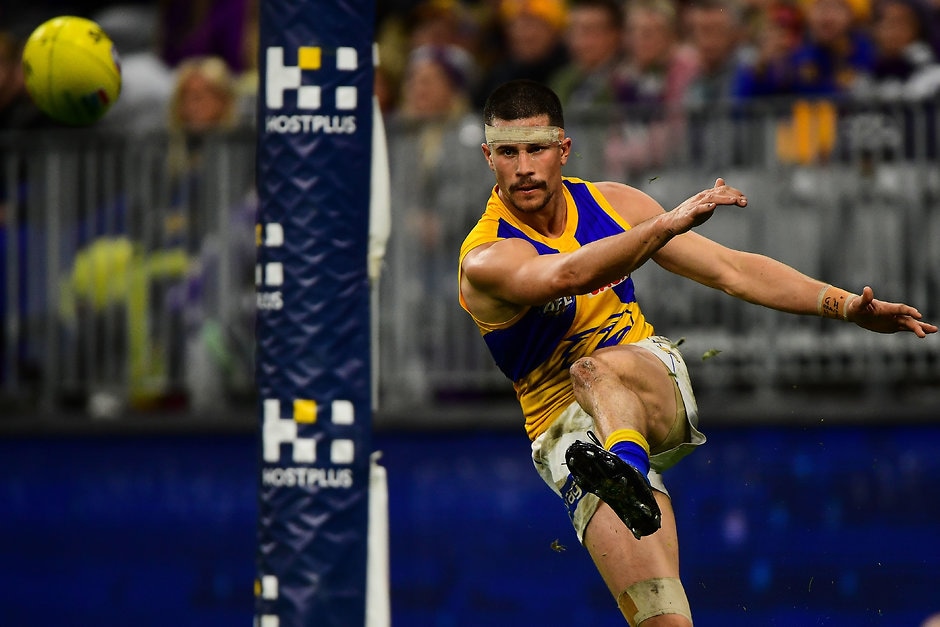 Verdict: The Eagles were thrilled to get Duggan with their first selection, and he's gone on to be a premiership-winning defender. Big tick. Lamb couldn't get going, the athletic forward playing his solitary game in 2015 before being delisted two years later. Nelson has played 55 games and is developing into a solid defender, so that's a great get with a pick in the 50s. Cavka and father-son selection Waterman both didn't play a senior game due to injuries and glandular fever respectively. Lucas was a flop after coming across from Carlton, Adamson's footy experiment (he previously played minor league baseball in the US) wasn't a success and Irishman Brophy returned home in 2017 without playing a game.
What the club said: "We have been able to fill round holes with round pegs and all of the boys can really run, which is a prerequisite at Patersons Stadium. Liam is a great leader who can play both in defence and in the midfield, Tom is very versatile with good endurance, Jackson has great skills off both sides of his body and Damien has elite endurance." – Rohan O'Brien, West Coast's national recruiting manager.
Trade and draft period rating: 4.5/10
Rank: 13th
- Lee Gaskin
HAWTHORN 
2014 NAB AFL Draft: Dan Howe (pick No.31), Teia Miles (49), Marc Pittonet (50)
2015 AFL Pre-Season and Rookie Drafts: Jared Hardisty (18), Jermaine Miller-Lewis (36), Lachie Langford (53), Sam Grimley (65)
Rookie upgrades: Zac Webster; Dallas Willsmore
Trade and free agency: Jono O'Rourke (trade), James Frawley (unrestricted free agent)
Biggest hit: James Frawley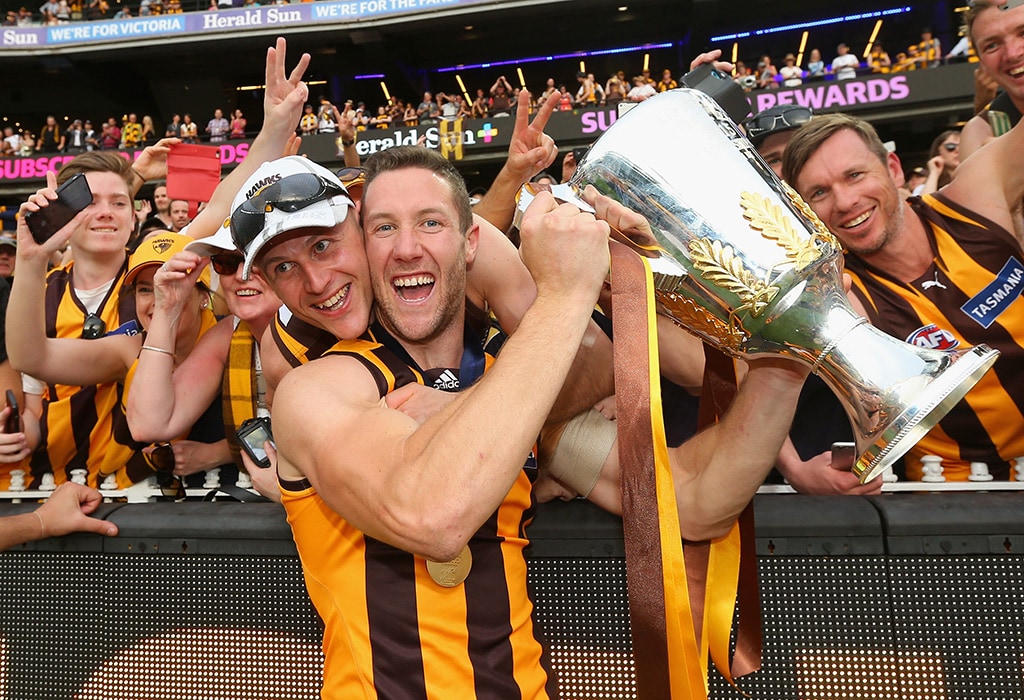 Verdict: This wasn't the Hawks' finest exchange and draft period. Frawley was a terrific addition down back as a free agent and played in the 2015 premiership but there's little else to be too excited about. They offloaded their first-round pick (No.19) – as they often do – as part of the deal for O'Rourke but he played only 12 games for the club. Howe was Hawthorn's first draft choice and has become a solid contributor through the midfield and in defence. Miles was delisted this year and Pittonet played only seven matches before being traded to Carlton in the 2019 Telstra AFL Trade Period. None of the rookie selections or upgrades turned out, either.
What the club said: "We're rapt. I think every club's the same … everyone's really pleased with what they've got in and we're the same. We feel as though we've got a tall mid, a small forward or a small back and a tagging midfielder as well, and a ruck, which we were keen to get in. We thought we'd probably go to the rookie draft but when Marc was there, we thought he was a good enough player to come through and potentially push up in the next couple of years." – Graham Wright, Hawthorn's recruiting and list manager
Trade and draft period rating: 4/10
Rank: 14th
- Marc McGowan
ST KILDA 
2014 NAB AFL Draft: Paddy McCartin (pick No.1), Hugh Goddard (21), Daniel McKenzie (22), Jack Lonie (41)
2015 AFL Pre-Season and Rookie Drafts: Jack Sinclair (1), Ahmed Saad (19), Brenton Payne (37), Adam Schneider (54)
Rookie upgrades: Darren Minchington, Eli Templeton, Cameron Shenton, Mav Weller
Trade and free agency: Tim Membrey
New Saints (L-R): Daniel McKenzie, Tim Membrey, Hugh Goddard, Paddy McCartin, Brenton Payne, Jack Lonie and Jack Sinclair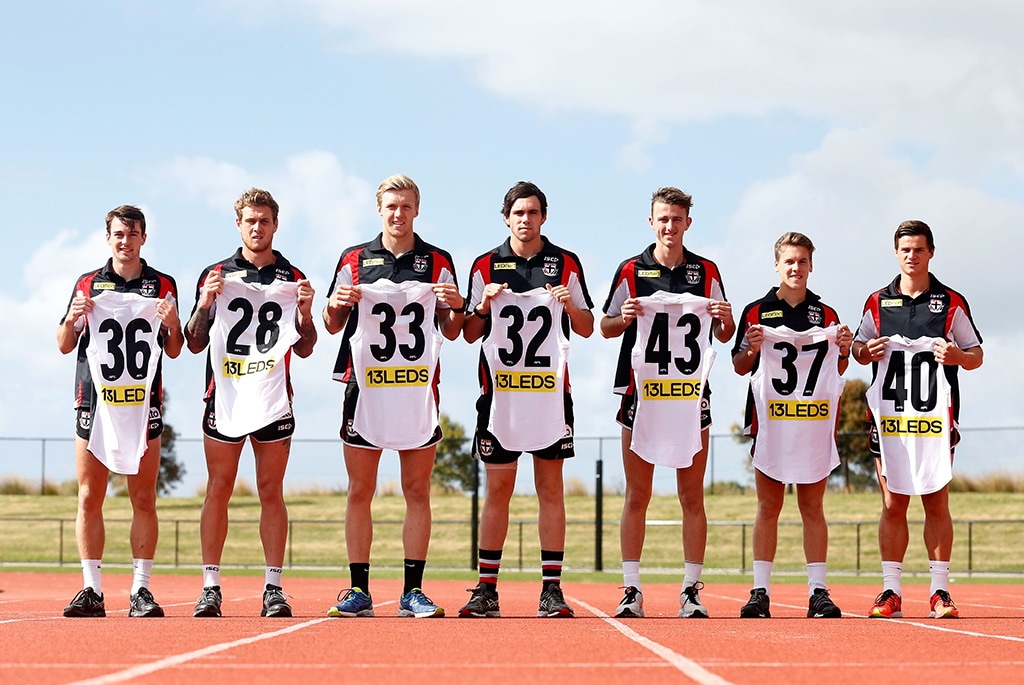 Biggest hit: Tim Membrey 
Verdict: The Saints had the prize No.1 selection after coming last in 2014. With a choice between Christian Petracca and McCartin, and an eye to the looming retirement of Nick Riewoldt, they opted for the bullocking key forward who had dominated defences at under-18 level. The string of concussions that have followed, limiting him to 35 games, were unforeseen. Goddard failed to fire (in part due to injuries), while McKenzie and Lonie have been serviceable. Sinclair was a strong pick out of the rookie draft, but Saad only played four games in his relisting after an ASADA suspension. Weller was a regular for four years before being delisted and former Swan Membrey is still a vital component of the forward line.  
What the club said: "While it is still very early in Tim's football journey, he has the potential to play a significant role in the forward line, developing into the midfield as he builds endurance. His kicking and marking, as well as his aggressive attack on the footy are real strengths." – Alan Richardson, St Kilda coach, on Tim Membrey
Trade and draft period rating: 4/10
Rank: 15th
- Sarah Black
GREATER WESTERN SYDNEY 
2014 NAB AFL Draft: Jarrod Pickett (pick No.4), Caleb Marchbank (6), Paul Ahern (7), Patrick McKenna (23), Jeremy Finlayson (NSW Zone Selection), Jack Steele (NSW Zone Selection)
2015 AFL Pre-Season and Rookie Drafts: Nil
Rookie upgrades: Nil
Beach boys: Draftees Paul Ahern, Caleb Marchbank and Jarrod Pickett in 2014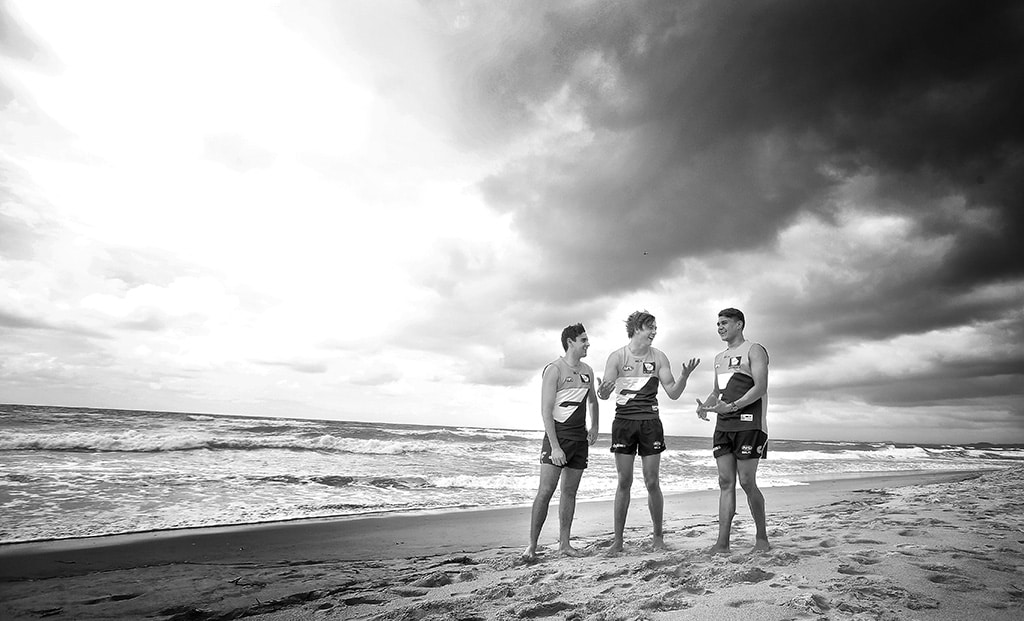 Trade and free agency: Ryan Griffen, Joel Patfull
Biggest hit: Jeremy Finlayson
Verdict: Every club dreams of having three picks inside the top seven, and four selections inside the top 23 of the draft. However, five years on and the Giants have dealt all four players to other clubs – squeezing just seven games from them collectively in their own colours. Pickett and Ahern were recruited with the idea of bringing outside class, while Marchbank and McKenna were supposed to add key-position depth. Three of them never made their Giants debuts. Finlayson and Steele – both NSW zone selections – have turned into serviceable footballers, but the latter is also playing at another club. The Giants paid a heavy price for experienced duo Griffen and Patfull during the trade period, not receiving the return they had hoped for with either as they each dealt with a series of injury issues.
What the club said: "Tonight caps off a very productive off-season for the Giants. We secured experienced players during the trade period and now we have complemented that with an exciting mix of young players in this draft." – Graeme Allen, Greater Western Sydney's general manager of football
Trade and draft period rating: 2.5/10
Rank: 16th
- Riley Beveridge
GEELONG
2014 NAB AFL Draft: Nakia Cockatoo (pick No.10), Cory Gregson (47), Dean Gore (55), Jordan Cunico (59)
2015 AFL Pre-Season and Rookie Drafts: Tom Read, Cameron Delaney, Padraig Lucey
Rookie upgrades: Mark Blicavs
Trade and free agency: Sam Blease, Mitch Clark, Rhys Stanley
Biggest hit: Rhys Stanley 
Verdict: One of Stephen Wells' rare misses. Only Cockatoo and Stanley remain on the Cats' list, but Cockatoo played just 40 minutes of VFL in 2019 and Stanley was dropped for the qualifying final against Collingwood. The ongoing search for a ruckman had the Cats select project pair Read and Lucey, while defender Delaney and speedy midfielder Blease were seen as rolls of the dice for a club in the flag window. Gregson and Cunico were delisted after injury runs and Gore was used as steak knives in a deal for Patrick Dangerfield 12 months later. Clark retired at the end of 2016 battling mental health.
What the club said: "We've seen plenty of Nakia (Cockatoo) with his years in the under-16 championships, with the AFL Academy last year and also under-18 championships last year. We saw enough of him to use our top-10 pick." – Stephen Wells, Geelong recruiting manager  
Trade and draft period rating: 1.5/10
Rank: 17th
- Mitch Cleary
CARLTON
2014 NAB AFL Draft: Blaine Boekhorst (pick No.19), Dillon Viojo-Rainbow (28), Clem Smith (60), Jayden Foster (63)
2015 AFL Pre-Season and Rookie Drafts: Jason Tutt, Billy Gowers, Brad Walsh, Tom Fields, Fraser Russell
Rookie upgrades: Nil
Trade and free agency: Kristian Jaksch, Liam Jones, Mark Whiley
Biggest hit: Liam Jones
Verdict: What a disaster. The catastrophic series of events started at the Trade Period when Carlton offloaded pick No.7 in a deal for Jaksch, Whiley and pick No.19 from the Giants. Together, the two highly rated recruits managed just 16 games for the club. The Blues then stunned many punters by picking 21-year-old Boekhorst with their first selection at the draft, before continuing their search for outside run with the recruitment of Viojo-Rainbow in the second round. Both were never able to fulfil their potential at Ikon Park. Carlton's four national draft picks played just 32 games collectively, with two unable to even win a senior debut. The off-season was saved, ever so slightly, by the acquisition of Jones from the Bulldogs. He's the only player – of the 12 recruited throughout this period – who is still on the list. Who'd have thought that would be the case five years ago? It was Shane Rogers' last draft at the helm.
Clem Smith, Jayden Foster, Dillon Viojo-Rainbow, and Blaine Boekhorst in December, 2014.

What the club said: "Blaine played senior footy for the Swan Districts, we've been watching him for three or four years. This year he's really come on in leaps and bounds. He played state footy and we think he's just about ready to go. We've said all along that we have wanted to address our outside speed, run and ball use – so that's three things that he brings to the table. So, we're looking forward to him starting." – Shane Rogers, Carlton's national recruiting manager
Trade and draft period rating: 0.5/10
Rank: 18th
- Riley Beveridge