THE MAN who will make the final call on Gold Coast's picks one and two at this month's NAB AFL Draft, recruiting manager Kall Burns, started at the Suns in their strength and conditioning department in a voluntary role.
Jason Taylor, who will follow the Suns at pick No.3 as Melbourne's chief recruiter, ran his own air-conditioning business, installing and fixing units before his scouting journey commenced.
Melbourne's recruiting manager Jason Taylor. Picture: AFL Photos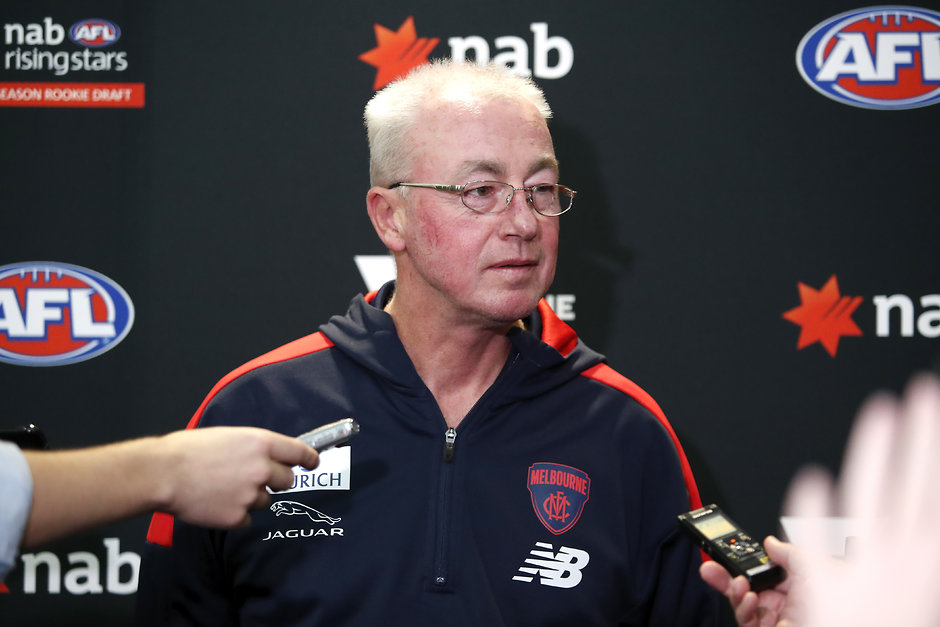 At pick four is Adelaide, whose head recruiter Hamish Ogilvie worked in professional development at Victoria Police before his time in football began, first as a coach in Tasmania. Sydney holds pick five - its recruiting manager is Simon Dalrymple who, well before his successful stint shaping the Western Bulldogs' list, came from a teaching background.
Greater Western Sydney awaits at pick six, jostling for a move up the order. The Giants' recruiting boss, Adrian Caruso, comes from a data background, having worked at Champion Data as a statistical analyst.
PHANTOM FORM GUIDE Cal Twomey's October update
Recruiters are perhaps the most important people at football clubs. They make decisions that shape a list. Far more players are drafted into a club every year, on average, than are added as trades or free agents. It is a recruiters' job to pick for the future and when the draft is staged at Marvel Stadium on November 27-28, they'll have their (rare) moment in the spotlight.
The top 10 players selected at the 2018 NAB AFL Draft: (back row) Bailey Smith, Tarryn Thomas, Ben King, Max King, Nick Blakey; (front row) Connor Rozee, Izak Rankine, Sam Walsh, Jack Lukosius and Chayce Jones.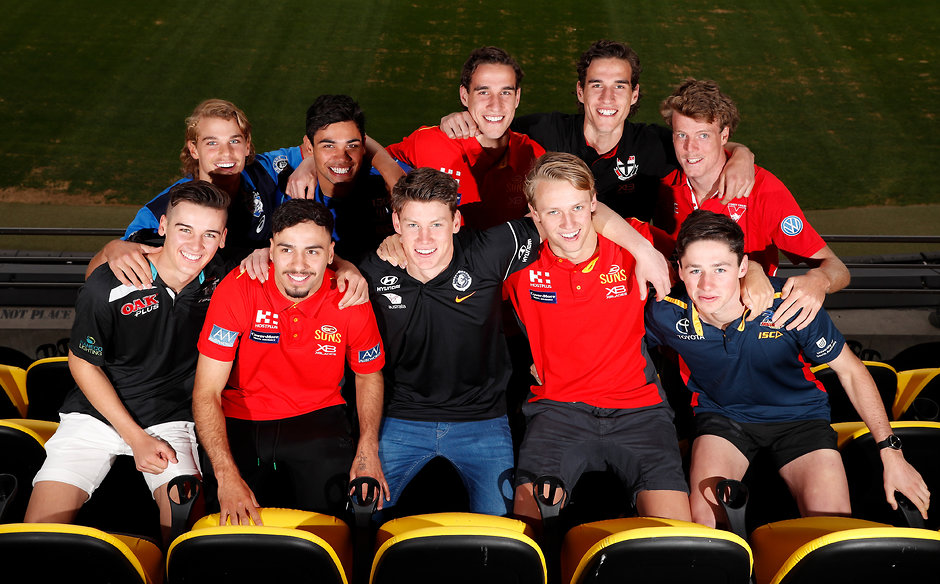 Recruiters steer the long-term direction of a team, focusing on the big picture but keeping an eye on the present. They work insane hours, regularly travel all over the country (some have been on close to 100 flights this year) and watch hundreds of games every year. Good luck locking them in for a social activity on a weekend during the season.
They study coded vision, they do background checks and they interview prospect after prospect. Often, they are the first impression a player will have of a club, usually through home visits where the recruiter meets parents and family members.
They ask questions and are asked questions, they ring associates, friends and teachers, and they scroll through Instagram (so much so that players now often set up secondary profiles under pseudonyms where they post more freely). A week after one year's draft, they are already on training camps watching the following season's crop.
LISTEN The curveball question thrown at a likely Sun
But how do you become a recruiter? And what skills do you need? The answers are varied but it does come back to this: there is no university course in AFL recruiting.
There is a certificate run by AFL SportsReady and the AFL Coaches Association in list management, which former Dockers list manager and current Carlton football boss Brad Lloyd has driven, while Dalrymple has also started his own advanced course in identifying and developing young AFL talent.
Sydney's recruiting manager Simon Dalrymple. Picture: AFL Photos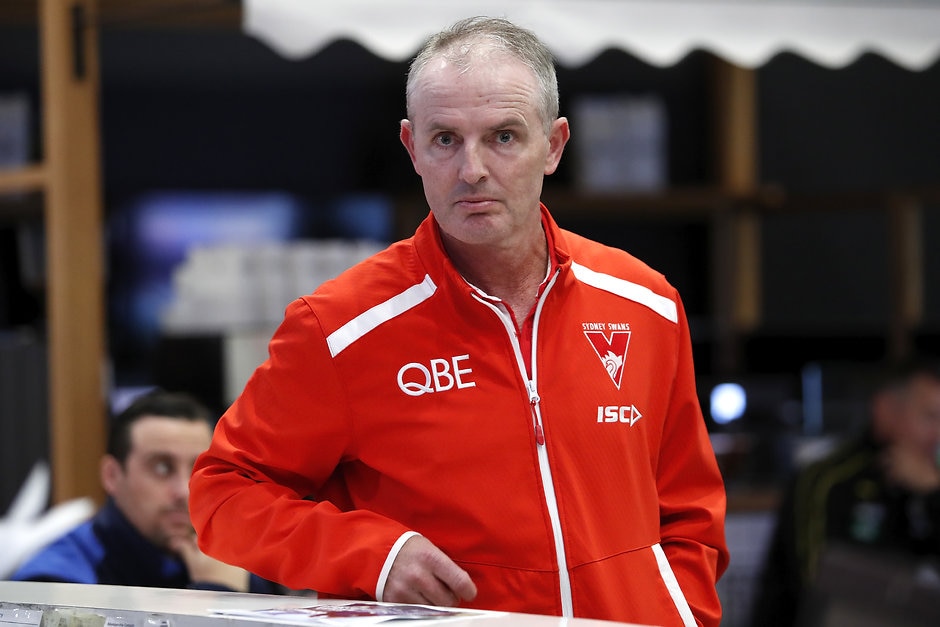 But they do not equate to automatic progression to a club.
"I think I took an unconventional path," said Burns, who is the youngest recruiting manager in the competition, having taken on the role at the start of last year.
"When the Suns were starting up I saw that as an opportunity to get involved. I relocated to the Gold Coast for a voluntary role from an exercise science background just to get my foot in the door.
"I started in exercise science with the club then moved into football analytics with the coaching group and then saw that analytics correlate into the recruiting department.
"That saw me move down to Melbourne with [former Suns list manager and recruiting manager] Scott Clayton and Dom Ambrogio."
Suns recruiting manager Kall Burns with football boss Jon Haines at the Mid-Season Rookie Draft. Picture: AFL Photos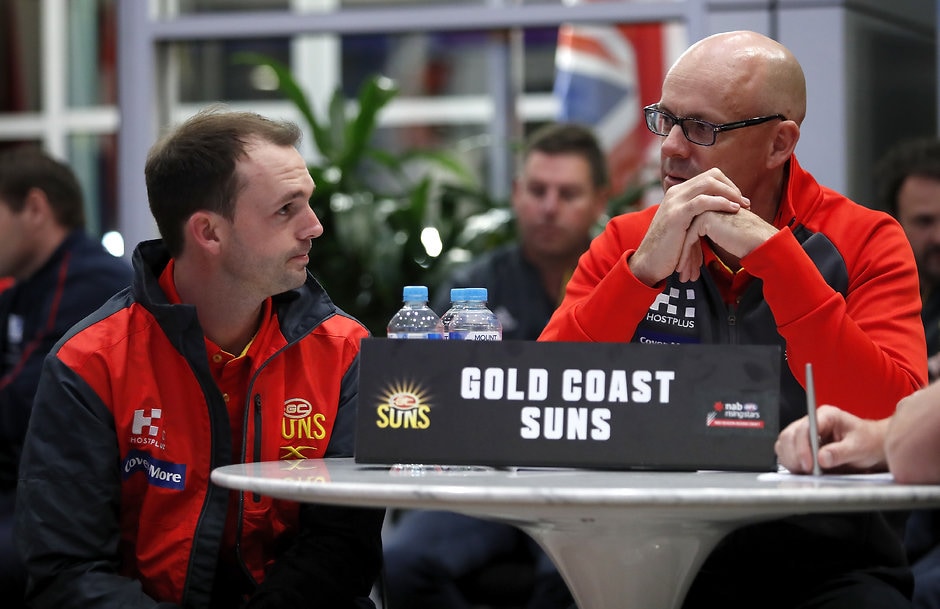 Volunteering to watch certain games and write reports for clubs has been the starting point for many recruiters, before finding part-time work and then progressing to full-time positions.
Full-time positions are hard to grasp: some clubs, like Essendon, have three full-time recruiting staff (plus Heath Hocking who runs their Academy). Sydney is low on numbers but high on experience, as is Collingwood, with most clubs having five or fewer full-time members of their recruiting department.
"We get lots of contact from people asking to be involved in recruiting," said long-time Geelong list manager Stephen Wells this week.
"Liam Woodland, who works for us here, sent us a letter about eight years ago saying he was happy to volunteer his services and see if he was any good at this.
"After a bit of time where he was giving up his weekends and putting in reports he ended up with a full-time job out of it. We get lots of people inquiring, but there's not many opportunities these days."
Geelong's long-time list manager Stephen Wells. Picture: AFL Photos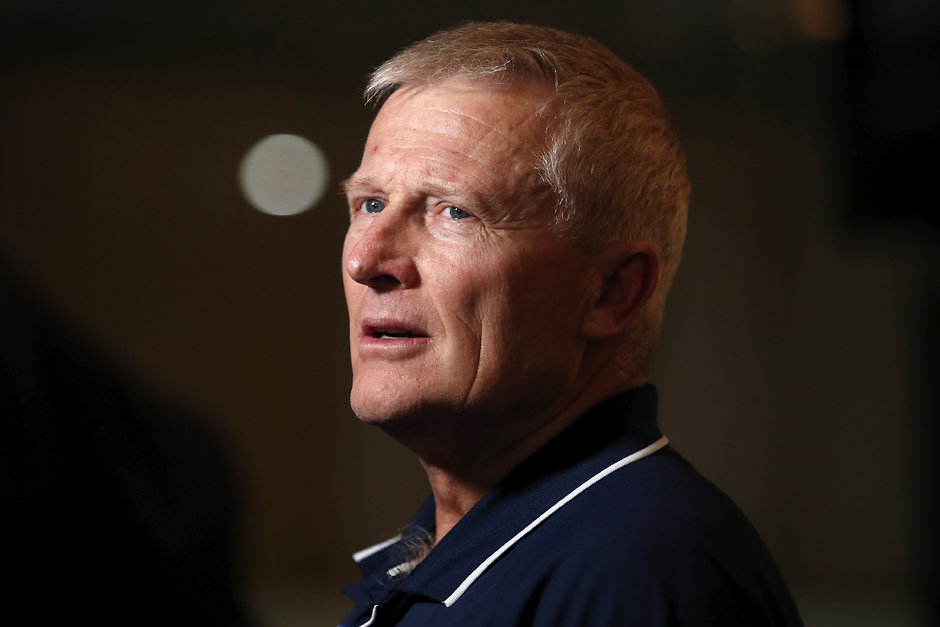 Caruso, who also worked at the Western Bulldogs as an analyst before taking on a role at Fox Footy prior to his beginning at the Giants, agrees.
"Try to get an 'in'. Once you're in, a club might say 'Go and watch this game for me' and then you've got a chance to impress. Do as much work as you can and try to upskill yourself, be strong in your opinions but be knowledgeable and know what you're talking about and that you're watching closely. You can work your way up from that," he said.
Giants recruiting manager Adrian Caruso consults the data during the 2018 NAB AFL Draft. Picture: AFL Photos

Recruiters have plenty to balance. They need to decide if the players dominating at their respective under-18 competitions or state leagues will be able to lift to the top level. They also have to see where the AFL is headed, and be across the trends of the competition and the players succeeding.
They need to have a feel for the game, for the moments that matter, and to be able to see beyond what's in front of them. How good can that 18-year-old player be after four summers in the gym, in a professional environment, with full-time coaching and development? They are football's future-tellers.
They need to judge character. Some scouts have backgrounds in philosophy and psychology, which gives them an insight into a player's thinking and adds valuable interviewing skills. They need to separate those with drive from those with good intentions, and need to assess how a player will settle into a new environment, among their already-listed players, and away from familiarity.
INDICATIVE DRAFT ORDER Your club's latest picks
Others have done courses and studies in human resources, so they're able to better take on the different dynamics and diversity within a recruiting team, plus managing the clash of opinions and views.
Organisational design, as well as the stripped-back concept of hiring the best candidates for jobs, are also among the information that recruiters gain from 'people'-based programs.
Recruiting teams offer a number of different skillsets. There are the decision-makers, and there are the information gatherers. There are the game watchers and there are the analytical types, who are often charged with challenging the 'eye' or 'gut feel' of others within the team. There are opposition scouts, and some clubs split up their departments to focus on certain areas of the country.
For many clubs, the talent identification process comes back to three questions: Who are the good players, the good athletes and the good people? Recruiters then have to find the players at their picks that fulfil the above categories. A crossover of all three qualities usually equals an early selection.
"It's about being able to get the footy and help your team win a game. They're the things that we look for most," Wells said.
Another pathway has emerged in recent years for scouts, with several region managers from NAB League clubs progressing to clubland. Steve Conole, the Lions' recruiting manager, was formerly at the Oakleigh Chargers, while Anthony Parkin (now at Port Adelaide) and Mark Smart (St Kilda) have done the same from other under-18 clubs.
Lions recruiting manager Steve Conole at the 2017 NAB AFL Draft. Picture: AFL Photos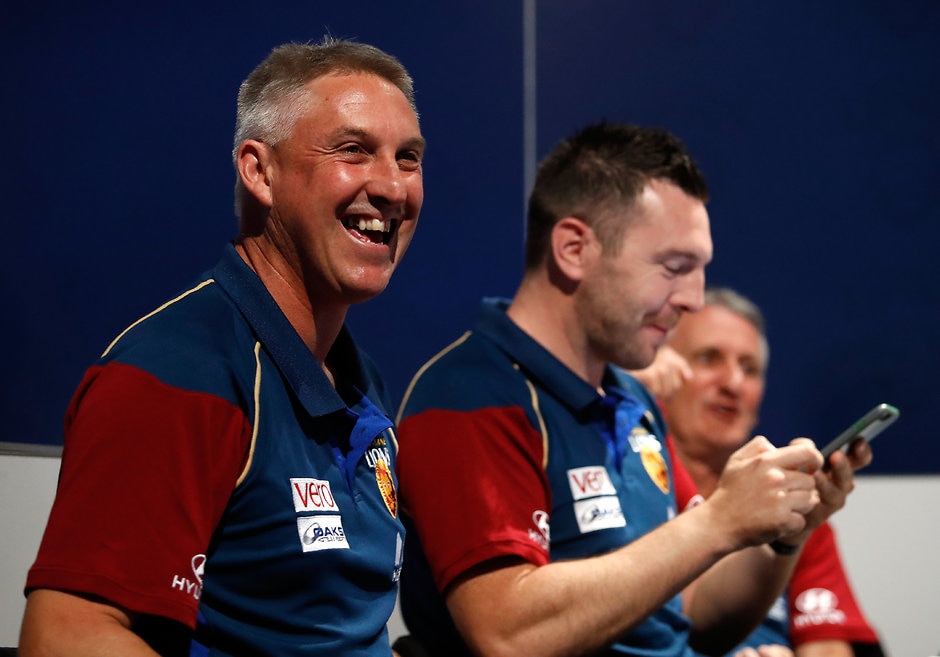 Already being part of the AFL system has seen some staffers progress to recruiting and list management.
List managers Stephen Silvagni (Carlton), Jason McCartney (GWS), Jason Cripps (Port Adelaide), Sam Power (Western Bulldogs), Darren Glass (West Coast), James Gallagher (St Kilda) and Graham Wright (who is Hawthorn's football boss but still heavily involved in this area) are former players, as is Port Adelaide recruiting manager Geoff Parker.
Player agents Ned Guy (Collingwood) and Justin Reid (Adelaide) have crossed over to the other side, while the economic elements of the role has played into the strengths of Gallagher, a former banker, while Power was also a lawyer prior to returning to the football fold post playing career.
Adelaide recruiter Hamish Ogilvie (centre) and list manager Justin Reid (right) with pro scout and analytics expert Binuk Kodituwakku (left). Picture: AFL Photos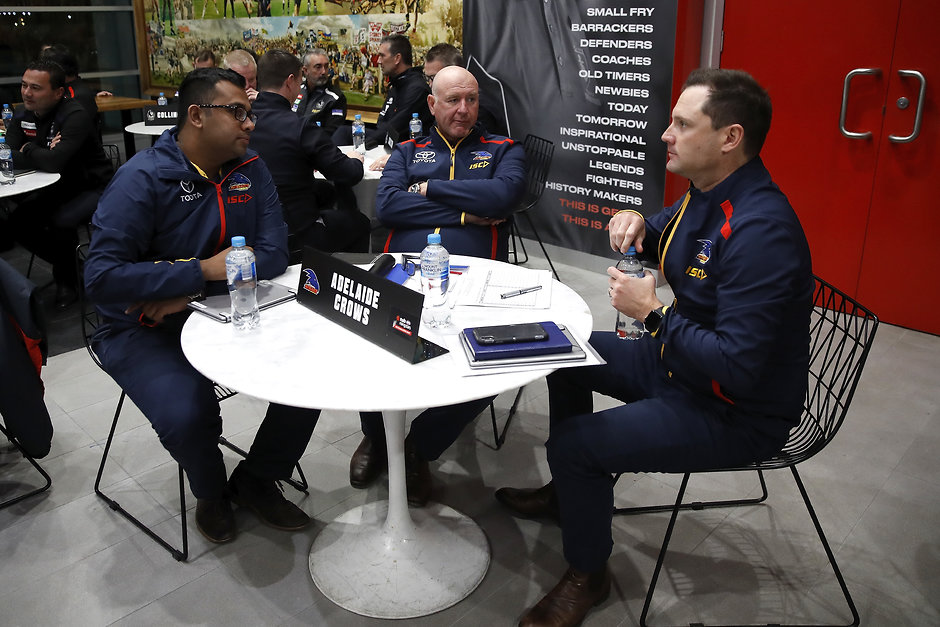 The list manager job description asks for different skills to recruiters. There is a marketing side, a need for negotiation skills and a sales perspective. The list manager has to sell his club to prospective players and agents more than recruiters, who are (usually) giving players their first chance.
Wells has been a mix of everything in his time at the helm of Geelong's recruiting since the end of 1994. He is widely considered one of the best spotters of talent in the competition and built the Cats' list that won three flags between 2007-11, but he too came from humble beginnings.
"I had tried out as a player and was too slow, small and not much good. I applied for a job [at Geelong] as the country zone coaching development officer, which was based up at Echuca. Back in those days it was the VFL and every club had a country zone," he said.
"I didn't get it the first year but after 12 months (in 1984) the club asked me if I was still interested in that. After doing that for a couple of years, (I spoke to) a fella by the name of Bill McMaster who was a terrific recruiter here at Geelong and also a premiership player and a coach.
"He showed a bit of interest in me and I started watching footy on the weekends and over time it's evolved into recruiting. I've been very, very lucky."
Find Road to the Draft on Apple Podcasts, Google Podcasts and Spotify.