Stop the clock!
When Essendon placed a bid on Brisbane Academy player Keidean Coleman at No.37, the Lions were caught on the hop and a 10-minute scramble ensued with calls to at least two other clubs to get their man. Brisbane had the next pick – 38 – but didn't want to use that on the over-aged utility, so got on the phone to West Coast and Sydney in a bid to trade picks. As the five-minute allotted time began to evaporate, the AFL had to stop the clock so it could rubber-stamp the pick swap, dragging out the selection and in turn heightening the nerves for Coleman. Brisbane got the NEAFL premiership player after a deal that involved turning their pick No.38 into the Swans' picks 47 and 59. But less than 30 minutes later, the Lions decided to pass on two other Academy players – Noah Cumberland and Will Martyn – who Richmond selected with picks 43 and 44.
DRAFT TRACKER Every pick, every player
Keidean Coleman in action for the Allies at last year's NAB AFL U18 Championships. Picture: AFL Photos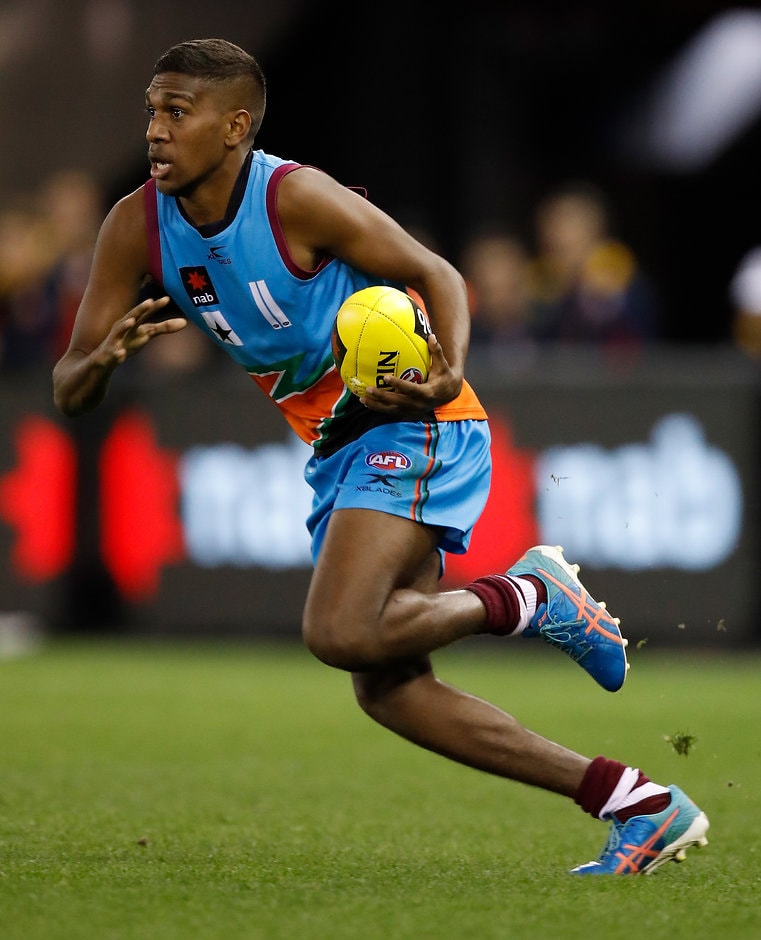 Being invited to the first night means nothing
Last year it was Bobby Hill and Curtis Taylor, and this year it was West Australian Deven Robertson. Invited by the AFL to the opening night under the expectation he would be drafted, Robertson was left high and dry without a team following the first 21 selections. While it was a surprise the Larke medallist from the NAB AFL U18 Championships slid to Brisbane at No.22, there are countless examples from previous years that it means little. Hill played eight games for GWS in his debut season, including a preliminary final, and who knows how far Taylor's career with North Melbourne will take him. It just makes for a lousy 24 hours to sit around and watch your mates get selected, have their photos taken while you have to wait until the next evening.
Gold Coast now has the talent to start the long climb up the ladder
With a bit of help – well, a lot of help - from the AFL's assistance package, Gold Coast cashed in big time. The top-end haul of Matt Rowell (pick No.1), Noah Anderson (No.2) and slider Sam Flanders (No.11) gives them genuine midfield class to add to the current workmanlike mix of David Swallow, Touk Miller and Brayden Fiorini. They also added WA midfielder Jeremy Sharp (No.27) after sending their 2020 mid-first-round pick to the Cats. Throw in top-10 picks from the past three years in Ben Ainsworth, Jack Bowes, Ben King, Izak Rankine and Jack Lukosius, and the Suns now have a core of young players they can build around. The next trick is development and retention, but with recent deals to keep King, Rankine and Lukosius, they've made a strong start.
BASH-AND-CRASH BUDDIES The story behind this year's No.1 and 2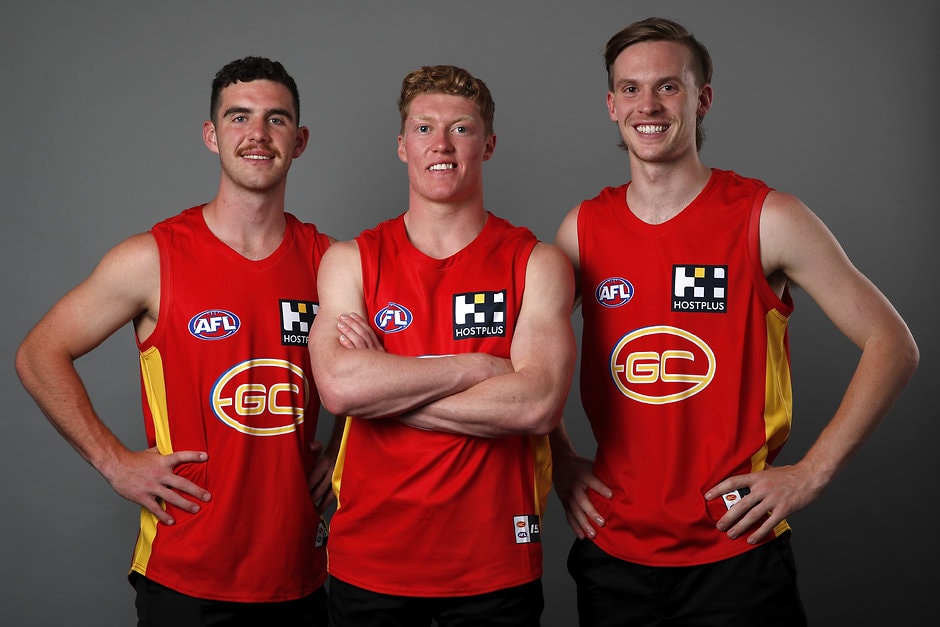 Blues again set the tone for live pick trading
Armed with pick No.9 entering the draft – acquired from Adelaide in last year's Liam Stocker trade – Carlton was always set to be a major player. But not only did the Blues set the course for their own club, but many others on an entertaining opening night. Stephen Silvagni and his team put in a bid earlier than expected for Fremantle Next Generation Academy player Liam Henry, and after it was matched, reloaded on GWS Academy midfielder Tom Green. All this seemed to be a ploy to buy time to trade its own pick, which Gold Coast bit on, swapping picks No.17 and 22 to move up and grab Sam Flanders. While it was a little disrupting to the Dockers and Giants, who had to sacrifice a pile of draft points, Carlton's manoeuvring completed last year's blockbuster trade with the Crows. The Blues ended up with Stocker, Brodie Kemp and Sam Philp, while Adelaide grabbed intercepting defender Fischer McAsey. While the Blues grabbed the headlines on Wednesday night with their trading, the Cats pulled off a coup on Thursday night by getting the Suns' 2020 assistance package pick (No.11). There were 17 live trades this year, up from 14 in 2018, in a sign clubs are more willing to jostle for position during the draft.
SURPRISE SCRAMBLE Bid on Academy jet forces Freo into live trade
Carlton co-captains Patrick Cripps (left) and Sam Docherty (right) with Brodie Kemp. Picture: AFL Photos

The first pick of night two is a serious prize
We now have two years of data and the evidence is compelling that owning the first pick of the second round means plenty. With 24 hours for recruiters and clubs to position themselves to pounce on the best player not yet selected, there was again plenty of action. Last year Gold Coast traded up to grab South Australian Jez McLennan and this year it was Brisbane paying a hefty price to get Deven Robertson. The pick was a hot potato, changing hands from Gold Coast to Carlton and then Port Adelaide, before the Lions swung lustily to acquire the selection ahead of night two. To move up one spot – 23 to 22 – they parted ways with a 2020 second round pick tied to Collingwood and received a future fourth-round pick in return.
Sandy's still the real 'footy factory'...
While others might lay claim to being a hotspot for talent around the country, Sandringham have again proved to be the most prolific under-age program by supplying eight players in the draft. Although being bundled out in the semi-finals of the NAB League, new Dragons will be dotted all around the competition, starting with new Crow Fischer McAsey, who was taken at No.6. Adelaide obviously liked the looks of what the Dragons did, taking defender Josh Worrell at No.28, while Hawthorn made sure Finn Maginness followed in the footsteps of his dual premiership winning father Scott by taking him at No.29. Miles Bergman (No.14), Jack Mahony (34), Hugo Ralphsmith (46), Ryan Byrnes (52) and Louis Butler (53) rounded out Sandy's crop. The huge result comes after the Dragons had three of the first seven picks in 2018 (Max King, Ben King and Bailey Smith) and five of the first 11 in 2016 (Andrew McGrath, Tim Taranto, Will Setterfield, Jack Scrimshaw and Oliver Florent).
Josh Worrell became an Adelaide player on Thursday night. Picture: AFL Photos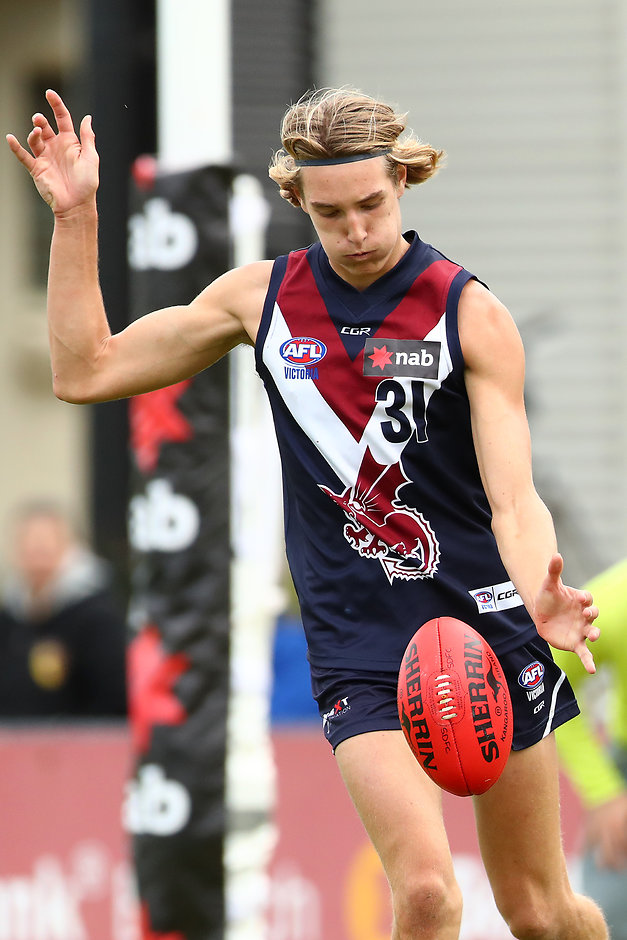 Winning form is good form. Just ask WA
It's amazing how quickly things can change, and after having just seven West Australians drafted in 2018, the Sandgropers bounced back with a bang this year. On the back of the state's under-18 national championship victory, the west provided a staggering 14 players to the AFL. If you wanted to be really fair, you could also add Halls Creek product Jy Farrar, who has ended up at Gold Coast via Adelaide.
WA defender Trent Rivers, now a Demon, was one of 14 Sandgropers drafted. Picture: AFL Photos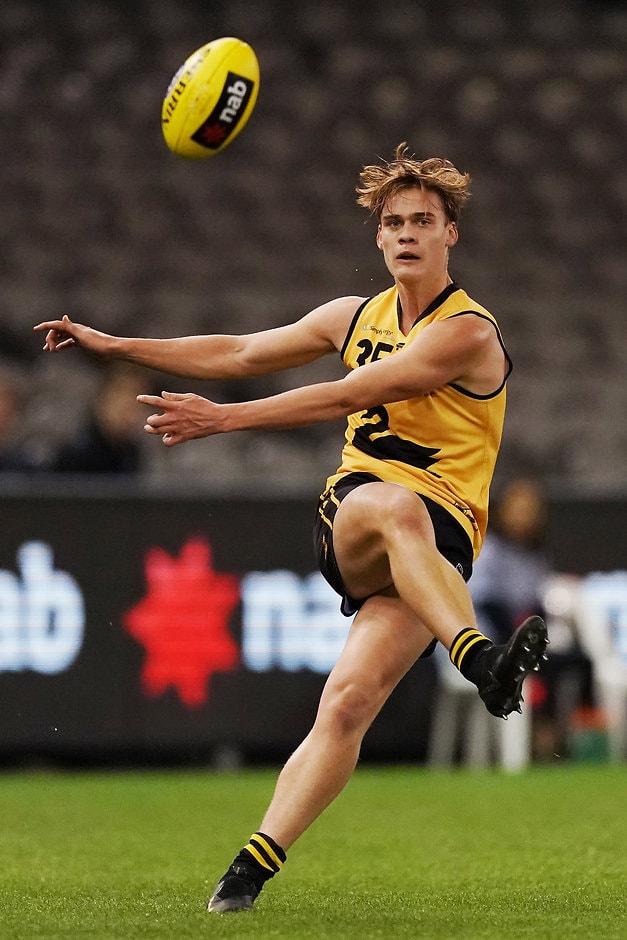 This remote WA town might be the best AFL nursery in Australia
If you guessed Halls Creek, you were correct. The tiny town in the east Kimberley region of WA continued its staggering strike-rate of AFL (and AFLW) players when Farrar was selected by the Suns, making it one AFL-listed player for every 400-odd residents. The cousin of Carlton's Sam Petrevski-Seton, Farrar joins Lion Cedric Cox, Bomber Irving Mosquito, Crow Shane McAdam, Eagle Francis Watson and Demon Toby Bedford in the AFL. Krstel Petrevski, also a cousin of Petrevski-Seton and Bedford, was selected by Melbourne's AFL Women's team in last month's draft. Not bad from a town with a population of 3269 (from the 2016 Census).
UP THE CREEK Talent flows from remote footy factory
Carlton's Sam Petrevski-Seton has another cousin on an AFL list after Jy Farrar joined the Suns. Picture: AFL Photos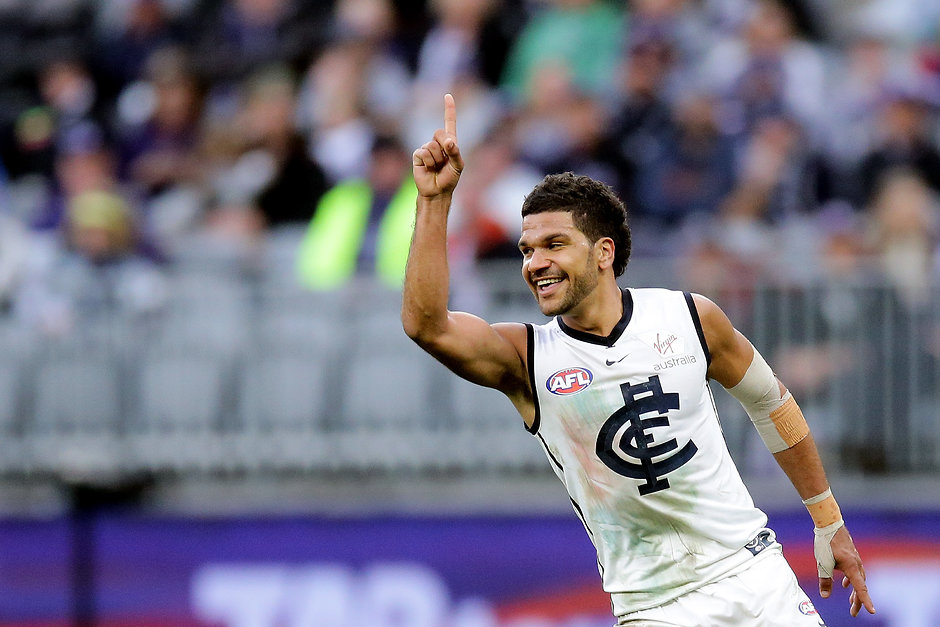 Draft night drama comes at a price
Was anyone else getting sleepy watching the second round and beyond? While there's no doubt live pick trading and bids on Academy and NGA players have added drama to the two-night draft, at what expense has it come? Night two particularly dragged on and on … and on. From the time Brisbane's pick 22 was read out at the start of the evening, another two-and-a-half hours followed before the 65th and final player was named. Five minutes for each selection gives the clubs plenty of time to decide on their picks, but it felt a bit long for the TV viewers and could perhaps be shortened.
Fewer new players got their chance in the national draft
With just 65 players being drafted, 2019 represented the lowest number in six years. Whether it was the mid-season draft taking away a few lists spots or clubs delisting less players, the number is significantly down. Last year 78 players were drafted, in 2017 it was also 78 and 77 got a chance in 2016. The last time the number dropped below 70 was in 2013, when 62 new players were drafted. Back then, rookie elevations were also announced on draft night, artificially boosting the numbers.
Western Jets tall Emerson Jeka was one of the talented prospects to miss out in the national draft. Picture: AFL Photos