CLUBS can't recall a NAB AFL Draft quite like this, with so much uncertainty around the top of the order so close to the event.
Essendon's choice with its No.1 pick will have a huge ripple effect on what follows, with so much to be determined by the Bombers' selection.
Here is AFL.com.au's Phantom Draft – a prediction of how the first 30 picks might unfold. It includes the impact of possible bids on academy prospects, meaning the order of draft picks will change.

We have also produced a club-by-club rundown of how the remainder of the draft could roll out on Friday night after pick 30.

• Callum Twomey's late mail: The draft bolter
• Final draft order: What picks will your club take to the draft?



ANDREW McGRATH DOB: 2/6/98; Height: 179cm; Weight: 75kg
Sandringham Dragons
McGrath presents as a player who will be able to go straight away. He's quick, powerful and competitive, and has the defensive mindset to step into an AFL side from the first moment. His leadership gives him an edge over some other contenders at the top of the draft, and he has shown great versatility across the season. McGrath can change the way a game is played with his rapid rebounding out of defence plus his tough, physical approach through the midfield. The Bombers can bring him in and expect him to immediately have an impact at AFL level. They lack his sort of verve from defence and in time he would bring another element to their midfield.  
Tomorrow's heroes: Andrew McGrath
If not him? Hugh McCluggage met with the Bombers (including CEO Xavier Campbell) earlier this week and remains a big chance, while they could also bid on GWS academy player Will Setterfield. It's an extremely tight call for the Dons – if they go McCluggage everything changes thereafter.
Andrew McGrath's impressive game against Vic Country saw the football world sit up and take notice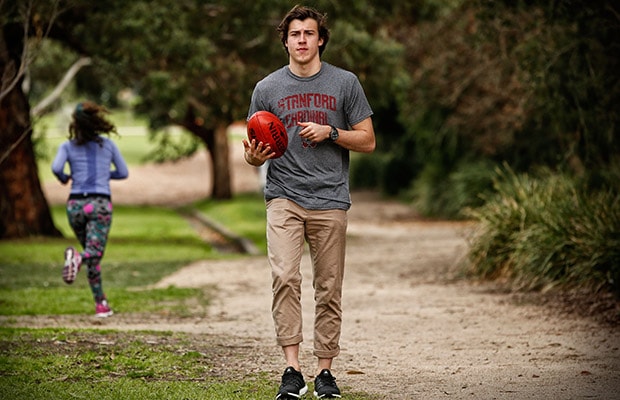 TIM TARANTO
28/1/98, 187cm, 82kg
Sandringham Dragons

If Taranto wasn't already considered an early pick then his finals series confirmed it. The dominant Sandringham Dragons midfielder starred in September, kicking four goals in the preliminary final and then backing it up with 30 touches in his side's Grand Final win. At 187cm he has the height and size to have a presence at the stoppages, and his overhead marking gives him a point of difference to others around him. That difference may place him in the picture for the Giants, who can afford to go for a specific type of player at the start of the draft given their surplus of young talent.
Tomorrow's heroes: Tim Taranto
If not him? Ben Ainsworth has been long linked to the Giants' No.2 choice and they have identified the need for a small forward. If McGrath gets past the Bombers the Giants will take him, while they also recently interviewed McCluggage again. 
Tim Taranto has shot into top-10 calculations. Picture: AFL Photos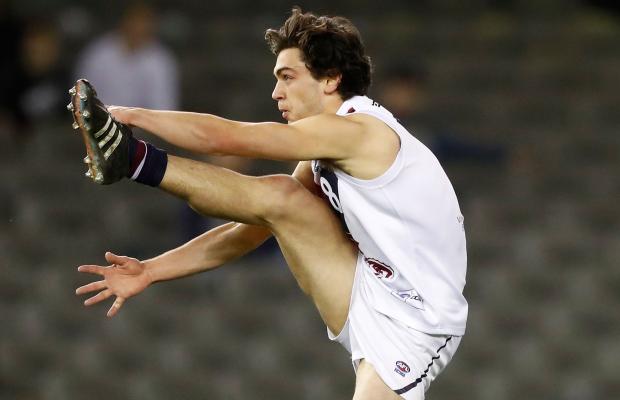 HUGH McCLUGGAGE 
3/3/98, 185cm, 75kg
North Ballarat Rebels
The Morrish medallist couldn't have had a more impressive season. McCluggage played well nearly every time he took the field in 2016, and he averaged 28 disposals, six clearances and two goals in 12 games for the Rebels this season. He's clean, composed and has so much time with the ball that helps him evade trouble and set things up. McCluggage has plenty of growth and development left in his game, which makes him one of the most appealing players in the land. The Lions don't have any young midfielders like McCluggage so he would be a fine choice at this selection should he get through. He's happy to move anywhere to follow his footy.
Tomorrow's heroes: Hugh McCluggage

If not him? The Lions may face the call between McCluggage and small forward Ben Ainsworth. Ainsworth has told the Lions he wants to be drafted to the club, making retention a non-issue for him. 
Hugh McCluggage is a No.1 pick contender following a brilliant year. Picture: AFL Photos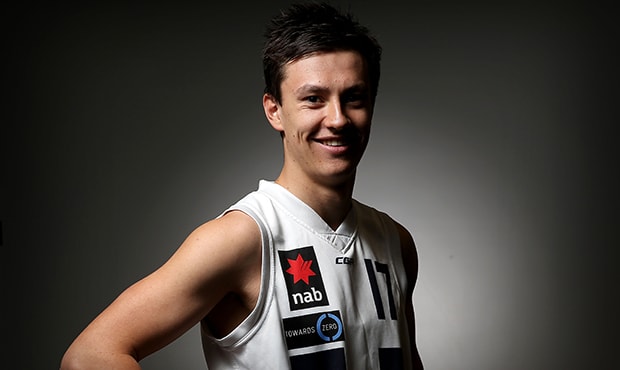 BEN AINSWORTH 
10/2/98, 179cm, 75kg
Gippsland Power

Ainsworth put aside some interruptions in the first half of the year to confirm himself as a likely early choice with his end to the season. The bouncy, energetic and aggressive small forward moved into the midfield and excelled there using his smarts, creativity and clean hands. When stationed close to goal, where he'll start his AFL career, his overhead marking and leap makes him constantly dangerous in the air and when the ball hits the ground. Ainsworth established himself as one of the best players in this year's draft class as a bottom-ager in 2015 and is ready for his chance. He carries genuine excitement and energy and would step into the Suns' forward line.
Tomorrow's heroes: Ben Ainsworth
If not him? They'll wait and see what happens at the top and hope Hugh McCluggage gets through, which is a very slim chance. Tim Taranto could be available, while Sam Petrevski-Seton and Jack Scrimshaw may also be in the Suns' mix here.
Going places: A split-second call goes wrong for Ben Ainsworth
Ben Ainsworth has genuine star factor. Picture: AFL Photos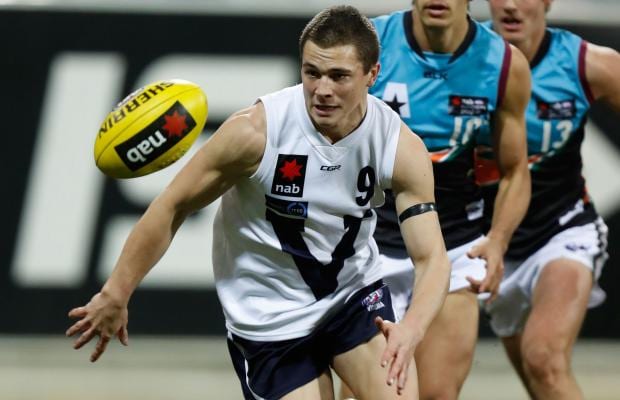 WILL SETTERFIELD (matching Carlton's bid)
5/2/98, 190cm, 80kg
Sandringham Dragons
Injuries at different stages over the past couple of years have limited Setterfield's output, but when firing he has shown his best might be as good as anyone in the draft. Tall, mobile, tough and skillful, Setterfield ticks most of the key boxes as a modern midfielder who can impact a game. He was hitting his straps in the TAC Cup finals – including a game where he had 10 clearances and 16 tackles – before a shoulder injury ruled him out of the Grand Final. Setterfield, who is originally from Albury before shifting to Melbourne to board at Caulfield Grammar, has spent time with the Giants as a member of their academy.
Tomorrow's heroes: Will Setterfield
If not him? As long as Essendon doesn't bid on Setterfield at pick No.1, then the Giants' second pick (No.15) will be used to slide up the order and match a bid for the tall midfielder. The Giants would prefer it came later than Carlton's pick, but would still match here.  
Will Setterfield has rocketed into top-three contention. Picture: AFL Photos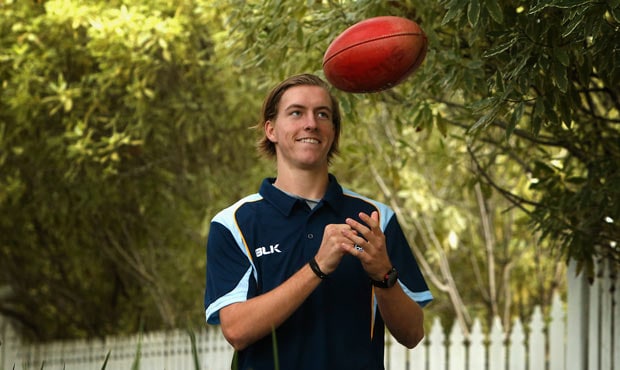 SAM PETREVSKI-SETON
19/2/98, 181cm, 76kg
Claremont
It was an injury-interrupted season for Petrevski-Seton but the West Australian midfielder remains one of the classiest, smoothest players in the pool. He can kick on both feet, make things happen, and see things unfolding that few others can. He can produce the unexpected moments on a regular basis. Petrevski-Seton played for Claremont's senior WAFL side as a 16-year-old and has matched it with senior players, and his tenacious tackling and defensive pressure is a hallmark of his game. Carlton is looking for a midfielder and the West Australian complements the youngsters already at the club.
Tomorrow's heroes: Sam Petrevski-Seton
If not him? Tim Taranto, if still on the board, will take a fair bit of consideration. They could also look at picking Will Brodie here as another midfielder, while there's a chance Ben Ainsworth gets through. The Blues were linked to Will Hayward too, but that seems a touch early.
Going places: The making of a Halls Creek cowboy
Sam Petrevski-Seton is tipped to be one of the top picks. Picture: AFL Photos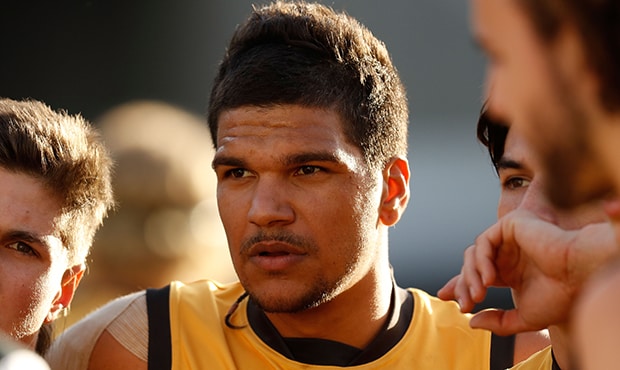 JACK SCRIMSHAW
4/9/98, 194cm, 80kg
Sandringham Dragons
The smooth-moving left-footer showed his quality late in the year as a key member of the Dragons' TAC Cup premiership side. He was stationed mostly across half-back where he used his kicking to spot up targets and control the play. At 194cm, Scrimshaw presents as a really modern player and prototype who can be used across the field. In time he sees himself playing in the midfield and using his quick sidestep and clever evasiveness through traffic. Gold Coast has done plenty of work on the Victorian prospect and he is in the group of prospects they're considering for this prized choice. His class out of half-back is probably something they could add to their list. 
Tomorrow's heroes: Jack Scrimshaw
If not him? They could grab Will Brodie here, who they have been considering, or maybe Griffin Logue or Sam Petrevski-Seton.
Jack Scrimshaw is a composed half-back with a strong left foot. Picture: AFL Photos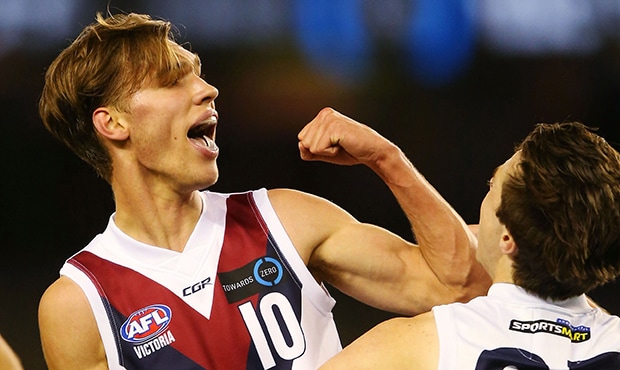 WILL BRODIE
23/8/98, 189cm, 82kg
Murray Bushrangers
Brodie did his best work for the season in the first half of the year. That shouldn't be forgotten, particularly his back-to-back best afield games against VFL teams in April and then his form at the under-18 championships. The tall midfielder is a clearance winner but he does have a burst of pace to get out of a stoppage and into space. He backs up his effort and is a determined, hard-edged prospect. Brodie has been seen as a possible 'slider' but the Dockers could add him to their midfield knowing he can play almost right away.
Tomorrow's heroes: Will Brodie

If not him? They've done plenty of homework on Jack Scrimshaw, but are also big fans of Jy Simpkin. The exciting small forward could be in the mix. WA trio Sam Petrevski-Seton, Griffin Logue and Tim English are also all in the mix, or could they bid on Jack Bowes? Clubs think there are plenty of games being played around this spot. 
Brodie's mid-year vow: I want to be the draft's best
Will Brodie is a confident tough nut with plenty to offer. Picture: AFL Photos
GRIFFIN LOGUE
13/4/98, 194cm, 92kg
Swan Districts
Logue's end to the season shot him into top-10 calculations and he has several suitors with early picks. The Suns are one of those. Logue is a key defender with great athleticism (he broke 10 minutes for the 3km time trial and was a joint winner of the beep test at last month's NAB AFL Draft Combine), but it is his intercept play that makes him an appealing pick. Logue can cut off forward forays with his marking and then send the ball out of his defensive half with ease. He is ready to play and will feature at senior level next year.
Tomorrow's heroes: Griffin Logue

If not him? Tim English is a red-hot chance to give the Suns a long-term ruckman, while Jy Simpkin will also come into contention if Gold Coast looks at adding some more pace to its list. Will Brodie may also get through.
Griffin Logue ran himself into the ground at the combine. Picture: AFL Photos

JACK BOWES (matching Sydney's bid)
26/1/98, 187cm, 78kg
Gold Coast academy
The Suns will secure the first high-end talent from their academy in Bowes, a smart, polished and popular midfielder. Bowes captained Queensland at the division two under-18 championships and was named the carnival's best player, and he makes things look easy on a regular basis. He will need to add some weight to his frame but he is a nice and neat kick, good overhead, and can also push forward to kick a goal. Fremantle and the Swans are the most likely to bid on him.
If not him? The Suns will grab Bowes with one of their picks, but if they have to use pick No.8 on him, that will leave 10 open. Tim English, Jy Simpkin, and Griffin Logue could be in here in that case. Or they could pull a surprise and take Will Hayward. 
Midfielder Jack Bowes is a Gold Coast academy player. Picture: AFL Photos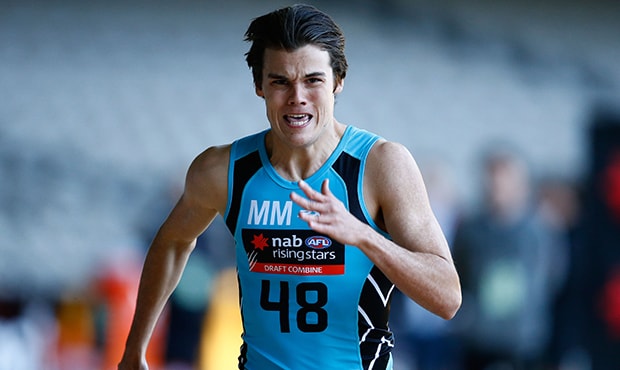 JY SIMPKIN
5/3/98, 181cm, 71kg
Murray Bushrangers
A broken leg earlier this year stopped Simpkin from showing the recruiting world the player he can be, but it hasn't really dented his draft stocks too much. The creative and speedy half-forward makes a difference with the ball in his hand: he can set things up, shimmy around an opponent or two, and get play going. After some complications with his injury recovery mid-year, he is back running and is continuing to build his training program. He would add some spark to whichever club he joins, with the Swans long linked as a possible home.
If not him? Swans coach John Longmire met with Oliver Florent this week and he's in the mix. They'd likely snap up Will Brodie if he got through, while defender Griffin Logue has also been regularly raised a possible recruit since they pushed up the order.
A broken leg cut short Jy Simpkin's season. Picture: AFL Photos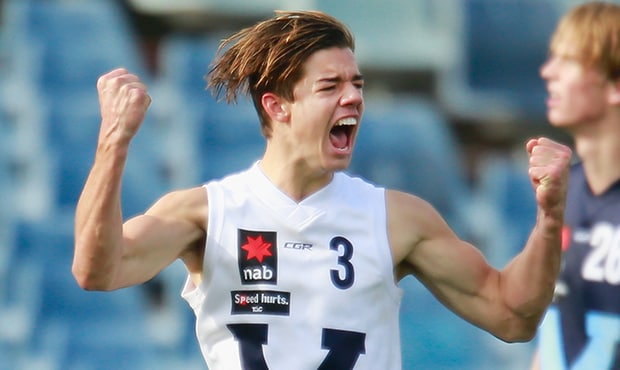 HARRY PERRYMAN (matching North Melbourne's bid)
19/12/98, 184cm, 75kg
Collingullie-GP
There weren't too many roles Perryman didn't play at some stage this year, with the versatile GWS academy prospect lining up all over the ground. That included in the midfield and at half-forward, but he seems best placed as an attacking half-back who can set up the play with his quality kicking skills. Perryman is tough and courageous, and does things pretty coolly under pressure. As a member of the Giants' academy zone they have first rights on matching a bid for him on Friday night.
Tomorrow's heroes: Harry Perryman
If not him? It should be relatively straightforward for the Giants to match a bid at this point of the draft for Perryman if it comes from North. GWS made sure to trade for extra picks (and therefore draft points) during the exchange period so they could pay for him and Will Setterfield. 

Harry Perryman is a quality player who just moves like a natural footballer. Picture: AFL Photos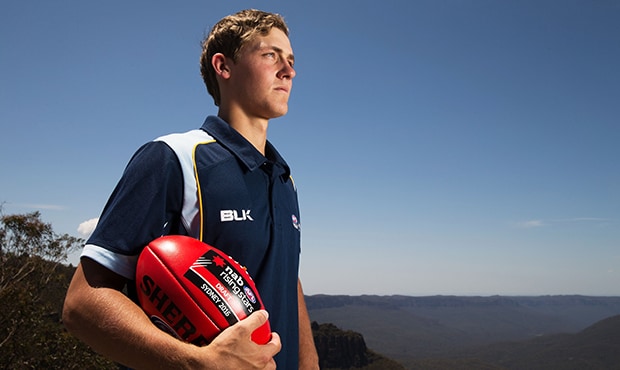 OLIVER FLORENT
22/7/98, 183cm, 75kg
Sandringham Dragons
It was Florent's finish to the season that thrust him a little higher up the draft order. The skilful and quick midfielder was excellent in the Dragons' finals series, and then was best afield in the NAB All Stars game on Grand Final eve. His ability to weave in and out of congestion, link up the play with handballs, and then finish efficiently by foot sets him apart from other midfielders in the first-round group. North need more of his type of player, and Florent is keen to stay in Victoria with his family after the passing of his father this year. The Roos chatted to him again in recent days and he would seem a good fit.
Draft prospect Florent stars in All Stars clash

If not him? Will Brodie is a slight chance to still be on the board and he'd have to be favourite to join them if so. Jarrod Berry might be considered here for the Roos, as could Jy Simpkin.  
Oliver Florent breaks free of a Shai Bolton tackle. Picture: AFL Photos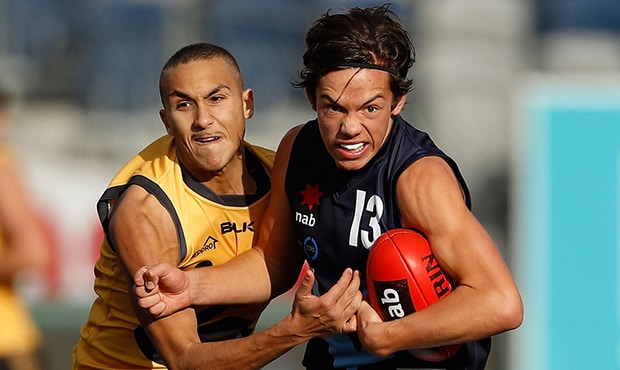 JARROD BERRY
5/2/98, 191cm, 80kg
North Ballarat Rebels

Berry's season had its complications – a few niggling injuries that came at different stages of the year – but his testing at the Combine reminded everyone of his great athleticism and competitiveness. Berry first staked his claim as a possible early pick last year as a bottom-ager when he was named an All Australian. This year he played across there, in the midfield and even had some time in attack, and he hits every contest with ferocity and aggression. The Eagles have shown interest in Berry across the season and he would fit in as a really strong character driven to get the most out of himself.
Tomorrow's heroes: Jarrod Berry
If not him? Do they go for local tall Tim English and shore up their ruck stocks for the next long while? They'll think very hard about that. Will Hayward, Jordan Gallucci are others linked to this spot. 
Going places: The grief driving Jarrod Berry's crack at the big time
Berry averaged 12 disposals in three matches for Vic Country. Picture: AFL Photos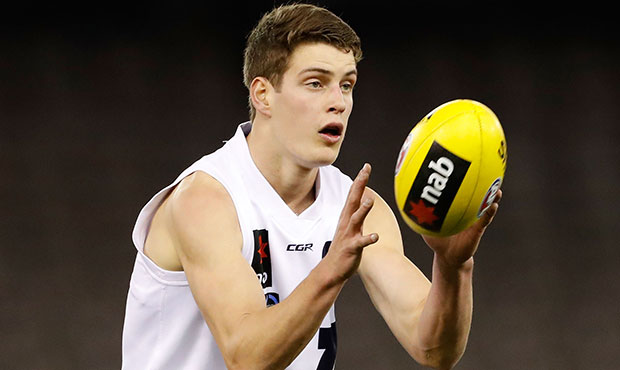 JORDAN GALLUCCI
3/5/98, 183cm, 75kg
Eastern Ranges

Gallucci's special athletic traits were on show at the Combine, when he broke the all-time standing vertical jump record and blitzed the field in the repeat sprints test. His ability to break out of a stoppage and zip away is rare, and he can kick long goals on the run. Gallucci may start across half-forward but he can also be placed as an attacking half-back with his run and drive. The former volleyballer is a professional and determined teenager who has been preparing for his shot for a while.
Tomorrow's heroes: Jordan Gallucci
If not him? The Crows would look very closely at Jarrod Berry if he got through, as well as Will Hayward. Speedy half-back Cedric Cox has been linked with them while Oli Florent, should he still be available, could be considered. They have been linked to placing a bid on GWS academy player Isaac Cumming at this spot. 
Jordan Gallucci brings some zip to the draft class. Picture: AFL Photos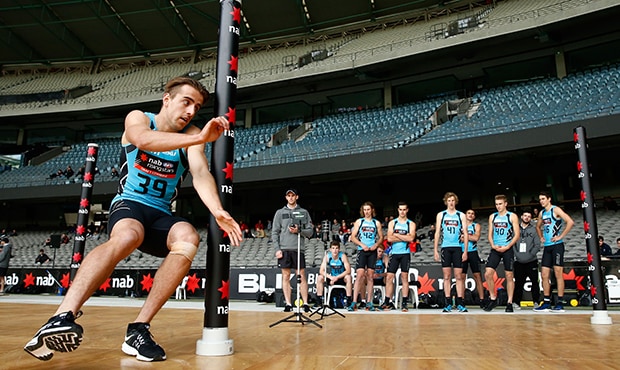 WILL HAYWARD
26/10/98, 186cm, 76kg
North Adelaide

A nine-goal haul in the SANFL under-18 finals series boosted Hayward's draft stocks in a big way. He backed it up with four goals in his side's Grand Final loss the following week, but had shown his power, athleticism and bounce in a half-forward role. He can slot goals from long distance, take big marks and has plenty of upside left in him too. The Power will wait at their selection to see what gets through, and Hayward, who is attending the draft in Sydney, might be the one.
Hot form sees SA forward firm for top 15
If not him? They really like Alex Witherden and it would be a tough and tight call to overlook him here and hope he got through to their next pick. Jordan Gallucci is another in that mix.
Will Hayward had a brilliant end to the season to boost his draft chances. Picture: AFL Photos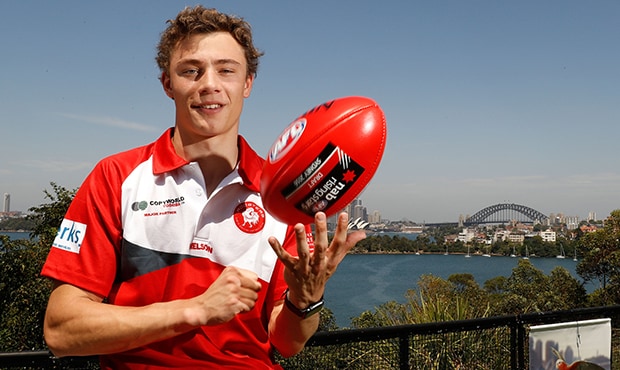 ALEX WITHERDEN
10/9/98, 188cm, 79kg
Geelong Falcons

Witherden is one of the best kicks in the draft – a player who can draw his teammates to a place on the ground by kicking to space. He was due to move from half-back into the midfield this year before breaking his leg in May, which halted those plans. But he's recovered well and is almost ready to get back into full training now. Witherden's poise is his standout quality and is something that may appeal to the Lions to bring into their club and let set up the play from the back half.
Tomorrow's heroes: Alex Witherden
If not him? The Brisbane Lions are wedged in between the Power's picks, so it might depend who Port grabs and in what order. But Jarrod Berry is a chance here, as is Jordan Gallucci.
Alex Witherden is a composed half-back draft prospect. Picture: AFL Photos

TODD MARSHALL
8/10/98, 198cm, 87kg
Murray Bushrangers

It was an inconsistent season for Marshall but he remains probably the best key forward available in the draft. The 198cm prospect is agile at ground level and an excellent kick for goal and around the ground, but he will need a little bit of time to build up his body before being ready for senior level. Marshall started the season in Greater Western Sydney's zone but was ruled ineligible and is now on the open market – something that could entertain Port if they're keen to build their tall forward stocks.
Tomorrow's heroes: Todd Marshall
If not him? Would Port think Tim English is too good to pass up if he gets through to this stage? Jordan Gallucci may also slip past the Lions and be a shot, as may Jarrod Berry and Alex Witherden. Josh Battle may be another key forward worth some thought.

Todd Marshall shapes as one of the best key forwards in the draft. Picture: AFL Photos


TIM ENGLISH
10/8/97, 204cm, 86kg
South Fremantle
The ruckman came onto the scene late last year but was ruled unable to be drafted because of some paperwork problems. Now he's the best big man in the 2016 draft pool and one of the most talented players in the crop. He is a genuine ruckman's size but he is a skilful ball user and someone who can pick up disposals around the ground and hit targets. Gold Coast, Fremantle, West Coast and Port will consider with earlier choices than this but there is also a chance English lands later in the first round – we know clubs are generally reluctant to take rucks with first-round choices.
Tomorrow's heroes: Tim English
If not him? The Bulldogs will be hoping they can pick off a player who slips through. Could it be Todd Marshall or Alex Witherden? The premiers have also shown strong interest in the classy Cedric Cox. 
WA ruckman Tim English is one of the most promising talls available. Picture: AFL Photos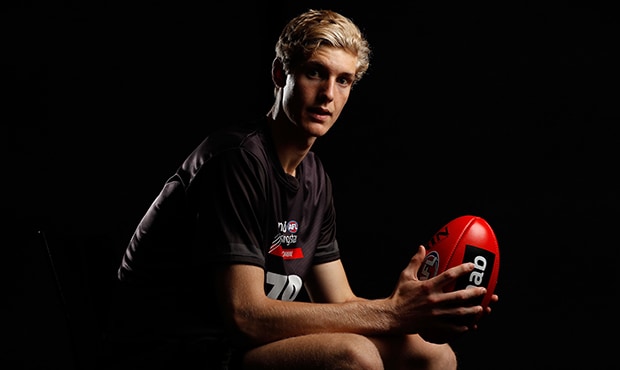 BRENNAN COX
13/8/98, 194cm, 90kg
Woodville-West Torrens
The South Australian defender was named an All Australian after the mid-year championships and he's a player with plenty of promise. He is a good grab overhead and competes well against forwards of different sizes. He's also trusty enough with the ball in hand and has shown an ability to be consistent across the year at club and national level. The Swans have an interest in him, but would be doubtful to take him if they grab WA backman Griffin Logue with their first pick.
If not him? Oliver Florent's draft range is tough to read but he could be in the mix at this stage still. The Swans have also been linked as possible suitors for VFL players Luke Ryan and Tom Stewart.
South Australia's Brennan Cox is tackled by Vic Country's Josh Battle. Picture: AFL Photos

DANIEL VENABLES
19/11/98, 186cm, 81kg
Western Jets
Venables has been a tough player to place because of his injuries in the back half of the year and his intermittent form before that. When up and going, though, he can be devastating with his power, aggression, speed and strength. He's a good size for a midfielder, he takes the game on, and his best patch of form came at the under-18 championships for Vic Metro when he was named an All Australian. He is dangerous around goal and has good breakaway pace. Because of his injuries he could get through to the Bombers, who would consider him with their selection to open the second round.
Tomorrow's heroes: Daniel Venables

If not him? The Bombers' lack of tall forwards means if Todd Marshall gets through he'd be a nice get here. Oliver Florent would offer pace and class and could be close if he doesn't get snatched earlier. Essendon also likes WA defender Josh Rotham.
Daniel Venables possesses pace, agility, power and toughness. Picture: AFL Photos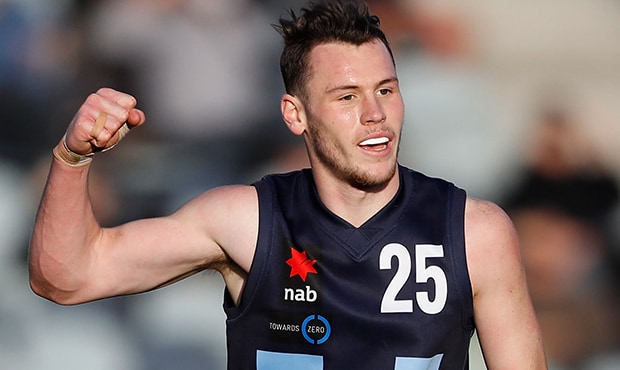 JORDAN RIDLEY
20/10/98, 192cm, 79kg
Oakleigh Chargers
The rangy defender is able to mark well above his head and have an impact in a number of different places on the ground. Ridley's versatility is appealing, as is his athleticism and ball use. He won the kicking test at the Combine, and recruiters like his mobile size and shape. His best spot across the year was as an attacking and sweeping half-back but he can be thrown in the midfield and occasionally up forward. The Lions have been keen on Ridley and he could add some nice rebound out of their backline.

If not him? Another tall backman in Brennan Cox could be worth a shot if he's available to the Lions at this point. Sam Powell-Pepper's power and aggression might also appeal. Daniel Venables is likely on the shortlist at this pick, too. 
Jordan Ridley is a defender with a great overhead mark. Picture: AFL Photos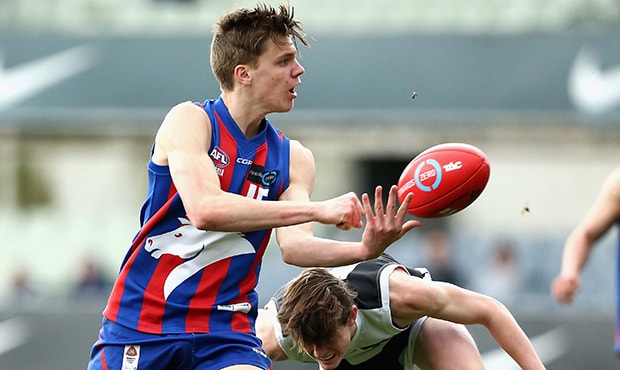 JACK GRAHAM 
25/2/98, 183cm, 83kg
North Adelaide
The Lions might look to add some power and brute strength to their midfield with Graham, who claimed the Larke Medal as the best player at the under-18 championships this year after an outstanding campaign for South Australia. Graham's strength and size give him a presence at the stoppages, and he can bust through a pack and come out the other side with the ball tucked under his arm. He isn't the flashiest player but he averaged 25 disposals at the championships and knows how to find the ball. The Lions can bring him into the club knowing he will be ready to play early and add some muscle to their growing midfield department. 
Graham defies limited pre-season to shine

If not him? Could the Lions look at local tall Elliott Himmelberg here? He's around this range for some clubs and could be worth some thought.

SA's Jack Graham took out the Larke Medal for his mid-year carnival performance. Picture: AFL Photos

ISAAC CUMMING (matching St Kilda's bid)
11/8/98, 183cm, 72kg
Broken Hill

Cumming might be the best-travelled player in the draft. The Broken Hill product represented NSW/ACT and the Allies in the under-18 carnivals this year, and was also playing for North Adelaide in the SANFL. Add to that some time with Greater Western Sydney's NEAFL side and he has clocked up some kilometres. The medium defender can find the ball comfortably and consistently, and he uses it well when he has it out of defence.
Another Giants prospect rockets up the order
If not him? At this spot the Giants should be able to match a bid for Cumming and make him another academy pick-up. But they'll be hoping a bid on the rebounding defender doesn't come much earlier otherwise they could need to pass to avoid a large points deficit.
Isaac Cumming may be the best-travelled player in the draft. Picture: AFL Photos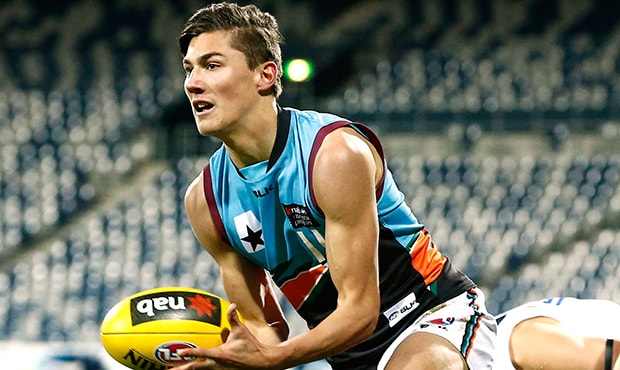 SAM POWELL-PEPPER
8/1/98, 186cm, 83kg
East Perth

Powell-Pepper's physical presence in the midfield is almost unmatched in this year's draft. He can charge into a pack and bustle through to the ball, and he has an imposing element to his game. With his aggressive approach and versatility, Powell-Pepper presents as a player who could fit in in a number of different spots. He played last year as a half-back, and this year moved into the midfield and pushed forward to use his long-kicking in attack.
Tomorrow's heroes: Sam Powell-Pepper
If not him? Another WA product, Shai Bolton, would be worth having a look at, as would tall forward Josh Battle. The Saints have kept close tabs on Battle's progress. They have shown some recent interest in Queensland tall Elliott Himmelberg.
Sam Powell-Pepper is a talented WA draft prospect. Picture: AFL Photos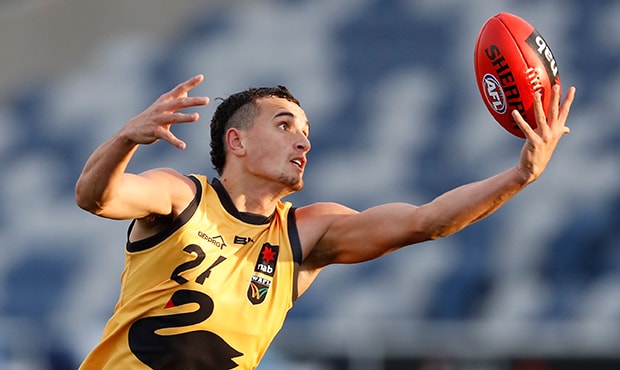 JOSH BATTLE
1/9/98, 192cm, 90kg
Dandenong Stingrays

The opportunity might be there for the Cats to bring in a young tall forward to develop. Battle was probably the best-performed key position goalkicker of the year, booting 24 goals in eight games for the Dandenong Stingrays, including a six-goal haul in the finals. Battle is an excellent kick for goal and doesn't take too many chances to make a scoreboard impact. His fitness is also terrific, which was proved by his 10min 7sec 3km time trial at the Combine. At the next level he looks likely to be a second or third tall forward who can motor up and down the ground.
Tomorrow's heroes: Josh Battle

If not him? Could the Cats pull a surprise and draft VFL prospect Tom Stewart here? They may need to if there's other interest in the 20s. Otherwise, Jordan Ridley and Cedric Cox are certainly in the running.   
Josh Battle has been a consistent goalkicker this season. Picture: AFL Photos

WILLEM DREW
1/10/98, 188cm, 79kg
North Ballarat Rebels

Drew isn't the type of player to have a wowing highlights reel but he works his way around the ground without stress and finds the ball on a regular and consistent basis. He's clever with his hands and tough inside the contest, and as a midfielder was one of Vic Country's best players across its carnival. Drew is the nephew of former Blue Adrian Gleeson (and the cousin of current Bomber Martin), so there would be some symbolism if he headed to Carlton.

If not him? Cedric Cox, Sam Powell-Pepper and Jordan Ridley should all be in this range, while Shai Bolton's electric speed and talent may also appeal.

Willem Drew was one of Vic Country's best in its carnival. Picture: AFL Photos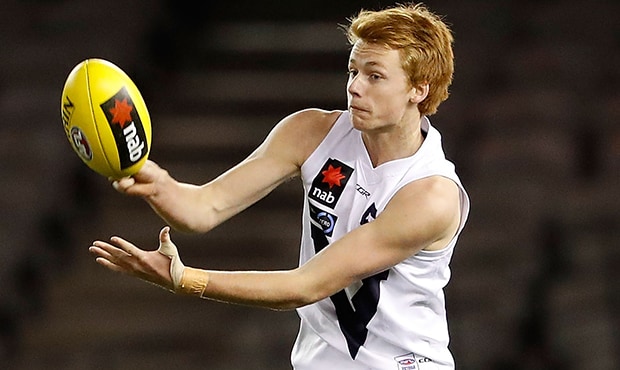 CEDRIC COX
19/8/97, 181cm, 79kg
North Ballarat Rebels
The Dogs have put in a fair bit of work on Cox, who may appeal as a classy, ball-carrying defender who can hit up a target and get things going. Cox has had an amazing journey to this point of his football career, having shifted from Halls Creek in remote Western Australia to Camperdown in Victoria. It changed his life and brought on his footy, and this year he has impressed as an attacking defender who can also be placed on a wing or across half-forward. He's a nice kick, is trusted with the ball and likes to take the game on.
If not him? Shai Bolton has been raised as a possibility here for the Dogs, and Jordan Ridley could be a chance as well should he get past some other admirers earlier in the 20s. Gold Coast academy speedster Josh Williams also looms as attracting a bid from the Dogs.
Cedric Cox catches the eye with his pace and skill. Picture: AFL Photos


ELLIOTT HIMMELBERG
4/6/98, 196cm, 89kg
Redlands
Injury in the second half of the season has meant Himmelberg has been a little out of sight and out of mind. But he has been on Richmond's radar for a while and he would suit their need for another versatile tall option. The younger brother of GWS academy recruit Harrison, who joined the Giants last year, is in the open draft pool after shifting to Queensland in the past 12 months. He can play at both ends of the ground, take a good mark overhead and is dangerous around goal.
If not him? Cedric Cox is a possibility, as is Shai Bolton if he's there. That would be a tight decision. An inside midfielder like Joe Atley or Dylan Clarke could also be a useful fit, and the Tigers also chatted with Brisbane Lions academy defender Declan Watson this week.
Elliott Himmelberg is a versatile tall option. Picture: AFL Photos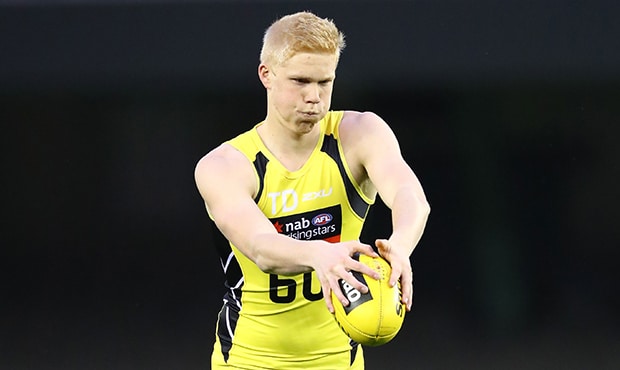 SHAI BOLTON
8/12/98, 178cm, 68kg
South Fremantle
The exciting and energetic half-forward is a chance to get through to the Pies' pick, and he would bring a new element to their forward set up. Bolton can do things few others in the draft can produce. He has a great natural leap that helps him soar over and into packs, and he's just as nimble at ground level. He's a run-and-carry player with genuine pace (he ran the 20m sprint in 2.95 seconds) and can skip away from congestion to break the game open.
'He does things I've never seen': Why Bolton stands out

If not him? Brennan Cox and Sam Walker are SA defenders who have been raised as chances, while they'd likely jump on Jordan Ridley if he makes it this far. Tom Stewart, the Geelong VFL player, is also a possibility. 
Shai Bolton is one of the quickest prospects in the pool. Picture: AFL Photos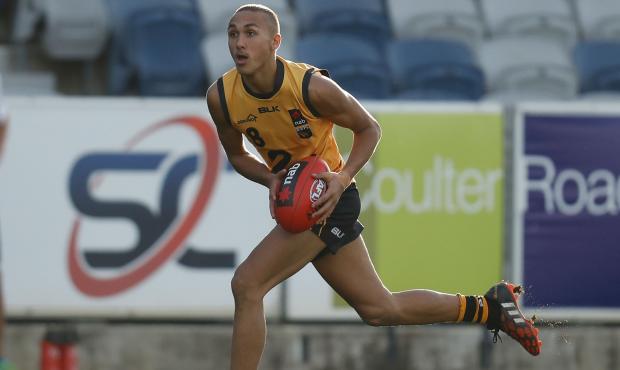 Who will your club target later in the draft?
Beyond the first 30 selections, a number of players have been linked to clubs with their later choices. AFL.com.au has found some of the possible options available for each club's picks deeper in the draft.
We have listed every draft pick assigned to clubs by the AFL, but also predicted how many each club is expected to use on the night.
Unlike the Phantom Draft top 30 (where we have changed the draft order reflective to where bids may fall on academy prospects), for the below selections we have kept the order as it will start according to the AFL's official draft order.
Adelaide
Draft picks: 13, 43, 53, 66, 82, 90 (likely to use four or five selections)
The Crows are into things early and then have a little wait before using three later picks. They have been linked to mobile forward Patrick Lipinksi, who has good spring in his game around goal. Another chance for one of their third-round choices is Esava Ratougolea, a tall forward/ruckman with Fijian background. The 18-year-old is raw and will take some work but jumps at the ball and tackles hard at ground level. Ben Davis, a medium forward from Sydney, is also in the mix for the Crows, while Jonty Scharenberg will also be a chance to join the club at those later picks. Scharenberg is an inside ball-winner who could complement the club's midfield unit. 
Brisbane
Draft picks: 3, 16, 21, 22, 75, 76 (likely to use five or six selections)
Four picks inside 22 gives the Lions a really strong hand at the draft. After those, they'll be waiting to see where, if any, bid comes for academy prospect Jacob Allison. That they don't have any picks worth draft points after No.22 won't matter, particularly if a bid comes beyond 50 or so for the athletic, long-kicking midfielder. It may place them in a minor points deficit for next year but only in the round the bid came. The same decision may need to be made about Declan Watson if the Lions choose to use six picks. Watson is a key defender also in the club's academy, so they can match a bid when it falls if they choose. 
Carlton
Draft picks: 5, 25, 48, 62, 65, 69 (likely to use six selections)
All the focus has been on Carlton's first choice, and fair enough too, because it should land a star there. But the Blues also have a healthy say in the second half of the draft this year so will be hoping to find some good pick-ups there. Pat Kerr is unlikely to be considered with their second-round choice but he may come into the frame at No.48 if still available. He has some good history with the club, given his grandmother is the Blues' No.1 female ticketholder. Hamish Brayshaw could be a shot with a later selection. The brother of Melbourne midfielder Angus had an injury-affected season but is hard at it and tough. Joe Atley and Willem Drew are other inside midfielders who can find the ball when it's up for grabs, and Josh Williams could appeal as a player who can inject some pace.
Collingwood
Draft picks: 28, 44, 51, 61, 64 (likely to use four selections)

The Pies don't expect a bid to come for father-son pair Callum Brown and Josh Daicos until after their first live selection, and they have gathered enough points later in the draft to pay for the duo when they come. There are others they have also been linked to, such as inside midfielder Jonty Scharenberg, who could be a chance to join his brother Matt at the Pies. The club has shown an interest in 23-year-old VFL prospect Tom Stewart too, having had success in recent seasons with mature-age pick-ups at the draft. Bendigo forward Kayle Kirby could also be in the mix late, or as a rookie.
Essendon
Draft picks: 1, 20, 29, 41, 67 (likely to use four or five selections)
All the focus is on Essendon's No.1 pick but the Bombers have found some gems with later selections in recent years. They loved Myles Poholke when he trained at the club earlier this year as part of the NAB AFL Academy and he could be in the mix, while they have some interest in Oscar Junker later on. The left-footed tall midfielder is versatile and good overhead, while the Bombers could also place a bid on prolific and hard-working midfielder Kobe Mutch. Mutch is a part of the GWS academy but is unlikely to head there given their surplus of young midfielders. And could the Bombers bid on Collingwood father-son prospect Callum Brown? They didn't show any hesitation last year by bidding on Carlton's Jack Silvagni. 
Fremantle
Draft picks: 7, 35, 40, 70, 77, 86 (likely to use four selections)

If the Dockers go tall at pick seven it could start a night of key position players joining the club. They have been linked to Oakleigh Chargers pair Pat Kerr and Sam McLarty with their second-round picks, and both would seem nice fits to add to Fremantle's list. Kerr is a goalkicker and although McLarty battled injury this year, he has shown an ability to mark well above his head and create a contest at both ends of the ground. If the Dockers don't go with Tim English with their first pick, they may look at local forward/ruckman Darcy Cameron with their last selection after a promising season at WAFL level. 
Geelong
Draft picks: 24, 38, 42, 63, 71, 73, 84 (likely to use five selections)
Tall forward Pat Kerr has caught the eye of the Cats and could be in the mix at No.38 if they don't select a tall with their first selection. The Oakleigh Chargers goalkicker had a strong season at TAC Cup and under-18 national level. The Cats are keen on adding VFL player Tom Stewart to their list but may need to go a bit earlier on him than hoped given other interest in him. They have also interviewed Oli Hanrahan, a prospect who has emerged from local Melbourne footy to be a sneaky draft chance. Zach Guthrie has been linked to the Cats as a possible late pick to join brother Cam at the Cattery, while the club will recruit Sam Simpson as a father-son rookie should he not get picked at the national intake. Another mature-ager, Jackson Sketcher, could also catch the eye late.
Will Zach Guthrie join his brother at the Cattery? Picture: AFL Photos

Gold Coast
Draft picks: 4, 6, 8, 10, 72, 87, 93, 95, 96 (likely to use five selections)
With four picks in the top-10, the Suns are odds on to come out of this draft as the biggest winners. It's hard to see how they can go wrong with that batch of selections. Their next pick is much later, but that's largely immaterial, particularly if they choose to match a bid on academy prospect Brad Scheer, which is expected to come in the second round. The Suns can match and go into a points deficit, but it won't matter – they already have a number of second-round picks for next year's draft which can 'pay' for Scheer. Scheer would be a good fit for the Suns as they re-stock their midfield group following the exits of a number of players in recent years.
GWS
Draft picks: 2, 15, 37, 39, 45, 52, 55, 57, 58, 59 (likely to use six selections)
Just how late the Giants' picks end up will depend how early the bids come for Will Setterfield and Harry Perryman (and possibly Isaac Cumming), and whether they match them. If they do and it forces them into a points debt, the Giants' later selections will be moved to the end of the draft. Either way, after their first three picks the club will be coming in much later in the piece. That could open the door for them to pick up a couple more academy picks, though. Tall defender Harrison Macreadie has fallen down the order after an inconsistent season but the club relocated him to Sydney for this year and could grab him late. Jumping half-forward Lachlan Tiziani might also get a look-in late after a promising end to the season.
Hawthorn
Draft picks: 81, 83, 91 (likely to use two selections)
Graham Wright and his recruiting team might as well not arrive at the draft until an hour in, because they face a long wait before getting their turn. Pick 81 might end up being about 10 spots earlier, though, once clubs start to pass and other picks get shuffled to the end after academy bids are matched. It is difficult to say who will be around for the Hawks with their two live picks (they have upgraded rookie Kade Stewart), but the likes of athletic type Mason De Wit, nice-kicking Juhdah Dundon, and taller midfielders Tom Williamson and Jacob Allison (if the Lions haven't taken the academy player) could be there. Given the success rates of picks beyond 60 is so low, it wouldn't surprise to see the Hawks look for a more mature player here, too. Could they go a ruckman? VFL prospect Oscar McInerney may be a worth a look.
Melbourne
Draft picks: 47, 68 (likely to use two selections)
After dominating the top of the past two drafts, the Demons will take a back seat this year with two later picks. The Dees have shown some interest in St Kevin's College product Oli Hanrahan despite not playing in the TAC Cup system. They have pulled a similar rein before (remember Jayden Hunt in 2013?). Some think Melbourne might need to add to its small forwards department, which could see the Dees have a look at West Australian product Liam Ryan, or maybe South Australian pair Kym LeBois or Tyson Stengle. A bid on Pies father-son pick Josh Daicos isn't out of the question at 47 either. Ruckman Oscar McInerney has caught the interest of many clubs and has been under the Dees' nose at the Casey Scorpions this year, but appears unlikely to be taken by Melbourne.
North Melbourne
Draft picks: 11, 32, 33, 80 (likely to use four selections)
The Roos are likely to use four picks at the draft. After their opening pick, they hold back-to-back selections in the latter part second round. Medium forward Ben Davis has attracted some interest from the Roos. He is 187cm and can play at both ends of the ground. He is a member of the Swans' academy but they do not have matching rights over him. With their last pick the Roos could look at Vic Metro's Oscar Junker if he's still on the board. Junker has some size to move through the midfield. The Roos could also place a bid on Callum Brown (whose father, Collingwood champ Gavin, is part of the club's coaching panel), while zippy WA midfielder Zac Fisher would be a nice fit in the 30s.
Port Adelaide
Draft picks: 14, 17, 30, 31, 79, 88 (likely to use four selections)
Port's second-round picks could push back a few spots in the 30s depending on bids on the night. With one of them they might grab powerful midfielder Brandan Parfitt, who was hit by injuries this season but has played in SA and has talent. He will be in the mix for Port. Others who could be looked at in the 30s range include medium defenders Sam Walker and Mitchell Hinge, both from South Australia, while Dylan Clarke is also a possibility if still available. Clarke is a hard-working clearance machine with a brilliant running stamina that gets him from one end of the ground to the other. Port is another club who may consider Luke Ryan from the VFL, while they have shown some interest in Bailey Banfield but perhaps as a rookie.
South Austrlaian Brandan Parfitt will be in the mix for the Power. Picture: AFL Photos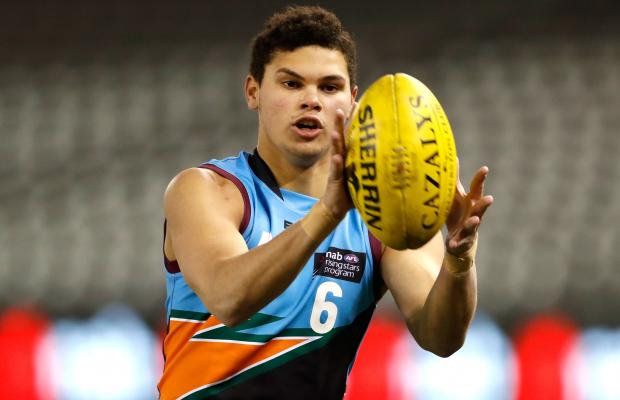 Richmond
Draft picks: 27, 56, 78 (likely to use three selections)
Josh Begley started to come into his own in the second half of the season and has been linked to the Tigers with their second pick. He's a powerful, hard-working half-forward who kicked 27 goals for the season at TAC Cup level. If the Tigers go tall with their first pick then they may try to bring in an inside midfielder later on. Jonty Scharenberg is a chance to be available with their fourth-round pick, as may be West Australian ball-winner Matt Guelfi, who has a solid frame and works well around the stoppages. Bailey Morrish is a rebounding half-back who could come into the Tigers' thinking, particularly given his pace. He ran 2.93 seconds over 20 metres at the combine so has an elite trait with his run. 
St Kilda
Draft picks: 23, 36, 60 (likely to use three selections)

The Saints were keen to bolster their key defensive stocks during the exchange period and did that by signing former Pie Nathan Brown. They could also look to bring in some more youth in that area too, with All Australian full-back Jack Maibaum a chance to be there for them to consider at No.36. Attacking half-back Bailey Morrish is another who could come into the Saints' thinking given his power and explosiveness out of defence, while they may also consider Mitch McCarthy if he's there at their last pick. They have rights over McCarthy under the next generation academy rules and can list him as a category B rookie if he gets through the national and rookie drafts without being selected. But they may want to take the risk out of that by jumping for the former basketballer late in the national intake. 
Sydney Swans
Draft picks: 9, 19, 46, 49, 85, 92 (likely to use four selections)
It will rely on what the Swans can conjure from their first two picks, but if they are still after a key back then Jack Maibaum will be right in contention at pick 46. The Victorian tall defender was named an All Australian after the championships and has been on the Swans' radar. The Swans have also shown some interest in West Coast father-son pick Jake Waterman and could place a bid in the 40s. Ed Phillips is another prospect who could be on the club's talent list, but may be better placed as a rookie. The brother of Collingwood youngster Tom had some strong games for the Oakleigh Chargers this season.
West Coast
Draft picks: 12, 34, 54, 89, 94 (likely to use four selections)
The Eagles will be hoping a bid for father-son prospect Jake Waterman does not come before their third live selection (No.54) so they can draft the goalkicker with their last pick. That would be the ideal scenario and not without a chance of happening. Quick and athletic WA defender Josh Rotham has been linked to their second pick, and he's a good chance to be available there. They could look to add some more run and drive across half-back and through the midfield with VFL player Luke Ryan, while Bailey Morrish is also a possibility as another dashing defender with a penetrating kick. The Eagles have also recently caught up with ruckman Sean Darcy who could be a project player later in the draft.
Western Bulldogs
Draft picks: 18, 26, 50, 74 (likely to use four selections)
Ben Long was overlooked at last year's draft but improved considerably this year and starred for Footscray's VFL side with six goals in the preliminary final. He has been linked to the Dogs with a later selection, and he can also play off half-back with his speed and run. Esava Ratougolea could be a chance later in proceedings, while Sam Simpson has also been raised as a possible pick. The Cats have forfeited any rights to match a father-son bid for the Geelong Falcon. If the Dogs don't bite at Gold Coast academy prospect Josh Williams with their opening two picks then a bid may come at No.50.