OF ALL the significant questions history will ask of James Hird's coaching tenure at Essendon, here's one that might never be able to be answered: could he actually coach?
Hird's winning coaching record dipped below 50 per cent on Saturday, when Essendon lost to Adelaide by 112 points. In his (almost) four seasons in charge of the Bombers, he coached 84 games for 41 wins, 42 losses and a draw.
The Crows defeat was more damaging than any of the other losses, though, and for many it was seen as the final straw: after three years of questions about Hird's job during the ongoing supplements saga, the club great resigned on Tuesday.
James Hird quits as Essendon coach
The thrashing of his listless team at Etihad Stadium was the worst of Hird's coaching career, and was the low point of a season in which there have been many for the Bombers.
Under Hird in 2015, the Bombers played 12 games where they didn't kick more than 10 goals. Their game plan was a confusing, frustrating mish-mash of over-possession, limp ball movement and a damning lack of skill. In the last seven weeks alone, the Bombers lost six games by an average of 63 points, including a 110-point loss to St Kilda in round 14.
They have lost 12 of their past 14 games, a run of form that would have been enough to put severe heat on any coach, let alone Hird, who had clung fiercely to his job since the doping scandal broke in February 2013. Eventually he did not want to hang on any longer.
Hird won six of his last 24 games as coach of Essendon, support the view he did not cut it as a coach. But as with everything and everyone associated with the ASADA and WADA probe, there are several shades of grey when assessing Hird's coaching ability. It is too easy to point to the numbers and come up with an answer.
Essendon chairman Paul Little to remain in 2016
In 2011, Hird's first season after taking on the job following the sacking of Matthew Knights, the Brownlow medallist and premiership captain took the Bombers into the finals.
Essendon players watch on as James Hird falls on his sword. Picture: AFL Media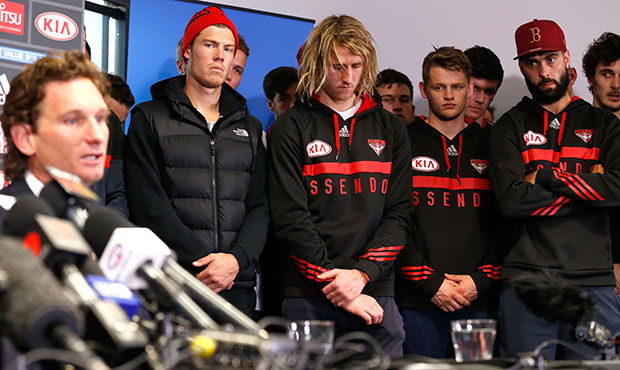 But rather than hit September in form, they stumbled into an elimination final against Carlton and were thumped by 10 goals. Hird's three other seasons as coach have been marred by crisis.
In 2012 the club won eight of its first nine games before being struck by a horror run of soft-tissue injuries that saw the Bombers lose their last seven games of the season to miss the finals.
The contentious supplements program was in place that season and was uncovered in the lead-up to 2013. Hird and Essendon performed brilliantly that year in trying circumstances, winning several emotion-charged games.
They sat second on the ladder before round 18, and then came the reality they were going to be booted out of the finals by the AFL as part of the punishment for the lack of governance surrounding the supplements program. They lost five of their last six games, and Hird accepted a 12-month coaching ban.
By the time he returned to the coaching seat for round one this year, the Bombers had lost their best ruckman Paddy Ryder, and their three-time leading goalkicker Stewart Crameri.
This season has been shambolic – the Bombers have folded in games too easily, overused the ball and team selection was too safe until it was clear the finals were out of reach.
But again Hird has coached with a cloud hanging over the Bombers, after WADA announced it would appeal the AFL Anti-Doping Tribunal's decision in favour of the past and present Essendon players.
The Bombers have clearly felt the strain since, finding it difficult to play with the same enthusiasm, spark and hope that was clear in the opening month of the year after they were cleared by the independent body. They have been sapped of energy, desire and confidence, and it is hard to imagine even Kevin Sheedy at his best could have inspired this group.
Hird was asked at Saturday's post-game press conference if he was beginning to doubt his own coaching ability as another season sank, but he backed himself in, highlighting the club's injury problems, the loss of players to rival clubs and the difficulty in playing through a most challenging period.
But he did acknowledge that in the off-season, after the club's internal review was to be finished, he would need to look at his own performance.
"This review will come up with what other people think I did or didn't do well, but for me I also have to look at and be fairly critical of what I do well and don't do well and try to do better," he said.
Hird will be able to reflect, but after his exit his learnings won't be put in place at Essendon.
For many, it doesn't matter if Hird could or couldn't coach. His involvement in the club's supplements program in 2012 was enough for many to believe he should have followed CEO Ian Robson, chairman David Evans, football manager Danny Corcoran, fitness boss Dean Robinson and other staff out of the club in the wake of the saga.
Ian Robson, David Evans and James Hird on February 5, 2013. All have left the club. Picture: AFL Media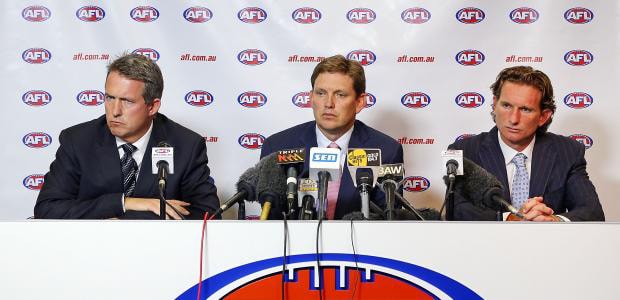 He fought on, accepted his part of the responsibility, and the players welcomed him back to the fold.
Ben Howlett, who only re-signed with the Bombers last year after Hird was confirmed as coach, said earlier this year the players supported Hird because they knew he was in their corner.
"We've been put through something that nobody probably is ever going to go through again in their lives and [he's] been a part of that as well. It's sort of special in a way," Howlett said.
The decision to cut ties will give the club some breathing space, and appease those who have been barracking for his downfall, but it does not make the road ahead any clearer.
With two clubs already chasing senior coaches, Essendon will be well behind in its process to appoint Hird's successor. And you have to wonder how appealing the role would be for a new coach, given he will not know whether he will lose any or many players to anti-doping sanctions.
Then there is the list, which at the end of 2012 looked set for a premiership tilt but now appears headed over a cliff. Except for Brendon Goddard, the recruitment of senior players has backfired, and for too long underperforming players have remained at the club. The additional loss of draft picks was a blow that will continue to hurt for many years.
There is also the fact Essendon hasn't won a final since 2004. The club was a heavyweight of the competition, but it has not been anywhere near there for a generation.
Hird came on board with the best intentions to end the finals drought and lift his club out of its dire spot. Nearly five years on, the drought has extended and Essendon finds itself stuck in perhaps its darkest era.