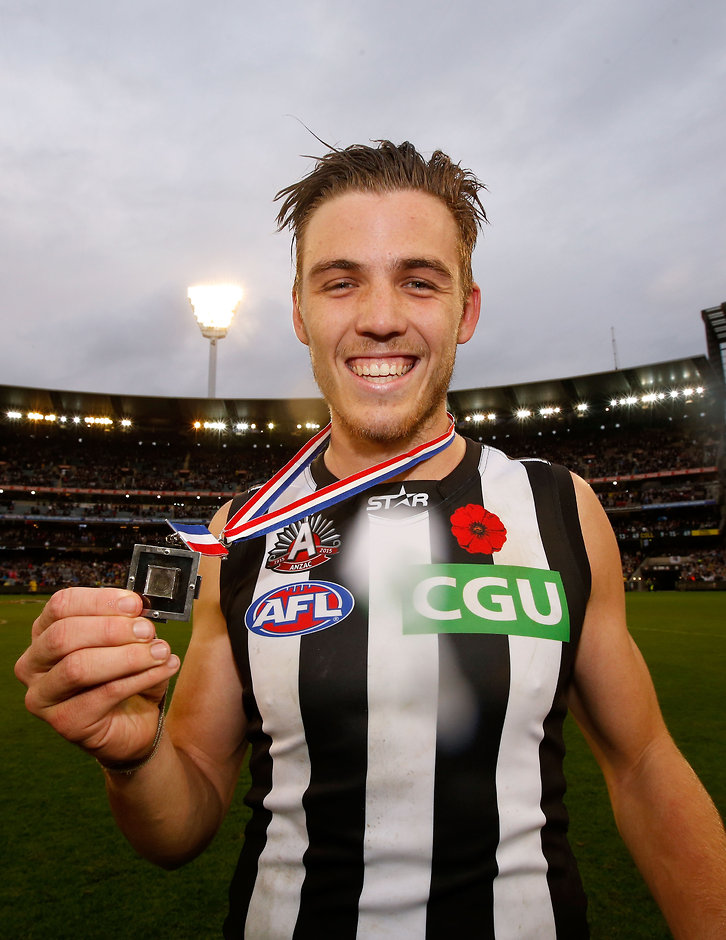 In the lead-up I was aware I hadn't really performed very well on an Anzac Day
Paul Seedsman
ANZAC Day has been a haven for some unlikely match-winners since the Essendon and Collingwood tradition began in 1995.

There was the blistering run of Andrew Lovett in 2005, when the speedy Bomber broke through the Magpies. Two years before that, Damian Cupido had torn Collingwood's backline apart with five goals.

The Magpies have had their own unique big-game players, none more so than Mark McGough, whose second game for Collingwood in 2002 came to define his 49 at AFL level. Paul Medhurst, too, saved his best performance in black and white for the biggest home and away game of the season in 2008, when he kicked six goals.
On Saturday, in the 21st annual clash, a new story emerged.
Click here for full match details and stats

Dashing Collingwood defender Paul Seedsman enjoyed perhaps the best game of his promising career on Saturday, being best afield in Collingwood's 20-point win over Essendon at the MCG. His long kicking, run and speed was too much for the Bombers to contain, and wherever he went good things seemed to follow.

The 23-year-old gathered a team-high 31 disposals, kicked a goal and had 14 inside-50s to claim the Anzac Day Medal, but even those impressive numbers only half depicted his game. With his attack, dare and energy, Seedsman was everything the Bombers weren't (or weren't allowed to be due to Collingwood's manic pressure and intensity).

Seedsman is into his fifth year at Collingwood, and has had injury troubles throughout his career. Hip surgery in January halted his preparation for this season, and he missed the Magpies' win over the Brisbane Lions in round one, but he made up for lost time against the Bombers.

"He's battled with his body ever since he got to the footy club and the last two months he's really built things up at training," Collingwood captain Scott Pendlebury said. "Match-day is just a product of all the effort he puts in during the week.

"Today he was very good and played his role extremely well, but we need that consistency now. Hopefully this game kick-starts Seeds' career."
Belief rising at the Pies, says Buckley

For Seedsman, the win and recognition has another layer of significance.

He was a Collingwood supporter all of his life before being drafted after the club's 2010 premiership, and his great-grandfather, Jim Sharp, was President of the club. Seedsman did work experience with the Magpies before he had a locker there, and even his drafting had a black and white background: it was Joyce Sharp, Jim's daughter, who called Pies' list manager Derek Hine to notify him of her grandson's potential and link to Collingwood.

Pendlebury joked if there was a quiz on Magpies history, Seedsman would win it.

Seedsman's first Anzac Day as a supporter was as an 11-year-old, when Cupido ran riot to lead Essendon to an 11-goal win.

In Seedsman's first Anzac Day game as a player, in 2012, he was subbed out of the game after finding just four disposals. He felt overawed and not sure how to take everything in. In his second game on the historic day, a rampant Essendon side overran Collingwood.

Now, Seedsman has much fonder memories.

"To get the win and have the team play so well in contested and wet football, and also to play my role, was pretty special," Seedsman said. "In the lead-up I was aware I hadn't really performed very well on an Anzac Day."
Seedsman made the Bombers pay for this turnover #AFLDonsPies http://t.co/7Vrcm6pGN5

— AFL (@AFL) April 25, 2015
 
Hours before the game, he received a text message from former Magpie Heath Shaw, who won the Anzac Medal in 2007. "He said 'Join the club'," Seedsman said. "I'll have to get stuck into him now."

Seedsman, like the Magpies, started well. Their pressure and tenacity was so extreme that, on reflection, it was probably a surprise they weren't tackling the Bombers when the teams ran through a joint banner before the first bounce. A flat spot in the second term let the Bombers back into contention, but the Magpies kicked five goals to two after the major break in dreary and wet conditions.

Pleased coach Nathan Buckley praised Seedsman's performance.

"He'll sleep well tonight, and he'll be satisfied with his efforts," Buckley said.

The challenge for both the Magpies and their young playmaker is to keep the momentum going. Anzac Day has thrown up anomalies over the years, with results and performances that don't necessarily have a natural form line.
Magpies upstage Bombers in a scrappy clash

Saturday's showing will leave Magpies supporters wanting more of the same frenetic and frantic forward pressure that sent Essendon into a spin. It will be expected of the Pies to smother, spoil and shepherd, and to bring the same traits into every game.

Seedsman, too, will have bigger expectations placed upon him. As well as some one-offs, Anzac Day has also seen the best players perform, with James Hird, Dane Swan, Pendlebury and Sav Rocca among the stars to win multiple medals as best afield.

Pendlebury wants the 40-gamer to reach for the top rung. "He wants to be a great player of the competition and he's certainly got all the talent in the world," Pendlebury said.

"His body's holding up for him, and if he can add that to our side then it goes a long way to adding the outside run that we desperately need."
Scott Pendlebury hope Paul Seedsman has kick-started his career. Picture: AFL Media