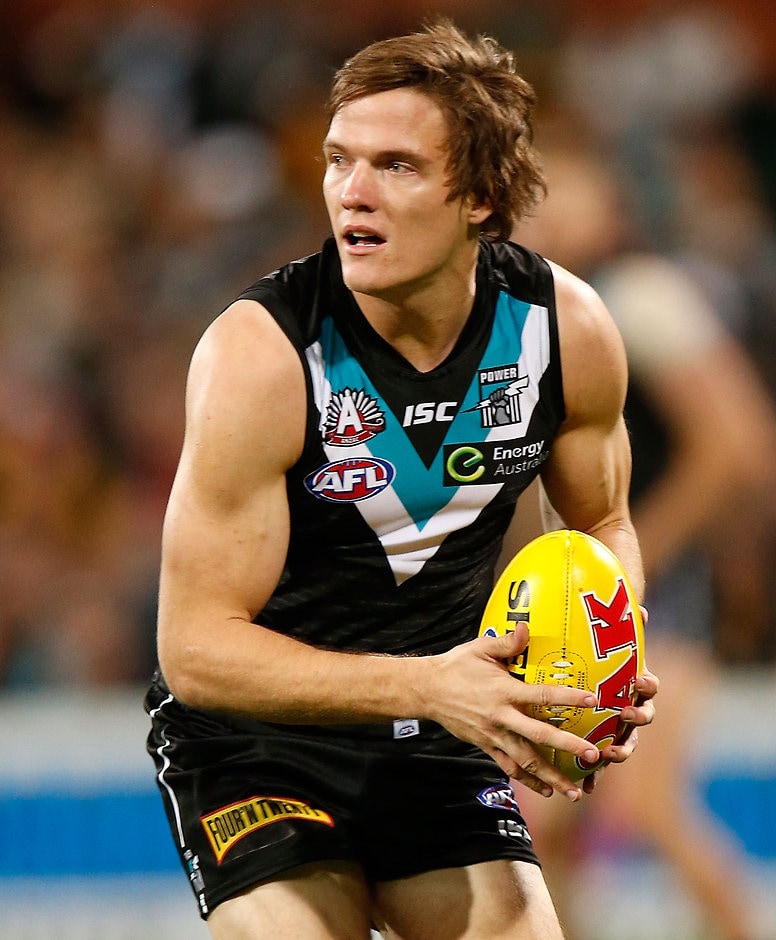 JARED Polec flew to see specialists in Sydney and Melbourne this week before Port Adelaide decided he'd require at least six weeks in a moonboot to treat a stress fracture in his foot.
Polec had been carrying the injury for three weeks and would recover after games on crutches before getting himself up for the following match.
Port coach Ken Hinkley started Polec as the sub in last Sunday's Showdown, hoping the injury was a problem that would "come good with a little bit of time".
He denied the quarter Polec played against the Crows was the straw that broke the camel's back and said the club's decision to place the midfielder on its long-term injury list was to protect his career.
Polec's stress fracture of the navicular bone in his foot is the same that has floored the career of Melbourne's Jack Trengove.
The injury held Trengove to just two games in 2014 and has already ended his 2015 season.
Hinkley wouldn't compare the injuries, but said such issues could indeed rule a player out for at least a year – a scenario the Power are obviously desperate to avoid.
"We did what we needed to and we've made the decision to have Jared Polec in the best shape for the next 10 years, not just the next 10 weeks," Hinkley said.
"He's had scans [in previous weeks] but nothing that showed up as much as it did this week.
"We sent Jared to Melbourne and Sydney with our medical people just to get it all checked out as thoroughly as we possibly could.
"It's six weeks in a moonboot and see how it goes - we won't take any risks at all.
"Sometimes those injuries turn into long-term ones for a year or two – we don't want that to be the case."
The wingman will be a bad loss for the Power this weekend against West Coast and Hinkley said he wouldn't be easily replaced.
However, working in the club's favour is the number of players performing in the SANFL – Paul Stewart (29 disposals), Sam Colquhoun (25 disposals, 12 marks) and Brendon Ah Chee (22 disposals) all shone last weekend.
"You lose an Ollie (Wines), you lose a Robbie (Gray), a Polec – they're the sort of players you don't replace like-for-like, you bring in best form," Hinkley said.
He also said the club would have to stem the flow of opposition inside 50s on Sunday after conceding 150 over the past fortnight.
A similar torrent against the Eagles could be disastrous.
"The ball is coming out of stoppage a bit easy at times and our transition hasn't been where we want it to be," he said.
"We understand how potent the West Coast Eagles' forward line is because if you look at their numbers, they're number one for scores going inside their forward 50.
"If we give them that many entries I'm sure we'll be trying to defend an awfully big score."
Bad news about the foot!! Will miss running out with the guys! Hopefully be back soon! #betterfasterstronger

— Jared polec (@Jpolec) May 6, 2015