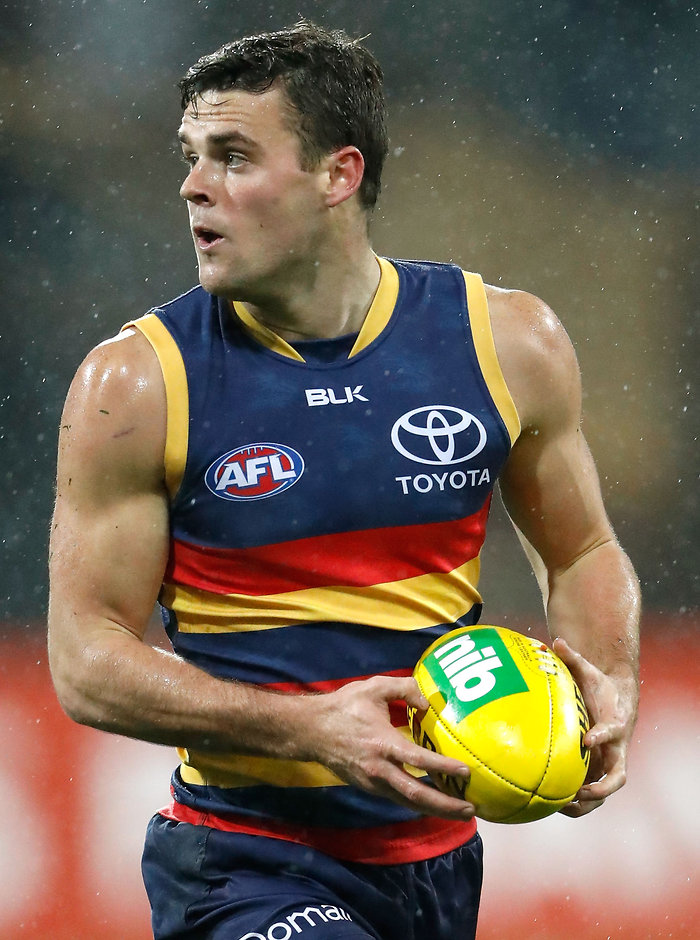 A DESIRE to repay the faith Adelaide has shown in him and the chance to share in premiership success led gun midfielder Brad Crouch to re-sign for the next four years with the Crows.
The 22-year-old ended months of speculation on Friday when he put pen to paper on a contract extension with the Crows that ties him to the club until the end of 2020.
The deal is believed to be worth up to $2.4 million over the four years.
"It's probably been three or four weeks since I wanted to get it done," Crouch said.
"There's a sense of relief and it's probably dragged out a little bit longer than I thought it would.
"I'm just relieved it's over and I can get into the next three weeks and then the finals series."
Crouch was dropped in the pre-season for failing to "meet the elite standards required".
He missed three games earlier this season year after a hamstring injury, and was omitted following the round eight clash against Geelong.
Crouch did not return until round 14, and has strung seven straight matches together.
Hawthorn was reportedly one of the clubs interested in acquiring the Victorian.
Crouch missed all of last season with stress fractures in his foot, the lengthy time on the sidelines along with the death of coach Phil Walsh forcing him to question whether he should move clubs.
"Early in the season and probably over the past couple years when things weren't going so well, I had the injury last year and obviously the death of Phil, stuff like that has been hard to deal with,'' Crouch said.
"There were definitely times where I felt I might be better off back in Victoria, but the good thing is I've still got my brother here, I've got my girlfriend here and I've got a great club that supported me the whole way through.
"(The club) has been really good to me and I owe them something for that."
Crouch's younger brother Matt is contracted until the end of 2018.
Crouch said he "understood completely" the reasons why he was dropped from the team earlier this season before being recalled after six weeks in the SANFL.
"When I did come back into the senior side the second time around, my performances were way below what I should be playing like," Crouch said.
"I was very frustrated in myself and then Pykey made it very clear what things I needed to do.
"A lot of it was based around my conditioning.
"I did a lot of work over that three or four-week period where I was trying to get my fitness back up to where it was and ready to play AFL again."
The Crows will be aiming to keep their spot in the top four when they take on Fremantle at Domain Stadium on Sunday.
Crouch said the lure of being a part of a premiership was part of the reason why he committed to a long-term contract.
"I took into consideration a shorter deal, but then I thought the club has given me so much to me in the past three or four years and supported me through so much," Crouch said.
"I think the window for us in the next four years is a real important one and we've got a good chance of success, so why not say I'm going to be here for that."