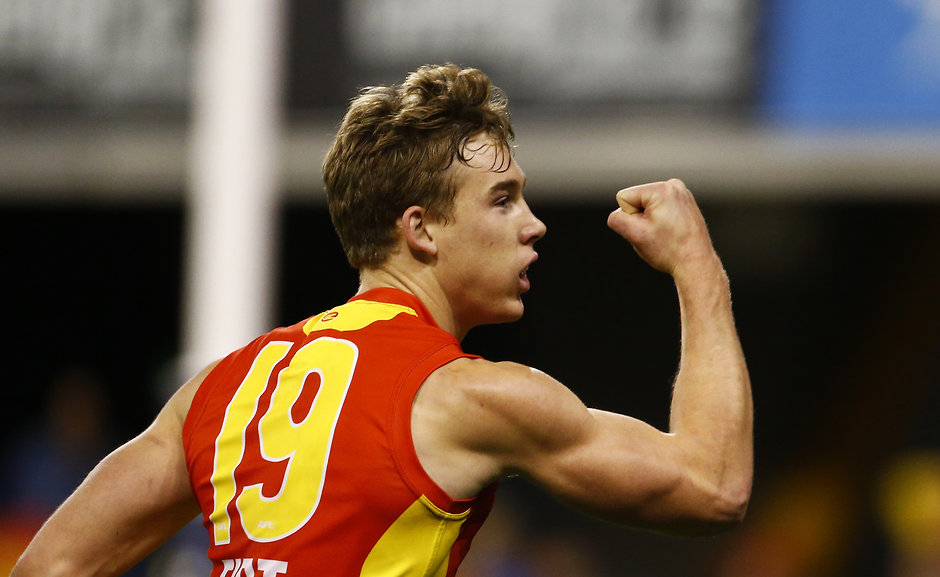 TOM Lynch has made it back-to-back best and fairests for Gold Coast with a runaway win at Southport Sharks Events Centre on Friday night.
Lynch, who was named in the All Australian team in Melbourne on Thursday night, completed a big 24 hours with his second successive Club Champion award.
The star forward made it to the Suns' awards night with just minutes to spare after his lunch-time flight from Melbourne was cancelled.
But it was all worthwhile as he raced to an emphatic victory, racking up 209 votes to win by 80 from nearest challenger Jarrod Harbrow (129).
The vice-captain celebrated an emphatic victory, racking up 209 votes to win by 80 from nearest challenger Jarrod Harbrow (129).
Versatile third-year player Jack Martin finished third on 102 votes.
Jaeger O'Meara and Dion Prestia - who have both told the club they want to be traded - attended the event.
The night was all about Lynch though, with the power forward rewarded for a remarkable season.
"I'm proud of the achievement," Lynch said.
"I think I've got a fair bit to improve on.
"I can still improve on my strength. Another pre-season under JC (high performance manager Justin Cordy), who has made a massive improvement for me, just made me quicker, a bit more dynamic, so I'm looking forward to improving that.
"I can still improve my goalkicking. I kicked pretty well this year, but towards the end I missed a few I'd like to have kicked."
With 66 goals he finished equal third in the Coleman Medal alongside Eddie Betts and took the most contested marks in the competition (62).
Lynch was a model of consistency, kicking four goals or more in 10 matches.
Gold Coast's five-man match committee can award votes to an unlimited number of players per match.
A player can receive a maximum of five votes from each individual member of the match committee, meaning the maximum number of votes a player can receive for any match is 25.
Second-year forward Peter Wright won the club's most improved player award for his 29-goal season, while ex-Roo Dan Currie was named the Suns' most professional player.
Harbrow won both the players' player award and the community award.
Gold Coast Club Champion top ten
1. Tom Lynch – 209
2. Jarrod Harbrow – 129
3. Jack Martin – 102
4. Steven May – 98
5. Aaron Hall – 93
6. Gary Ablett – 91
7. Touk Miller – 81
8. Alex Sexton – 73
9. Dion Prestia – 65
10. Sam Day – 54