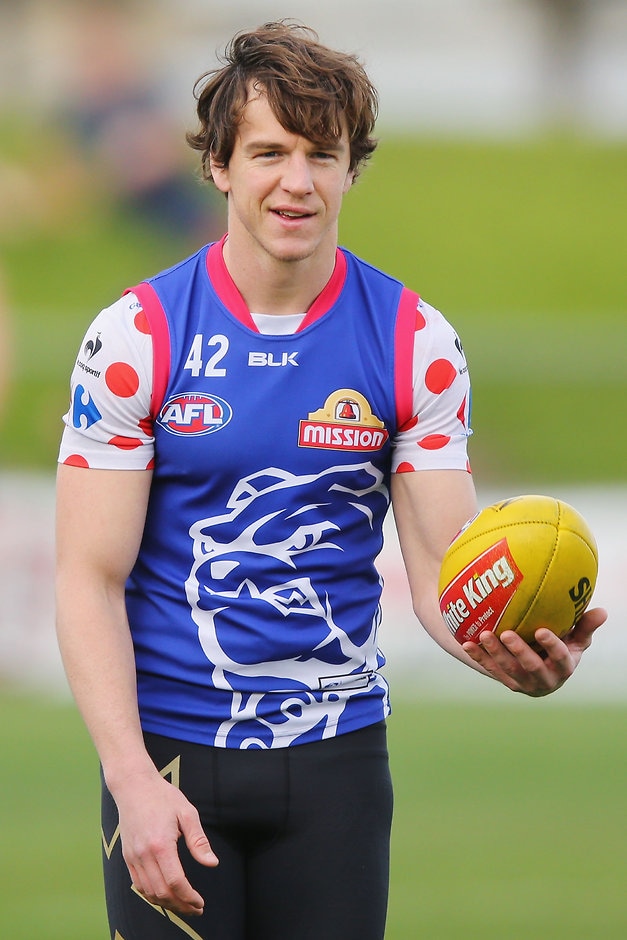 ANOTHER record is likely to fall in Saturday's Grand Final when 10 sons of former VFL/AFL players take the field for the Western Bulldogs and the Sydney Swans.
The previous record of eight coincidentally occurred 55 years ago when Footscray played Hawthorn in the 1961 Grand Final, the Dogs' most recent appearance in a Grand Final.
On Saturday, the Bulldogs are likely to field Tom Liberatore, Lachie Hunter, Liam Picken, Zaine Cordy, Josh Dunkley and Tory Dickson while the Swans will select Dan Hannebery, Josh Kennedy, Nick Smith and Tom Mitchell.
The fathers of those 10 played 1449 games for seven different clubs.
Of the 10, only Josh's father John Kennedy Jr. played in a premiership. He played in four flags and six Grand Finals with Hawthorn.
Liam's father Billy Picken played in five Grand Finals at Collingwood without a win, coming closest in the 1977 drawn Grand Final, and Andrew Dunkley played full back for the Swans in the 1996 decider which they lost to North Melbourne.
It means six Bulldogs have a chance to achieve something their fathers were never able to do.
Hannebery, Smith and Kennedy played in the Swans' 2012 premiership while Mitchell is aiming for the first flag in his family.
In another intriguing twist, two fathers, Andrew Dunkley (217 games with the Sydney Swans) and Matt Hannebery (32 matches for the Western Bulldogs), played for the opposite club to the one their son will represent in the Grand Final.
How Dunkley ended up at the Dogs
Adding to the footballing family connections are two players who, like Josh Kennedy, have grandparents who played VFL/AFL football.
Kennedy's famous grandfather, John Kennedy Sr., coached the Hawks to victory against Footscray in 1961, but his other grandparent Felix Russo also played 14 games with St Kilda.
Along with teammate Tom Papley, he is one of the few footballers with grandparents from both sides of the family to have played senior football.
Max Papley played 59 games for South Melbourne, and won the 1966 best and fairest, while Jeff Bray, who died in 2006, was his teammate at the Swans, playing 34 games.
Ben McGlynn's grandfather Mick played six games for Geelong in 1946.
Bevo named top Dog of coaches again
In the 1961 Grand Final, the Bulldogs had four sons of former players playing in Alex Gardiner, Bob Spargo, Morton Browne and Bob Ware while Graham Arthur, Jack Cunningham, Ian Mort and Colin Youren represented the Hawks.
On six other occasions, seven sons of former players have played in the Grand Final, with 2011 being the most recent.
Of course it could be more, with three sons of former players not taking the field on the big day.
The unfortunate injury to Mitch Wallis denied him the chance to take the total to 10 but Wallis has hid his disappointment well, telling Fox Footy's On the Couch on Tuesday he's enjoyed barracking for the Bulldogs alongside his father Steve, who played 261 games for the Bulldogs.
Callum Sinclair, who is unlikely to be selected for the Swans, also has a father who played VFL football with Allan playing 41 games for Fitzroy and St Kilda between 1973-79.
Swingman Sam Reid's father Bruce played 119 games for the Bulldogs and Carlton between 1977-85.
Bulldog dads
Tony Liberatore, 50, 283 games (Footscray 1986-02) - Tom
Brian Cordy, 55, 124 games (Footscray 1981-88) - Zaine
*Billy Picken, 60, 240 games (Collingwood/Sydney Swans 1974-86) - Liam
Mark Hunter, 51, 130 games (Footscray 1988-96) - Lachie
Glenn Dickson, 61, 11 games (Richmond 1977-78) - Tory
**Andrew Dunkley, 48, 217 games (Sydney Swans 1992-02) - Josh
Swans dads
***John Kennedy Jr., 56, 241 games (Hawthorn 1979-1991) - Josh
Matthew Hannebery, 51, 32 games (Western Bulldogs 1986-1990) - Dan
Barry Mitchell, 50, 215 games (Sydney Swans/Collingwood/Carlton) - Tom
Malcolm Smith, 57, one game (St Kilda 1982) - Nick
Notes
*Billy Picken played for Collingwood in the 1977, 1979, 1980 and 1981 Grand Finals without winning.
** Andrew Dunkley played for the Sydney Swans in its losing 1996 Grand Final team
***John Kennedy Jr. played in Hawthorn's 1983, 1986, 1988 and 1989 premierships and losing Grand Finals in 1985 and 1987.