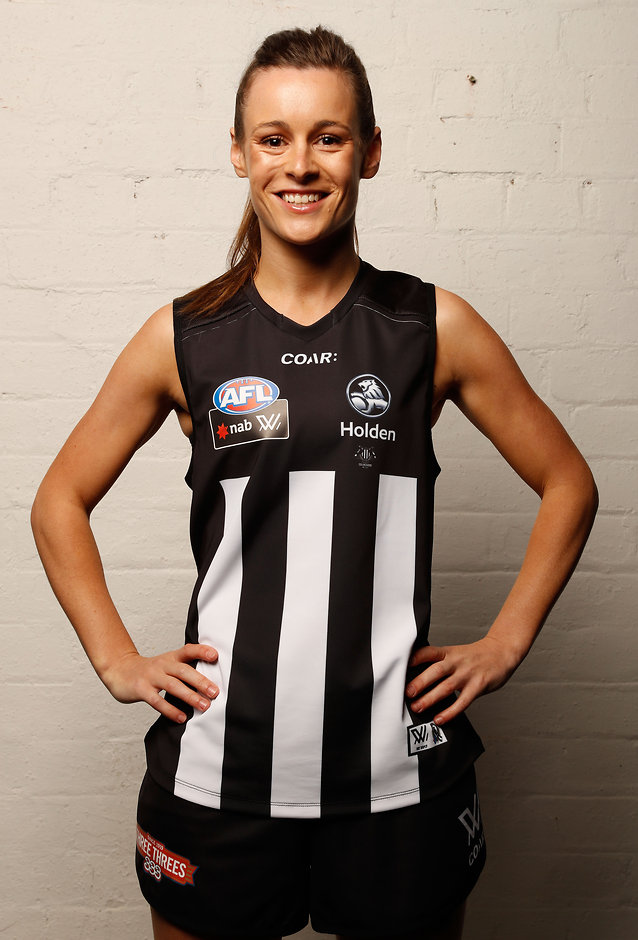 COLLINGWOOD midfielder Alicia Eva will go into the NAB AFL Women's competition with a greater understanding of the game than most.
The 25-year-old has spent the last seven years combining her two passions – playing and coaching footy.
After graduating from youth girls' competition, Eva couldn't leave her East Malvern Knights behind and started making the transition into coaching while playing seniors with Melbourne University in the VFL Women's competition.
"(East Malvern) had become an amazing place to be around, and I didn't want to leave. My dad Brian had been coaching the team – he even marked the lines on the ground before the start of every match," Eva said.
"He wanted to stay part of the club but take a step back when I finished playing. So I took it on and he stayed on board as a trainer."
Eva stayed with the Knights for two years, and started to work with the youth girls Victorian state team, where she developed a love of tactical coaching.
There, Eva also made connections that led to her being asked to work with the Calder Cannons as an under-16 development coach, where she mentored the likes of Gold Coast duo Touk Miller and Peter Wright.
Eva worked her way up to the under-18 TAC Cup team, has been head coach of the under-15 squad for two years, and is now director of coaching for Calder's women's program.
"I like the tactical side of the game. I like being challenged and devising plans, but I also like the human element of building rapport with your players.
"We're seeing a lot more of that with 'Bevo' (Western Bulldogs coach Luke Beveridge) at the Doggies – I've never worked with him, but everyone talks about how much time and effort he puts into his players as people, and is therefore able to get the best out of them.
"I like matching that up with the tactical side of the game and being able to challenge players."
Eva has played footy since she was six, signing up for Auskick to be with friends.
"I went to a really small primary school, and at lunchtime, we played footy. So when my mates went down to Auskick in prep, I didn't think any differently, I went too.
"I probably didn't realise I was part of the minority, so to speak, until I reached 11 or 12. It was just what I did on the weekend."
A lifelong Melbourne fan, Eva had no hesitation switching her allegiance to the Pies after being drafted in October with pick 54.
"Dad struggled a bit, because there is that Melbourne-Collingwood rivalry, but the club invited all the families back to the club and (president) Eddie (McGuire) – who was in Berlin at the time – spoke to us on over the phone.
"They welcomed us with open arms. Not just the players, but our families too."