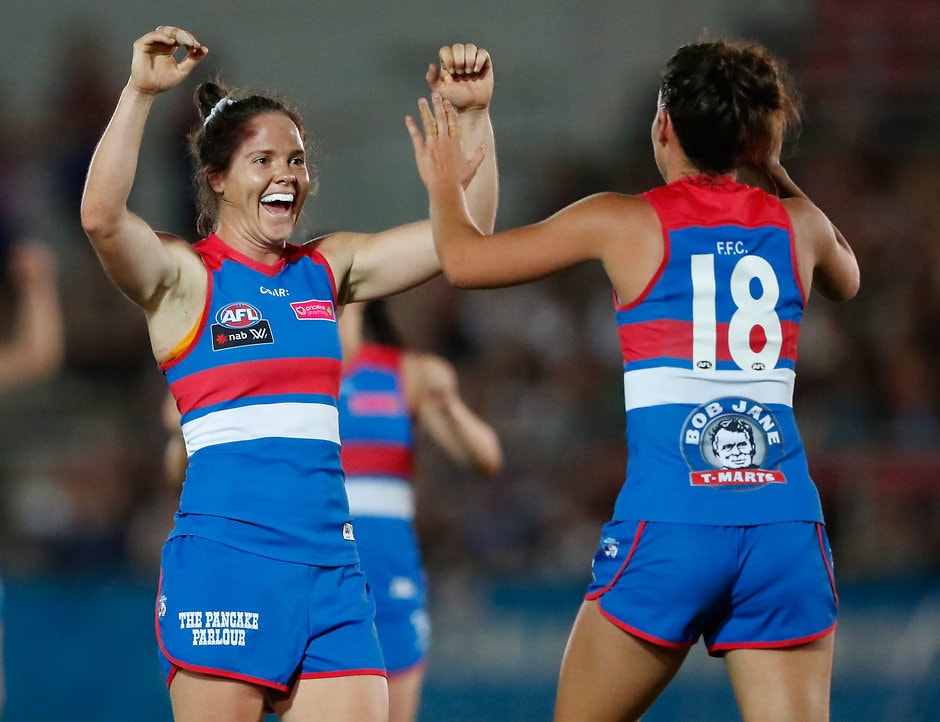 JUGGLING football, cricket and teaching is leaving Bulldog Emma Kearney weary. Not that it was noticeable in her form against Fremantle in the club's opening NAB AFL Women's competition match last Saturday.
Her job as a full-time teacher only began recently with the start of term one but Kearney admitted the long hours were taking a toll.
"Most of our training sessions are after hours, which certainly helps. I am tired a lot of the time because of late nights, getting home from training and then being up nice and early for work," 27-year-old Kearney told AFL.com.au.
"But I'm loving what I'm doing and I wouldn't change it."
Kearney racked up 23 disposals against the Dockers, more than anyone else on the ground.
The challenge will only get harder on Friday night as the Dogs face fellow first-round winner Adelaide at Whitten Oval. Going to work on the day of the game is a unique challenge Kearney and some of her teammates will have to face.
"We saw a little bit of footage of the Adelaide-GWS game and Adelaide looked really impressive. There are a lot of superstars in that team," she said.
"A lot of the girls will be working Friday and then have to play the game, so that's something really unique for a lot of us. We've just got to focus on how we're going to beat Adelaide."
The Bulldogs' priority player missed eight pre-season training sessions while she played for the Melbourne Stars in the Women's Big Bash League through December and January.
It was a tough ask, but knowing she had the support of Bulldogs coach Paul Groves made the job easier.
"It was a little bit tricky juggling the two (sports). 'Grovesy' was pretty good about it. He was really supportive of me and he trusted I was doing the fitness work outside of the training sessions. It was just about trying to get touch outside of footy sessions."
One of the difficult aspects of missing so much training was not being able to develop chemistry with her teammates, although with only one practice match (a 10-point win against Collingwood), the whole squad is still learning how to play together.
Kearney said she made sure to put in an extra effort to get to know teammates she hadn't previously come across or didn't know much about.
"I've played against a lot of them, so I know how they play based on that. That certainly helped," she said.
"When I was at training, I tried to get to know a lot of the girls as much as possible on more of a personal level. When I know them personally, that's when I know I can trust them on the field and get to know how they play."
Making the transition easier was the fact that she played alongside fellow Dogs onballers Ellie Blackburn and Brooke Lochland in the Melbourne University side that fell short against Darebin in the VFL Women's Grand Final last year.
"We've already got that chemistry, but now it's about trying to work out how to kick the ball to certain forwards and the like," she said.