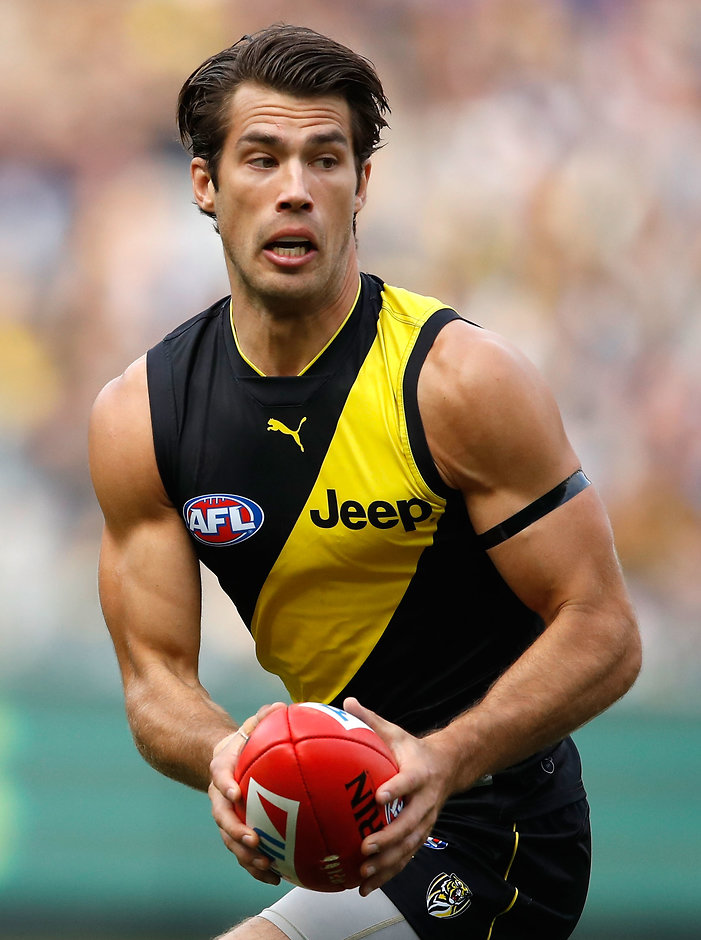 The art of being able to intercept and read the cues, and go from a spoiling defender to a marking defender, takes time
FITTING the bill as an outstanding key defender in the AFL requires a new set of expectations.
You should be able to break three seconds in a 20m sprint, be a great mark, be able to hold concentration for long periods, have a team-first approach and be a general-of-sorts.
Being 195cm tall with the ability to maintain performance through repeat efforts helps, too.
But expect your evolution as a player to never stop, and how you are rated may depend on the system you play in, the support around you and how good your team is.
Alex Rance, the only footballer named in the Virgin Australia AFL All Australian team the past three years, is the defender every club wants.
"What makes him so great is his ability to peel off his own man. He's got the power and speed to impact the ball," one AFL opposition analyst told AFL.com.au.
"Rance does it better than anyone, so that's why he's so highly rated. He just backs himself. It's almost like he has no doubts at all, because if you get caught between (contests), it can look pretty bad."
Statistics have become a huge part of analysing football, but typically don't tell the full story of how good a defender, or any player, is. In Rance's case, the picture is clear.
He is the sole footballer rated elite – in the top six of the competition's 66 key defenders this year – in intercept marks, intercept possessions, spoils, rebound 50s and metres gained.
Questions usually remain: is the player manning the No.1, 2 or 3 tall forward? Does the coach use the defender in a different role because of individual strengths or team needs? How many genuine inside 50s is that player exposed to? How does fatigue factor in?
The ability to win the ball back in the air – a great strength of West Coast's 2016 All Australian Jeremy McGovern and Richmond's Rance – is a commodity in demand.
That's part of why Gold Coast co-captain Steven May and Adelaide young gun Jake Lever, who also thrive in that area, are such popular trade targets. No key defender is averaging more than 21-year-old Lever's four intercept marks and 10 intercept possessions.
"If you're a spoiling defender, there are still opportunities at ground level for the opposition team," the opposition analyst said.
"If you intercept mark, those opportunities dry up and guys like Eddie Betts starve a bit more than what they would."
The Crows have even tried coaxing that skill out of dual All Australian Daniel Talia, with only lukewarm success. Lever's emergence and the side's ability to turn the ball over at half-back largely render that irrelevant.

Daniel Talia is a top defender but, like most, has his limitations. Picture: AFL Photos

Talia remains one of the League's best one-on-one defenders – winning a League-best 49.1 per cent of those contests – and is one of the few top-liners manning the opposition's best forward.
Just don't expect Talia to churn out big numbers in metres gained, rebound 50s and possessions like another acclaimed backman, Essendon's Michael Hurley. Therein lies the problem in separating one key defender from another.
There are do-it-all guys such as Rance, then polar opposites like Talia and Hurley with particular strengths. Talia is involved in almost double as many one-on-one contests as Hurley (5 to 2.7), who thrives on attack and has a significant edge in score involvements (3.5 to 2).
That yin and yang dynamic is evident in most club defensive set-ups. Rance, for example, has the underrated David Astbury to subdue the No.1 forward, a responsibility he has proven increasingly capable of.
Geelong's great sides since the turn of the century adopted the philosophy wonderfully through players like Matthew Scarlett and Tom Harley, then Harry Taylor and Tom Lonergan.
Other contrasting combinations include North Melbourne's Robbie Tarrant – one of the game's best key defenders – and Scott Thompson, St Kilda's Jake Carlisle and Nathan Brown, Bombers Hurley and Michael Hartley, and Port Adelaide's Tom Jonas, Jack Hombsch and Tom Clurey.

Michael Hurley is enjoying a great season after a year out of the game. Picture: AFL Photos

Jonas is relatively tiny among the key defenders at just 189cm, similar to Hawthorn's Josh Gibson and Bulldog Dale Morris, but has successfully played on Gold Coast's Tom Lynch and Eagle Josh Kennedy this year, as well as Betts.
"I think they back Hombsch and Clurey to be able to help out. Maybe they're a bit better suited to reading the cues and peeling off to support than Jonas is," the opposition analyst said.
"He's a much better one-on-one player than he is reading of the game and intercepting, so they're just backing him with his strengths."
There are other less celebrated defenders turning in fine 2017 campaigns, including Carlton's Alex Silvagni and Greater Western Sydney's Nick Haynes (who was in hot form before a serious hamstring injury), while Blue Jacob Weitering and Brisbane Lion Harris Andrews loom as future stars.
But the men down back are increasingly a product of their system.
"It's very much a group dynamic and how they fit into that," the opposition analyst said.
"The art of being able to intercept and read the cues, and go from a spoiling defender to a marking defender, takes time – it takes pre-seasons to back yourself in."
THE DEFENSIVE ELITE (through round 11)*
Intercept marks: Jake Lever (Adel) 4.0, Jeremy McGovern (WC) 3.5, Alex Rance (Rich) 3.2, Steven May (GC) 3.1, Tom Barrass (WC) 2.9, Jack Leslie (GC) 2.9
Intercept possessions: Jake Lever (Adel) 10, Alex Rance (Rich) 9.0, Alex Silvagni (Carl) 8.4, Michael Hurley (Ess) 8.3, Jeremy McGovern (WC) 8.2, Scott Thompson (NM) 8.1
Spoils: Michael Hartley (Ess) 10.6, Alex Rance (Rich) 9.6, Oscar McDonald (Melb) 8.8, Tom Jonas (Port) 8.2, Daniel Talia (Adel) 7.9, Fletcher Roberts (WB) 7.9
Rebound 50s: Michael Hurley (Ess) 6.6, Robbie Tarrant (NM) 4.5, Alex Rance (Rich) 4.2, Steven May (GC) 3.9, Scott Thompson (NM) 3.9, Nick Haynes (GWS) 3.7
One-on-one Loss %: Jeremy McGovern (WC) 6.7, Sam Gilbert (St K) 9.1, Lynden Dunn (Coll) 14.3, Daniel Talia (Adel) 16.4, Tom Stewart (Geel) 16.7, Jake Carlisle (St K) 16.7
One-on-one Win %: Daniel Talia (Adel) 49.1, Jeremy McGovern (WC) 46.7, Nathan Brown (St K) 46.2, Tom Clurey (Port) 45.2, Jake Lever (Adel) 44.4, Michael Hartley (Ess) 42.1
One-on-one contests: Michael Hartley (Ess) 5.4, Alex Rance (Rich) 5.3, Jack Leslie (GC) 5.3, Joel Hamling (Freo) 5.2, David Astbury (Rich) 5.1, Daniel Talia (Adel) 5.0
Metres gained: Michael Hurley (Ess) 415.4, Nick Haynes (GWS) 358.6, Robbie Tarrant (NM) 343.2, Steven May (GC) 311.5, Alex Rance (Rich) 300.9, Lynden Dunn (Coll) 297.9
Marks: Jeremy McGovern (WC) 7.9, Caleb Marchbank (Carl) 7.8, Ben Reid (Coll) 7.7, Michael Hurley (Ess) 7.5, Nick Haynes (GWS) 7.5, Tom McDonald (Melb) 7.2
* Minimum five games in 2017