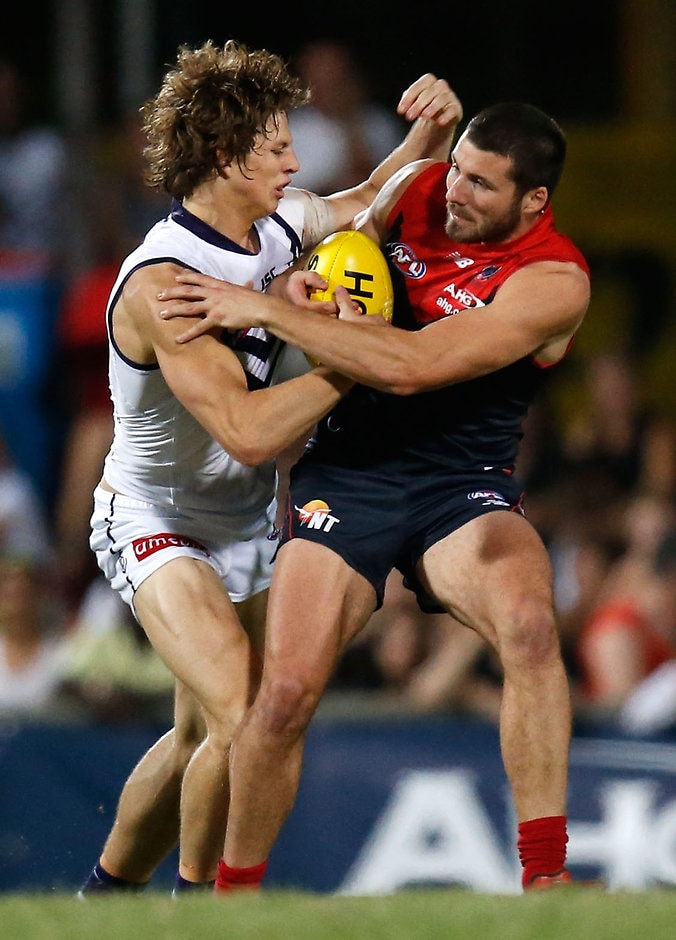 It's the first time the crowd will be 50-50, which will be a very different feeling
AFLNT boss Michael Solomon
FLAG contenders Adelaide and Melbourne are set to lock horns in front of the biggest Darwin football crowd since 2006 this Saturday night.
More than 10,000 tickets have been sold, with AFL Northern Territory boss Michael Solomon tipping the match at TIO Stadium (capacity 12,500) to be a sell-out by game morning.
The Darwin forecast for Saturday is for a temperature peak of 33 degrees that will dip five degrees by the first bounce, which is at 7.10pm ACST (7.40pm AEST).
Only one of the past eight matches in the Top End has gone close to being a sell-out, with 11,873 fans attending West Coast's 54-point win over Melbourne two years ago.
It will also be just the second time in 22 AFL matches in Darwin or Alice Springs that two top-eight clubs are involved. The other was in 2009, when the third-placed Western Bulldogs beat eighth-ranked Port Adelaide by 93 points in front of 11,306.
The Crows are on top of the ladder entering this weekend's clash with the Demons, who are fifth.
Adelaide's AFL side has never played in the NT, but its AFL Women's team has a partnership with AFLNT and attracted 5,100 fans to a match against Melbourne at TIO Stadium on March 11.
"We're guessing, based on last year's numbers, that it will be a sell-out before Saturday morning, which is great news," Solomon told AFL.com.au.
"This is a big crowd for Darwin. Darwin people tend to have a habit of rolling in five (minutes) to 7pm, but they won't be able to this time. Last year we had (8,163) and there were 2,000 standing at the gate when the first siren went.
"Melbourne has a footprint up here now, there's the Adelaide association with the women's team and (Crows legend) Andrew McLeod is a Darwin boy, so there is a fairly decent Adelaide fan base here.
"It's the first time the crowd will be 50-50, which will be a very different feeling. Last year when Freo kicked a goal they got a round of applause, but when Melbourne did there was a roar."
TIO Stadium's capacity was reduced when the Michael Long Learning and Leadership Centre was opened in 2015.
The best-attended AFL contest there was 14,100 in 2006 for a game featuring Port Adelaide and the Bulldogs. But a record 17,500 turned out to watch the Aboriginal All-Stars face Carlton at the venue in 2003.
Solomon said the Darwin surface was "the best in Australia and looks better than the MCG".
The people of Darwin have always welcomed the Demons. Picture: AFL Photos

The Demons have played at least one home match in the NT since 2010, with the Bulldogs hosting games there between 2004 and 2013.
The AFL signed a two-year, $3.2 million deal with the NT Government last year to play one game in Darwin and Alice Springs each season until 2018.
"We're really happy with our sponsorship with the Northern Territory," Melbourne coach Simon Goodwin said.
"We've been going up there for a period of time now and we feel like it is our home ground. We feel like it is an advantage for us to go away and perform in the Northern Territory.
"We understand the facilities, we understand the oval, we understand the conditions and we think that's a really good advantage for us."
NEAFL clubs NT Thunder and Aspley are playing a curtain-raiser from 3pm ACST ahead of Saturday night's AFL clash.
AFL GAMES AT TIO STADIUM (DARWIN)
2004, Rd 20, Port Adelaide (2nd) 23.9 (147) d Western Bulldogs (14th) 9.7 (61); Crowd: 13,271
2005, Rd 13, Western Bulldogs (11th) 17.14 (116) d Carlton (16th) 10.10 (70); Crowd: 13,037
2006, Rd 19, Port Adelaide (13th) 14.21 (105) d Western Bulldogs (7th) 13.13 (91); Crowd: 14,100
2007, Rd 12, Western Bulldogs (9th) 22.9 (141) d Fremantle (11th) 16.19 (115); Crowd: 11,449
2008, Rd 14, Western Bulldogs (2nd) 20.15 (135) d Port Adelaide (12th) 11.15 (81); Crowd: 11,373
2009, Rd 12, Western Bulldogs (3rd) 21.11(137) d Port Adelaide (8th) 7.2 (44); Crowd: 11,306
2010, Rd 9, Melbourne (11th) 17.9 (111) d Port Adelaide (8th) 16.4 (110); Crowd: 8,848
2010, Rd 16, Western Bulldogs (5th) 12.11(83) d Port Adelaide (14th) 7.5 (47); Crowd: 11,080
2011, Rd 10, Port Adelaide (17th) 13.11 (89) d Richmond (9th) 10.14 (74); Crowd: 11,506
2011, Rd 17, Melbourne (10th) 17.11 (113) d Port Adelaide (16th) 14.8 92); Crowd: 7255
2012, Rd 8, Western Bulldogs (13th) 9.18 (72) d Gold Coast (17th) 4.10 (34); Crowd: 8724
2012, Rd 17, Port Adelaide (15th) 12.12 (84) d Melbourne (16th) 8.8 (56); Crowd: 6714
2013, Rd 10, Western Bulldogs (16th) 10.7 (67) d Port Adelaide (9th) 8.10 (58); Crowd: 7850
2013, Rd 17, Brisbane Lions (13th) 13.16 (94) d Melbourne (17th) 11.9 (75); Crowd: 7615
2014, Rd 16, Fremantle (4th) 15.7 (97) d Melbourne (15th) 4.10 (34); Crowd: 9290
2015, Rd 14, West Coast (2nd) 16.18 (114) d Melbourne (15th) 9.6 (60); Crowd: 11,873
2016, Rd 16, Melbourne (10th) 12.15 (87) d Fremantle (16th) 8.7 (55); Crowd: 8163
2017, Rd 17, Melbourne (5th) v Adelaide (1st) Crowd: TBD
AFL GAMES AT TIO TRAEGER PARK (ALICE SPRINGS)
2014, Rd 11, Port Adelaide (1st) 14.1 1(95) d Melbourne (15th) 11.9 (75); Crowd: 5655
2015, Rd 9, Port Adelaide (13th) 18.7 (115) d Melbourne (14th) 8.6 (54); Crowd: 4866
2016, Rd 10, Port Adelaide (10th) 18.13 (121) d Melbourne (9th) 10.16 (76); Crowd: 5146
2017, Rd 10, Melbourne (11th) 18.14 (122) d Gold Coast (15th) 13.9 (87); Crowd: 5072