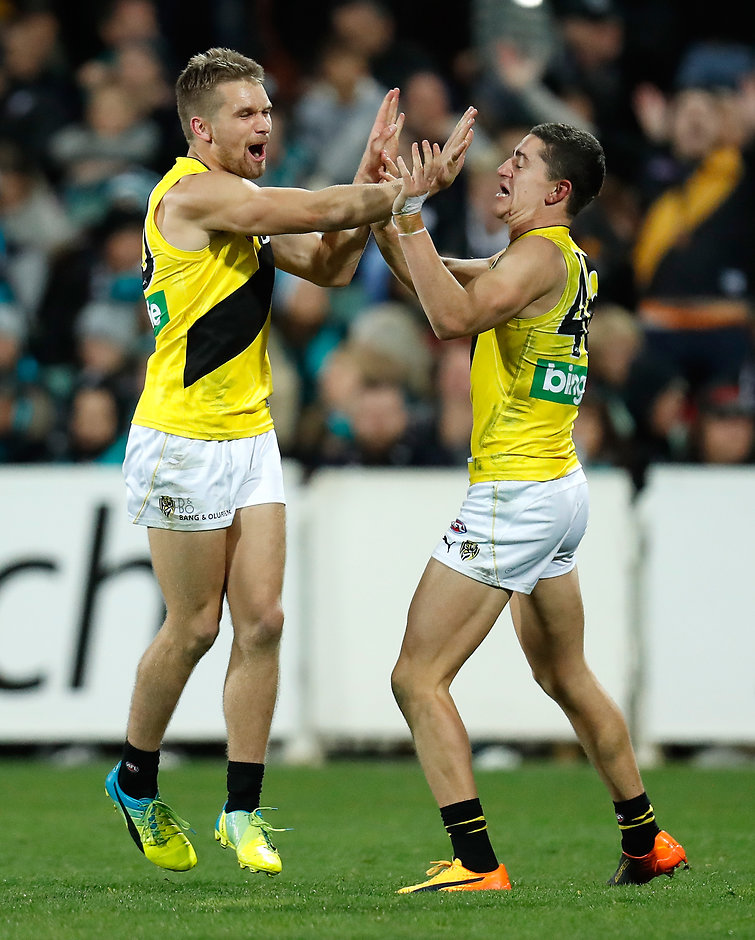 He (Castagna) probably got more pressure inside forward 50, and I was probably more up the ground
Dan Butler
HOUSEMATES Dan Butler and Jason Castagna are well known for their competitiveness off-field, but it is their race to be the best on-field in one key category that is helping drive their success.
Every Monday the pair walk into assistant coach Justin Leppitsch's office and have one stat on their mind. Pressure points. How did they rank, and who came out on top?
Pressure points aren't widely available as a stat, but they are the most accurate measure of what Butler and Castagna do as pressure forwards.
"That's the first thing I look for when I go and see 'Leppa', and that will give me a good indication of how I'm going," Butler told AFL.com.au.
"We were having a bit of a competition about who could get the highest and we were pretty even overall.
"He (Castagna) probably got more pressure inside forward 50, and I was probably more up the ground, but we were pretty even."
Butler and Castagna can each claim victory when it comes to the pressure points stat.
Castagna registered the most in a single game this season (65.4 in round 18), while Butler ended the preliminary final with the higher average over the season (40.8 to Castagna's 34.3).
Teammate Daniel Rioli goes into the Grand Final with the most pressure points for the season among the small forwards, registering 979.7 to Butler's 897.1 and Castagna's 824.1.
"Rioli is normally beating us in it, so we don't really want to compete with him. He usually pressures a lot better than us," Butler said.
"I'm sure if we asked him to he'd love to join, but it's just pride, bragging rights."
The pressure points stat can surprise the players sometimes, with a low number coming back at them when they feel like they've had a good pressure game, and vice-versa.
Leppitsch doesn't provide details on the specific number during games unless the players ask for it, giving the small forwards general feedback on their pressure during breaks.
The Tigers' trio of small forwards have become a close bunch, spending long periods after training working on extras together.
Their pressure has become something they pride themselves on, with Butler saying effective tackles inside 50 was the most important part of his game.
While all three are lightning quick, they couldn't say who would win a 100m sprint between them.
Asked about Butler's impact this season, Castagna said the 21-year-old had shown what he was capable of after two seasons on the fringes because of injury and form.
"His pressure has been huge. He's bloody quick, and I think he's offered it for a long time," he said.
"The way the team has changed this year with a smaller forward line, it's worked in his favour and he's been about to show how good a player he is."
Butler said Castagna's impact had been important on-field, playing every game this season, but he was also a key to the Tigers' improved culture.
"It's his personality off the field. He's a real funny bloke and he gets along well with everyone," Butler said.
"With every individual player, he kind of has his own unique thing that they carry on about.
"He's a funny bloke to be around, and I think everyone enjoys him."