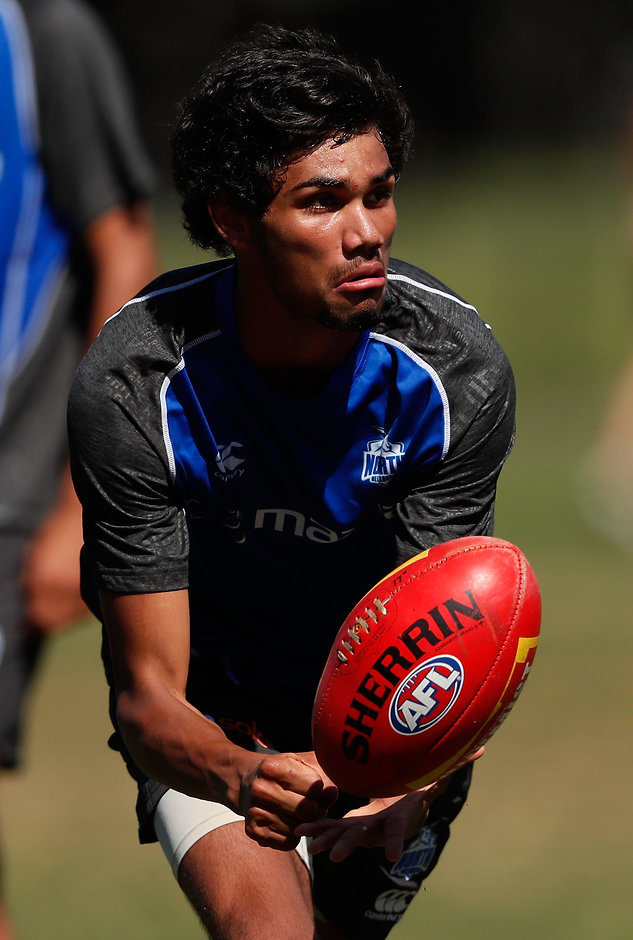 You see things in the media about Tassie having no draft picks or not having this or that, and it becomes a bit of a motivator to show that it's not a poor place for AFL players coming through
Chayce Jones
WITH Tasmania having produced just one draftee in the past two years, local heroes Chayce Jones and Tarryn Thomas are determined to lead the state out of its dire patch this season.
The spotlight continues to be shone on the health of Tasmanian football after TSL club Burnie recently followed Devonport in withdrawing from the competition due to a lack of players.
It was a further blow for Tasmania given Hugh Dixon, who was selected by Fremantle last year, has been the only player to graduate from the state to an AFL list since 2015.
Things are looking brighter this year, with Jones (from Launceston) and Thomas (North Launceston) entering the under-18 season as two of the brightest midfield prospects in the 2018 crop.
Thomas has already garnered plenty of attention, and as he is a member of North Melbourne's Next Generation Academy program, the Roos will have first call on the indigenous youngster at November's NAB AFL Draft.
The 187cm teenager trained with the club over summer before heading to America last month for the NAB AFL Academy's high-performance training camp, although he hasn't let himself picture a future at Arden Street just yet.
"It was different training with them, and the intensity goes up heaps. It was amazing," Thomas said.
"I haven't really thought about it yet about playing for them because there's still a long way to go."
Thomas' credentials as one of the classiest players in this year's pool were highlighted in 2016 when he completed a remarkable double: he was named Tasmania's most valuable player at both its under-18 and under-16 carnivals.
He had only started playing football four years earlier, having taken it up while living in Sydney before shifting to Tasmania.
"I lived in Sydney until I was 13, and then the family moved to Tasmania to help my nan out. She passed away so we looked after her house and have stayed there," he said.
"I played NRL and then tried out playing footy, which I liked more."
Thomas is renowned for his clean ball handling, silky skills and ability to play in different positions around the ground, which was on show at last year's under-18 carnival for the Allies.
In April, he will represent Tasmania at the Academy series, partnered again with Jones, who is returning after suffering a season-ending ankle injury in May last year.
The hard-working, smart and reliable midfielder, who combines a strong endurance base with good dash, dislocated his ankle and also suffered a leg fracture in the collision.
Chayce Jones training with the AFL Academy in the US last month.

"I was playing some of the best footy I ever had, and then the injury came along," he said.
"The day before I had found out I was in the Allies squad and then I had the injury, so it was all really exciting and then I had a big thud to the ground.
"The hardest part was that I was really confident in myself at the time, so there was obviously disappointment at missing so much footy."
Jones is keen to make up for lost time, but didn't rush his rehabilitation, instead taking the conservative approach when he could have played late in the season.
That seems to have been the right course of action, as Jones was a standout in front of recruiters on the track in Florida and Los Angeles during the Academy's January camp.
He wants to take that form into the season and, along with Thomas, help turn around Tasmania's fortunes.
"You see things in the media about Tassie having no draft picks or not having this or that, and it becomes a bit of a motivator to show that it's not a poor place for AFL players coming through. This year we've got a good group," he said.
"Being with Tarryn, we've been able to share our thoughts and give each other a bit of confidence going into it.
"We're good mates and we're also able to talk to other players, but we know if we need help from each other that we're always going to be there to give a hand."