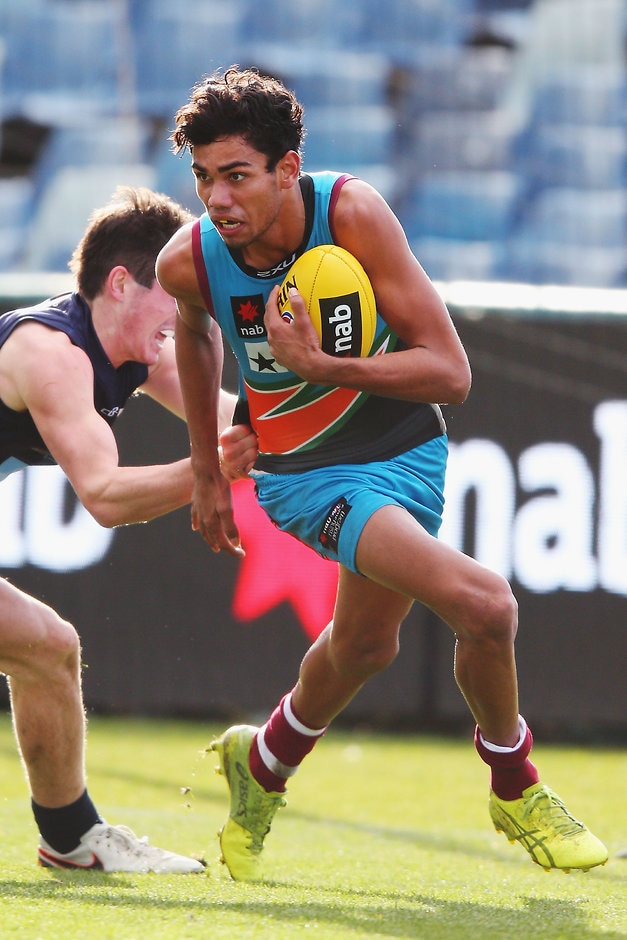 THE ACADEMY series began on Saturday at Blacktown in Sydney, with Tasmania, the Sydney Academy and Greater Western Sydney Academy recording victories.
Gold Coast Academy v Tasmania
An ultra-impressive outing by North Melbourne-bound Tarryn Thomas has only increased his value further, as he picked up 23 disposals and displayed his clean hands in Tasmania's 45-point victory against Gold Coast.
Fraser Turner ran hard along the wings, racking up 34 disposals, 10 marks and seven inside-50s, while Chayce Jones snagged four goals.
Defender Matthew McGuinness thrived in the first half especially, continually cutting off Gold Coast's forays forward.
Meanwhile, Bailey Scott worked his way into the game in the second half to finish with a team-high 23 disposals, as well as a goal. As well as the Suns, Geelong and the Kangaroos have an advantage in drafting him after his dad Robert played enough games at both clubs for Bailey to qualify as a father-son selection.
Dirk Koenen and Caleb Graham both showed signs in the air for Gold Coast, taking eight and five marks respectively.
Gold Coast 2.1 3.2 5.5 8.6 (54)
Tasmania 3.1 9.3 10.6 15.9 (99)
GOALS
Gold Coast: Smith 2, Burke, Conroy, Graham, Greenwool, Lowah, Scott
Tasmania: Jones 4, Mundy 3, Rubock 3, Banks-Smith 2, Dakin 2, O'Neill
BEST
Gold Coast: Koenen, Smith, McDonald, Scott, Graham
Tasmania: Thomas, Auckland, Turner, Jones, House, McGuinness, Gadomski
Greater Western Sydney Academy v Northern Territory
A stellar performance from Tom Green saw him rack up 31 disposals and 10 clearances in Greater Western Sydney Academy's 48-point win against Northern Territory.
Nicholas Murray, the brother of Collingwood backman Sam, impressed with 21 disposals and five rebound 50s while Jacob Koschitzke, the cousin of former Saint Justin, continually intercepted Northern Territory's attacks.
Matt Green's run and carry for NT saw him gather 19 disposals and three rebound 50s, while the Cumming brothers, Stephen and Matthew, performed well and asserted their presence both in the ruck and down back.
Greater Western Sydney Academy 2.3 6.4 9.4 13.5 (83)
Northern Territory 2.1 2.4 4.5 5.5 (35)
GOALS
Greater Western Sydney Academy: Chandler 3, Corbett 2, Edwards 2, Budd, Driscoll, Peatling, Powell, Rowston, Walker
Northern Territory: Schwarze 2, Brown, Rosas, Scrutton
BEST
Greater Western Sydney Academy: Green, Koschitzke, Murray, Beaumont, Kelly, Briggs
Northern Territory: S Cumming, Rosas, Grant, Baird, Green, Holt-Fitz
Jacob Koschitzke is hoping to follow in the footsteps of his cousin Justin. Picture: AFL Photos

Sydney Academy v Brisbane Academy
In-demand forward Nick Blakey booted five goals in a strong aerial display that will have his three suitors salivating as the Sydney Academy recorded a 49-point win against the Brisbane Academy.
Blakey, who is versatile enough to play all over the ground, can go to the Swans as an Academy selection or to North Melbourne or Brisbane, after his father John played at the Kangaroos and Fitzroy.
Cooper Kilpatrick impressed with three goals of his own while ruckman Zachary Cameron showcased his speed and power.
For the Lions, Darcy Marsh's pace was on show as he notched up 23 disposals, eight inside 50s and two goals.
Tough midfielder Caleb Franks tried hard as he gathered 19 disposals and a goal while Toara Marango was gallant in defence.
Sydney Academy 3.2 8.2 13.5 16.6 (102)
Brisbane Academy 1.2 3.2 5.4 8.5 (53)
GOALS
Sydney Academy: Blakey 5, Kilpatrick 3, Barkley, Barling, Carroll, McKellar, Parker, Reinhard, Stern, Wicks
Brisbane Academy: Marsh 2, Ansell, Franks, Jeffrey, McFadyen, Reville, Stackelberg
BEST
Sydney Academy: McKellar, Cameron, Blakey, Kilpatrick, Parks, Wicks
Brisbane Academy: Marango, Marsh, Griffiths, Franks, Stackelberg