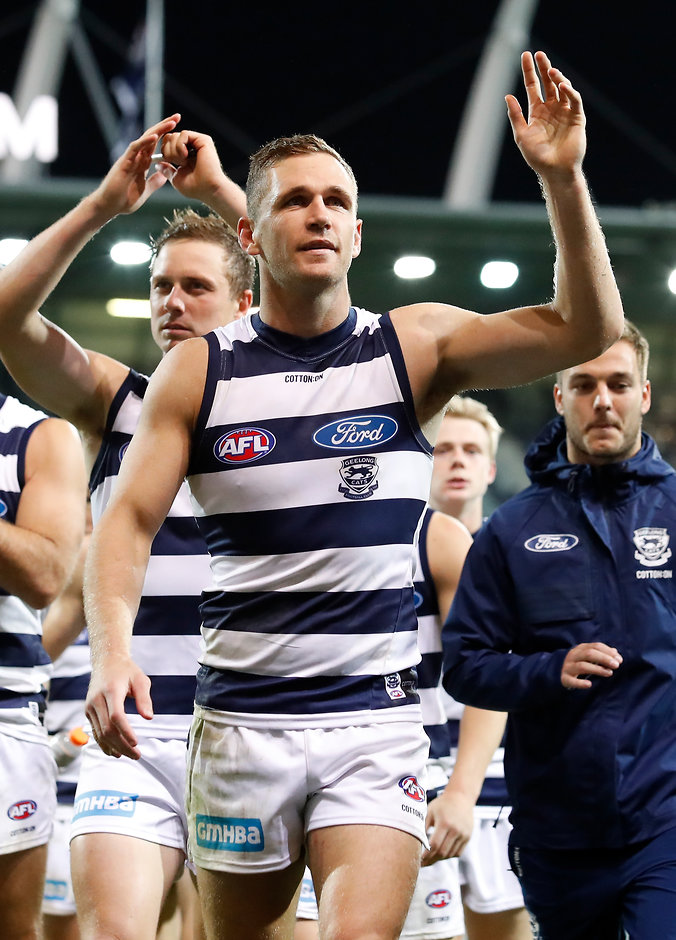 IT'S OFFICIAL: Joel Selwood is the umpires' pet and Lance Franklin gets a rough run. At least that's what the numbers tell us.
Using statistics supplied by Champion Data, AFL.com.au looked at the current players with the best and worst free kick differentials across their careers, as in who has the biggest gap between the amount of free kicks they receive and the ones they give away?
Selwood is clearly a free kick king across his illustrious career. He has played 260 games for the Cats and won 702 free kicks and given away 330, making his differential 372 free kicks in the positive. It is 100 more free kicks in his favour than the next best current player, Carlton skipper Marc Murphy, who has a differential of 272.
Obviously these lists will highlight experienced players, as those who have played longer are likely to have a bigger differential than the players fresher to the top level.
But there are still trends to see. Of the top five individual seasons of free kick differentials for a player, since Champion Data started in 1999, Selwood has recorded four of them. In 2013, when he played 25 games for the Cats, Selwood won 45 more free kicks than he gave away.
His fierce aggression at the contest, combined with his ability to draw high free kicks, means his place at the top of the list won't surprise many. In fact, the numbers show umpires are keen to protect the ball-winners, with Scott Pendelbury, Trent Cotchin, Patrick Dangerfield and Gary Ablett also among the top group of best differentials.
Former Docker and current Magpie Chris Mayne is something of an outlier, having averaged just over one free kick per game across his 181-game career. However, in that time he has only given away 86 frees, placing him seventh on the list.
Then there is the story of Franklin. The goalkicking great holds the record for the worst season of free kick differential, having given away 47 more free kicks than he received in the Hawks' premiership season of 2008. The year before, he gave away 28 more free kicks than went his way, too.
Over the course of his glittering 279-game career Franklin has conceded 190 more free kicks than he's received.
Brownlow medallists Nat Fyfe and Dustin Martin are also among the group of current players to be on the wrong end of the umpires' whistle more than the right.
BEST FREE KICK DIFFERENTIALS
| | | | | |
| --- | --- | --- | --- | --- |
| | Matches | Frees for | Frees against | Differential |
| Joel Selwood (Geel) | 260 | 702 | 330 | +372 |
| Marc Murphy (Carl) | 240 | 455 | 183 | +272 |
| Scott Pendlebury (Coll) | 262 | 351 | 145 | +206 |
| Trent Cotchin (Rich) | 208 | 374 | 219 | +155 |
| Patrick Dangerfield (Geel) | 212 | 361 | 226 | +135 |
| Gary Ablett (Geel/GC) | 309 | 426 | 320 | +106 |
| Chris Mayne (Freo/Coll) | 181 | 191 | 86 | +105 |
| Luke Shuey (WC) | 164 | 292 | 188 | +104 |
| Paul Puopolo (Haw) | 155 | 219 | 117 | + 102 |
| Todd Goldstein (NM) | 201 | 296 | 197 | +99 |
Joel Selwood appeals for a free kick and is rewarded by the umpire. Picture: AFL Photos

WORST FREE KICK DIFFERENTIALS
| | | | | |
| --- | --- | --- | --- | --- |
| | Matches | Frees for | Frees against | Differential |
| Lance Franklin (Haw, Syd) | 279 | 363 | 533 | -190 |
| Heath Grundy (Syd) | 248 | 123 | 238 | -115 |
| Dustin Martin (Rich) | 189 | 174 | 266 | -92 |
| Ben Cunnington (NM) | 176 | 121 | 211 | -90 |
| Jackson Trengove (PA, WB) | 158 | 141 | 228 | -87 |
| Nathan Brown (Coll, St K) | 161 | 68 | 145 | -77 |
| Steven Motlop (Geel, PA) | 145 | 63 | 138 | -75 |
| Sam Gilbert (St K) | 202 | 141 | 213 | -72 |
| Ryan Schoenmakers (Haw) | 114 | 61 | 131 | -70 |
| Nat Fyfe (Frem) | 149 | 171 | 239 | -68 |
BEST DIFFERENTIAL SEASONS SINCE 1999
| | | |
| --- | --- | --- |
| | Year | Differential |
| Joel Selwood (Geel) | 2013 | +45 free kicks |
| Joel Selwood (Geel) | 2008 | +42 |
| Joel Selwood (Geel) | 2017 | +40 |
| Angus Monfries (Ess) | 2008 | +39 |
| Joel Selwood (Geel) | 2014 | +38 |
Lance Franklin isn't the umpire's' buddy. Picture: AFL Photos

WORST DIFFERENTIAL SEASONS SINCE 1999
| | | |
| --- | --- | --- |
| | Year | Differential |
| Lance Franklin (Haw) | 2008 | -47 free kicks |
| Lance Franklin (Haw) | 2007 | -28 |
| Levi Greenwood (NM) | 2010 | -28 |
| Dustin Martin (Rich) | 2016 | -28 |
| Peter Burgoyne (PA) | 2003 | -26 |