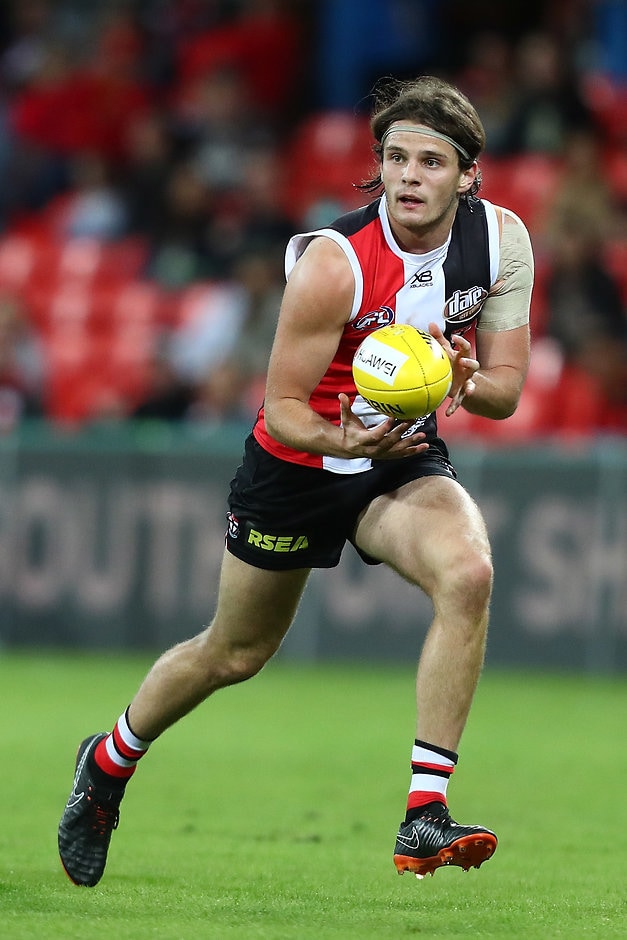 The focus has just been to really be alert and play with more urgency, and I've just been getting to better spots
Hunter Clark
HUNTER Clark has ticked a lot of boxes this year.
Moving out of home. AFL debut. First win. Then (finally) a second. And now NAB AFL Rising Star nominee for round 13.
The St Kilda young gun, the No.7 pick in the 2017 draft, is back in the familiar surrounds of sleepy bayside suburb Safety Beach this week, with the Saints on the bye.
Clark, 19, will again tackle something new: the role of 'babysitter', although his siblings Molly, 17, and Angus, 13, might take exception to the term.
WHO WILL WIN RISING STAR? All of 2018's nominees
Their parents are holidaying in Bali, so Clark – fresh from playing an instrumental role in St Kilda's remarkable last-quarter comeback over Gold Coast on Saturday – is effectively in charge.
So will his brother and sister obey him?
"No, definitely not," the Mt Martha and Dandenong Stingrays product told AFL.com.au with a laugh.
But all jokes aside, Clark has done a lot of growing up in 2018.
He has moved in with fellow Saints Nick Coffield, who was drafted one selection behind him last year, and Doulton Langlands, not far from the club's Moorabbin base.
It's easy to forget when watching them smoothly transition to the AFL stage that, at the end of the day, they are still just kids.
"It was pretty hard the first few weeks not having mum to cook or wash. We'd all leave our plates out, then they'd still be there a few days later," Clark said.
"But it's been awesome. I've become pretty good mates with Nick and Doulton and it's made me a lot more independent and responsible."
It's not only his living arrangements, either.
Clark walked into a football club that had expectations of contending for finals this year, but it instead went without a victory for an 11-match stretch that cemented it in the bottom four.
Amid all that, he was dropped twice – after rounds two and five – in an experience foreign to the star junior who won the Stingrays' 2017 TAC Cup best and fairest in record-breaking fashion.
Clark, who already re-signed at St Kilda through the 2021 season, has bounced back to play the past seven games in a row since returning to the senior side.
"I hadn't had to face being dropped before, so it was a bit different, but I got positive messages and went back and played a VFL game," he said.
"'Richo' (coach Alan Richardson) just told me to try and find the footy and get back into form, and I had a pretty good VFL game and that gave me heaps of confidence.
"You don't want to be dropped, but there's always a reason … at the start I wasn't aware of just how quick the game would be and how quick you have to transition and be alert to what's going on.
"My last couple of months, the focus has just been to really be alert and play with more urgency, and I've just been getting to better spots."
That improvement was on display at the weekend, with Clark's desperation and cleanness with ball in hand a feature of his play in the cut-throat final term.
He described the win, after Jade Gresham's brilliant snap capped a five-goals-to-none fourth quarter, as the best he'd been involved in, because of the tough times that preceded it.
The defender finished with 17 disposals at 82 per cent efficiency, six tackles, five intercept possessions and four score involvements.
None of Clark's performance surprised Stingrays talent manager Mark Wheeler, who watched him blossom at Shepley Oval from age 14 despite knee and groin setbacks along the way.
"Hunter was always meticulous in the way he went about stuff," Wheeler told AFL.com.au.
"He played midfield for us and that aggressive play from him that we're seeing now probably started happening midway through last year.
"He's pretty laidback off the field, but he hates to lose and that's the (part of his) personality no-one has got to see yet and that's why he snuck under the radar for a few of them."
Clark plans to catch up with mates this week he hasn't seen for months and generally just refresh ahead of the second half of the season.
"Nothing's really changed with the way I've been treated or anything. I've just come back and I'm living a normal life," he said.
"I get a break from footy for a few days, which will be good, because it's been pretty full-on this year so far."