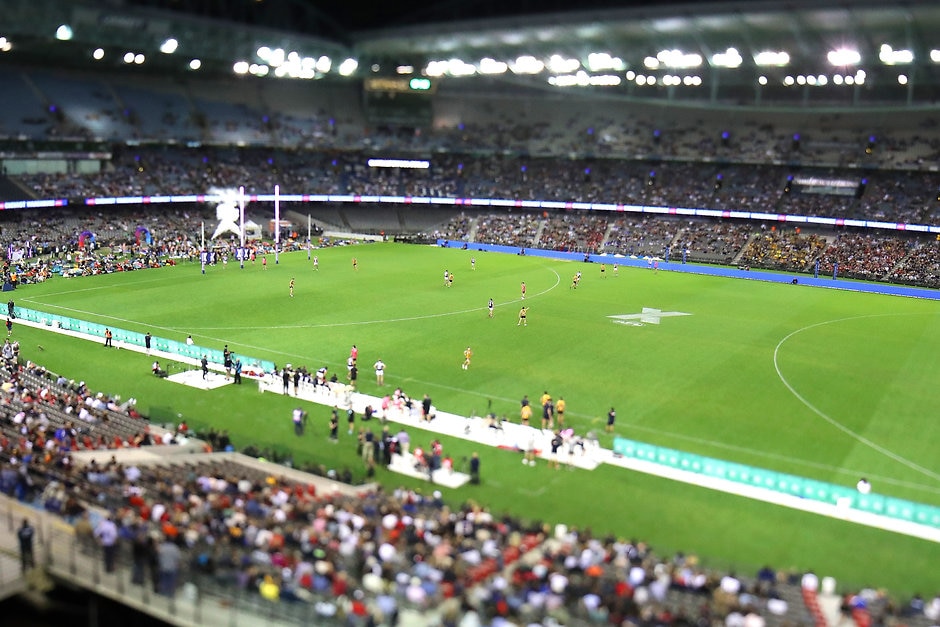 EDDIE Betts, Patrick Dangerfield, Nat Fyfe and Jack Riewoldt will captain four superhero teams in a one-night only AFLX tournament in February 2019.
AFLX 2019, a fast and exciting version of Australian Football, is to be played on a rectangular field at Marvel Stadium on Friday, February 22 and aims to showcase the unique and most thrilling aspects of the game to engage new fans.
As some of the biggest names in the game Betts, Dangerfield, Fyfe and Riewoldt have been chosen to captain teams as they showcase their remarkable skills, super powers and entertaining playing styles.
Fans can secure their tickets to see the game's best players from tonight, Sunday December 16, via X.afl.
The 2019 tournament will see four teams compete in a round-robin format culminating in a Grand Final between the top two teams.
A live draft event will be held in early February where the four captains will have the ability to build their teams from a pool of 100 players. There will be a limit of four players per AFL club competing in the AFLX 2019 tournament.
Each team will consist of 14 players, with eight players on the field at any one time and six on the bench. The AFLX 2019 matches will consist of two ten-minute halves and feature ten-point super goals.
Known for his great aerobic capacity and winning the ball in the air, Nat Fyfe will captain the FLYERS.
Nat Fyfe said: "Fans should be prepared to see some spectacular play by the FLYERS. We'll be going high and fast to be the best in 2019, the other captains should consider themselves warned."
Lightning fast speed, disposals and decision-making will help Patrick Dangerfield captain the BOLTS.
Patrick Dangerfield said: "Being part of previous International Rules Series has given me great insight into other players, and I'll be using that knowledge to build the BOLTS list, they'll be fast, smart and ready to take on the best in the league."
His brute strength, ability to break through tackles and take the big marks will have Jack Riewoldt captaining the RAMPAGE.
Jack Riewoldt said: "I'm watching pre-season training closely across all clubs, I know who I want, and I'll go pretty hard in selecting them at the Draft. The RAMPAGE will be ready come February."
Eddie Betts' highlights reel of remarkable goals and foot skills confirms his role as captain of the DEADLYS, an Aboriginal and Torres Strait Islander team.
The AFLX 2019 tournament will be held at the end of the AFL Indigenous All Stars Summit where all male AFL Aboriginal and Torres Strait Islander players are invited to participate and focuses on celebrating and strengthening cultural identity, supporting personal development and engaging with Aboriginal and Torres Strait Islander communities.
Eddie Betts said: "The DEADLYS will be just that, deadly. Captaining a team of the best Indigenous men's talent in the country is such an honour for me, especially when it falls at the end of our AFL Indigenous All Stars Summit giving us the opportunity to play all together."
The 2019 AFLX Tournament ticketing information is as follows:
General Admission:
Adult - $15.00
Concession - $10.00
Kids Under-12 – FREE
Family - $30.00
Reserved Seats:
Adult - $25.00
Concession - $20.00
Kids Under-12 - $5.00
Family - $50.00
There will be a kids zone on-field and access can be purchased for an additional $10.00.
Booking fees apply.
Information and ticket sales via: X.afl (all that needs to be typed into an internet browser)
Further details regarding the AFLX 2019 rules and live Draft will be announced in early 2019.