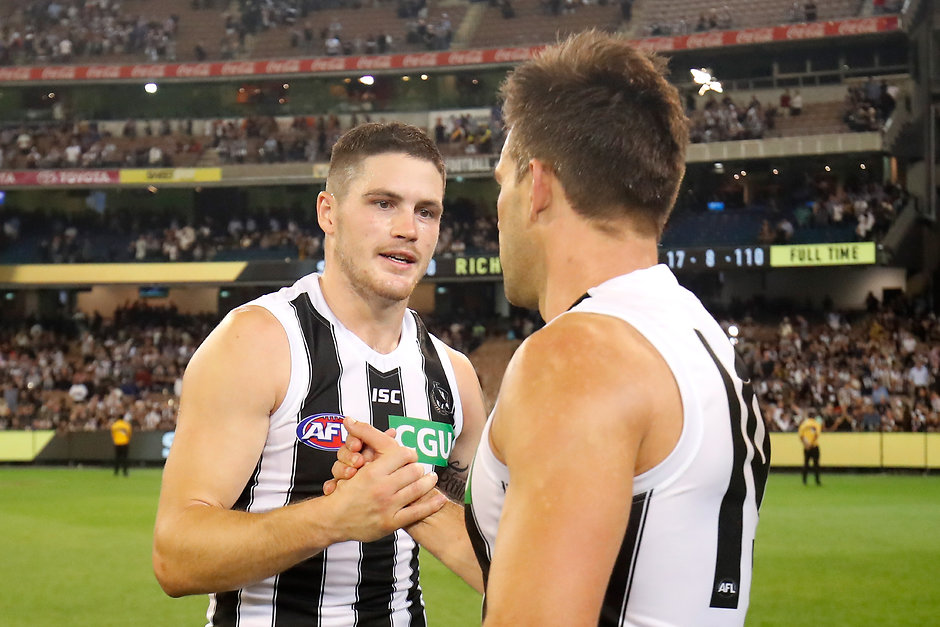 Every time I moved my hip, a bone spur was ripping some cartilage ... it was a bit worn out
Jack Crisp
COLLINGWOOD dasher Jack Crisp has revealed he played through the pain of a serious hip injury and a stress fracture in his back during last year's finals series.
The star half-back flanker endured two seasons with a "pretty bad" hip problem that would have had serious ramifications for his 2019 season had he not undergone off-season surgery.
Compounding matters, Crisp hurt his lower back while running in the Magpies' first final – the qualifying final loss to West Coast in Perth – and unbeknown to him, played four finals with the stress fracture.
Six months later, after a minimal pre-season, the injury-free 25-year-old has regained full fitness and top form for the 1-1 Pies, enthusing that he is feeling better than ever.
WHO MAKES FINALS? Do the 2019 Ladder Predictor
It was testament to Crisp's mental toughness, professionalism and durability that he still managed to produce a career-best 2018 season, and he was especially damaging in the preliminary final thrashing of Richmond, when he had 16 possessions and kicked two goals in the scene-setting first half.
As he and his teammates dealt with the heartache of a five-point Grand Final loss to the Eagles, Crisp was relieved to at least find solutions to his physical pain.
The left hip ailment, which he carried through the 2017-18 seasons, was severe enough for Crisp to seek treatment from physiotherapists and osteopaths up to four times a week to enable him to train and play.
Although he'd experience the odd sharp pain shooting through the joint, Crisp thought he'd been managing the issue reasonably well. However, a post-season scan prompted a change of plan. Surgery became essential.
"(World-renowned, Melbourne-based hip surgeon) John O'Donnell said, 'Lucky you went in now,' because I probably would've been pretty stuffed this year if I didn't have surgery," Crisp told AFL.com.au ahead of Collingwood's showdown with West Coast at the MCG on Saturday night.
"Every time I moved my hip, a bone spur was ripping some cartilage, so I had a flap of cartilage flapping around in my hip. The ball-and-socket (joint) was getting jammed and it chipped away at the bone. It was a bit worn out."
Crisp was critical as the Pies ambushed the Tigers in last year's preliminary final. Picture: AFL Photos

The hip weakness possibly contributed to the back stress fracture, given both hotspots were on Crisp's dominant left side.
The stress fracture was also revealed by a post-season scan. A specialist suggested it could have been there for a considerable time before Crisp first experienced back pain.
Though frustrated at the time, Crisp knows it could have been much worse if his hip hadn't been repaired and if his back issue had remained undetected.
"It was perfect timing to rest my body through that (off-season and early pre-season) period," he said.
In his previous seven pre-seasons, Crisp hadn't missed a session, aside from the odd occasion when fitness staff had forced him to rest.
This time, though, Crisp didn't start running until the club's first session in January. For the bulk of the pre-season, until he completed full training for the first time on February 18, Pies fans were concerned Crisp wouldn't be available for round one.
"A lot of people were (concerned), but we weren't. Once I started running I knew I'd be right because I did a lot of work and got up to scratch pretty quickly," he said.
Crisp's goal had been to play the second JLT Community Series game against Carlton, but he returned a week earlier for the pre-season clash with Fremantle in Perth, despite training fully for barely a fortnight.
He had 23 possessions in 69 per cent game time in sweltering conditions against Freo, following it up with 33 touches in 78 per cent game time against the Blues at Morwell.
In the end, Crisp's preparations for the season proper hadn't been compromised, as he showed in strong performances in the round one loss to Geelong (26 touches, 85 per cent) and the round two win over Richmond (32 touches, 87 per cent)
"Having that rest was probably a blessing in disguise, because I've felt great since I've started playing again. I've been running out games really well and I'm recovering well, and I'm feeling strong and fit," he said.
Last round, Crisp played in his 100th consecutive game, including the past 94 at Collingwood. Not missing a game with the Pies is some feat, given the former rookie joined Collingwood after making just 18 appearances in three seasons with Brisbane.
It's a sequence Crisp is keen to keep intact.
"I'm pretty proud of it. So thanks to 'Bucks' (coach Nathan Buckley) and the coaching staff for sticking with me when I've had a couple of bad ones in a row. And to have a body that's durable, I'm very happy with that," he said.
Crisp is also chuffed to be ranked the AFL's No.1 small/medium defender in the Official AFL Player Ratings, formulated by Champion Data. Teammate Jeremy Howe is in second spot.
"That's not bad, seeing I only started playing in the backline a couple of years ago," said the former midfielder, who last year finished fourth in Collingwood's best and fairest and won a second Gavin Brown Award as the club's best team player.
"I've found myself a little niche back there. It helps that we've got a great defensive group who really work for each other."
The easy-going country boy from Myrtleford, in Victoria's north-east, has come a long way since being regarded as the "set of steak knives" thrown into the deal that sent Dayne Beams to Brisbane at the end of 2014. Beams has returned to the Pies this season, joining Crisp and the other gains from that trade in emerging superstar Jordan De Goey and veteran Levi Greenwood.
"We've joked about it, how it's funny that 'Beamsy' went up there and I came down here and we also got Levi and Jordy, and now Beamsy's back here again. It's worked out well for the Pies," said Crisp, who in February signed a contract extension to 2023.
"He's a top fella, Beamsy, and it's great to play with him."
Crisp has played his best football since becoming a father, his daughter Lilah being born almost 17 months ago. His wife Mikayla is due to give birth to their second child in July.
"It's an exciting time," he said.