• The Chris Judd file
• Judd calls it a day
• Judd's long goodbye enthralls and entertains
"THIS kid does not belong here."
I remember telling anyone who would listen in the hours after my team, West Perth, had been smashed by bitter rivals East Perth in round one of the 2002 WAFL season.
The Royals - who I despised like no other club - had thumped us in the Perth derby, but all I could talk about was an 18 year-old West Coast draftee.
His name was Chris Judd.
I was in my sixth season of WAFL footy and was used to the hype surrounding the batch of youngsters drafted by West Coast or Fremantle the previous year.
Judd was playing for the Eagles' host club because for some reason - and to this day I have no idea what that reason was - John Worsfold decided the Victorian wasn't in his side's best 22… unthinkable, right?
He was wiry, had both shoulders strapped like his arms were stuck onto his body with Elastoplast, and had that slightly hunched over running style we're now so familiar with.
He looked like any other potential star until the ball was bounced.
That two hours of footy was like a Judd highlights reel, the ones you see on Brownlow Medal night. He finished the day with around 20 touches, four goals, and five Sandover Medal votes.
His pace was electric, like he was supercharged, and he had that breakaway speed which made him pretty much unstoppable when he was in full flight.
I wasn't slow, but wasn't exactly lightning off the mark, which was unfortunate, because I found myself matched up on Judd in the Royals' forward line.
One of Judd's goals came when he read the ball perfectly off a marking contest inside 50, turned off a step and bolted straight at me.
"Got him," I remember thinking.
A split second later, he breezed through my attempted tackle and was on his way back to the centre, while I was still trying to work out why my arm was flapping in the breeze.

It wasn't long before our runner was tapping me on the shoulder to make a move … and thank God he did.
It was clear that day that C. Judd would be a one-game WAFL wonder, a part of folklore, a yarn to tell your grandkids about around the campfire.
Watching Judd's phenomenal career unfold has helped make my teammates and I feel a bit better about ourselves, and we still talk and laugh about the day we played Juddy.
We were blitzed, embarrassed and humbled, but at least it was by the greatest player of the modern era - and we had front row seats.

Chris Judd in action during a Wizard Cup game in 2002. Picture: AFL Media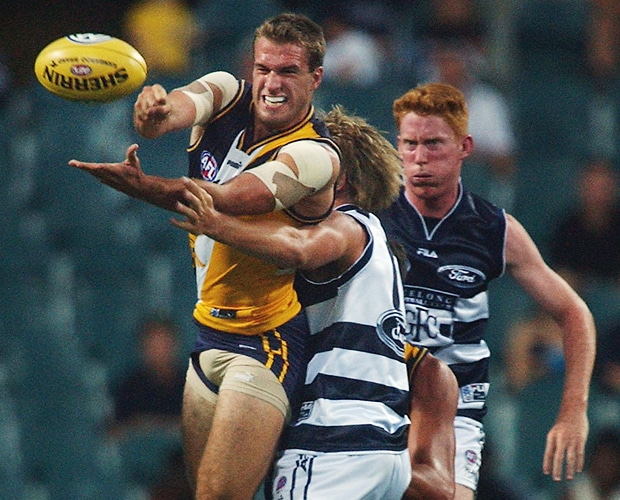 AFL.com.au's Adam Curley is a member of West Perth's Team of the Decade