THERE is one quote that resonates most with former Sydney Swans champion Brett Kirk when he reflects on his family's incredible worldwide football adventure.
"If the world was one big footy field, everything would be all right," he said.
It's a profound statement from the new film Aussie Rules The World, in which Sydney filmmaker Michael Stringer McIntyre tracked the Kirk family's six-month journey to 20 countries.
The film also features Adam Goodes and Bachar Houli, who talk about their path to the AFL, and men of influence such as Andrew Demetriou, Mike Sheahan and Eddie McGuire.
As part of Kirk's role as the AFL's International Ambassador in 2011, the family was sent on a mission to explore and share the footy gospel, and what the retired footballer found was Australian Football was much more than just a game, it was a pathway to unite communities and break down barriers.
Along the journey, Kirk, his wife Hayley, son Indhi, 6, twin daughters Memphys and Tallulah, 4, and Sadie, 2, found themselves on the war-torn streets of Jerusalem, where they met the Israeli-Palestinian Peace Team.
"This film really captures the essence and the spirit of our game and the joy it brings and the barriers it breaks down," Kirk told the AFL Record.
"It connects people and that's what I love about it and that's why I've been intimately involved in it since I was a young boy.
"With the horrible things that are happening in the world at the moment, there is an inspiring story about a team that's made up of half Israelis and half Palestinian players.
"There's a really powerful quote in the film, from an Israeli player, 'if the world was one big footy field, everything would be all right', and it just sits with me now."
Former Swans champion Brett Kirk spread the AFL gospel across the world in a six-month adventure.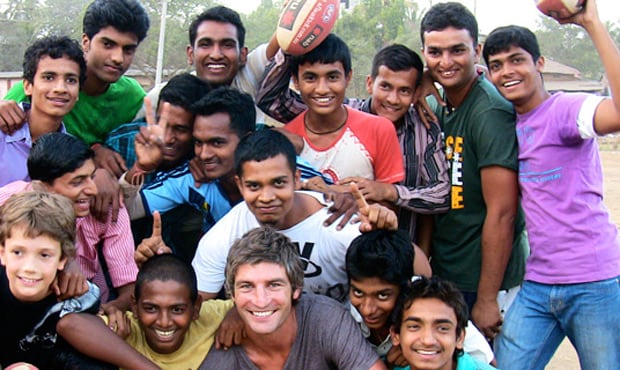 The hunger and drive for footy in some of the world's most remote places surprised Kirk, as he admitted he was "blown away" by how other cultures had embraced Australia's native game.
In particular, he was impressed with how easily kids in South Africa adapted to the oval-shaped ball and predicted AFL clubs might unearth a few "rough diamonds" from the region in the future.
"I can vividly remember being on a dirt track in Johannesburg, some of the townships we visited where the kids had absolutely nothing," Kirk recalled.
"But this game brought so much joy. The way they move and their instinctive reactions to the ball and evasiveness – they were picking up this game really well. They have a really raw grassroots level."
Back home in Western Australia, where Kirk is working as an assistant coach with Fremantle, the experience has had a long lasting effect on his children.
"My kids have been really imprinted by some of the lessons we learnt overseas," he said.