AFL PLAYERS will receive a 20 per cent pay rise this year after a new $1.84 billion dollar, six-year pay deal was announced in Adelaide on Tuesday afternoon.
The bumper pay rise lifts the average player wage from $309,000 to $371,000 and the player salary cap from $10.37m to $12.45m.
In 2022, the final year of the agreement, the average player wage will be $389,000 with a salary cap of $13.54m.
The 20 per cent figure, first reported by AFL.com.au in March, will be followed by rises of 1.2 per cent (2018), 1.3 per cent (2019) and two 2 per cent in 2020, 2021 and 2022.
The deal was voted on by the players on Tuesday afternoon and signed off by AFL Players Association CEO Paul Marsh with overwhelming support of the League's 850 players.
Pay deal could spark flood of player re-signings
AFL chairman Richard Goyder declared the historic six-year agreement was a significant win-win for both the players and the game's governing body.
AFLPA president Matthew Pavlich said the players were thrilled to receive a fixed share of industry revenue, with the deal giving the players a 28 per cent share of mutually agreed revenues.
In other key details contained in the agreement:
All Tribunal fines will be part of an annual contribution of $250,000 for concussion research
WA clubs will receive 12 business class airfares per flight when doing east/west travel
Category A rookies will be eligible to play from round one next season
'Rested' players or 'held over' travelling emergencies left out of their senior team will receive match payments
Players have agreed to licence their personal GPS data to be made available to clubs and broadcasters with specified limitations
AFL CEO Gill McLachlan said the deal rewarded the players, who deserved to "be paid well and have growth in their incomes commensurate to growth in the industry".
It also allowed the AFL to keep money to invest in community football and its fans and supporters.

Done deal: Paul Marsh and Matthew Pavlich from the AFLPA with AFL chairman Richard Goyder and CEO Gillon McLachlan. Picture: AFL Photos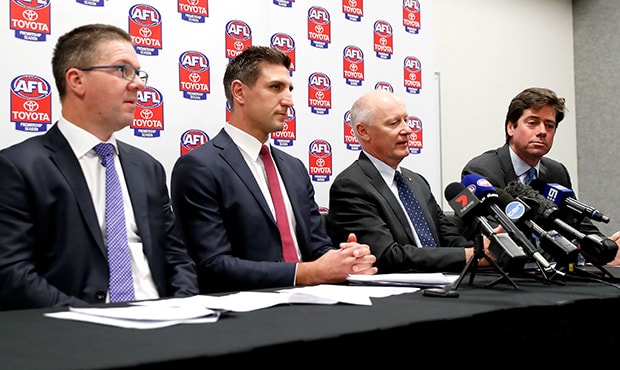 "The players have got a win and got what they want, which can be described as a percentage of revenue model, which is fair and ties them in a partnership sense to the success of our game," McLachlan said.
"And we've got what we want, which is industry protection and flexibility and ensures our game goes on for the next hundred years and doesn't put it at risk."
A sticking point in the drawn-out negotiations was the detail around future revenue, with the players finally securing 28 per cent they believed made them "genuine partners" in the game.
"This wasn't an easy negotiation in many respects, but the thing we both did is we kept listening to each other," Marsh said.
"While it took a bit longer, the players had the security of having contracts in place this year and I think we had some genuine complex issues that we worked through.
"It probably is a credit to the professionalism of the AFL and the AFLPA that we did as much as we could behind closed doors and got to an outcome now that the players are very happy with, that the AFL is happy with and we're happy with."

The players have also secured an annual contribution of $4m to their fund for lifetime health care and career-ending injuries, with $13m over the life of the deal to fund player development programs and services.
A provision allowing players to contribute to the cost of pre-season camps has been removed, while the length of pre-season mini-breaks has been extended from three days to four.
Competing players will receive eight Grand Final tickets each, while a further 1000 tickets will be distributed among players.
Free agency will undergo further change later this year, with an agreement to introduce at least one of three changes proposed by the AFLPA.
These are portable free agency, free agency for life and restricted free agency for players with four years of service under the median salary.
The wage for a first-round draft pick has been set at $88,000 in the first year of the deal, while rookies will be paid at least $71,500.
The minimum salary for players beyond their second season has been set at $100,000.
More than 99 per cent of players voted to pass the deal, which ties player salaries to mutually agreed industry revenues for the first time in the game's history.
The players declared such a model, which incentivises them to grow the game, is the best outcome for game's long-term future.