- Two weeks for Demon over bump

- Players, commentators incensed by verdict
- Viney unlucky: Demetriou

- Players should strike, says Ricciuto
MELBOURNE has been vindicated for challenging Jack Viney's two-game suspension, with the young midfielder cleared of his rough conduct charge by the Appeals Board on Thursday night.
Click here to recap Thursday night's appeal hearing
In a controversial case that had prompted a groundswell of emotion this week, Viney was ultimately cleared of responsibility for breaking the jaw of Adelaide forward Tom Lynch.
He became just the second player in 15 Appeals Board cases to have a ban overturned after Collingwood defender Nick Maxwell successfully fought a rough conduct ban for bumping West Coast's Patrick McGinnity in 2009.
After the appeal, which was orchestrated by David Grace QC, a smiling Viney said he had always believed he was "in the right" and he was thrilled the Demons' appeal had been a success.
"The support's just been so overwhelming," he said.
"Not only for myself but for the game in general, it's been a good result.
"People putting themselves in contested situations, it's not what you want to see going out of the game.
"We'll just go back to normal footy I guess."
The Appeals Board, which was made up of chairman Peter O'Callaghan QC, Brian Collis QC and Michael Green, took 13 minutes to reach its decision and will release justification "in due course".
The point of contention this week was whether Viney had elected to bump in a three-way collision that also involved Melbourne teammate Alex Georgiou.
For the Appeals Board to overturn the verdict, they had to find the Tribunal decision had been "so unreasonable that no Tribunal acting reasonably could have come to that decision having regard to the evidence before it".
The Tribunal jury on Tuesday night was made up of Wayne Henwood, Wayne Schimmelbusch and Emmett Dunne.
Melbourne football manager Josh Mahoney said the stance the Demons took this week was "not only for the footy club and for Jack, but for the good of the game".
He said the club supported the new rough conduct (high bumps) rule introduced this season to protect the head, but their case was never about preserving the bump.
"Our argument was that Jack had no other option but to protect himself in that incident," Mahoney said.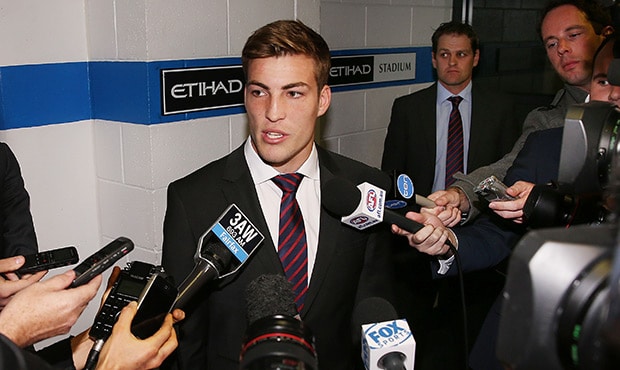 With football manager Josh Mahoney behind him, a relieved Jack Viney faces the media after his appeal win. Picture: Getty Images
"We play a game that is so chaotic … unfortunately there's still going to be some head high collisions.
"The rule has to be there, but within the Tribunal they have to be able to take into account that accidents do happen in our game."
AFL legal counsel Jeff Gleeson QC argued that the Tribunal's finding on Tuesday night was reasonable, replaying vision of the incident to assert Viney had made the conscious decision to bump.
"This was a decision that, in simple language, was reasonable for the jury to make," Gleeson told the Appeals Board.
Mr Grace QC, however, insisted "there was no ability for the jury to come to the conclusion they did", based on the evidence presented to them on Tuesday night.
"It's the right decision and I'll have a very happy client, I'm sure," Mr Grace QC said after the hearing.
Great result for Jack Viney, lets move on now! Hawks v Swans is a massive game

— Scott Pendlebury (@SP_10) May 8, 2014
Great to hear hard nut @jackviney7 is free to play this weekend 

— Alex Woodward (@AlexWoodward39) May 8, 2014
Glad to have our little pitbull @jackviney7 playing this week. Well done mate

— Jeremy Howe (@howie0038) May 8, 2014
Great result. I love the way @jackviney7 attacks the footy. Now bring on the doggies.

— Mitch Clark (@MitchClark11) May 8, 2014