• Check out all the latest International Rules news and video•
International Rules history, results and rules
FOLLOWING the success of the one-off Virgin Australia International Rules Test in Perth, the concept is ready to be unleashed on New York or Boston, Alastair Clarkson says.
Australia's victorious coach was adamant the series was well enough established to warrant taking the concept to the United States as early as next year.
"I think there's a market in New York and a big Irish contingency there as well," Clarkson said.
"We may be able to have best of both worlds; have one Test in New York or Boston, or somewhere like that, and another one in Ireland at Croke Park.
"If that was the case I reckon it would be a great experience for everyone involved. For the Irish to play a game in New York or Boston, that would be superb and for our boys that'd be a great concept as well."
Aussies hold on against plucky Irishmen
However, Ireland's coach Paul Earley believes the series needs to be consolidated in Ireland and Australia again before taking the concept to the US.  
"I don't see the logic in playing it in the United States to be perfectly honest," Earley said.
"I think it's got to establish a foothold again in Ireland and Australia first of all before you take it internationally." 
Earley said he was disappointed there would not be a second test for the Irish to atone for their defeat.
Clarkson agreed the series needed two tests.
"We would like another test in a sense and so many of the previous series have been two-test series," Clarkson said.
"So hopefully that will be the case next year if we play abroad, because these guys have enjoyed it so much (and) I have enjoyed it so much.
"It's a shame there is not another seven or eight days to see if we can improve again, to see if the Irish can respond to their loss tonight and make it an even greater contest in the second game.
"Or it might be vice-versa next year, where we have a loss and we were able to respond and learn from it. We will wait and see. That will be between the AFL and the GAA in terms of how they set up next year's series."
Nic Naitanui shows off his leap to win a hit-out during Australia's win against Ireland. Picture: AFL Media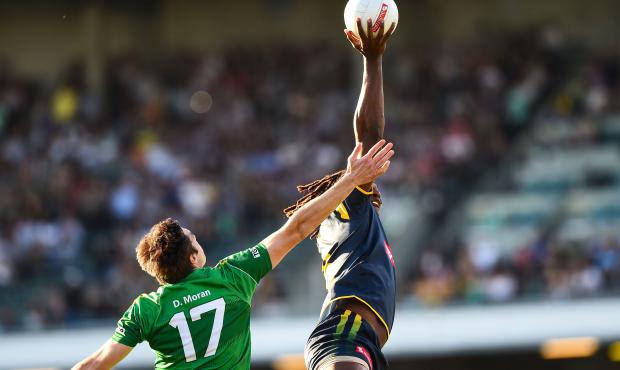 Nick Riewoldt said the Australian players wanted to ensure they put in a good performance for the sake of the concept's future.
"The gentleman at the GAA showed a lot of faith in Australia this year to be able to show the series more respect, and I think we answered that," Riewoldt said.
"I hope it continues in the same way and I'm sure it will."
Clarkson and Riewoldt both expressed their desire to defend the trophy next year.
The two sides were overwhelmed by the support of the Perth crowd, with 38,262 packing out Patersons Stadium.
There was enormous Irish support in the crowd and Ireland's captain Michael Murphy said his side was shocked by the number of expats in Perth.
"Here in Perth, every second, third, fourth person you were bumping into was Irish and they were looking forward to the game," Murphy said.
"It was fantastic to see. It's great to see them out here making a living for themselves."