IS NIC Naitanui any good?
His career averages of 4.5 kicks, 7.5 handballs, nine contested possessions and two marks per game are tantalising, rather than exceptional, numbers.
On Saturday against Carlton a whole quarter passed without Naitanui touching the football.
That happens about one in every 20 quarters Naitanui has played so it's not enormous cause for alarm.
In fact his opponent this week, Aaron Sandilands, has played more quarters without a disposal during his career (Naitanui 19 of 368 or 5.2 per cent; Sandilands 46 of 771 or 6 per cent) than Nic Nat.
And while Naitanui's averages are down for most statistics so far this season when compared to his All Australian year in 2012, the change is not dramatic.
Don't forget his time on ground has dropped from 82.2 percent in 2012 to 70.4 percent this season, as his return from injury is managed.
Statistics only tell part of his story, because measuring the magic of a player such as Nic Naitanui is not done merely with numbers.
Ask opponents about him, as AFL.com.au did, and they say he's close to impossible to plan for at stoppages.
When the opposition admits it's wondering what it might do when faced with a particular player, the advantage is with that player's team.
Ask his teammate Josh Kennedy why conventional measures don't apply to Naitanui and you gain an insight to his value.
"He's an explosive player. He's not going to be like Dean Cox running up and down the wings all day. He's more of that explosive, inside player, which is where we need him," Kennedy said.
It's what makes Naitanui – who turns 24 on the day of the derby between West Coast and Fremantle – an exceptional player.
He has presence - the immeasurable quality that makes life easier for teammates and his team better when he plays.
Very physical around the ball, his large frame is capable of hurting opponents at stoppages.
When he enters that domain he draws opponents to him, creating space for midfielders and opportunities for them to win the ball that would not otherwise exist.
"I've never seen a bloke of his size be able to take two or three blokes out, grab the footy and be able to hunt that ball and get it out to one of our teammates. When he is doing that around the ground, he's unstoppable," Kennedy said.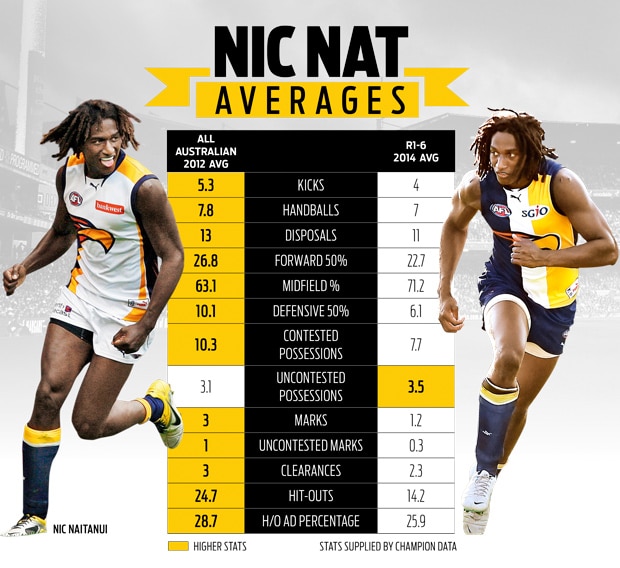 His flashes of brilliance must have a positive psychological effect on teammates (and the exact opposite effect on the opposition).
Of course, there is also an equal chance that when he is kept quiet, opponents' spirits are buoyed and teammates' hopes are dampened. His challenge, therefore, is to eliminate his low-impact periods.
However it's not only the fact the outlandish does happen, but the possibility it might happen again that can cause opponents to do strange things.
The paradox is that because such occurrences of football magic are few and far between, his mediocre games are judged more harshly than most.
One knock on him has been his decision making but he has been renowned at the Eagles for being a fine user of the ball by hand.
His ability to release players into space and change the flow of the game is underrated. And in his All-Australian year he led the competition for first possession per stoppage attended.
While he is coachable and understands team aspects of the game, there is little doubt he makes his most exciting moves on instinct.
In a game that is increasingly programmed by coaches, this makes him a hard player to coach against. Such players are vital in big games because they can be match-winners, rising above and beyond the structures that limit the effectiveness of most.
It's why coaches are prepared to live with the idiosyncracies of players such as 'Buddy' Franklin, Steve Johnson, Cyril Rioli, Hayden Ballantyne, Tex Walker and Lewis Jetta.
They can make the best-laid plans a waste of time.
West Coast does not seem overly concerned with Naitanui's form as he works his way back from groin surgery that derailed his 2013 and saw him on a modified program throughout this pre-season.
He's attending more centre bounces this season as he builds towards taking over from Eagles champion Dean Cox and he's playing a more conventional forward role.
Eagles coach Adam Simpson said after the loss to Carlton that Naitanui just needs to keep playing in order to get fit enough to hit top form.
"We need to give him time, get his body right and get him to the point where he is really confident. He might not have been outstanding [on Saturday] but I think he has taken steps forward," Simpson said.
The smart money says his best is yet to come and even at playing just below capacity he retains value.
Kennedy agrees: "What he brings to the side, even if he is at 80 per cent…he's such a key player for us."