NEW SCOUTING technology ranking players based on how many wins they can provide a team is sweeping through AFL clubs as list management departments look to gain an advantage.
About a third of the League's clubs – with more set to join before the season starts – have used the recruiting tool developed by Australian-based baseball scouts Brett Ward and Jon Deeble and their company Aphex.
Ward is a top international scout for MLB side the Baltimore Orioles and Deeble, a former Australian pitcher and current national team coach, is a coordinator for the Red Sox Pacific Rim region. Both are lifelong AFL fans.
The Aphex software uses competition-wide data based on a formula built by the pair plus their own form of 'Moneyball', the revolutionary baseball theory of recruiting players based on analytics and statistics.
Their version is the football WAR (Wins Against Replacements): a feature that allows teams to find the on-ground value of every player.
It is a tool being used through the trade and free agency period as clubs acclimatise to the less restrictive player movement era.
"What we're giving is a totally objective view of what value the player gives when he's on the field. Also, what we've added to that is how many wins a player is worth," Ward told AFL.com.au.
"For example, if a team finishes sixth or seventh and they think they need two wins to get closer to a premiership, the program can show you the player or players to go and buy who can get those two wins.
"It really allows clubs to take away a lot of the guess work."
The program is being used heavily in contracting decisions as AFL clubs weigh up how much a player is worth. AFL.com.au understands that several clubs see it as a vital step in their list management process.
When re-contracting a player within the club, list managers have used the program to see what it says he is worth.
When deciding whether to target a player from a rival club, they can also see what his monetary value is and how much the system believes they should pay to secure his services.
The WAR ratings are measured using analytics and numbers from all matches, and are updated after every weekend's game. Put simply, a 'replacement' is a player who is not able to play at that standard all year, and who may be serviceable for around four or five games all year.
The replacement player is valued at zero, so the Wins Against a Replacement player is how the WAR is determined.
The higher WAR the better, and these can be tracked back five years to see if a value is declining, constant or on the rise. If declining, a recruiter can then investigate why - be it injury, off-field problems or if he is just simply past his best.
It helps clubs to foresee the future, of sorts. Would they agree to a long-term free agency deal if a player's value has been declining for years? Would they pay more for someone getting better?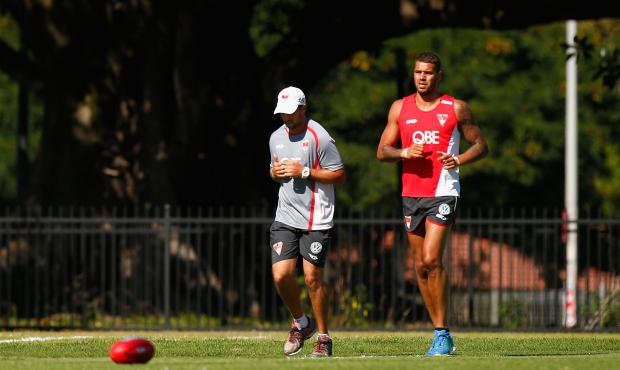 The biggest move of the off-season was Lance Franklin from Hawthorn to the Swans. Picture: AFL Media
The average WAR for 2013 was 0.254, meaning the average player last year was worth a quarter of a win a season.
The highest ranked player was worth nearly two wins, while the lowest for last year was -0.306. There are many players who produce a negative WAR, meaning they are actually costing their sides wins.
Nick Dal Santo, who crossed to North Melbourne from St Kilda last year as a restricted free agent, had a WAR of 1.2406. Other high-profile recruits, including new Greater Western Sydney pair Heath Shaw (0.8819) and Shane Mumford (0.7793), were lower.
The highest-profile player to switch clubs last year was goal kicking star Lance Franklin, who joined the Swans with a WAR of 0.8191 in 2013. However, Franklin's rating was impacted by missing games through injury and suspension.
"The clubs that used the WAR last year, they're huge on it with their scouts to see what 'values up' under their system," Ward said.
New Bomber and three-time Geelong premiership player Paul Chapman represents another layer of complexity.
The WAR includes a dollar value on every game each player plays. Chapman is considered "enormous value" when he is fit and out there, and while his WAR was 0.1749 in 2013 (because he only played eight games), the software says his actual value per game is over $25,000 for the team.
This makes him a very valuable commodity for Essendon. If, for instance, Chapman is being paid $300,000 a season by his new club, he will need to play just 12 games for them to get their money's worth. Play 20, and he is a real bargain.
Ward and Deeble work with the clubs to tweak the formula so they can find the players who fit their values. It helps the identification process when scouring the player market; finding someone who might not be an obvious choice, or raising questions about someone who seemed to fit.
If a certain club wants players who are adept at winning contested ball, they can change the value of that key category so contested possessions are worth more.
If another club rates kicking accuracy as a bigger priority than contested ball, the formula can be altered. In that respect, Western Bulldogs clearance star Tom Liberatore might be high on one club's list because of his stoppage expertise, but lower on another's priorities because they may put a higher price on uncontested touches.
After clubs have tailored the weightings to their own preferences, an Aphex associate with a mathematics PhD checks for anomalies, which can sometimes pop up.
"We've got to educate the clubs that they're buying wins, not just players at times. Sometimes you need to buy a good leader and that sort of stuff, but we need wins as well to get you up in the next echelon," Ward said.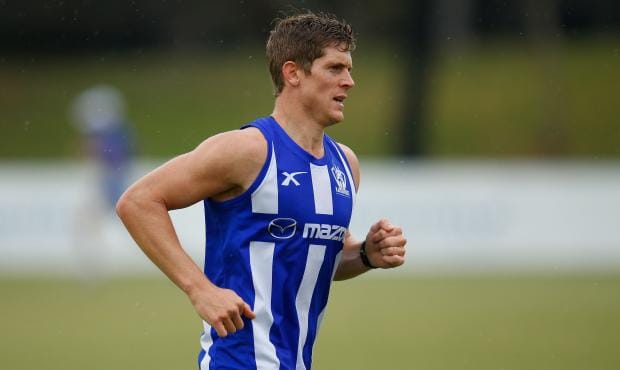 Nick Dal Santo could be a steal for North Melbourne after crossing from the Saints. Picture: AFL Media
One club using the program last year recruited a player from another club who had struggled to break into that side. They knew they could get him at basement price and the system showed he would provide almost one win for the season, so they signed him.
On the other hand, Ward and Deeble have gone back through recent years of trade periods, finding that when one particular club brought in a number of recruits at once, they totaled to just 0.4 wins.
It is determined purely by a player's output, and not influenced by how many wins his side actually gets in a season.
The program is a pointer to a football truism: a premiership team requires A-graders, but always includes players on minimum wage. The software aims to help clubs find who those could be, then twist and manage salaries to suit.
More clubs are becoming interested, and with the program's information dating back to 2000, Ward believes they are open to the new ideas.
"It's a lot easier talking to them now than it was three years ago," Ward said.
"A lot of people always say it's American sport you're selling us, and there's a lot more statistics in baseball. But actually, there's so many we can use in football now, there's probably the same as baseball and in some specific WARs we use more.
"One of the heads of a football department said 'This is Yankee crap' and I said 'Imagine if I told you back when you played that the sport scientist guys are telling you when you can train and when you can come on and off' and he said 'Good point, keep going'.
"Times change. Some clubs see it as American sport, but now we hear them say more that they think it can help them to just put an objective value on the player.
"This is just a tool to help you with your own eyes. You definitely need the scouts to see them. This will never take over what scouts do, ever. It's to back up what they've got."
As demand grows, so will the technology.
The next step is to allow clubs to get a greater insight into under-18 competitions and sharpen their draft focus.
Ward and Deeble have produced a formula so they can match draft prospects, at the same stage of their development, with current AFL players.
For instance, when recruiters watched No.1 draft pick Tom Boyd play last year in the TAC Cup, they could go to the program to see if he matched up with what Collingwood key forward Travis Cloke produced at the same age.
They are waiting on receiving more historical information before launching that feature.
Aphex is also designed to aid coaching departments, with the program able to test whether a player might be better suited to a new position on the ground by using his key statistics.
"We're pretty excited by what we've got," Ward says.