CHRISTIAN Salem is tired.
But when he looks back on it, he quickly comes to the conclusion that his first week at Melbourne was everything he hoped it would be.
Salem, selected by the Demons with pick No. 9 in the 2013 NAB AFL Draft, has just begun the phase of his life as an AFL footballer and was quickly brought up to speed with the ins and outs of being a professional.
Not to mention the hard work required.
"It's been a long week, but it's been good fun. It's good to see how they (his teammates) back it up every week and get their bodies right," Salem told AFL.com.au.
"It's really good to see first hand and hopefully my body can stay right for the rest of the pre-season."
The Demons intends to be ultra cautious with their prize pick in the early going, building up his training load in steady increments and not rushing him into anything.
For example, Salem joined in the rehab group's limited running sessions. He's not carrying an injury but the club is intent on keeping things light.
He also began his weights program – with a primary focus on ensuring he is lifting with the right technique. Again, a point of protection.
While Melbourne is preparing him for a physically demanding pre-season, Salem has become acutely aware of the importance placed on mental preparation.
The players have begun to take part in meditation sessions, initiated by coach Paul Roos this season.
It was a new experience for Salem, but one he welcomed.
"That was great to do something different and really relax," he said.
Despite being conscious of not pushing too hard, too early, Salem's best-laid plans do include being part of Melbourne's round one side.
"It's hard to say now, but I'd love to (play round one) – everyone would love to do that," he said.
"That's what I'm trying to aim for and I'll set my sights on that.
"First I've got to train hard and get my body right, as well as earn the respect of the coaches and my teammates."
Next week he and his Melbourne teammates will head down to Sorrento for the club's off-site training camp.
Among other things, the team will discuss their goals and expectations for the year ahead.
Salem also imagines he will have an in-depth chat with Roos and midfield and strategy coach George Stone about what is required of him in his first year of senior football.
Roos has already made an impact on Salem, having accompanied him and his family to dinner straight after celebrating his selection in last Thursday night's draft.
His new teammates, too, were quick to congratulate him.
"Pretty much the whole list gave me a text or a call straight after the draft – so that was pretty comforting," he said.
Christian Salem on the Gold Coast the day before he was drafted by the Demons. Picture: AFL Media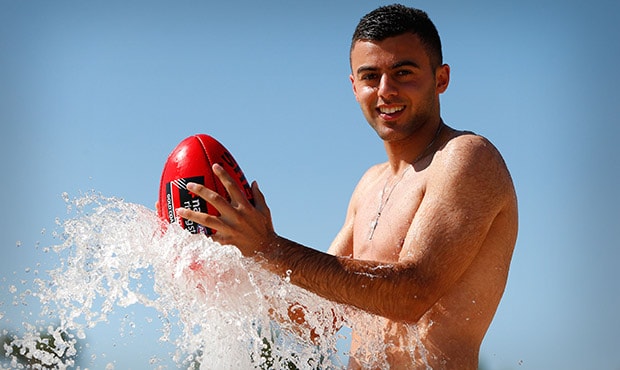 "Once I got down there (to AAMI Park) they all introduced themselves to me and just really tried to help me take in all the bits and pieces."
On the track, he plans to follow experienced midfielder Daniel Cross – asking questions and mimicking his new teammate's approach to training.
"His training really stood out to me. He's always doing things 100 per cent – he's always impressive doing his recovery, so he's been a real standout to be honest," Salem said.
And although Salem has only been at Melbourne for week, he can already detect the respect Roos commands from his players.
"It's just the message that he puts across – it's all up to us about what we want to get out of this season," Salem said.
"He's been really great supporting us."