FREMANTLE skipper Matthew Pavlich says he strongly considered returning to Adelaide early on in his AFL career but is glad he decided to stay at the Dockers.
Pavlich will notch his 300-game milestone on Saturday when he lines up against Geelong at Patersons Stadium.
Although he is yet to win a premiership, the 32-year-old will go down as one of the greatest players to feature in AFL/VFL ranks.
For much of the past decade, both the Crows and Power were keen to lure Pavlich their way.
The six-time All Australian refused to say which of the two clubs he came closer to joining but said he had no regrets about staying in Perth.
"Certainly there were some offers made. I explored those options," Pavlich said on Tuesday.
"But long story short I've been wearing purple from day dot, and will until I've finished.
"I knew there was some unfinished business at the football club and I wanted to be right at the forefront of that.
"Mum and dad instilled some really strong values in me, and that was, 'If you start something and think it's worthwhile, you may as well stay the course and stick it out'.
"I certainly thought that was the case at Fremantle."
The 32-year-old has grown to love the Dockers.
But it wasn't always the case.
When the Dockers first showed interest in drafting Pavlich, his mum pleaded with them not to.
She even provided Fremantle's recruiters with a list of players they would be better off pursuing.
West Coast skipper Darren Glass and Dockers ruckman Aaron Sandilands were among that list.
Folklore has it that Pavlich even told then-Dockers coach Damian Drum that it would be his worst nightmare if Fremantle drafted him.
"I don't know where that one's come from," Pavlich said with a laugh on Tuesday.
"I didn't say that to Damian. I probably thought it internally and said it to mum and dad potentially.
"But the dream became the Fremantle Football Club and it's become my home.
"I have grown up alongside the footy club. We both had our teething problems but we matured together.
"Now we find ourselves in a situation where hopefully we can propel and have great success."
Pavlich's introduction to the life of an AFL player was a brutal one.
After completing a one-hour skills session, things started going pear-shaped as he tried to complete his sixth 1km time trial.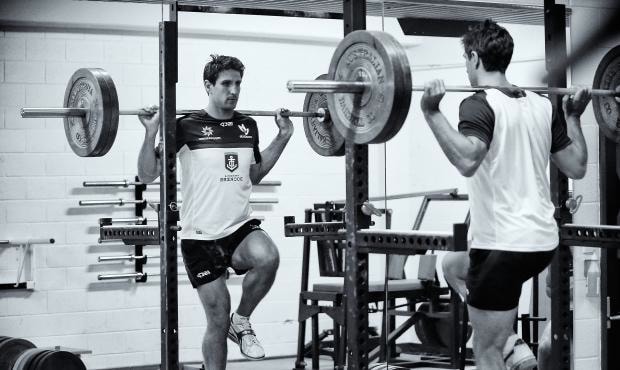 Attention to detail has been a hallmark of Matthew Pavlich's brilliant career. Picture: AFL Media
"I collapsed and passed out and was rushed in the back of our property van to Murdoch Hospital," Pavlich recalled.
"I had a couple of nights in intensive care and was a pretty sheepish 17-year-old after that for a couple of weeks.
"I was very embarrassed about it and certainly wasn't the right way to start an AFL career."
Pavlich soon warmed to his new home in Perth and it wasn't long before he became a star of the competition.
He won his first All Australian jumper in 2002 as a defender, before adding five more - some as a midfielder, others as a power forward.
Even when the Dockers floundered as a team, Pavlich stood tall.
His meticulous attention to recovery allowed him to overcome the constant travel burden that players in Perth are confronted with.
Geelong coach Chris Scott, a former assistant at Fremantle, felt Pavlich had been under-rated by AFL supporters in the eastern states.
"Some of the things he's done are going to be difficult for anyone to replicate," Scott said.
"He has been an outstanding leader for that football club and at times got them over the line off his own boot."
Pavlich's loyalty to Fremantle during its long periods of mediocrity shouldn't be forgotten.
The star forward had numerous opportunities to return home to Adelaide on what would have been big-money deals at the Power or Crows.
But he decided to stick it out with the Dockers in the hope of eventually turning their fortunes around.
Fremantle came close to breaking its premiership duck last year and Pavlich is still hopeful of winning a flag this season despite their rocky 4-4 start.
Pavlich is likely to play on next year, and no one would begrudge him if he finally gets his hands on that elusive premiership cup.