• Check out every pick on the Draft Tracker
• Rookie Draft: What your club says
• National Draft verdict: How did your club fare?

THE AFL'S ranks of Sudanese players have more than doubled after Friday's NAB AFL Rookie Draft.
After a season where he won All Australian honours for his outstanding NAB AFL Under-18 Championships, new Essendon rookie Gach Nyuon was gutted after he missed out in Tuesday night's national draft.
But he put his disappointment to the side to take to social media and acknowledge the efforts of his former teammates as they went to clubs across the country.
On Friday, he got his own chance to be congratulated when he was one of three Sudanese-born players to make their way to clubs as new rookies.
Nyuon was picked up by the Bombers at pick No.4, defender Reuben William went to the Brisbane Lions at No.20 and tall forward Mabior Chol was taken by Richmond at No.30.
They join Majak Daw, who was rookied by North Melbourne at No.33, and Sydney Swan Aliir Aliir as the five AFL-listed Sudanese players.
Each of the new rookies has met a range of challenges on their path to an elite club, having moved to Australia from the war-torn country as children.
For Gach, described by AFL talent manager Kevin Sheehan as "desperately unlucky" not to be drafted on Tuesday, some of those challenges meant he needed to make some wholesale changes to his life 12 months ago.
He was living with his sister and brother in Keysborough, with his mother Mary stuck in Sudan for the two years previous.
While the family he had here did everything they could for him, he lacked stability at home and it affected his preparation for TAC Cup games with the Dandenong Stingrays.
"That was the area of concern for most clubs," Stingrays talent manager Mark Wheeler told AFL.com.au.
"He wasn't prepared in that area, getting to training, making consistent training times, going to the gym, doing his running and rehab programs.
"Even his preparation into a game, like having breakfast … he wasn't doing that properly.
"In November [last year], you could see he was starting to get that change. Part of that was him and part of that was having that stability around him."
The Bombers liked Gach but were keen to make sure he possessed traits that would turn him into a committed AFL footballer before they took him on.
A few times throughout the year, they asked him to get up at 5.30am and catch the train to the club to test his self-sufficiency.
They moved to understand his family dynamic, put him through a few social media tests and encouraged him to get his learners after he failed the assessment the first time.
Slowly, he gained confidence in many areas of life, and namely, on the field as he started to move around the ground more and stood up to opponents who previously considered him a lightweight.
"He started believing a bit more. Everyone stopped asking whether he'd been given a free ride," Wheeler said.
"He could then start working out that he was good enough to start matching it with the boys in the [NAB AFL] Academy."
Mabior Chol was picked up by the Tigers. Picture: AFL Media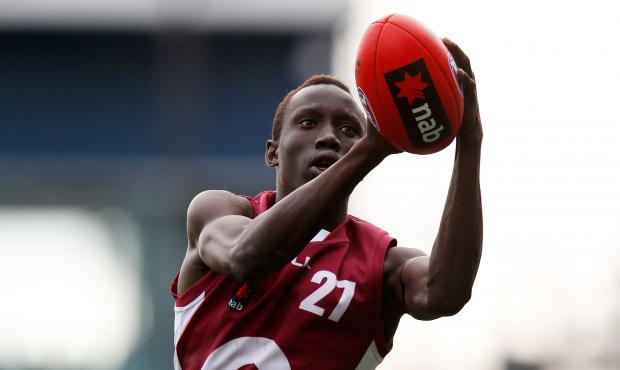 Gach, William and Chol will now have to rely on promotion to the senior list to play at the highest level, but they have that all-important foot in the door in a professional environment.
Sheehan said they also had the opportunity to encourage members of the Sudanese community to get involved in the game.
"To see three picked up in the one draft … it's fantastic," Sheehan said.
"Gach has the potential to be a cult figure and a real role model for the Sudanese community.
"He's a striking athlete, works really hard, needs to develop physically – which he will – but his testing at the Combine was elite. It's brilliant to see him get his opportunity.
"Mabior played really well on Grand Final day for the Allies on the MCG and showed his special athletic abilities, and Reuben is a dashing defender who can break the lines.
"It's just great to see the three of them get a go. They'll be the faces of the future and hopefully we can get hundreds and hundreds of other youngsters with Sudanese backgrounds to join them."
The Brisbane Lions added Reuben William to their rookie list. Picture: AFL Media