ADELAIDE coach Don Pyke has made it clear he and his coaches were laughing at the antics of their own players, and not Gold Coast's performance, during their 95-point massacre of the Suns at Metricon Stadium on Saturday night.
In his post-game media conference, Suns coach Stuart Dew took exception to the Crows' coaches laughing as they cruised to victory.
"Look at the Crows' coaches' box in the last quarter," Dew said on Saturday night.
The Crows demolished the Suns, with Eddie Betts kicking six goals. Picture: AFL Photos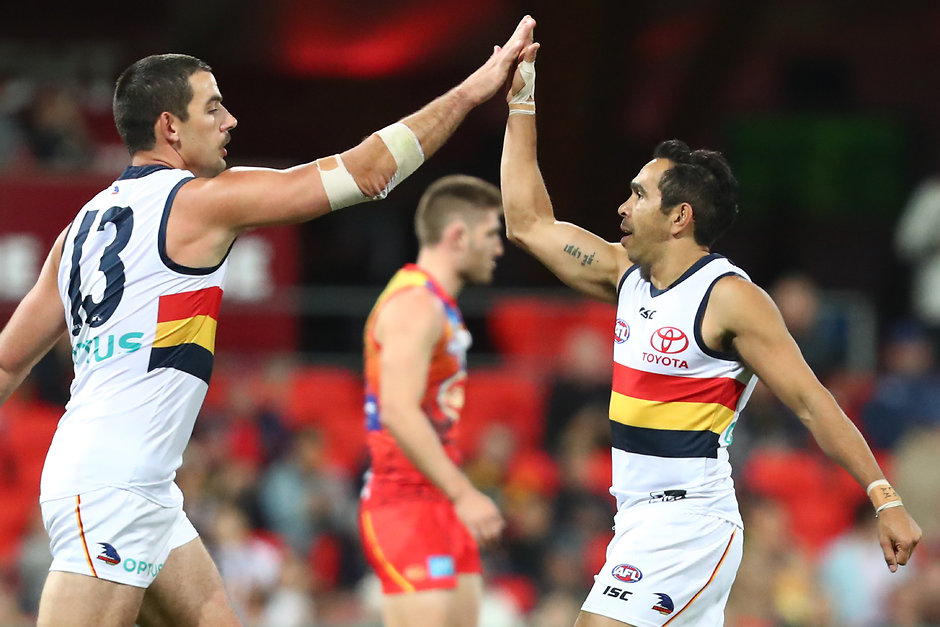 "They laughed in the last quarter. We've got to live with that. That stings, it's got to sting ... that's what they think of us."
On Wednesday, Pyke clarified what the coaches were laughing at and described the discussion around it as a "storm in a tea cup".
WATCH 'That's what they think of us': Dew distraught with shocking loss
"We were reacting to one of our own players, Tex (co-captain Taylor Walker), calling for a handball in the goalsquare," Pyke said.
"I could probably see where (Dew) was coming from, but the reality was, it was a moment in the box.
"It wasn't any way, shape or form directed at Gold Coast and their performance."
Out of mid-air from Matt Crouch!#AFLSunsCrows pic.twitter.com/aNDXu5JMWj

— AFL (@AFL) July 13, 2019
Pyke – who has been the Crows' senior coach since 2016 and played 132 games for West Coast from 1989 to 1996 – said his experience had taught him to remained measured in victory and defeat.
"I've been in the game long enough to understand the importance of, you've got to win with humility and you've got to lose with dignity," Pyke said.
"That's always been my motto and I'd like to think over my time, occasionally we can enjoy the game as well.

"We're not beyond enjoying the game.
"Sometimes, our players do some wonderful things and sometimes, they do some silly things.
"Those things make you laugh, but it was a bit of a storm in a tea cup."