Des Headland is the chair of the Indigenous Player Alliance that advocates on behalf of the Indigenous men and women who have played in the AFL and AFLW. He played for the Brisbane Lions and Fremantle from 1999 to 2010.
MANY non-Indigenous Australians have heard the terms such as the 'brotherhood' expressed by Aboriginal and Torres Strait Islander players.
It's not something we have plucked out of the air while on a roo shoot, or workshopped at the All Stars camps as a blackfella saying. It's real. It means something.
In round 13 of the 2019 season, I saw two brother boys at the Adelaide Oval embrace. One at the height of his powers, an institution of the game, and another on the ascension to the stratosphere and a beautiful enigma.
Game recognise game.

Sydney Stack shows his appreciation for Eddie's brilliance! #AFLCrowsTigers pic.twitter.com/nVWOdOdWho

— AFL (@AFL) June 13, 2019
Individuals in the true sense of the word. Men, who have had their own challenges on the way to the big dance. But make it they have, and then some.    
To see the negative reactions to this online and in the media was puzzling and, to be honest, sad.
SOME LOVE, SOME HATE IT Have your say on the Stack/Betts hug
All players who play at the elite level have a brotherhood in one way or another.
It is our commonality, our connection as elite athletes. 
I told you so: Eddie Betts turns to Sydney Stack after THAT goal. Picture: AFL Photos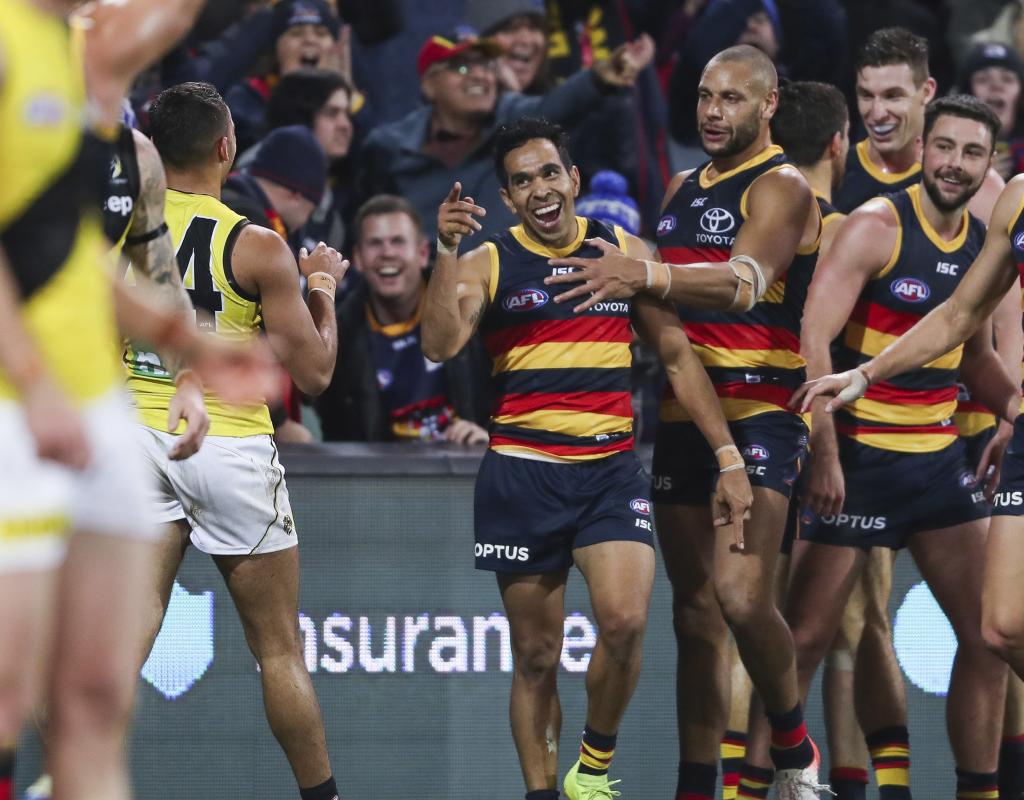 Players know intimately what other players go through and the sacrifices we make to achieve our dream by giving the football-loving public what they love. We bust ourselves. 
But for Aboriginal and Torres Strait Islander players that commonality is more specific.
It is through our caring for one another and our love of the game that two brother boys can help us start a new conversation - Des Headland
Our brotherhood is more focused, more real, because of our shared history and the communities we come from.
We know what our brothers and sisters have been through because we have all been through them to one extent or another.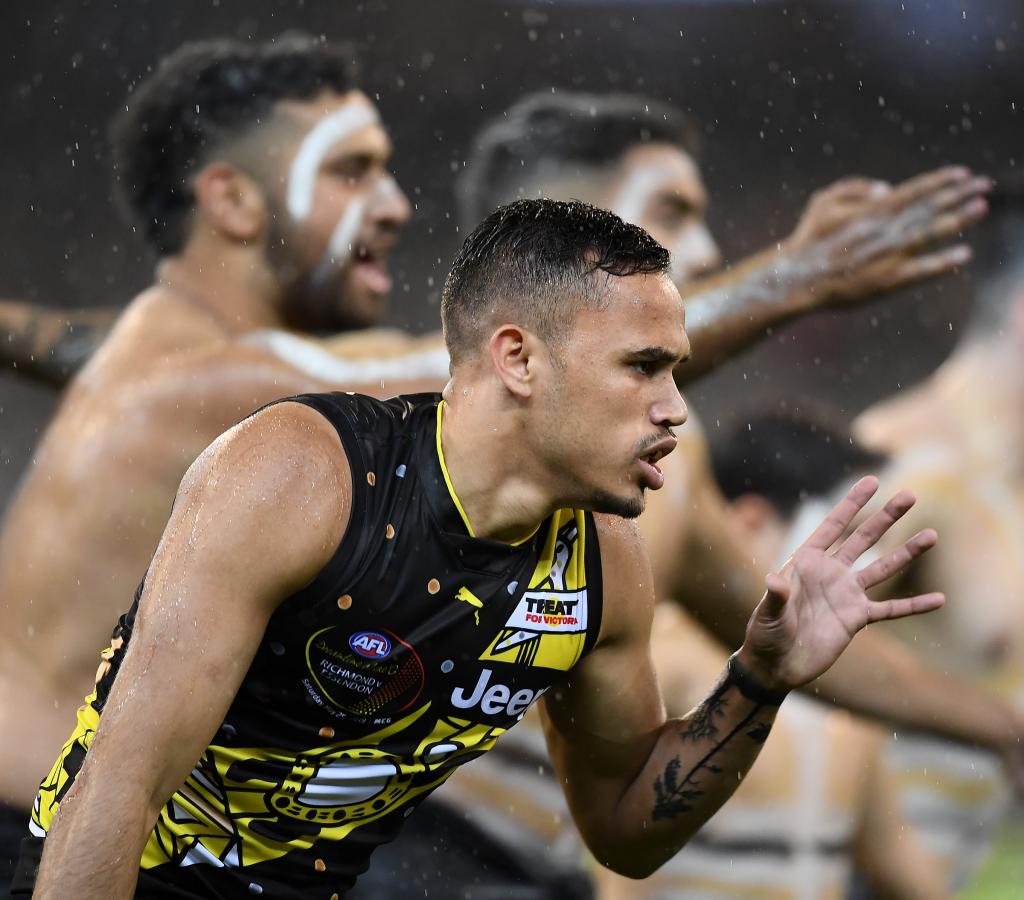 To give you an example, when I was playing I had an encounter one day in the early 2000s with Byron Pickett.
I cleared the ball just as Byron's grip took hold of me. He tackled me to the ground. I braced for something approaching a car accident. Byron took it easy and landed on top of me. Smiling like an assassin, he whispered, "Had you goin bruz unna? You good, brother, I got your back." 

I could have kissed him.
Jeff Farmer, Byron Pickett, Peter Burgoyne and Dion Woods after a Dockers v Port game in 2004. Picture: AFL Photos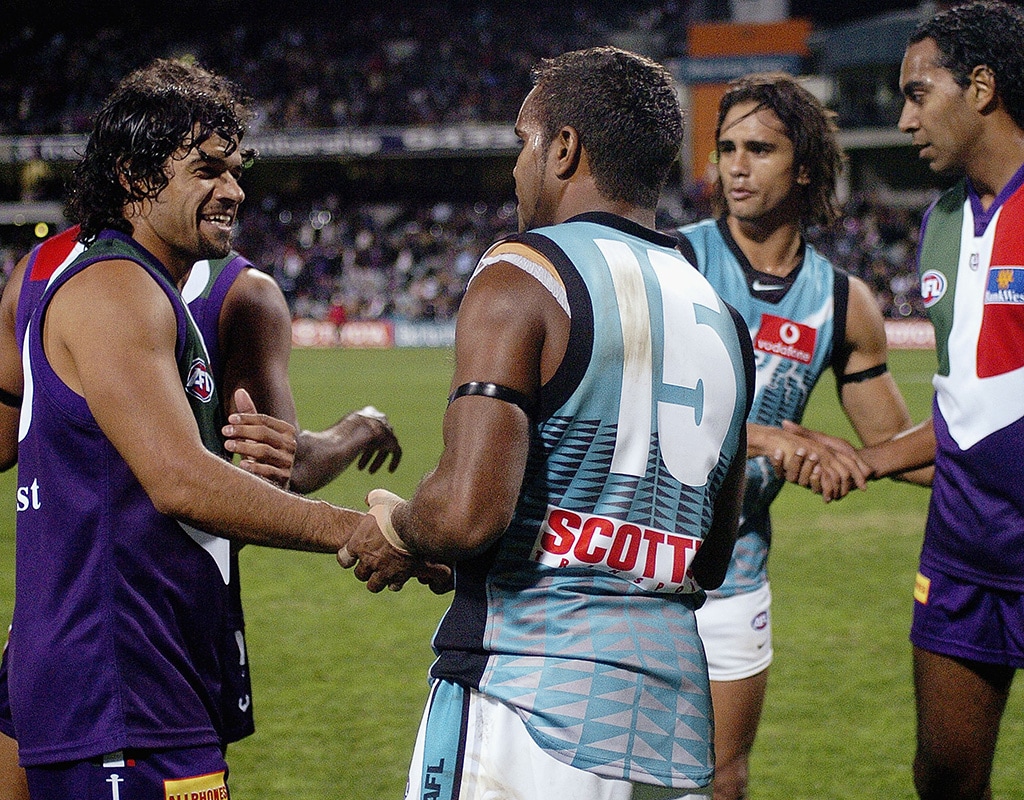 When Stack and Betts embraced, it was the forging of an acknowledgement.
What it said was: "I see you, my brother, I appreciate your skill and your effort." 
For Noongars we have a word for this, it's called 'Kiya'.
Some whitefellas think it means just 'hello', but it means so much more.
It's why when Adam Goodes did the 'war cry' so many people got the message all mixed up.
Adam Goodes, Des Headland and Richard Cole after the All Stars game in 2003. Picture AFL Photos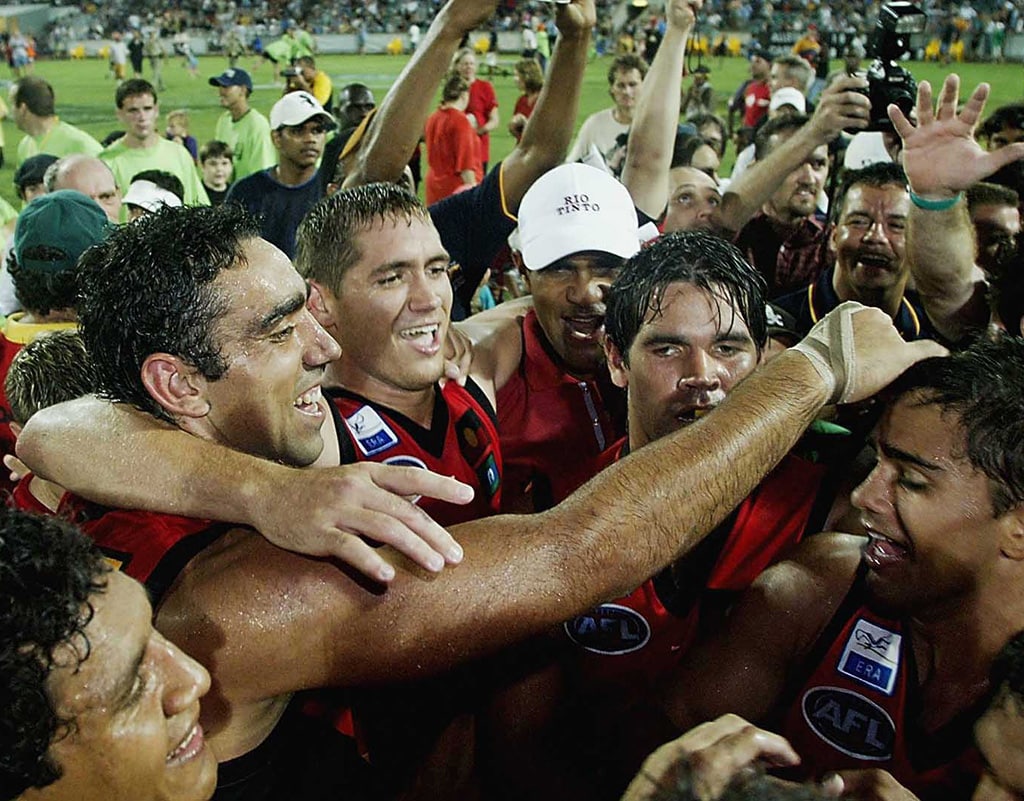 What Goodes was doing was challenging us to ask questions. "What is he saying?", but instead many people said, "How dare he."
Similarly, the Betts/Stack embrace said so much more about us as First Nations people in Australia, but many felt it was a sign of weakness. It was not.
It was a sign, a lesson, that we as Australians need more of this type of acknowledgment and care.
Acknowledgment is strength, care is strength, culture is strength.
Find In the Game on Apple Podcasts, Google Podcasts or Spotify
I think it was Jimmy Bartel who said that in a week where two more players have left the game due to mental health issues - acknowledgment and belonging is where the code must get better.
It is through our caring for one another and our love of the game that two brother boys can help us start a new conversation and that old ideas about masculinity and toughness are understood through another prism.
A prism of mutual respect, healthy competitiveness and acknowledgment. Enjoy the game. It's ours to do so.