KEN HINKLEY was on the couch at home watching the Saturday afternoon horse racing when his phone rang.
"It was the club doctor and I thought, 'This is not normally a phone call I receive now'," the Port Adelaide coach told AFL.com.au.
The news wasn't good. His star midfielder Ollie Wines had injured his shoulder in a freak water skiing accident and would likely need surgery. Hinkley hung up the phone then Wines called, explaining to his pragmatic coach what happened.
Hinkley was "really comfortable" with Wines' decision to water ski, but he couldn't be blamed for cursing the bad luck.
No one feels the pain of what's gone on more than Ollie - Ken Hinkley
His day on the punt didn't ease the mood, either. "I think the jockey fell off in the next one," Hinkley said with a grin.
Wines' injury last month on the Power players' extended break over the Australia Day weekend was among a number of headlines to have circled the club during the off-season, including the trading of stars Chad Wingard and Jared Polec, the addition of Scott Lycett and Ryan Burton, an impressive draft haul, and Jack Watts' viral video.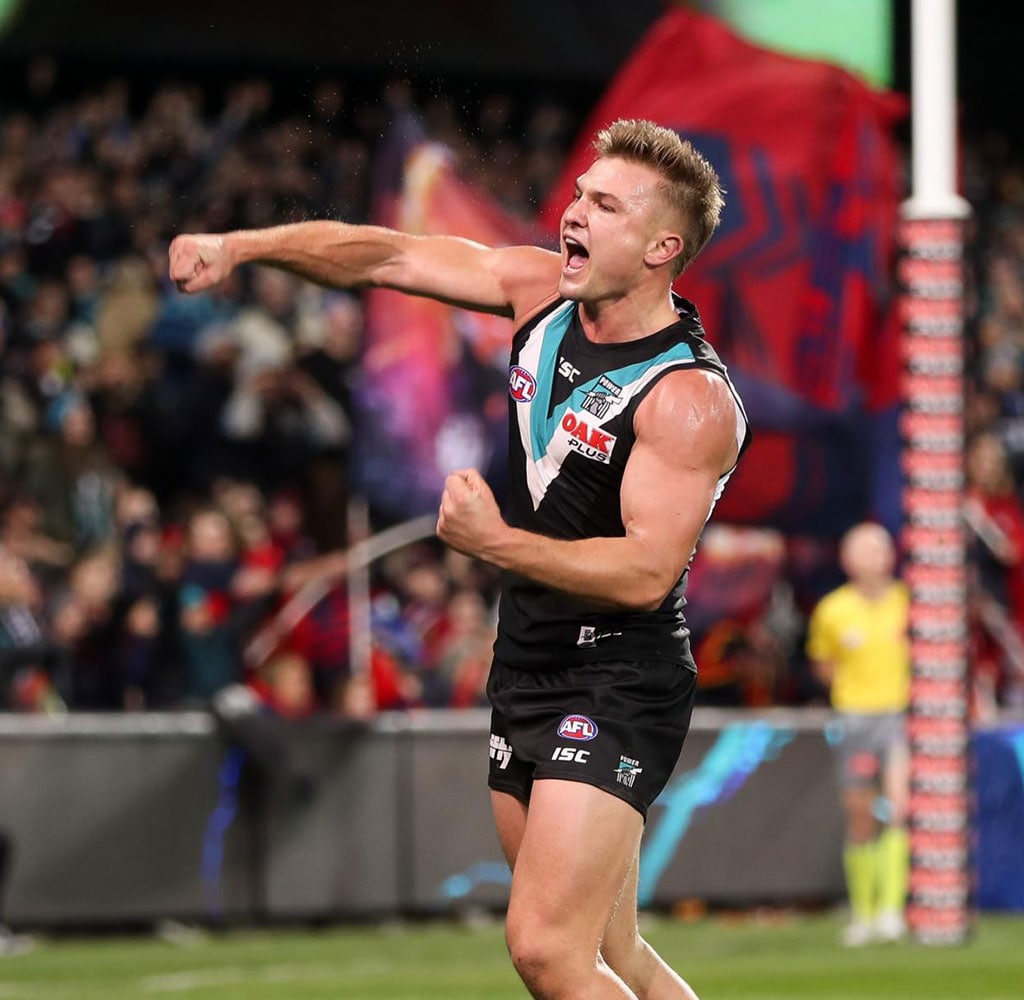 Heading into a crucial year for the Power after last year crumbling in the second half of the season, Wines' setback was far from the news Hinkley wanted two months out from round one. But he is typically matter-of-fact about its impact.
"It doesn't make my weekend great, but it doesn't ruin my weekend because, when you talk to Ollie Wines, you just hear the hurt in his voice. This is the most important thing in his life playing football for our football club, basically," he said.
"That's probably elevating it to a higher level, but that's the way they feel about it. No one feels the pain of what's gone on more than Ollie.
"He will be running within two-and-a-half weeks. He's going to miss a bit of contact stuff, but he'll be back and playing as soon as he can. Whether that's round one or round two, we won't rush that."
Wines will be a central figure as Port looks to rebound from last year's fadeout. After registering 11 wins in the first 16 rounds last season, Hinkley's men lost their way late in the season, losing six of their last seven games and finishing 10th on the ladder.
Hinkley expects a different looking Port in 2019; clearly in personnel, but also in style.
TIME FOR CHANGES Hinkley vows radical overhaul to 'slow and boring' game style
He points to 22 new players being brought to the club in the past 18 months as forcing change, but he also notes the Power need to be better, to come up with new ideas and to get ahead of the pack again.
"It was certainly a really disappointing and underachieving season. I own that, that's OK. I can't shy away from it," he said.
"We're capable of making the finals [this year], I think there's no doubt about that. It's then what the footy season does to you. You do need some luck as well.
"If your season is marked as a failure for not making the finals, then the finals is a pass mark. We think we can achieve that."
Port's active off-season makes them one of the most interesting clubs to track in 2019. Are they a better team without Wingard and Polec and with Lycett, Burton plus a handful of quality draftees? Even Hinkley can't be certain on that.
The decision to move on Wingard was contentious. He is a proven match-winner but didn't reach lofty heights consistently the past two seasons. Hinkley described trading the two-time All Australian forward to Hawthorn as a "mutual" call.
New-look Port: Chad Wingard and Jared Polec after R22 last year. Picture: AFL Photos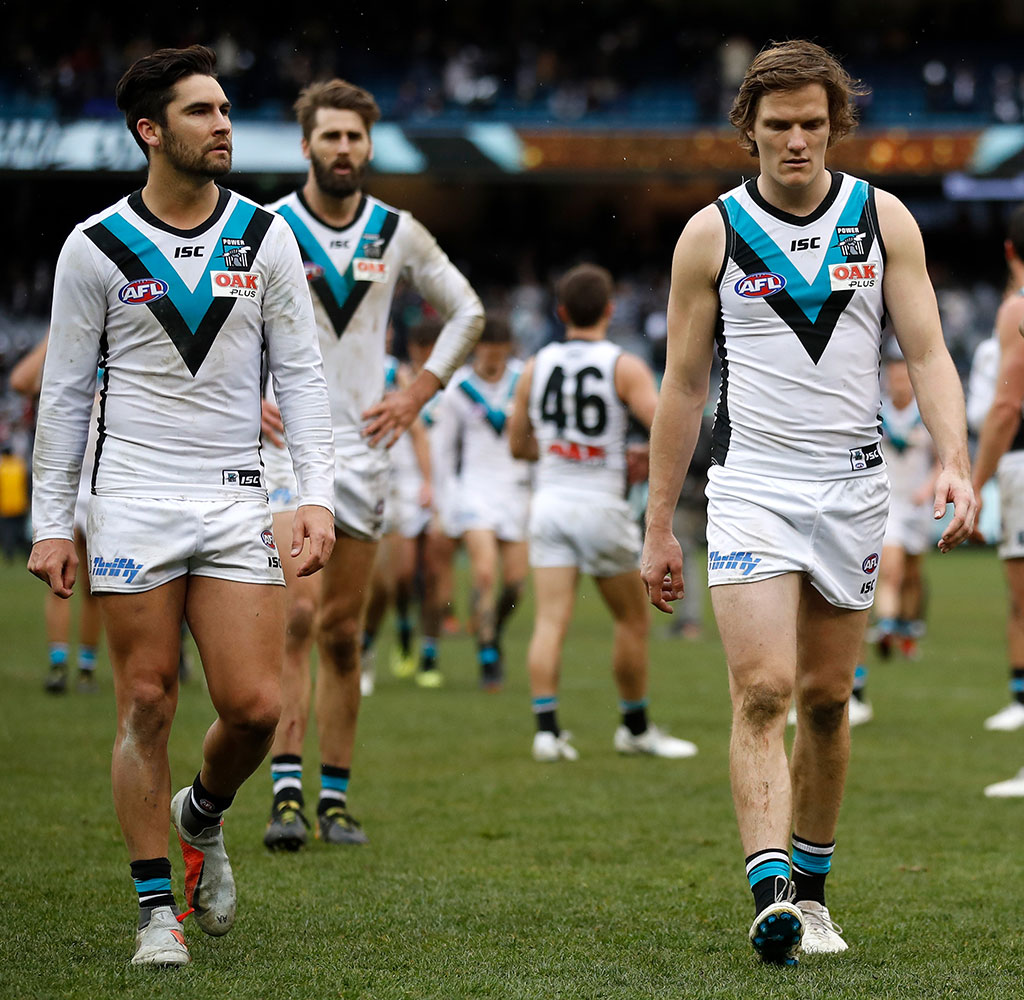 "We came up with a solution that was best for both us and him, for Chad to go elsewhere and be challenged, and for us to say, 'Let's not be so reliant on one player and see if we can get better because of it'," Hinkley said.
Hinkley feels the Power have the players to replace Wingard and Polec. He thinks their three first-round draftees – Connor Rozee, Zak Butters and Xavier Duursma – are all likely to feature early in the season after impressing over summer, and can see Burton's weapons across half-back coming to the fore at training.

Lycett will form one of the most formidable ruck partnerships in the game with Paddy Ryder, while Hinkley sees the Port backline – including younger types Darcy Byrne-Jones, Dan Houston, Dougal Howard and Tom Clurey – taking steps this year.
He also wants his side to be more versatile, with Brad Ebert spending more time in attack and Watts training most of the summer in the midfield.
Hinkley had to deal with the Watts video of the former Demon snorting a white substance at Oktoberfest last year – he told the club it was the legal powder named Wiesn Pulver made up of sugar, menthol and glucose – and says the 27-year-old has made changes to his life.
"Jack would sit there and say some of his behavior is not a mirror image of a good person and he wants to be a good person," Hinkley said.
KOCHIE SLAMS JACK Watts' act 'the height of stupidity'
The next move in a busy off-season that included Port taking its football department to Noosa for six days for a camp to build relationships, and Hinkley travelling to Chicago for a leadership course, is picking a skipper – or two.
The Power is considering breaking with tradition at the club and appointing co-captains for the first time, with Wines and Tom Jonas viewed as the leading candidates. Some fans have been vocal in their support for keeping the status quo with one captain, but Hinkley said two could be a better fit.

Tom Jonas with partner Millie Jordan at the 2018 Brownlow Medal. Picture AFL Photos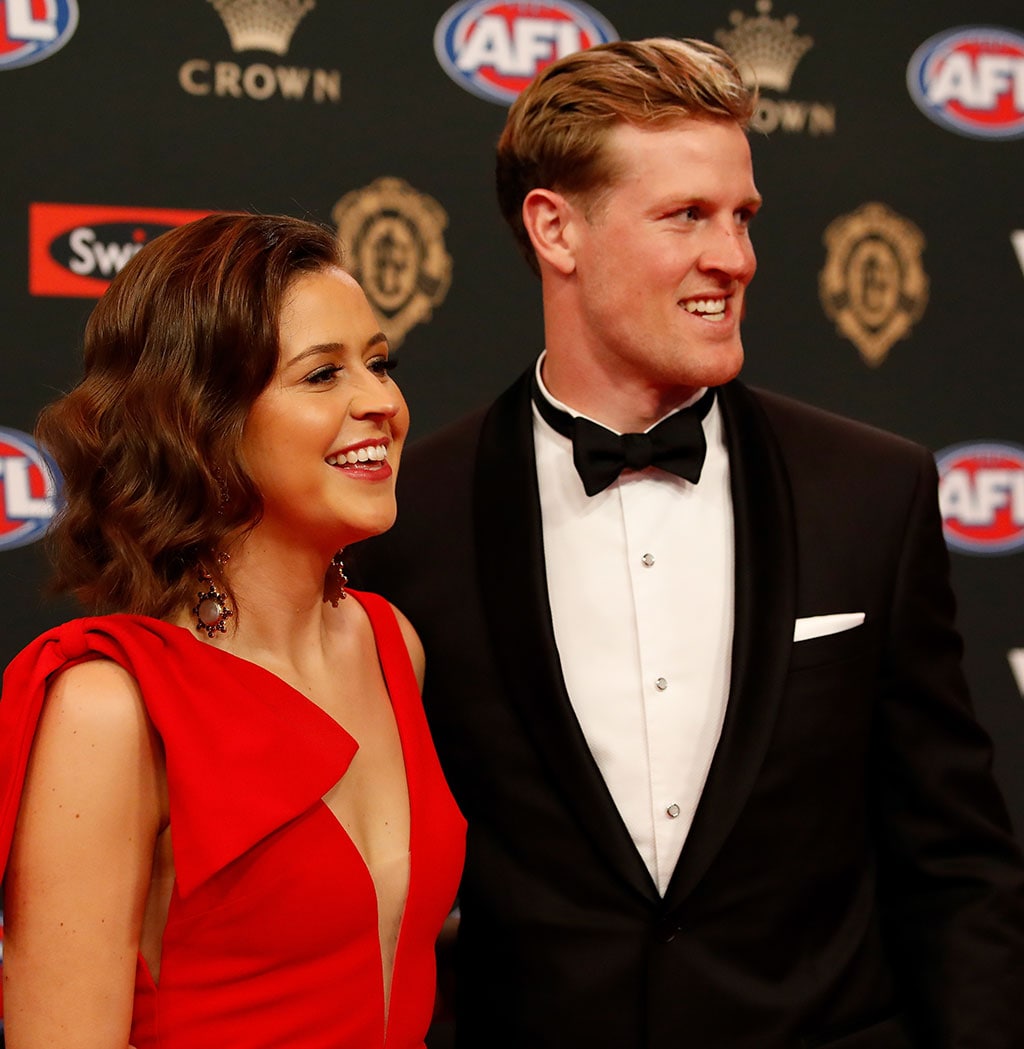 "We hear all that stuff and we have to. But we're in charge as a football club to make the right decisions to make Port Adelaide win as many games as they can this year. Because all of our supporters say one thing: we want to win games of football," he said.
"We say the same thing. If that model of captaincy is one or two players, we will make the decision that gives us the best possible opportunity to win."