CONTROL v chaos. Old-school footy v new age. West Coast v Collingwood. Welcome to the 2018 AFL Grand Final.
AFL.com.au has turned to an AFL club's opposition analyst to break down the year's biggest game and find out what to look for at the MCG on Saturday afternoon.
MEGA-PREVIEW Eagles v Pies
The result may even decide what football looks like next year and the types of footballers that will be recruited in November.
One of the 191cm Jack Darling contested-marking specialists or the 188cm Jaidyn Stephenson speedsters will be in vogue, with the analyst saying the Grand Final was "the defining feature of the year".
THE TEAMS Eagles, Pies lock in GF sides
"If West Coast wins, it's defining for the game," he said.
"If Richmond, Collingwood or Melbourne had won playing with smaller forward lines and more of a surge mentality taking the ball forward, then that would have been two years in a row.
"West Coast winning it (would be) akin to if Adelaide had won it last year, in terms of the type of team.
"It's more of a traditional structure and traditional style of football, and that's why it will be a great match-up, because they're two quite distinct styles."
THE EAGLES' KEY PERFORMANCE INDICATOR
Much is made of West Coast's 12-0 record with Darling and Josh Kennedy in the same team, but there is an even bigger gauge for what supposedly makes it invincible.
Adam Simpson's Eagles have not lost in 15 games this year when they've taken at least 10 marks inside 50.
Kennedy (2.9 per game) and Darling (2.8) are top 10 in the AFL for average marks inside 50, while Liam Ryan (1.3), Jamie Cripps (1.1), Daniel Venables (1.1) and Mark LeCras (1.1) are the other main threats.
Collingwood will be without injured first-choice defenders Lynden Dunn and Matt Scharenberg, and probably won't pick Darcy Moore and Ben Reid.
That means big responsibility again for Tyson Goldsack, Jeremy Howe and Tom Langdon.

It's a team job to contain Josh Kennedy. Picture: AFL Photos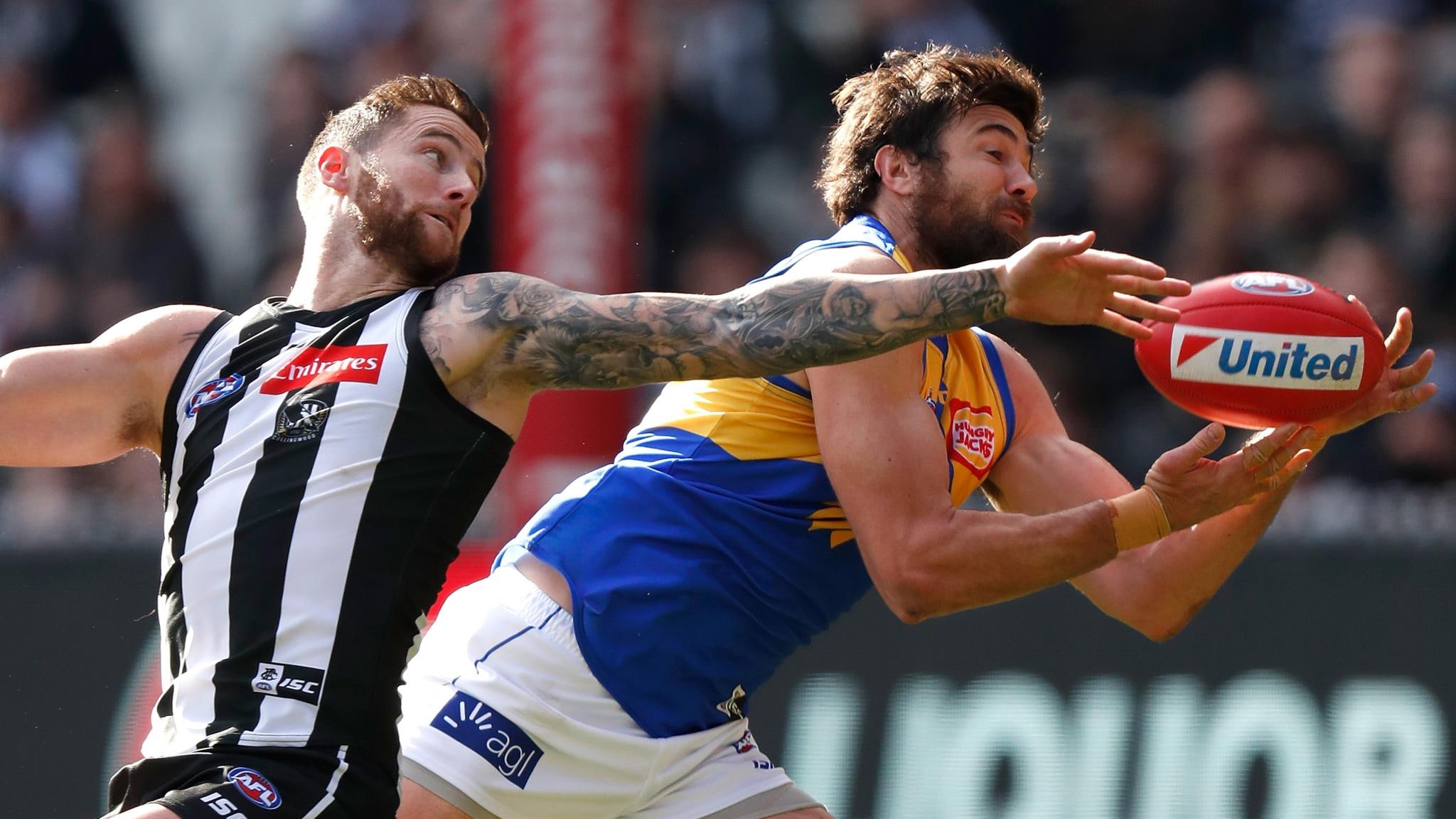 "If they can (take those marks), that's 10 opportunities for Kennedy, Darling, (Nathan) Vardy or even a LeCras or a (Willie) Rioli or a Ryan, so that's the number to watch throughout the day.
"How well can Collingwood's defenders support each other? Goldsack was unbelievable at times against (Jack) Riewoldt (in Friday night's preliminary final), but Riewoldt still kicked five goals.
"Unbelievable is the wrong word, but some of his work in one-on-ones was great. Riewoldt, when he got opportunities, still took marks and kicked goals, so there's a vulnerability there."
WHERE DOES SIDEBOTTOM PLAY?
Steele Sidebottom, otherwise known as Mr September, looms as a fascinating figure in Saturday's contest.
Fresh from finishing runner-up in the Brownlow Medal, Sidebottom is a player West Coast must stop – and Simpson sent Mark Hutchings to him in both previous clashes for differing periods.
The Magpie started in the centre square in round 17, whereas he was at half-forward for the first bounce in the qualifying final three weeks ago.
Sidebottom's positioning changes through a match, but he had a particular role in the dismantling of Richmond last week.
"Collingwood's midfield is really strong and bats really deep, but they were really smart how they used Sidebottom the other night," the opposition analyst said.
"They moved him between wing and half-back. Richmond throw a forward into the stoppage all the time, which is (Kane) Lambert, so they basically played Sidebottom as the highest defender off Lambert.
"That meant, yes, Richmond had Lambert around the contest, but Collingwood had Sidebottom just off the back of the contest and he was able to get used free.
"That's why his ball was uncontested all night (35 out of 41). He played that role really well.
"I don't think they'll use that role against West Coast, because West Coast generally holds their forwards a bit more."
The analyst expects Sidebottom to balance his time mostly between half-forward and the wing, meaning the Eagles will likely have to react in a way that may upset their stoppage structure.

The Eagles will need to play Steele Sidebottom close. Picture: AFL Photos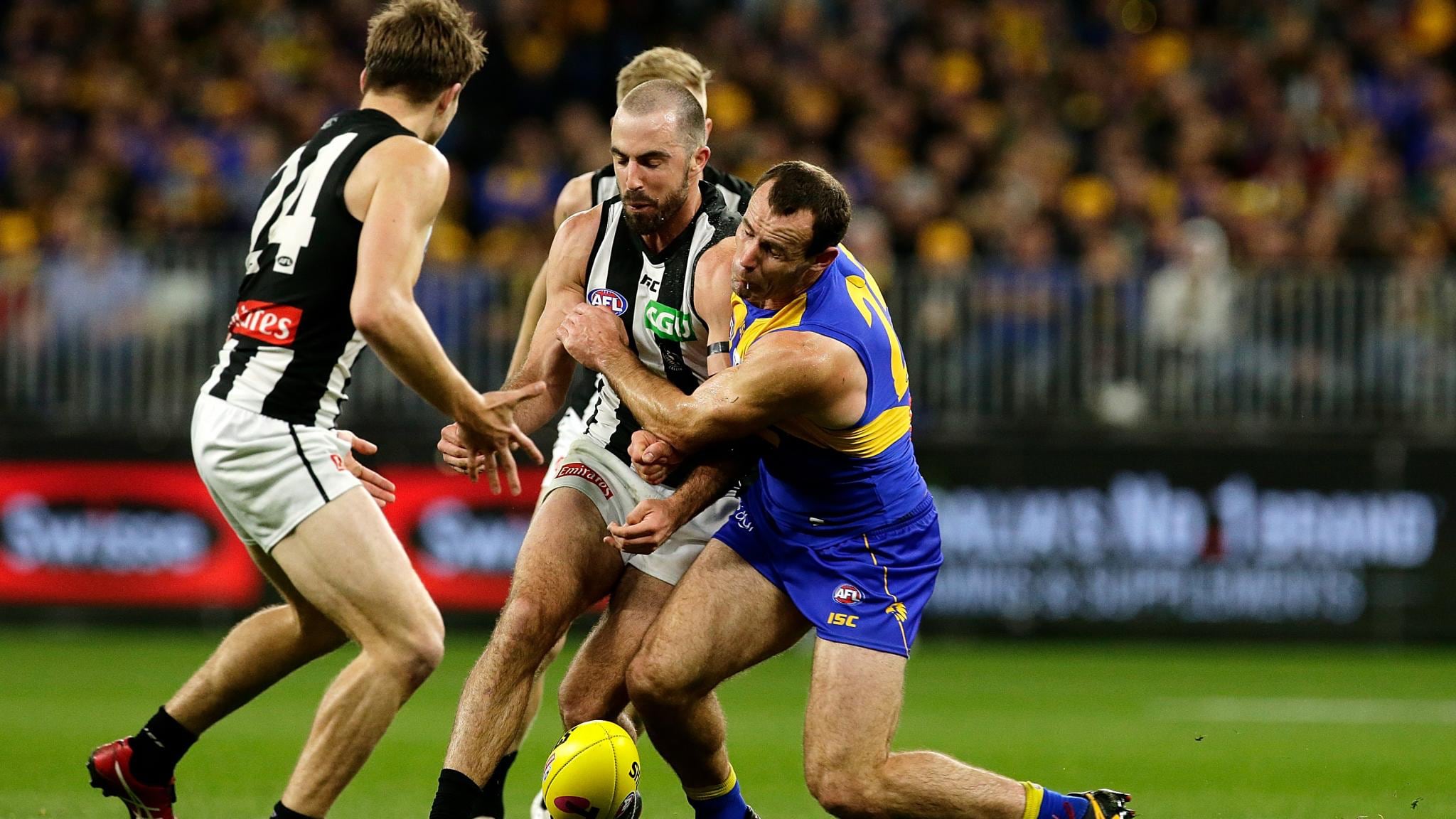 ARE THE EAGLES REALLY THE CONTESTED BALL KINGS?
The Eagles have the highest average contested possession differential in this year's finals series, accounting for the season's top two teams in that area in respective victories.
But our opposition analyst isn't convinced they are a contested ball force through the midfield.
West Coast's 158-145 contested possession mauling of Melbourne included a 14-8 advantage in contested marks, where the Eagles truly shine.
They pipped the Magpies 169-164 in contested possession in the qualifying final, with a 15-8 advantage in contested marks.
"The stuff against Melbourne, for me, that was purely Melbourne. (The Demons') method around the contest just fell away completely – it looked like stage fright," the analyst said.
"They were very stationary around the contest and that meant when Melbourne won it they didn't have guys in good position to handball to, and when they lost it they weren't in position to tackle West Coast."
THE BLACK AND WHITE OFFENCE
Collingwood's forward line was the hardest offensive six to match up on this season because of their variety, according to the opposition analyst.
Jordan De Goey (45), Will Hoskin-Elliott (41), Josh Thomas (38) and Jaidyn Stephenson (36) lead the way in goals scored, but Brody Mihocek (28) and the ever-improving Mason Cox (23) also pose problems.
"You've got one giant with Cox, but De Goey, Hoskin-Elliott and Stephenson are that in-between size," he said.
"Hoskin-Elliott marks it overhead, De Goey is strong one-on-one, Stephenson has elite speed – and they can beat you in different ways, so it's very hard to find defenders that can handle those types of players.
"A lot was made of Cox's game, and it was obviously the best game of his career by a long way, but the biggest thing aside from the marks he took was that he never got outmarked."
Cox hauled in 11 marks (eight contested) on Friday night against Richmond, the competition's best intercepting backline, ahead of West Coast.
Mason Cox with the speccie and the strut!#AFLFinals pic.twitter.com/7O3LTeNJIl

— AFL (@AFL) September 21, 2018
"If Cox prevents (Jeremy) McGovern and (Tom) Barrass taking intercept marks, that's huge, because at ground level those Collingwood forwards can be really damaging," the scout said.
Dependable defender Brad Sheppard's hamstring-related absence will hurt, but the opposition analyst believes his 196cm replacement, Will Schofield, is a handy one.
Schofield's presence should prevent Tom Cole having to play deep in defence, where he struggled in the qualifying final.
THE POINT OF DIFFERENCE
West Coast likes to control possession and dominate with its key-position players' aerial ability at both ends.
Collingwood, on the other hand, prefers the "chaotic" approach adopted by fellow finalists Richmond and Melbourne.
Allowing this approach to pay off are the complementary chips up forward (Liam Ryan, Willie Rioli and Jamie Cripps) and down back (Tom Barrass, in particular).
"They have Kennedy and Darling inside 50, and they've been able to complement them this year with Ryan and Rioli coming through, so they've never had that," the analyst said.
Brilliant solo effort from Liam Ryan! #AFLFinals pic.twitter.com/xWZ3z2xcmW

— AFL (@AFL) September 22, 2018
"It's been LeCras, then not much else. A guy like Jamie Cripps is as good a high half-forward as you'll find in the AFL – he works so hard up and down the ground – so they've got an even spread this year.
"In previous years, there's maybe been a bit of a drop off and probably more through youth, but that youth has improved now.
"Three or four years ago, if you went away from McGovern, you could get Barrass and kick some goals on him, but now he's become a really solid defender."
THE RUCK BATTLE
Collingwood's All Australian ruckman Brodie Grundy looms as a major stumbling block for the Eagles, who did an excellent job of nullifying Max Gawn last week.
The opposition analyst expects a similar approach to what West Coast – sans the injured Nic Naitanui – used in the qualifying final, with Nathan Vardy (56 minutes) and Scott Lycett (55 minutes) tag-teaming Grundy.
"They certainly roved well to Gawn last week. They'll spin Lycett and Vardy over a fair bit, so they'll end up doing 50-50, or 60-40, with Lycett doing a bit more," he said.
"But they'll change them regularly, because Grundy's big weapon is that he spreads as soon as the ball hits the ground, so they'll try and keep some fresh legs against him.
"I would have thought they'll probably try and make Grundy run back into defence. I think you're basically playing two against one, because Grundy plays enormous game time."
THE FLEXIBILTY EDGE
Things rarely go to plan, especially on Grand Final day, but this is where the opposition analyst thinks Collingwood has more wriggle room.
"The one thing about West Coast is they don't throw guys around much – they're pretty predictable – and if things aren't working, the standard move is McGovern forward," he said.
"They're very role-based and very defined. I see less flexibility in them if things aren't going well than I see in Collingwood."
On the flipside, Brayden Sier's emergence as a midfield bull and the Pies' long-criticised recruiting focus on midfielders in general has paid off in 2018.
There is arguably no on-ball rotation that compares to Collingwood's Scott Pendlebury, Sidebottom, Adam Treloar, Taylor Adams, Sier and change-up options De Goey and Thomas.

The Magpies' midfield bats deep. Picture: AFL Photos

"It's really important there's not a big drop-off in your second tier of midfielders, and with Sier being such a big body, it shuffles everyone one step outside the contest," the analyst said.
"That gives Pendlebury a bit more space, and rather than being the first guy who gets it, he's now the second one and Sidebottom's the third one – and it allows those guys to make more use of their weapons.
"Taylor Adams has been super important in the finals as well for the same reason. He's often getting first hands on it and allowing the polished guys to use their skills."
THE TIP
Our opposition analyst is tipping Collingwood to win this year's AFL Grand Final.
"I'm leaning towards Collingwood. I thought Richmond were four or five goals ahead of everyone else until they lost to the Magpies," he said.
"Richmond were poor, and it was probably the worst they've played for a long time, but still it was an incredibly impressive performance, and Melbourne didn't fire a shot at all (against West Coast).
"They're two pretty different teams, so it will be an interesting Grand Final."