THE MOST exciting time of the year for coaches competing in AFL Fantasy Draft leagues is approaching. Tens of thousands of drafts will be held in the lead-up to round one as coaches take on their league mates in the ultimate test of Fantasy knowledge.
Every player in a Draft league is unique. If you've got pick one, you've got the choice of all of the players in the league to call your own. Once someone has been selected, no one else can have them … unless they come up with a trade offer that will can be agreed upon.
The first few rounds of the draft help shape how teams will evolve.
With my rankings set and a couple of drafts under my belt already, I've set out to predict how the first 30 picks will fall on Draft day.
These aren't necessarily my rankings. It's how I see it playing out and what I see other coaches doing as they approach the draft.
Using the current average draft pick (ADP) data, my thoughts and the thinking of other coaches in the community, this is how a 10-team league working towards a 5-7-1-5/4 (ie. five defenders, seven midfielders, one ruck, five forwards and four bench) squad size will draft.
1. Brodie Grundy (RUC) – Collingwood – ADP 2
2. Jack Macrae (MID) – Western Bulldogs – ADP 1
3. Patrick Dangerfield (MID/FWD) – Geelong – ADP 4
The top three picks are likely to include this trio in the majority of drafts, regardless of whether captains are on or the squad sizes. While it could be argued that either Grundy or Macrae could be the No.1 selection, it's the Magpie for me as he could be 10-15 points better than the next best in his position based on his 120 average last season.
There are arguments that Dangerfield could also top the forwards by a similar difference if his pending midfield role sees him hit the highs of 2017 when he posted a career-high 120.5 in his second year as a Cat.
4. Josh Kelly (MID) – Greater Western Sydney – ADP 5
5. Patrick Cripps (MID) – Carlton – ADP 6
6. Clayton Oliver (MID) – Melbourne – ADP 3
7. Zach Merrett (MID) – Essendon – ADP 19
With the thought that the next few picks will be midfielders that are likely to be around the 110 mark and potential captain choices, the next group will end up being popular first-round selections.
Merrett with a current ADP of 19 is set to come in as a lot of savvy coaches have him scoring much higher than the 101.5 average that sits next to his name. After a 117-plus average the two seasons prior, personally I'll have him at the top of this group; however, he may slide a little based on his 2018 numbers.
Can Zach Merrett bounce back to his best? Picture: AFL Photos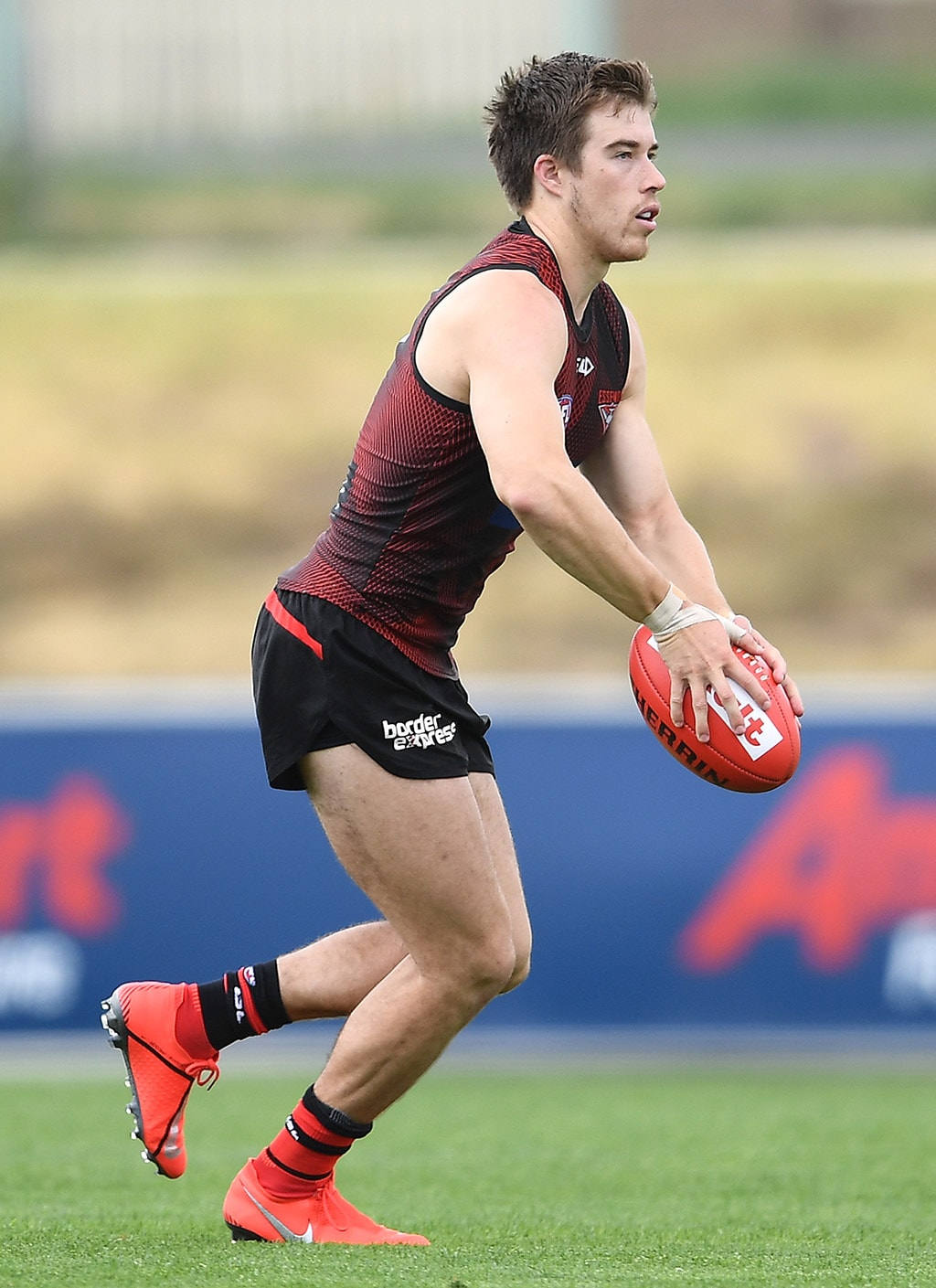 8. Rory Laird (DEF) – Adelaide – ADP 9
9. Jake Lloyd (DEF) – Sydney – ADP 16
The first of the defenders will be gone before the first round is over.
I'm having trouble ranking Laird and Lloyd despite being Team Lloyd when it comes to Fantasy Classic due to being $44k cheaper. Laird is a ball-magnet for the Crows, but he may be overtaken if the Swan gets the scoring bump from the new kick-in rule.
10. Adam Treloar (MID) – Collingwood – ADP 12
11. Lachie Whitfield (DEF) – Greater Western Sydney – ADP 22
On the turn in a 10-team league, the coach is going to select players from different positions. Captains on will mean one will be the next best midfielder, of which I like Treloar as in his three seasons at the high Fantasy scoring Pies, he has returned averages of 111.5, 108 and 108.4.
With the other pick, it's Whitfield who is ranked as the next best defender and most are confident that he will return a triple-figure average.
12. Max Gawn (RUC) – Melbourne – ADP 8
Where Gawn goes is going to be an interesting talking point in every draft. I won't be taking him until late in the second round at the earliest due to the unknowns of Braydon Preuss' recruitment to the Demons.
Someone is likely to take him earlier than me with that average of 111.3 staring everyone in the face. At 12, you'd be happy with having Gawn filling your ruck slot.
Where will Gawn go? Picture: AFL Photos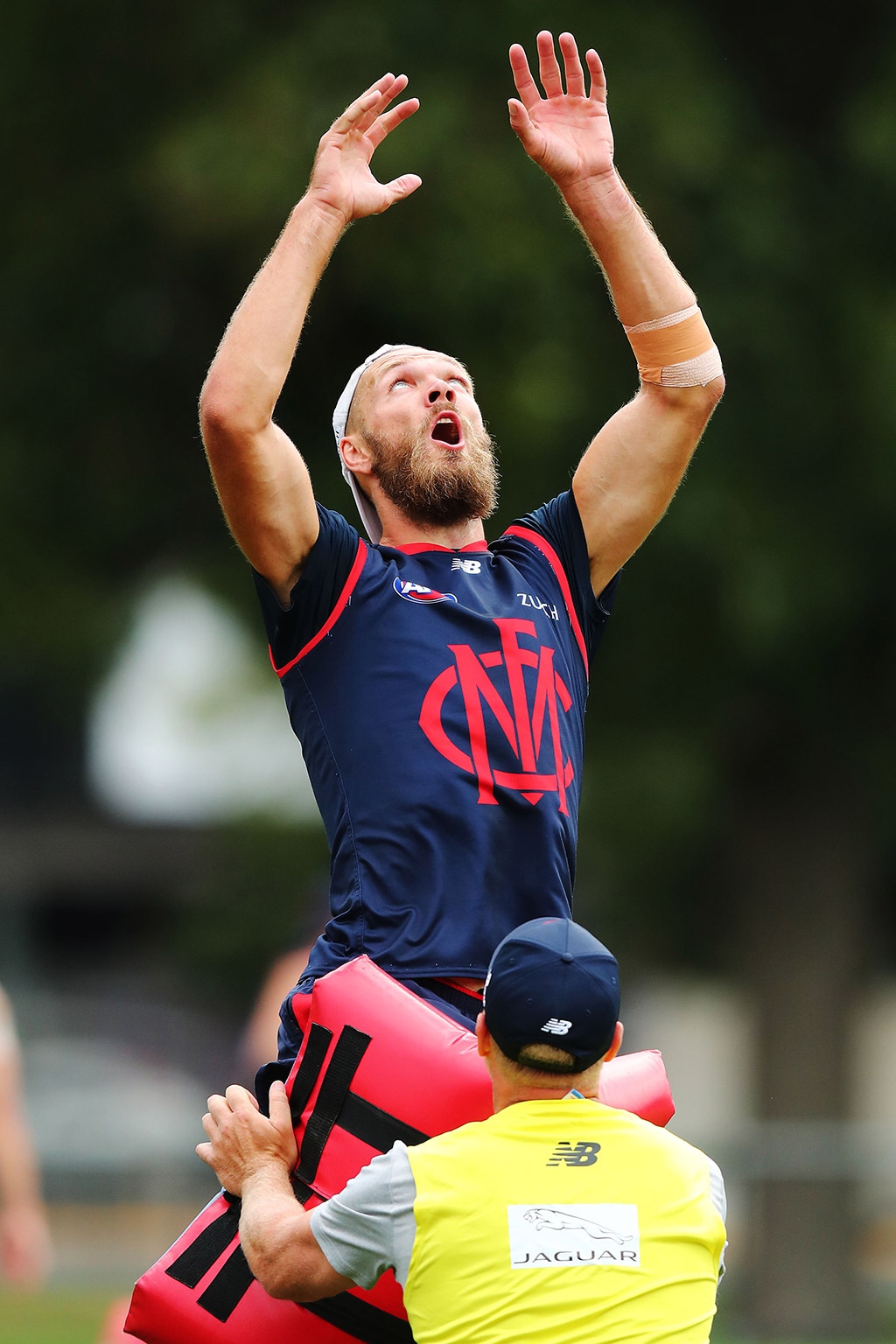 13. Stephen Coniglio (MID) – Greater Western Sydney – ADP 7
You can't deny his 110.4 average from last year and people will have him in going their first round. Maybe 13 is a steal for Cogs, but then again the Giants have a changing midfield, as a team they may slide down the ladder and he's yet to play every game in a season. Enough for me to hold off on him.
14. James Sicily (DEF) – Hawthorn – ADP 34
15. Devon Smith (MID/FWD) – Essendon – ADP 13
16. Josh Dunkley (MID/FWD) – Western Bulldogs – ADP 40
17. Isaac Heeney (FWD) – Sydney – ADP 41
Picks 4-7 took midfielders for their captains, so with their second selection a defender and the next tier of forwards will be high on the shopping list.
Sicily is likely to have the kick-in duties for the Hawks and may propel himself into the elite bracket of defenders.
A biceps injury for Smith may see him slide a little, but most would be confident that the tackling machine will be ahead of Dunkley and be taken off the board in the second round. The pair finished the season in cracking form, averaging 114 and 109 in the last 10 rounds respectively. Dunkley's current ADP of 40 will decrease as more drafts are completed over the coming weeks.
Heeney's draft stocks always rise in the pre-season. Even though his ADP would suggest he'll go a couple of rounds later in the draft, one of my learnings from the past week is that you don't want to sleep on the big gun forwards. The Swan will knock on the door of, if not burst through, the 100 mark this year with some extra midfield time but mostly because he's enjoying a full pre-season; something Fantasy coaches should always pay attention to.
18. Matt Crouch (MID) – Adelaide – ADP 15
19. Andrew Gaff (MID) – West Coast – ADP 11
20. Sebastian Ross (MID) – St Kilda – ADP 17
21. Angus Brayshaw (MID) – Melbourne – ADP 18
It has been a long time since those lucky ducks with the first three picks have had a chance to add to their squad, so they'll be pleased to see players who have shown they are capable of scoring more than 110 on a consistent basis. At their best, these guys would be top-10 midfielders.
Gaff may end up as a bit of a sleeper thanks to his two-game suspension to start the season. Don't let this be a factor in waiting on him if you're keen as he'll be there – touch wood – for the rest of the year. I only have him lower on my rankings because it is just the third time he has averaged more than 100 but his durability (he's only missed four games since 2012) should give him a big tick.
Don't forget about Andrew Gaff. Picture: AFL Photos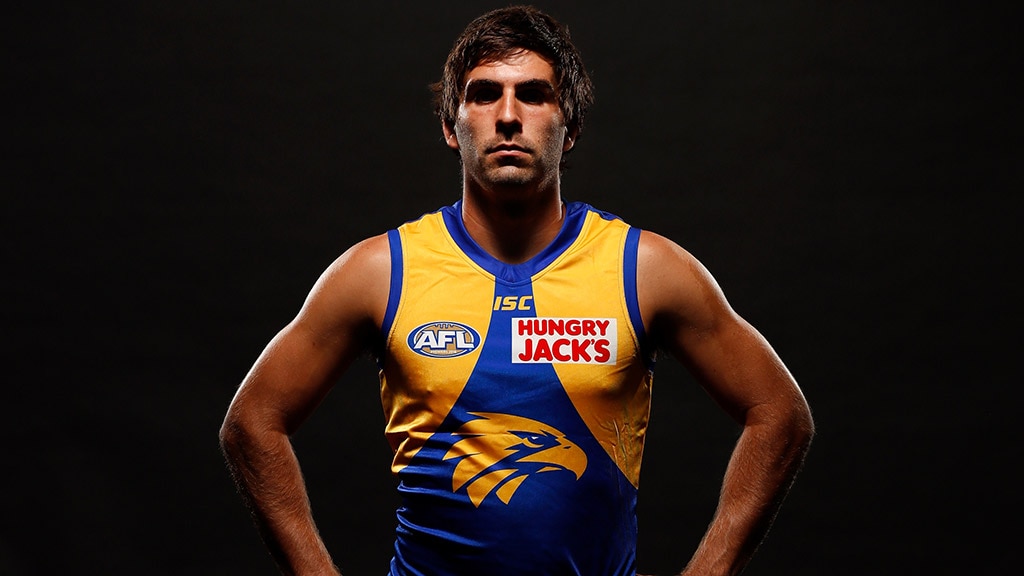 22. Alex Witherden (DEF) – Brisbane – ADP 47
23. Dayne Beams (MID) – Collingwood – ADP 10
The man who has the highest ADP in my list of 30 is a favourite of Fantasy Classic coaches. Alex Witherden appears in more than a quarter of the salary cap game's teams and he, like a lot of the defenders, is projected to benefit from the kick-in rule as well as naturally progress and add to his 88 average from his first two seasons at AFL level.
His former captain, Dayne Beams, returns to the Pies and with an ADP of 10 and is probably lower on the list than he deserves to be. The ever-increasing Collingwood midfield is making it hard to rank the guns in the black and white.
The major concern I have about Beams' spot in the 30 – despite his super-high ADP – is a guy who doesn't feature here; Taylor Adams.
Roy has been hyping Adams a lot this pre-season and Brodie Grundy's comments about him on the podcast really have me intrigued as to whether he has a season that is much better than his ADP of 32 suggests.
Personally, I've got Adams higher than Beams, but that high ADP makes my head think he'll certainly be gone before this point.
24. Lachie Neale (MID) – Brisbane – ADP 32
Neale could go anywhere in a Draft. I've currently got him in my top eight midfielders (12 have already been selected so far here). The former Docker is expected to thrive up north and his Fantasy numbers are expected to go in that direction as well.
I won't be surprised if he's gone well before this point.
25. Sam Menegola (MID/FWD) – Geelong – ADP 31
26. Kade Simpson (DEF) – Carlton – ADP 42
27. Elliot Yeo (MID) – West Coast – ADP 14
Squaring away some of the better non-midfielders will happen in the third round with Menegola and Simpson very good options as first or second-rung players for their positions. Yeo is a victim of a being a former dual-position player who is now listed as MID only. While his ADP of 14 is based on some of the drafts in the first week or so of the game being open, I've got him around about the mid-teens for midfielders and this feels about right with six defenders, three forwards and two rucks being taken up to this point.
28. Toby McLean (MID/FWD) – Western Bulldogs – ADP 46
29. Nat Fyfe (MID) – Fremantle – ADP 20
30. Justin Westhoff (RUC/FWD) – Port Adelaide – ADP 24
A range of players could be taken at this point.
McLean will be popular around this range based on his average – more specifically his start to 2018 – but the fear of missing out on a good forward will see him go earlier than his ADP. Tim Kelly (ADP 64) or Jack Billings (ADP 69) could end up ahead of McLean if the end of the season is taken into account; however, there will be at least one coach who will be blinded by the season average … but who's to say he won't do that again?
The Westhoff draft range is super-interesting. He had a career-best year, averaging 101.9. This was the first time in his 12 years in the game that he's produced a season average of more than 90. With Scott Lycett joining the Power, the Hoff's numbers 'should' decline, but he found different ways of racking up big numbers last year.
Other players that could quite easily be picked in this group with top-30 ADP include Stefan Martin (ADP 25) if coaches don't want to miss out on a potential 100 averaging ruck or Gary Ablett (ADP 21) for those who not only like the scoring history but the potential of dual-position being added with the forward role he is likely to be playing this year.
Bryce Gibbs (ADP 23), Mitch Duncan (ADP 26), Lachie Hunter (ADP 27), Steele Sidebottom (ADP 28) and Dyson Heppell (ADP 30) are other midfielders who may excite some coaches wanting players who averaged the Fantasy ton last season.
Every draft is different and there is no right or wrong answers at this point of the season. Trust your instincts and keep it simple. Don't reach for a breakout player too early; the tried and true players are who you should have on your radar early on.
As soon as you're on the clock, stick to your pre-draft strategy and rankings and look to adapt as the draft unfolds as you build your ultimate squad. Have fun!
Will you pounce on Toby McLean? Picture: AFL Photos
Get expert advice from The Traders during the pre-season in the Fantasy Hub. Follow AFL Fantasy on Twitter and 'like' the Facebook page to join in the conversation.